Walmart Passport Photo
Get the perfect biometric Walmart passport pictures with guaranteed acceptance in seconds!
100% Compliance Guaranteed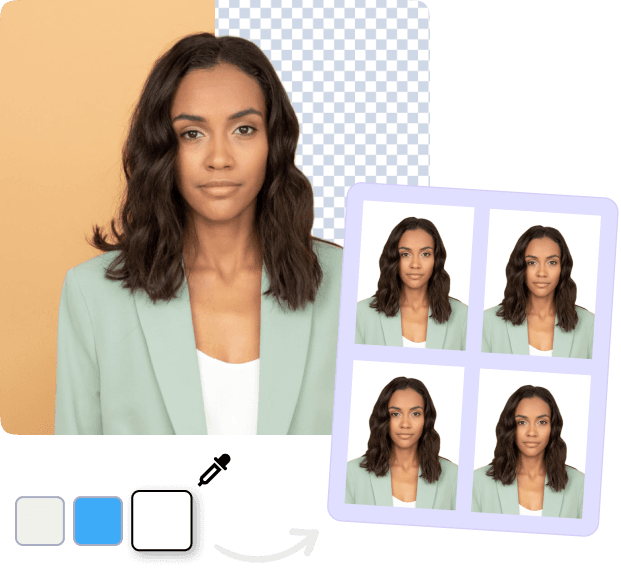 How to get instant photos online?
With our online Walmart passport photo tool, you can get a biometric photo for your passport in less than 3 minutes.
Capture or upload your photo
It's super simple - take a selfie or upload a photo, and let our AI tool take care of the rest.
AI processes the image
Our AI tool will remove any unwanted background and resize your photo to the official passport photo dimensions.
AI photo verification
The AI tool will carry additional checks on the photo to make it compliant and ready for submission.
Get digital or print photos
Get your biometric photos in digital copy or have the printouts delivered to your doorstep within a few days.
How to take a clear photo?
Have you ever wondered how to take the perfect passport photo? No need to look further; these instructions will help you achieve biometric Walmart passport photos in minutes.
Use a plain background
Use a plain background with no objects behind your back. Stand at least 2m away from the background to avoid shadows behind you.
Keep your posture straight
Maintain a straight posture and fit your head, shoulders, and upper body into the photo. Remove your glasses before taking the picture.
Maintain a neutral facial expression
Make sure your whole face is visible. Keep your hair away from your face and look straight at the camera with a plain expression.
Basic Walmart Passport Photo Guidelines
Glasses
Smiling
Image retouching
Wearing uniform and hat
Walmart passport photo requirements
How much do passport photos cost at Walmart?
According to the official Walmart website, a Walmart passport photo costs around $7.44 in the U.S. The Walmart passport photo price covers high-quality digital photographs and photo prints.
Walmart passport pictures are pocket-friendly and great for people needing an urgent visa. Since they offer print on the same day, you can stay rest assured and focus on other traveling essentials. The print takes less than an hour and is of top-tier quality. No matter when you want to print a passport photo at Walmart
Walmart passport-size photos are great for any purpose, whether you are a student, traveling for business, or just going for leisure tourism. The pictures are printed with state-of-the-art technology to help you skate through the U.S. Department of State requirements.
What is the passport photo size at Walmart?
According to the official website of the U.S. Department of State, Walmart's passport photo size is precisely 2 x 2 inches or 5 x 5 cm. This is the standard size everywhere in the U.S., regardless of where your passport photos are printed.
Additionally, you must face the camera when getting a passport photo captured at Walmart. Similarly, your head should not be more than 1 ⅜ inches or less than 1 inch from the top of the head to the bottom of your chin.
The measurements are essential to remember because they may cause rejection of your passport-size photos. These measurements are also a part of the requirements issued by the US government. This is all the information you need for passport photo size at Walmart; if you wish to know more, head to Walmart's online passport photo service.
What are the basic Walmart passport photo requirements?
Walmart passport photo requirements are the same as those issued by the U.S. Department of State.
Distance, Size, and Format
The distance between the camera and face should be about 3 to 7 feet for an ideal Walmart passport photo print or digital copy. The clerks are already aware of it, so you do not need to worry about it.
Moreover, the photo size should be about 2 x 2 inches (or 5 x 5 cm). Your head should be placed in the center of the photo. The distance from the top of your head to the bottom of your chin should not be more than 1 ⅜ inches and less than 1 inch.
Your passport photo's digital copies should only be downloaded in JPEG format. It is the only acceptable format for online passport applications.
Background and Lighting
The background for a U.S. passport photo at Walmart should be plain and white without any textures or prints. The lighting should be bright enough to show your facial features clearly. It is best to stand facing the light, whether natural or studio light.
Appearance
Travelers are recommended to keep their appearance formal/semi-formal. Makeup should be used as lightly as possible. Keep your face clear of any shades, glasses, or face painting. Wear headgear or anything else if necessary (for religious or medical reasons only).
How to print passport photos at Walmart?
Walmart passport photo services are flexible and accessible to everyone. If you want to print passport photos at Walmart, the first thing you need to do is to locate a nearby outlet. Call them and ask them if they provide a photo print facility.
If the answer is positive, take your digital copies via email and any mobile device. Ask an employee about the printing procedure; they will do it for you in just 9 cents.
Walmart passport photo near me
Walmart passport photo locations are accessible to everyone who wants to locate a nearby outlet. You can easily find the nearest one to your neighborhood through the 'Find a Walmart Store' feature.
If you type 'Walmart passport photo near me' in the search engine, you will get the link to the Walmart store locator. By navigating to the page, you can find the nearest Walmart passport photo service after entering the zip code of your area.
Viewing the Walmart passport photo center through the directory is also available. It could be a great alternative if you cannot access your Zip code.
Are Walmart passport photo kiosks safe?
Yes, Walmart passport photo kiosks are entirely safe. They are a registered entity of the Walmart incorporation and are known for providing excellent standards of passport photos. They are found in several states across the USA, and their pictures are often professional-grade.
Besides being safe, Walmart passport photo kiosks are a quick way to get your passport pictures. It is your best option if you are traveling and need urgent passport or visa photos.
How to take a passport photo at home using a phone?
With Pixelied's online passport photo services, you can take a photo at home using your mobile phone or digital camera. Here is how you can get your passport-sized pictures within a few minutes:
Set up a plain white backdrop. Ensure there are no textures, prints, or distractions.
Make sure the lighting is bright.
Wear semi-formal or formal attire with no bright colors.
Avoid over-accessorizing your face, hair, or body.
Keep a neutral face with your mouth closed.
Do not use any filters or face enhancement applications. Make sure the picture is taken directly from the camera.
Set the camera in a steady position; you can use a tripod stand if you like.
Set up a timer, stand facing the camera, and click pictures.

A Better Alternative to Walmart Passport Photos
If you're tired of the hassle and high costs at Walmart for passport photos, consider switching to Pixelied for a better, more convenient, and affordable option. Our online passport photo service allows you to get high-quality images from the comfort of your own home. Get photo prints delivered right to your doorstep or sent to you via email.
Frequently Asked Questions
Yes, Walmart passport photos are famous in the U.S. because of their convenience; they can get printed or developed in less than an hour. The images are of professional-grade quality while complying with the US Department of State requirements.
Yes, Walmart passport photo services allow you to conveniently print passport photos. Even if you have taken your pictures online, you can take a digital copy, and they will develop a print for your travel documents.
Walmart offers different sizes of photos for printing, depending on your requirement. For instance, if you are there to get your passport size pictures, they will get them printed on 2 x 2 inches cutouts. These photos are essential for travel and visa in the U.S.
The updated price of passport-sized photos in Walmart is $7.44. You will get two prints of 2 x 2 inches passport photos at this price. You can get both digital copies and prints at the same price.
Printing your passport photo at Walmart is possible if you have a high-quality picture that meets the passport photo requirements. In general, the image must be recent, clear, and meet specific size and background requirements.
Walmart passport pictures do not take more than 10 minutes to develop. In some cases, you can get the prints in 5 minutes. Passport photos at Walmart are taken within regular office hours from Monday to Sunday.
Walmart passport photo price is $7.44 for two professional-grade 2 x 2 passport photos. The prints are developed within 5 to 10 minutes.
All Walmart passport photos are aligned with the government's requirements laid out on the official portal of the U.S. Department of State. So, the chances of rejection are low.
Walmart prints two 2 x 2 passport photos for $7.44. You can also use Pixelied's passport photo service to capture a passport photo at home and get it printed from Walmart for almost 9 cents.