USPS Passport Photo
Get the perfect biometric USPS passport pictures with guaranteed acceptance in seconds!
100% Compliance Guaranteed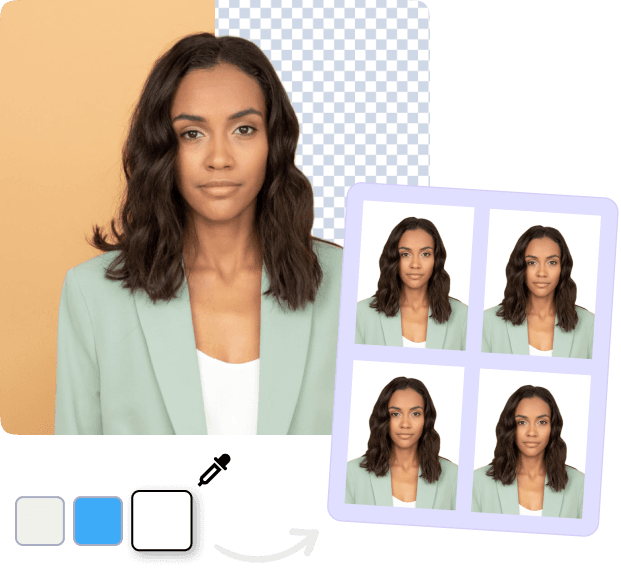 How to get instant photos online?
With our online USPS passport photo tool, you can get a biometric photo for your passport in less than 3 minutes.
Capture or upload your photo
It's super simple - take a selfie or upload a photo, and let our AI tool take care of the rest.
AI processes the image
Our AI tool will remove any unwanted background and resize your photo to the official passport photo dimensions.
AI photo verification
The AI tool will carry additional checks on the photo to make it compliant and ready for submission.
Get digital or print photos
Get your biometric photos in digital copy or have the printouts delivered to your doorstep within a few days.
How to take a clear photo?
Have you ever wondered how to take the perfect passport photo? No need to look further; these instructions will help you achieve biometric USPS passport photos in minutes.
Use a plain background
Use a plain background with no objects behind your back. Stand at least 2m away from the background to avoid shadows behind you.
Keep your posture straight
Maintain a straight posture and fit your head, shoulders, and upper body into the photo. Remove your glasses before taking the picture.
Maintain a neutral facial expression
Make sure your whole face is visible. Keep your hair away from your face and look straight at the camera with a plain expression.
Basic USPS Passport Photo Guidelines
Glasses
Smiling
Image retouching
Wearing uniform and hat
USPS passport photo requirements
How much do passport photos cost at USPS?
According to the United States Postal Services (USPS) official website, the price of passport photos is $15. USPS passport photo cost does not include the digital version.
The Post Office passport photo price of $15 includes the following services:
Capturing a biometric photo
Editing the photo according to US passport photo requirements
Printing two images
The process hardly takes half an hour, and you will be handed your photographs ready for submission and your passport application.
A digital version passport photo can be obtained from USPS by paying a few extra dollars. It will help you save the future cost of taking a fresh picture. You can get a print of digital passport photos whenever you need it.
The cost of printing a digital photo template at USPS is comparatively less than taking a fresh photograph.
What is the passport photo size at USPS?
The recommended dimensions of the USPS passport size photo are 2x2 inches (i.e., 51x51mm). The head size in the image should be between 1 – 1 3/8 inches from the chin bottom to the top portion of the head.
US postal service passport photos comply with all regulatory requirements. The USPS office best suits visa seekers as it is a one-stop shop. People can get their passport photos at USPS while also submitting their passport applications, which is something that is missing at most convenience stores and pharmacies.
What are the basic USPS passport photo requirements?
The basic requirements for a passport photo at USPS are as follows:
The image's dimensions should be 2 inches in width to 2 inches in height.
The image must be a colored print, not older than six months.
Take off your glasses while taking the photo.
The picture's background should be free from shadows, and color may range from white to off-white.
The facial expressions should be neutral – a face with no smile and teeth is a better choice for a passport photo.
The face must be towards the lens of a camera. The eyes should be wide open to make them more visible.
The attire in the passport photo must not be extravagant or clothing belonging to a specific occupation, e.g., uniforms.
Do remove headphones, hats, or earbuds for a passport photo.
How to print passport photos at USPS?
If you have a digital passport photo, printing them at USPS will save you money and time. To print passport pictures at the post office, bring the digital version of your passport photo on a USB drive or send it in digital form via email. Ask the Post Office staff to print out a 2x2 inches sized passport photograph for you.
However, make sure the regulations of US passport photos are met before taking the print. The USPS passport photo price for printing a digital version is less than taking a fresh photograph.
USPS passport photo locations near me
USPS operates thousands of locations throughout the United States. Not all locations offer passport photo services, so it is essential to check with the nearest location to confirm whether or not they offer the service. Some locations may also require an appointment, which can be scheduled online.
You can also check for the nearest USPS branch using Google Maps. The information provided may not be up to date, and prices and requirements might have changed, so it's always recommended to check the official website or contact the USPS office for the most recent information.
Are USPS passport photo kiosks safe?
USPS passport photo kiosks are safe and secure. USPS staff deals with many passport applicants daily and have relevant experience taking passport pictures that meet the US passport photo standards. You can visit their offices during official timings with your children for their passport photographs.
How to take a passport photo at home using a phone?
Taking a passport photo at home is relatively easy, but a successful result is when your image complies with all the requirements of the US State Department. Here's how to take a perfect passport photo at home.
Camera Resolution – A smartphone camera with a resolution of 5 megapixels or more is suitable for capturing a picture for your passport. You can use a tripod stand with a timer to capture a photo. Otherwise, you can take help from a family member or friend to take your photograph.
Lighting – Choose the right place for your picture where necessary light for a photo is available. You can use flash if the lighting is not suitable. The photograph should be free from any shadow.
Background Color – Be careful about the background color. It should be white or off-white. You can use a light wall, sheet, or green screen.
Clothing – The clothes can be of your choice. The only restriction about clothing is to avoid wearing uniforms or any extravagant dress.
Jewelry – It's better to avoid wearing jewelry for a passport photograph. However, you can wear it if it does hide your face. The hair should be in such a position that it does not cover your face, especially your eyes.
Glasses – Glasses are not allowed for a US passport photo. Also, avoid wearing a hat or headgear.
Distance of Camera –The camera's distance from the face should be 5 – 7 feet. The person's upper body and shoulders should be in the frame.
No Smile – The face must be towards the camera, with eyes focusing on the lens. Neutral facial expressions with a closed mouth are preferable.
Take several shots – Take multiple shots with and without flash to help choose the best one for your passport photo. Do not use editing apps for your passport pictures, as it might lead to the rejection of your image.

A Better Alternative to USPS Passport Photos
Skip the USPS line with Pixelied's online passport photo tool. Create quality passport pictures from home with ease. Benefit from time and cost savings, and enjoy our simple, user-friendly platform designed for your convenience.
Frequently Asked Questions
Some USPS offices also provide passport photo services along with accepting passport applications. US postal service passport photos cost $15. Make an appointment before visiting the USPS to confirm whether that branch offers passport photo services. You can search for the nearest location of the USPS branch on their website.
The USPS passport photo fee is $15 for a set of two photographs. If you have a digital version of your passport photograph, then you can get it printed at USPS. It will help you save more than 50% of the $15 amount.
Yes, you can take your passport photo at USPS offices. USPS offers an additional service of passport pictures along with the submission of passport applications. You can get passport photos that comply with the State Department requirements at their place.
The USPS passport photo cost for two pictures is $15. They'll capture a professional photograph and provide two printed passport-sized images. You can also provide them with the digital version of the pictures and ask them to print them.
Most of the time, you don't need to book an appointment for a USPS passport photograph. But since all USPS offices do not offer passport picture services, it's better to inquire about their availability before visiting the place. You can schedule an in-person appointment at USPS via their website.
Yes, you can print your photo at USPS offices if you have a digital version of your passport photograph, i.e., ready for the print version. Plus, the charges are comparatively less than half of the original cost.
The complete services at USPS include capturing a passport photograph and printing a 2x2 inches-sized image on quality paper. The entire process may take up to 30 minutes. As mentioned earlier, you can save time and money by providing a digital version of your passport photo and taking its print at USPS.
USPS passport photo price for 2x2 inches-sized photographs is $15. The amount involves two services, i.e., capturing and printing a professional passport photograph.
You can search for the Post Office location in your area using the Postal Locator option on the USPS website. Before visiting the USPS office, confirm whether that location offers passport photo services by booking an appointment online on the official website.
Many USPS passport photo locations are typically open from 9:30 am to 6:30 pm, making visiting during these hours convenient. However, it's always a good idea to check the timings of a specific USPS branch by contacting the office to ensure they are open when you plan to visit.