Target Passport Photo
Get the perfect biometric Target passport pictures with guaranteed acceptance in seconds!
100% Compliance Guaranteed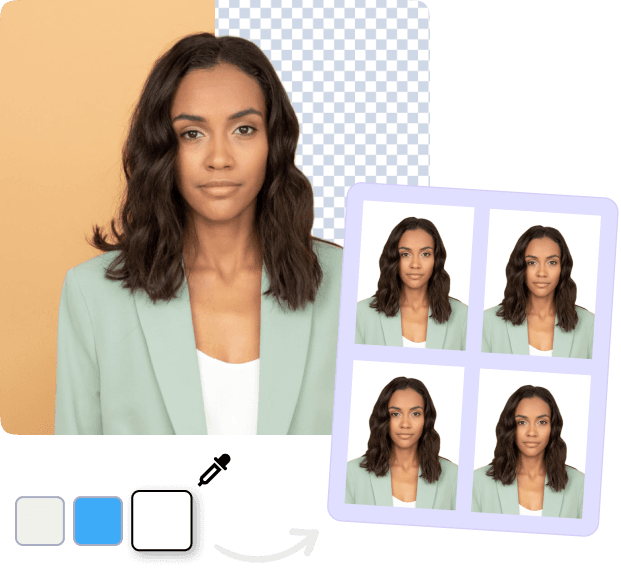 How to get instant photos online?
With our online Target passport photo tool, you can get a biometric photo for your passport in less than 3 minutes.
Capture or upload your photo
It's super simple - take a selfie or upload a photo, and let our AI tool take care of the rest.
AI processes the image
Our AI tool will remove any unwanted background and resize your photo to the official passport photo dimensions.
AI photo verification
The AI tool will carry additional checks on the photo to make it compliant and ready for submission.
Get digital or print photos
Get your biometric photos in digital copy or have the printouts delivered to your doorstep within a few days.
How to take a clear photo?
Have you ever wondered how to take the perfect passport photo? No need to look further; these instructions will help you achieve biometric Target passport photos in minutes.
Use a plain background
Use a plain background with no objects behind your back. Stand at least 2m away from the background to avoid shadows behind you.
Keep your posture straight
Maintain a straight posture and fit your head, shoulders, and upper body into the photo. Remove your glasses before taking the picture.
Maintain a neutral facial expression
Make sure your whole face is visible. Keep your hair away from your face and look straight at the camera with a plain expression.
Basic Target Passport Photo Guidelines
Glasses
Smiling
Image retouching
Wearing uniform and hat
Target passport photo requirements
How much do passport photos cost at Target?
According to the official website, Target's passport photo costs between $9.99 and $12.99. The price is the same in all Target locations, no matter which state you are in.
However, the cost can vary on the number of photos taken and printed out. The target passport photo price of $9.99 gives you two photos, while the $12.99 package gives four photos. Your pictures will be taken and printed with a glossy finish on 5x7 paper. You can cut the images into 2x2 inches by following the crop marks on the sheet.
To get the passport pictures at a cheaper cost, snap a picture at home, transfer it into a USB, and take it to a Target kiosk near you. You can enlarge and resize the images by using the features of that Kiosk. Ensure the picture size limit falls under 100 MBS, and only JPG format is supported.
What is the passport photo size at Target?
The acceptable size of the passport photo by the government of the U.S. is 2x2 inches (51x51 mm). The frame of the photograph should have your head in the center. Your hair and chin should be in the frame measuring from 1-1 3/8 inches, while your eye level should fall between 1 1/8 to 1 3/8 inches from the bottom of the photo.
Passport photos at Target are according to the U.S. Department of State requirements. You will have two passport photos of 2x2 dimensions at $9.99. The pictures will come out on a 5x7 template with two images bordered into 2x2 dimensions; you'll have to cut out the photos following the crop marks so that your pictures follow the U.S. government's passport guidelines.
What are the basic Target passport photo requirements?
The Target passport photo services follow the State Department guidelines. For that, a Target photo center goes through the following steps:
They will make you sit against a plain white background so that the saturation of the colors is enough for the final printout.
They will clear out the background and remove any distractions to ensure the focus is on you.
The photographer will set the camera so that the close-up of your head and shoulder will be clear in the frame without cropping any part of it.
The camera frame will be set to ensure the 2x2 dimension is followed when the picture is printed.
The picture should not be more than six months. The government of the U.S. has set this guideline to ensure that your appearance is as recent as possible.
How to print passport photos at Target?
Printing passport pictures at Target has never been easier. The easiest way to get your passport photo printed is to stop by the nearest Target store. You can tell them the number of images you need, and they will guide you through their packages. The Target photo service will get your photos taken and printed. The photos will be handed to you within 15 minutes.
You can also take pictures from the comfort of your home and get them printed from the Target store. You can print your pictures using the Target photo app to deliver your images. The delivery can take 1-3 business days.
Target passport photo center near me
Target has a total of 1,938 stores located across all the U.S. States. At the same time, passport photo services are scattered throughout most of these locations of Target. Some of these locations do not offer passport photos, but Target is still expanding this service to be available in all of its 1,938 stores throughout the United States.
To find a Target store with a photo service near you, click on your search engine and type 'Target passport photo near me.' All the Target stores located in your parameter with photography services will be listed. Then, you can click on the store, and the maps will guide you through it.
Are Target passport photo kiosks safe?
Target passport photo kiosks are completely safe because they are an authorized entity of the Target Corporation. Besides keeping your security and privacy concerns, they also provide top-tier photo prints.
Although they are entirely safe, it is best to take preventative measures. It is recommended not to use this kiosk to print personal or confidential images. Since a passport photo is an official document, you should rest assured that your pictures will not get misused or there will be no breach of privacy.
How to take a passport photo at home using a phone?
If you don't have the facility to take pictures at Target and are looking for a more convenient option, you can take photos at home using a phone. Whether you want to renew your U.S. passport or apply for a new passport through online services, you should know that you can recreate the environment of a professional passport photo-taking procedure at home with just your phone.
Follow Pixelied's step-by-step guide to get your passport-sized images within minutes.
According to the U.S. passport guidelines, your passport picture should have a white background. Professional photographers use white backdrop stands, but you do not have to get that. If you don't have white walls, get a long piece of white fabric or curtains and temporarily cover your walls with them. You can also get white sheets for this. Make sure the edges of any of these materials do not get visible in your final photo.
Stand before a white light to ensure no negative shadows are on your picture. You can use your phone's flash to have an even tone throughout your picture. Standing directly in front of sunlight might create shadows, but you can experiment with it by changing the angles of your camera.
Ensure you use no filters when clicking a picture from your phone, as it will not capture accurate colors.
Do not over-accessorize, and wear neutral makeup when taking the picture. Else it will take the focus off your facial features.
Make sure your hair is not covering any part of your face, so be careful if you have long hair.
You should have neutral expressions when clicking the picture.

A Better Alternative to Target Passport Photos
Say goodbye to Target trips for passport photos with Pixelied's online passport tool. Experience a hassle-free and affordable solution that delivers high-quality results. Take pictures from the comfort of your home, saving you time and money. Our easy-to-use platform ensures a seamless, user-friendly experience tailored to your needs.
Frequently Asked Questions
Yes, for the convenience of their customers' Target has dedicated passport photo services. These Target photo services can be found at most of their locations. The passport photos are taken according to the requirements of the official U.S. passport.
Most of the locations of Target around the U.S. provide passport photo services; you don't have to book an appointment. The process is as short as 5-15 minutes; that time range includes the printing and the photo taking. Whereas, if you want an online option, the delivery will be made to your door within 1-3 business days.
Yes, Target has expanded its services and launched a new service for passport photos. You can take your pictures at Target and print them in one day for just $9.99
The cost of the two passport pictures at Target is $.9.99. You will get your photo taken and printed on a high-quality sheet on the same day at this price.
Yes, Target photo centers can get your passport photos printed for you. You can go for the online option to get it done from the comfort of your home. You will have to place the order and upload the photos that you want as your passport photo. The Target store will deliver the pictures to your home in 1-3 business days.
The price for two photos of 2x2 inch passport photos at Target is $9.99. All Target stores offer the same price for passport photos. The passport photo only comes in 2x2 inches (51x51mm). The price will increase to $12.99 if you want four photos printed.
If your photo gets rejected, you can resubmit it by retaking it and sending it to the passport agency.
Most of the Target Stores' functioning hours are 8:00 am to 10:00 pm, but the Target photo service hours can vary depending on the location. To ensure you have the correct timing of the Target photo service, search for a Target store near you and inquire about the store beforehand through a call. You can check the timings on Google if you need the passport pictures urgently.
Yes, they print and take the photos for you as well. You can also upload your photos using the Target photo app. Then you can either choose the pick-up option or get it delivered to your house.
Target stores have installed an in-store kiosk service where customers can place orders for their photos. You can upload your pictures in these kiosks and get them printed quickly. You can easily enlarge and resize the picture to suit your requirements. Search 'Target photo kiosk near me' to locate the ones in your neighborhood.