Cheap Passport Photos Online
Get the cheapest passport photo online with guaranteed acceptance in seconds!
100% Compliance Guaranteed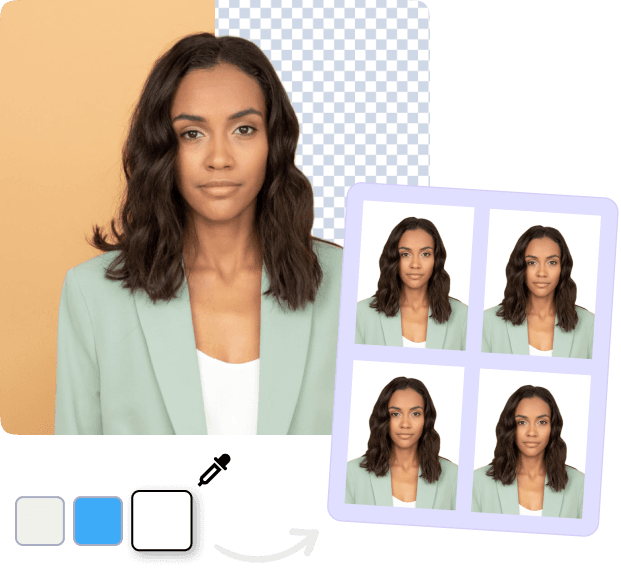 How to get instant photos online?
With our online Cheap passport photo tool, you can get a biometric photo for your passport in less than 3 minutes.
Capture or upload your photo
It's super simple - take a selfie or upload a photo, and let our AI tool take care of the rest.
AI processes the image
Our AI tool will remove any unwanted background and resize your photo to the official passport photo dimensions.
AI photo verification
The AI tool will carry additional checks on the photo to make it compliant and ready for submission.
Get digital or print photos
Get your biometric photos in digital copy or have the printouts delivered to your doorstep within a few days.
How to take a clear photo?
Have you ever wondered how to take the perfect passport photo? No need to look further; these instructions will help you achieve biometric Cheap passport photos in minutes.
Use a plain background
Use a plain background with no objects behind your back. Stand at least 2m away from the background to avoid shadows behind you.
Keep your posture straight
Maintain a straight posture and fit your head, shoulders, and upper body into the photo. Remove your glasses before taking the picture.
Maintain a neutral facial expression
Make sure your whole face is visible. Keep your hair away from your face and look straight at the camera with a plain expression.
Basic Cheap Passport Photo Guidelines
Glasses
Smiling
Image retouching
Wearing uniform and hat
Cheap passport photo requirements
Where to find cheap passport photos near me?
Finding a location that provides cheap passport photos while meeting the U.S. State Department's standards is no longer a problem. Here are some excellent options you can benefit from in any corner of the country:
Pixelied's Passport Photo Tool
If you are looking for an online tool to create and download passport pictures in the correct dimensions and specifications, Pixelied is the best choice. Here are the top three reasons why you should use this tool:
User-Friendly Interface: Pixelied offers a user-friendly interface, making it easy for users of all skill levels to obtain passport images. Whether traveling for work or leisure, the online tool's intuitive interface streamlines the process and helps you achieve professional-looking results in minutes.
Versatility and Functionality: If you're worried whether your image complies with the criteria of the U.S. State Department, Pixelied's built-in A.I. check and image editor have you covered. Minor changes, such as image editing and background adjustment, are done automatically.
Home Delivery: Pixelied also offers the convenience of home delivery. Once you've processed your image, you can easily order high-quality prints and have them delivered straight to your doorstep. This feature eliminates the need to handle the printing process yourself and allows you to enjoy the convenience.
Retail and Convenience Stores
Retail and convenience stores are best for passport photos because of their wide availability. These stores often have multiple locations in various neighborhoods, making it convenient for individuals to find a nearby store to take their passport pictures.
The accessibility saves time and effort; you don't have to travel far or make special arrangements. Additionally, their extended operating hours, including evenings and weekends, accommodate busy schedules and provide flexibility for individuals who need to take passport photos outside regular business hours.
Sam's Club
The cheapest passport photos can be acquired from Sam's Club for just $5.31 for its members. The place is known for its membership benefits, including competitive prices on various products and services. They have photo centers in selected locations where you can conveniently take your passport picture.
Walmart
Walmart provides passport photos for $7.44. It is renowned for its affordability and convenience. With numerous store locations nationwide, you can easily find a Walmart with a photo center that offers passport picture services. Their photo centers are well-equipped, and their staff is trained to meet the requirements for passport photos.
Target
Target charges 9.99 for passport images. Target is known for its shopping experience and comprehensive services. Some Target stores have photo centers where you can get your passport photo taken. You can expect reliable and accurate passport pictures with their well-trained staff and quality equipment.
Staples
Staples offers passport photos for $14.99. Staples is a popular destination for office supplies, and many locations also have print and copy centers that provide passport picture services. With their extensive printing capabilities, you can expect professional-grade passport pictures from Staples.
Drug Stores and Pharmacies
Besides being one of the cheapest places to get passport photos, pharmacies often have dedicated photo centers with trained professionals who understand the specific requirements for passport images. They know the correct composition, lighting, and background specifications, ensuring your photos meet the guidelines. Their expertise reduces the risk of errors or rejections, saving you time and the hassle of retaking the images.
CVS Pharmacy
CVS provides passport photos for $16.99. CVS is a widely recognized pharmacy and retail store with photo centers in many locations. Their experienced staff can assist you in capturing passport-compliant photos, ensuring accuracy and adherence to the required specifications.
Walgreens
Walgreens offers passport photos for $16.99. Walgreens is a well-known pharmacy and convenience store chain with numerous locations. Their extended operating hours and convenient locations make it easy to find a Walgreens with a photo center that offers passport photo services. Their staff is trained to ensure your passport photo meets all the requirements.
Rite Aid
Rite Aid offers passport photos for $8.99. Rite Aid is a popular choice for passport photos due to its accessibility. They have photo centers in many locations, making it convenient to get your picture taken while running errands. The staff can assist you in meeting the necessary specifications for a valid passport photo.
Photography Studios
Their professional quality and customization are compelling reasons to opt for photo studios for passport photos. Photography studios are equipped with professional-grade equipment and experienced photographers specializing in high-quality portraits. They have the skills to create well-composed, well-lit, and visually appealing passport photos.
Moreover, photo studios often provide options for personalized backgrounds, lighting setups, and retouching services, allowing you to have a passport photo that reflects your best appearance. Choosing a photo studio ensures a polished and professional result that exceeds the standard requirements, making it an excellent choice for those seeking a more refined and customized passport picture.
Cost of passport photos in the US
The cost of passport photos in the US is typically influenced by factors such as location and service provider. Here are some general guidelines:
Retail and Convenience Stores: Stores like Walmart, Target, and Sam's Club usually offer passport photos for around $5 to $18.
Drug Stores and Pharmacies: CVS Pharmacy, Walgreens, and Rite Aid typically charge around $10 to $20 for passport photos.
Photography Studios: Prices at photography studios can range from $10 to $30 or more, depending on the studio and additional services offered.
We have compiled the prices of popular services with their passport photos cost in the table below:
| Service | Cost |
| --- | --- |
| Sam's Club | $5.31 |
| Walmart | $7.44 |
| Rite Aid | $8.99 |
| Target | $9.99 |
| UPS | $11.99 |
| AAA | Basic members pay $10, and non-members pay $15 |
| FedEx | $14.95 |
| Staples | $14.99 |
| Office Depot | $14.99 |
| Postal Annex | $15 |
| USPS | $15 |
| Walgreens | $16.99 |
| CVS Photos | $16.99 |
What are the requirements for a passport photo?
As per the official website of the U.S. Department of State, a passport photo should meet the following criteria to avoid rejection:
Size and Composition
The picture must be 2x2 inches (51x51 mm) in size.
Your head should be centered within the frame and take up a significant portion of the image.
The photo should be taken against a plain white or off-white background.
Facial Expression and Appearance
Maintain a neutral facial expression with both eyes open.
Avoid wearing glasses, hats, or head coverings (unless for religious or medical reasons).
Ensure your face is well-illuminated and free from shadows.
Clothing and Accessories
Daily clothing is acceptable, but uniforms or camouflage should be avoided.
Jewelry and accessories that obscure your face should not be worn.
How to get the cheapest passport photo online?
If you're looking for the most cost-effective option for passport images, consider the following steps to get the cheapest passport photo online:
Use Pixelied's Passport Photo Tool: Pixelied is an online passport picture tool that lets you upload your photo and have it edited and formatted without much hassle. The built-in A.I. tool verifies your image, making it more affordable than physical stores. You must pay minimal charges for downloading your picture and ordering prints.
Compare Prices: Research different online passport photo services and compare their prices. Look for ones that offer quality photos at a reasonable cost.
Check for Discounts or Coupons: Some online services and stores may offer promotional discounts or coupon codes. Most stores offer senior citizen and veteran discounts. Look for these opportunities to save some buck on your passport pictures.
Download and Print at Home: You can download and print the digital file at home after obtaining the properly formatted picture from an online tool like Pixelied. Ensure you have glossy photo paper and a reliable printer to produce high-quality prints.
How to take a passport photo using a phone?
Taking a passport photo using your phone is convenient and can save you time and money. Here's a step-by-step guide to help you capture a suitable picture:
Choose a well-lit area with a plain white or off-white background in your home or another location.
Position your smartphone on a steady surface. You can also use a tripod. Ensure it is at eye level and directly facing you.
Set the timer on your phone's camera or ask someone to snap the image. But, explain the specific requirements for passport pictures to them beforehand.
Stand upright, facing the camera directly. Frame the photo so that your head and shoulders are visible, with a bit of space around the edges.
Ensure you meet all the requirements, such as maintaining a neutral expression, having both eyes open, and avoiding accessories that obscure your face.
Capture several photos to increase the likelihood of getting a suitable one. Review them afterward to choose the best option.
If needed, use photo editing software or online tools to adjust the photo to meet the required specifications, such as size, background color, and head position. Pixelied can do all of that for you!
Once you have the formatted photo, you can print it at home using glossy photo paper or visit a local print shop.
How to print a passport photo at home?
Printing a passport photo at home can be a convenient option. Here's a guide to help you print your passport photo:
Obtain a Digital Copy: Make sure you have a digital copy of the passport photo that meets the required specifications. If necessary, you can use photo editing software or an online tool to adjust the picture to the correct size (2x2 inches or 51x51 mm).
Use the Correct Printer: Ensure you have a reliable printer that can produce high-quality prints. Ideally, use a color printer with a high resolution for the best results.
Select Photo Paper: Choose a high-quality glossy photo paper compatible with your printer. Look for photo paper designed explicitly for passport photographs to ensure the best outcome.
Adjust Print Settings: Open the image file on your computer and access the print settings. Ensure the paper size is set correctly.
Print the Photo: Load the photo paper into your printer. Then, select the print option and adjust any necessary settings, such as print quality and color calibration. Print the photo and allow it to dry.
Cut and Trim: Once the photo is printed and dry, carefully cut and trim it using scissors or a paper cutter.

Take Cheap Passport Pictures Online
Unlock affordable and instant passport photos online with Pixelied! No more overpriced studio sessions or tiresome queues. Pixelied's passport image tool lets you download budget-friendly pictures with ease and speed. Your passport photo solution is just an upload away with Pixelied.
Frequently Asked Questions
If you're looking for the cheapest place to get a passport photo, you have a couple of options. First, you can consider using Pixelied's passport photo tool. It lets you snap and download passport pictures in the correct dimensions and specifications, saving time and money. Additionally, pharmacies like CVS and Walgreens are known for offering affordable passport photo services. They have photo centers in many locations, making it convenient to get your passport image taken while running errands.
To print a 2x2 photo, you can use various methods. If you have a home printer, ensure it supports photo printing and use glossy photo paper specifically designed for high-quality prints. Adjust the print settings on your computer to set the correct paper size and print the photo. Alternatively, you can visit a local print shop or online printing services to upload your image and specify the desired dimensions. They will print your 2x2 photo and deliver it to your house.
To take a passport photo with an iPhone, find a well-lit area with a plain background, position yourself correctly facing the camera, and ensure your entire face is visible without any shadows or glare. You can use the iPhone's built-in camera or third-party camera apps for more control. Capture the photo following the required specifications and then use editing apps or software to crop and adjust the picture to the correct dimensions (2x2 inches).
CVS charges $16.99 for a set of two passport photos. The price includes a professional photo shoot and two 2" by 2" prints. However, pricing can vary over time across different locations and for additional prints. It is best to check with your local CVS store or their website for the most up-to-date pricing information. To locate the nearest CVS outlet, use the 'Store Locator' feature on their website.
When it comes to the best place to get a passport picture taken, it depends on your preferences and needs. If you want convenience and affordability, consider using Pixelied's passport photo tool, which allows you to create and download passport photos at a lower cost. It is a user-friendly platform with an auto AI checker. It can adjust your image to make it perfect for your passport application and order prints at home.
For a passport photo, it is generally recommended to wear everyday clothing. Avoid uniforms, camouflage attire, or anything that may resemble a uniform. Remember, your clothing should not detract from your face or obstruct facial features. Opting for a dress contrasting with the background is best to ensure proper visibility. Additionally, avoid wearing accessories like hats, sunglasses, or head coverings unless worn daily for religious or medical reasons.