2x2 Photos Online
Get the perfect biometric 2x2 photo online with guaranteed acceptance in seconds!
100% Compliance Guaranteed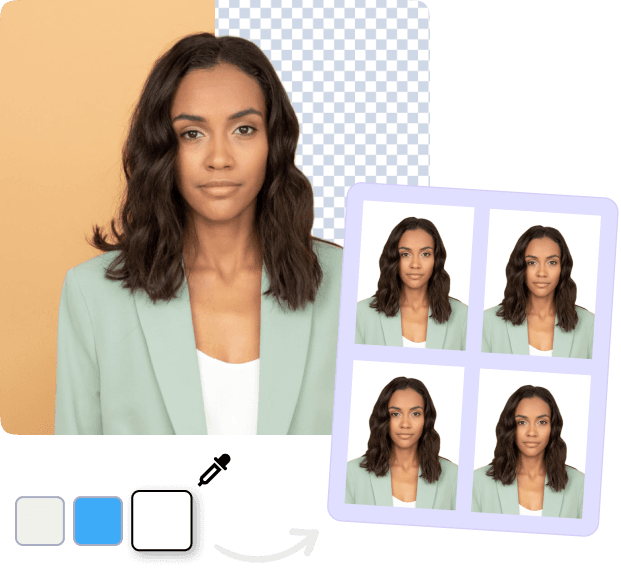 How to get instant photos online?
With our online 2x2 photo tool, you can get a biometric photo for your passport in less than 3 minutes.
Capture or upload your photo
It's super simple - take a selfie or upload a photo, and let our AI tool take care of the rest.
AI processes the image
Our AI tool will remove any unwanted background and resize your photo to the official passport photo dimensions.
AI photo verification
The AI tool will carry additional checks on the photo to make it compliant and ready for submission.
Get digital or print photos
Get your biometric photos in digital copy or have the printouts delivered to your doorstep within a few days.
How to take a clear photo?
Have you ever wondered how to take the perfect passport photo? No need to look further; these instructions will help you achieve biometric 2x2 photos in minutes.
Use a plain background
Use a plain background with no objects behind your back. Stand at least 2m away from the background to avoid shadows behind you.
Keep your posture straight
Maintain a straight posture and fit your head, shoulders, and upper body into the photo. Remove your glasses before taking the picture.
Maintain a neutral facial expression
Make sure your whole face is visible. Keep your hair away from your face and look straight at the camera with a plain expression.
Basic 2x2 Photo Guidelines
Glasses
Smiling
Image retouching
Wearing uniform and hat
2x2 Photo requirements
What is a 2 x 2 photo?
2x2 pictures refer to a photograph with dimensions of 2 inches by 2 inches (or approximately 51 millimeters by 51 millimeters). It is a standard size for various identification purposes, including passport pictures, visa applications, and other official documents.
The 2 x 2 photo typically shows a person's head and shoulders centered within the frame and follows specific composition and formatting requirements outlined by the Department of State for U.S. passports.
Remember, every passport image must meet the specified dimensions and any other guidelines mentioned on the official website of the U.S. State Department.
How much does a 2x2 picture cost?
The cost for 2" by 2" photos can be anywhere between $5 to $20. The price varies depending on the factors such as type of photo, print quality, photo paper, and location where you take it.
The price typically includes the following services:
Professional photoshoot
Processing the image (editing, resizing, etc.)
Printing a set of two photos
Furthermore, if you want cheap 2 by 2 photos, then take a photo on your own and get it printed for a few dollars at a nearby print shop.
Here's a general overview of cost in the US:
| Photo Center | Price for 2x2 photos |
| --- | --- |
| Sam's Club | $5.31 |
| Walmart | $7.44 |
| Rite Aid | $8.99 |
| Target | $9.99 |
| UPS | $11.99 |
| AAA | Basic members pay $10, and non-members pay $15 |
| FedEx | $14.95 |
| Staples | $14.99 |
| Office Depot | $14.99 |
| Postal Annex | $15 |
| USPS | $15 |
| Walgreens | $16.99 |
| CVS Photos | $16.99 |
What are the requirements for 2x2 pictures?
The requirements for a 2x2 passport photo are mentioned below:
Photo Background and Head Size in Photo
The background of the 2x2 photo cannot be any color other than white.
The head size in a 2 by 2 photo should be between 1-1 ⅜ inches from the top of the head to the bottom of the chin.
Print Specifications
The photo should be printed on good-quality matte or glossy photo paper.
A 2x2 photo cannot be a selfie.
Do not apply filters on photos as it is used for identification purposes, and filters might alter the original face.
Glasses & Other Accessories
Take off glasses to take passport pictures.
Wireless devices, hands-free, headphones, or other accessories are also prohibited.
Clothing & Headgear
The clothing for taking a 2x2 photo must not be a uniform or camouflage attire.
Headgears are not permissible for taking such images per the US Department of State guidelines. It is only allowed for medical or religious purposes if you submit a signed statement with your passport application.
Permanent Tattoos
There is no restriction for taking photos with permanent tattoos.
Where can I get a 2x2 passport photo?
To get 2x2 passport photos, there are many options where you can have it taken. Some of the most convenient and affordable options are:
Drug Stores and Pharmacies
Pharmacies are the most convenient options to get perfectly sized passport images as they offer high-quality service at a reasonable price range across various locations. Rite Aid, Walgreens, and CVS are among the largest pharmacy chains in the US. There are over 20,000 locations of these pharmacies, so finding a nearby location won't be an issue.
Rite Aid: Rite Aid is one of the most affordable and convenient places to get 2x2 photos. Take your photos at Rite Aid pharmacy for $8.99.
CVS: CVS uses KODAK Biometric technology that automatically verifies the compliance of photos with technical guidelines specified by the US Department of State. Take your passport snaps at CVS for $16.99.
Walgreens: There are almost 7700+ Walgreens outlets offering photo labs. You can opt for Walgreens to get your passport pictures for $16.99. All the requirements for passport snaps are considered while generating your photos.
Target: The passport photo cost at Target is $9.99 per set of two pictures. Target takes great passport snaps that have both sharpness and balanced saturation. The photos are printed at Target on good Kodak paper quality.
Photography Studios
Professional photo studios are an optimal choice for obtaining passport photos due to their comprehensive understanding of the essential requirements and advanced equipment capable of producing superior-quality images.
Their seasoned photographers are well-versed in the nuances of lighting, angle, and composition, thus ensuring that your photograph meets all strict passport picture guidelines. Furthermore, these studios offer quick services for those in need of immediate results, making them a reliable one-stop solution for all your passport image needs.
Shipping Centers
Another good option for taking good passport snaps is the shipping center services. FedEx offers expedited passport services and passport photos, making it a more suitable choice for people who need a passport. Among various shipping centers, FedEx offices and UPS stores are the most viable options to take and print your passport pictures.
FedEx: You can get 2x2 passport photos for $14.95 at FedEx. FedEx's specialized software ensures that the captured photos align with the requirements to help customers avoid delays while submitting.
The UPS Store: Get inexpensive passport pictures at UPS for only $11.99. It is one of the cheapest options to get quality passport pictures.
Postal Annex: Postal Annex is another viable option for receiving quality passport picture services. You can get high-quality passport images at PostalAnnex for $15.
Staples: Get same-day passport picture service at 1000+ Staples stores. Visit the Staples store during business hours to get your photos taken. The cost for a set of two photos at Staples is $14.99.
Post Offices
Post office is another option in the US to get photos and submit your passport applications. So, if you have limited time, choose the advantage of the one-stop shop provided by the United States Post Office (USPS). It will help you save both time and effort. The price of taking passport pictures at USPS is $15. It includes a professional photoshoot and two 2" by 2" prints but doesn't include the passport application fee.
Online Passport Photo Tools
Online passport photo tools have revolutionized the way we create professional-looking images conveniently from home. Pixelied stands out among these solutions with its user-friendly interface and quick processing.
Allowing users to upload and automatically make changes to the image to fit the precise dimensions set by the US Department of State takes the guesswork out of compliance. It is a convenient, effective, and budget-friendly alternative to traditional passport picture services.
How to use Pixelied's 2x2 photo converter?
Using Pixelied's 2x2 picture converter is very simple. All you have to do is:
Open the Pixelied website.
Click on 'Upload Your Image.'
Choose a photo from your computer/phone.
Within a few seconds, you will see an edited image of a 2x2-inch size.
The AI automatically adjusts the image and ensures it meets State Department requirements.
Download the digital file or order the printouts delivered to your doorstep.
How to take a 2 x 2 picture using a smartphone?
Here is a simple stepwise guideline on how to take a 2"x2" picture using a smartphone:
To take a photo, you need to find a place where the background is white. The lighting must be good enough to have no shadows on your face.
A selfie cannot be used as a passport image; therefore, take a photo using a tripod stand. You can also request any friend or family member to click your pictures.
Mostly, smartphones have square ratio mode, which can automatically take a correct size photo. Otherwise, crop an image to a 2x2 size photo using Pixelied.
While clicking a photo, ensure the face is centered in the frame. The head should be tilted slightly upwards, and the face must be directed toward the camera. The attire can not be a uniform or camouflage clothing. Snap multiple shots until you are satisfied with the captured image.
If you have a printer at home, take it to print. Or you can visit a nearby photo/print shop to take the print of your image.
How to print a 2x2 passport photo at home?
To take a print of a 2x2 passport at home, follow these steps:
Open the photo you want to print.
Crop it into a 2x2 size photo and save it. You can use photo editing software for this purpose as well.
Now, right-click on the photo and select the print option.
Select the quality, paper size, and number of copies you want.
Make sure to use glossy photo-quality paper and then click print.
The photo must match your current appearance. So, don't use a photo older than six months.

Take 2 x 2 Photo Online
In our fast-paced world, convenience is key. Pixelied offers a seamless, quick solution to procure high-quality 2x2 photos without leaving your home. Leveraging user-friendly design and AI-driven technology, Pixelied streamlines the photo process. Simply upload your image, and let our advanced platform do the rest. Experience the speed, ease, and convenience of online 2x2 photo printing with Pixelied - the future of photo services.
Frequently Asked Questions
To obtain a 2x2-inch picture online, you only need to upload your image on Pixelied. It will automatically convert your photo to the proper dimensions and change the background color to white. Additionally, you can crop your photo to 2x2 size using photo editing software such as Microsoft Paint, Adobe Photoshop, etc.
Take a photo and edit it by resizing the image dimensions to 2-inch length and 2-inch width. A 2x2 passport photo can be easily made by uploading your picture on Pixelied. It will run a compatibility check on your image and make the necessary adjustments to make it a perfect fit for your passport application.
A 2x2 photo is a must requirement for submitting passport or visa applications. Additionally, a 2x2 photo is required for identification documents, driver's license, and other ID photos.
Yes, you can take a 2x2 passport photo on your iPhone. To do so, find a well-lit area with a plain background, position yourself correctly facing the camera, and maintain a neutral expression. Use the camera app on your iPhone to capture the photo, ensuring your entire face is visible without any shadows or glare. You can use built-in editing tools or dedicated passport photo apps to crop and adjust the photo to the required 2x2 dimensions. However, it's essential to ensure that the final photo meets all the specific requirements for passport pictures, such as background color, head size, and composition.
Create an account on the Walgreens website to get a 2x2 print at Walgreens. You can select the type of print you want in the print section. Upload your photo and fill in all the relevant details. You can opt for either pickup or shipping options. Next, proceed to checkout. Walgreens also offers to take your passport snaps at their photo studios.
The pixel size of a 2 x 2 passport photo can vary depending on the resolution and requirements. However, a commonly recommended pixel size for a 2 x 2-inch passport photo is around 600 x 600 pixels. It's important to note that pixel size alone may not be sufficient to ensure compliance with all requirements, as additional factors like file format, file size, background color, and specific composition guidelines may also need to be ensured.
Several countries, including the United States, Canada, United Kingdom, Australia, India, and the Philippines, commonly require 2x2 photos for various identification purposes, such as passport applications and visa processes. These standardized 2x2 photos are widely accepted and adhere to specific requirements set by the respective passport-issuing authorities in each country. It is essential to consult the guidelines provided by the relevant country's embassy or consulate to ensure your 2x2 photo meets all the specifications.
The passport photo size for the US is 2x2 inches (i.e., 51 mm x 51 mm). The head size in the passport picture should be between 1 to 1 ⅜ inches (between 25 – 35 mm) from the bottom of the chin to the crown of the head.