Digital Passport Photo
Get the perfect biometric digital passport pictures with guaranteed acceptance in seconds!
100% Compliance Guaranteed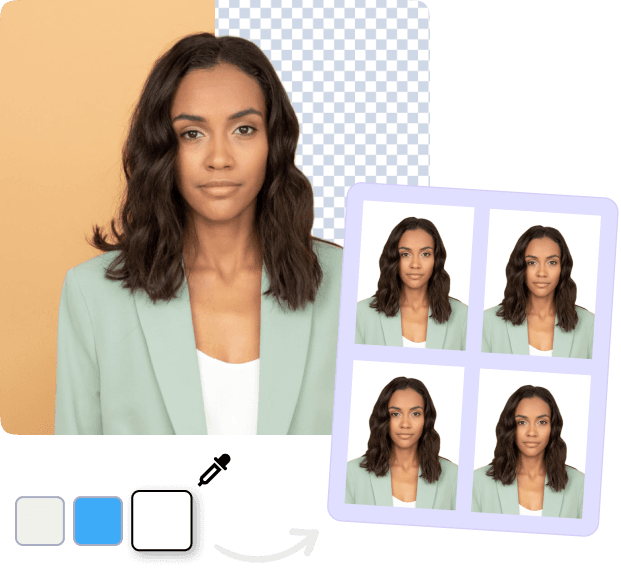 How to get instant photos online?
With our online Digital passport photo tool, you can get a biometric photo for your passport in less than 3 minutes.
Capture or upload your photo
It's super simple - take a selfie or upload a photo, and let our AI tool take care of the rest.
AI processes the image
Our AI tool will remove any unwanted background and resize your photo to the official passport photo dimensions.
AI photo verification
The AI tool will carry additional checks on the photo to make it compliant and ready for submission.
Get digital or print photos
Get your biometric photos in digital copy or have the printouts delivered to your doorstep within a few days.
How to take a clear photo?
Have you ever wondered how to take the perfect passport photo? No need to look further; these instructions will help you achieve biometric Digital passport photos in minutes.
Use a plain background
Use a plain background with no objects behind your back. Stand at least 2m away from the background to avoid shadows behind you.
Keep your posture straight
Maintain a straight posture and fit your head, shoulders, and upper body into the photo. Remove your glasses before taking the picture.
Maintain a neutral facial expression
Make sure your whole face is visible. Keep your hair away from your face and look straight at the camera with a plain expression.
Basic Digital Passport Photo Guidelines
Glasses
Smiling
Image retouching
Wearing uniform and hat
Digital passport photo requirements
Renewal of a passport Online: Overview
Renewing your passport online has become more convenient than ever, thanks to recent changes that allow for the use of electronic passport photos. With this new process, you can save time and effort by avoiding printing physical pictures or visiting a photo studio.
For this process, your passport photo's digital copy is required, and here are two popular options:
Option 1–Take a Photo at Home: Simply take a high-quality digital passport photo that meets the specific requirements, such as size and composition, and upload it during your online passport renewal application.
Option 2–Online Passport Photo Tools: Digital passport photos can also be acquired using an online tool like Pixelied to get compliant pictures for passport application within minutes. The streamlined approach eliminates the need for physical visits and allows for a smoother and more efficient renewal process.
As per the official website of the U.S. State Department, the online renewal service is currently paused since 8th March 2023 to further elevate the customer experience.
Those who applied before the service was paused can easily access their MyTravelGov account and manage their application. However, individuals who still need to apply will no longer find the option to renew online in their MyTravelGov account.
Although online submission is currently unavailable, eligible individuals can still renew their passports by mail. Assistance and support options are available for customers requiring access to their MyTravelGov accounts.
How much does a digital passport-size photo cost?
The cost of a digital passport-size photo can vary depending on various factors, such as the service provider, location, and additional services offered. You can estimate the price between $5 and $20.
Obtaining a digital passport-size photo is generally more affordable than traditional printed photos. Many online platforms and mobile apps offer digital passport-size pictures for free or minimal fees. These digital photos can be saved and used in online applications, reducing the need for printing or physical copies. It's essential to check the pricing and terms of the specific service or platform you choose to determine the exact cost of a digital passport-size photo.
Some brick-and-mortar retailers and pharmacies can also give you a soft copy passport photo upon request. You can visit Target, Walmart, Walgreens, or CVS stores for more information.
Here's a general price overview of physical stores:
| Service | Cost |
| --- | --- |
| Sam's Club | $5.31 |
| Walmart | $7.44 |
| Rite Aid | $8.99 |
| Target | $9.99 |
| UPS | $11.99 |
| AAA | Basic members pay $10, and non-members pay $15 |
| FedEx | $14.95 |
| Staples | $14.99 |
| Office Depot | $14.99 |
| Postal Annex | $15 |
| USPS | $15 |
| Walgreens | $16.99 |
| CVS Photos | $16.99 |
Disclaimer: These prices are generally for a photo shoot and two 2x2 inch prints. Digital passport picture costs might be lower or higher.
Where to get a digital passport photo?
You can obtain electronic passport photos from various sources, including:
Pixelied's Passport Photo Tool
Pixelied offers a dedicated online tool where you can create and download a digital passport photo. It provides auto-correction and adjustments to help you ensure that your photo meets the required specifications.
Online Passport Photo Services
Several online platforms specialize in providing digital passport photos. These services typically allow you to upload an image and customize it according to the specific requirements of your country or region. They generate a digital version you can download and use for your passport application.
Mobile Apps
Numerous mobile apps are available for both iOS and Android devices that enable you to take or upload an image and transform it into a digital passport-size photo. These apps often offer customization options, such as adjusting the background color, resizing the image, and ensuring it meets the necessary specifications.
Photo Studios and Print Shops
Some photography studios and print shops offer the option to receive a digital copy of your passport picture along with printed copies. They may provide the image in a digital format which you can save and use for online applications. Make sure to ask for JPEG because that is the only acceptable format.
What are the requirements for a digital passport picture?
To obtain digital passport pictures, you must ensure they meet specific requirements. These requirements typically include the following:
1. Dimensions: The photo must have a minimum size of 600 x 600 pixels. It can be rectangular, but it should provide ample space around your head and torso for automatic cropping.
2. Color: The photo must be in color, with a color depth of 24 bits per pixel. It should be in the sRGB color space, which is a common output for most digital cameras.
3. Format: Save the photo in JPEG file format. It is the recommended format for digital passport photos.
4. Size: The photo's file size should be at least 54 kilobytes and no more than 10 megabytes.
5. Compression: Maintain a compression ratio of less than or equal to 20:1 to ensure clarity and resolution.
6. Quality: Use the highest quality settings on your camera when taking the photo and select the highest quality setting when saving and emailing it.
Don'ts of Digital Passport Photos
Avoid editing or digitally manipulating the photo.
Refrain from sending the image via text message or saving it to a cloud-based application to avoid compression.
Don't use any other format than JPEG.
Avoid scanning a printed photo or taking a picture of an already printed image, as these methods may not meet the required standards.
Things to Remember
When renewing your passport online, the process requires uploading a digital photo. To ensure the quality and compliance of your image, it is recommended to have someone else take it for you, avoiding selfies.
How to use Pixelied's passport photo tool?
Using Pixelied's passport image tool is simple and straightforward. Here are five steps to guide you through the process:
Open Pixelied's Passport Photo Tool: Visit Pixelied's website and navigate to the passport picture tool.
Upload a Photo: Upload a digital copy of a passport photo of yourself that follows the guidelines provided by the U.S. State Department. You can also use your device's camera to capture a new image directly within the tool. Ensure the photo has proper lighting, is well-focused, and meets the necessary composition requirements.
Auto Adjustment and Positioning: With the help of Pixelied's AI tool, it'll automatically adjust your photo's size, position, and alignment. The tool will ensure it meets the requirements set by the State Department.
Download and Save Your Passport Photo: Once satisfied with the adjustments, click the "Download" button to save your passport photo. Pixelied will generate a high-quality image file in the correct dimensions and format, ready for you to use in your passport application or renewal process.
How to upload a passport photo for renewal?
To upload a passport photo for renewal, you must have digital passport pictures. You can either take a shot at home, use an online tool like Pixelied or visit your nearest photography studio.
Tools You Need
In order to take a photo at home, you need the following tools:
Smartphone with a high-quality camera or a digital camera
Tripod stand or any steady surface
Good source of lighting (daylight will work too)
Plain, white background
Step 1: Take a Photo at Home
To take a photo at home, follow these steps:
Choose a location with ample lighting. Natural light is preferable, so position yourself near a window or in a well-lit room. Avoid harsh shadows and ensure your face is well-lit and evenly illuminated.
Use a solid, white-colored wall or hang a plain sheet as your background. Ensure no patterns, objects, or distractions in the background could detract from your face.
Stand or sit in front of the camera, ensuring your face is centered and fills most of the frame. Keep your shoulders straight and your face forward without tilting or turning your head.
Avoid direct overhead lighting that can create unflattering shadows. Experiment with different lighting angles to find the most even and flattering lighting for your face.
To avoid a camera shake, set a timer on your smartphone or digital camera, or use a tripod to stabilize the device. It helps ensure a sharp and focused photo.
Capture several photos to increase the chances of getting a good one.
Review each photo to assess lighting, composition, and facial expression. Delete any images that don't meet your desired criteria.
Step 2: Uploading Passport Picture for Renewal
Ensure you have a digital copy: Make sure you have a digital version of your passport picture. It can be a photo taken with a digital camera or smartphone.
Access the online renewal platform: Visit the official website of the passport issuing authority in the US. Look for the online passport renewal platform or application portal.
Create an account or log in: If it's your first time using the online platform, create an account with your personal information. If you already have an account, log in using your credentials.
Navigate to the photo upload section: Within the renewal application, locate the section designated for photo upload. It is usually clearly indicated and labeled accordingly.
Select the photo file: Click on the designated area or the "Upload" button to browse your computer or device for the digital passport photo file. Select the file and confirm the upload.
Review and submit: Once the photo is uploaded, review it to ensure it meets the required specifications, such as size, format, and clarity. If everything looks correct, proceed with submitting your renewal application.
Pay the renewal fee: Complete the payment process for the renewal application, if applicable, as per the instructions provided.

Take Digital Passport Pictures Online
Say goodbye to inconvenience—embrace the comfort and ease of Pixelied's passport photo tool. Snap and download your digital passport photos without stepping out of your house. All you need to do is upload your picture and let us handle the rest! With Pixelied, obtaining your passport picture is as simple as a click.
Frequently Asked Questions
Taking a digital passport image at home is possible using your smartphone or digital camera. Ensure to follow the guidelines provided by the U.S. State Department for the specific dimensions, background color, and composition requirements. Ensure adequate lighting, use a plain background, and position yourself correctly facing the camera. Capture the photo, transfer it to your computer, and save it in JPEG format to obtain a digital passport image at home.
Making copies of passport pictures is generally not recommended, as each copy should be original. Passport authorities require genuine photos for official documentation. It is advisable to take a new image when needed rather than making copies of an existing passport photo.
Walgreens does not typically provide a digital copy of passport photos. They primarily offer physical prints. However, you can inquire at your local Walgreens store about any digital options they may have. Alternatively, you can take a picture at home using your smartphone, transfer it to your PC, and make necessary adjustments to have a perfect 2x2 inches digital image.
To make a 2x2 picture online, you can use various platforms and tools that offer passport photo services. Pixelied's passport picture tool is a user-friendly option that allows you to create a 2x2 picture by uploading or capturing a digital photo and adjusting it to meet the required specifications.
Yes, you can take your own passport photo. The U.S. State Department allows individuals to take their passport photos as long as the picture meets the specified requirements. This often includes factors such as the correct dimensions (2" by 2"), background color (white or off-white), lighting conditions, and composition. Ensure you carefully follow the guidelines to take a valid and acceptable passport picture.
Most passport photo booths provide physical prints rather than digital copies. These booths are usually designed for immediate printing and may not offer digital options. However, some booths may be able to provide a digital file in addition to physical prints. It's best to check with the specific booth or service provider to determine if they offer the option to obtain a digital passport photo.