CVS Passport Photo
Get the perfect biometric CVS passport pictures with guaranteed acceptance in seconds!
100% Compliance Guaranteed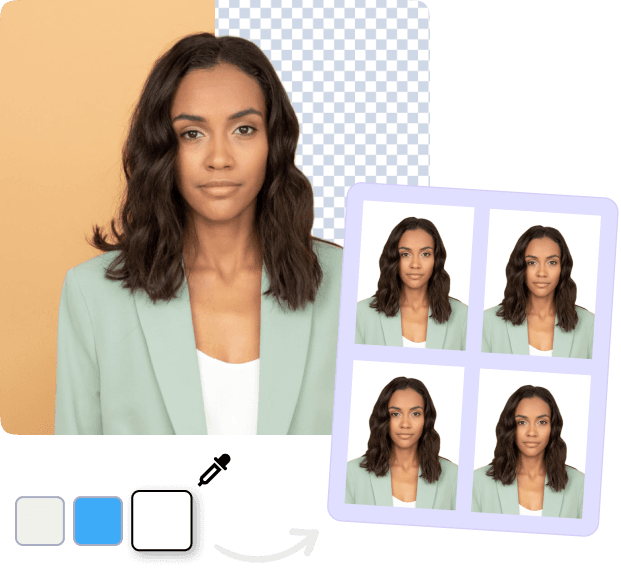 How to get instant photos online?
With our online CVS passport photo tool, you can get a biometric photo for your passport in less than 3 minutes.
Capture or upload your photo
It's super simple - take a selfie or upload a photo, and let our AI tool take care of the rest.
AI processes the image
Our AI tool will remove any unwanted background and resize your photo to the official passport photo dimensions.
AI photo verification
The AI tool will carry additional checks on the photo to make it compliant and ready for submission.
Get digital or print photos
Get your biometric photos in digital copy or have the printouts delivered to your doorstep within a few days.
How to take a clear photo?
Have you ever wondered how to take the perfect passport photo? No need to look further; these instructions will help you achieve biometric CVS passport photos in minutes.
Use a plain background
Use a plain background with no objects behind your back. Stand at least 2m away from the background to avoid shadows behind you.
Keep your posture straight
Maintain a straight posture and fit your head, shoulders, and upper body into the photo. Remove your glasses before taking the picture.
Maintain a neutral facial expression
Make sure your whole face is visible. Keep your hair away from your face and look straight at the camera with a plain expression.
Basic CVS Passport Photo Guidelines
Glasses
Smiling
Image retouching
Wearing uniform and hat
CVS passport photo requirements
How much do passport photos cost at CVS?
According to the official CVS website, the cost of passport photos is $16.99. If you are thinking about renewing your passport, changing the ID photo, or changing the name on your passport, you will need a passport photo.
The CVS photo team provides speedy, safe, and reliable service. Their passport images meet all the mandatory requirements for US passport photos.
To avoid any inconvenience of non-acceptance of passport photos, use CVS pharmacy passport photo services, as they have many years of experience generating passport photos for customers. The CVS photo team won't only help you to save time but will also satisfy the mandatory parameters for acceptable passport photos.
What is the passport photo size at CVS Pharmacy?
The correct size and dimensions for passport photographs at CVS are 2x2 inches (51mm x 51 mm). The distance of a person's head from the chin's bottom to the top of the head should be between 1 – 1 3/8 inches (i.e., 25 to 35 mm).
Two colored prints of passport images of 2x2 dimensions are required to submit along with the passport application. The size of photographs at CVS is set by following the US State Department requirements for passport pictures.
What are the basic CVS passport photo requirements?
Some of the basic requirements for passport photos at CVS are:
Facial Expression
The facial expression should be neutral. You should avoid smiling or frowning while taking a photo. Eyes should be wide open, facing towards the camera.
Head Angle
Keep your head straight in the direction of the camera. Directly look into the camera while taking a photo. Avoid blinking your eyes when a picture is being taken.
Attire
The attire should be simple (not an extravagant dress). Photos taken wearing uniforms are not acceptable. However, wearing religious clothes for a picture is not prohibited.
Background color
The background should be plain white with nothing behind it.
Filters
Do not use filters for passport photos. Pictures should be taken with an original camera (without applying filters) to make the features more apparent and authentic.
Glasses
Photos taken while wearing glasses are not acceptable. Remove your glasses while taking a photograph for your passport.
Headgear
Avoid using a hat or any other kind of headgear in the photo.
Fresh Photographs
The photo shouldn't be older than six months. Fresh photographs taken recently are acceptable.
How to print passport photos at CVS?
You can print your passport photos at CVS stores. CVS passport photo cost is lower if you only want to use their printing services (instead of using both printing and photography). However, follow all our guidelines described above before taking the picture and then printing it at a CVS store.
To print a passport photo at CVS, follow these steps:
Prepare a CVS digital passport photo template on their website.
The size of the photo template should be 4 x 6-inch ( i.e., 10 x15 cm) sized image
Upload the photo and preview the ready-to-print passport photo to ensure the right image is uploaded.
Copy the printable photo template file to the USB and get it printed at the CVS store.
CVS mobile app is also an easy option for getting a print of your passport photo at a nearby CVS store. You can also use your CVS photo id to get a print.
The printed photo template will have two photos of passport size (2 x 2 inches). Cut it into two halves.
CVS passport photo near me
Download the CVS app to find the nearest CVS passport photo. Select the Find Store option, and add your location to search the CVS pharmacy passport photo store nearest to your location.
If you are living in an area where the location of the nearest CVS photo store is not feasible for you, then you use CVS premium mail service to get your 4x6 inch passport photo delivered to your place. For this, you have to follow these guidelines:
Upload an image using the CVS app.
Get a digital template for a passport with the correct dimensions.
Add the delivery address details to receive a printed version of the photos at your house.
Are CVS passport photo kiosks safe?
The CVS passport picture kiosks are totally safe and secure for all visitors. The photographs are taken by professional staff who know how to deal with the public professionally. They provide excellent standard passport photographs by using KODAK Biometric ID Photo System.
The software makes the process fast and easy to get a photo that meets all regulatory requirements for passport pictures.
How to take a passport photo at home using a phone?
You can take your passport photos at home as well. To take a picture, you need a camera and knowledge of all the basic requirements for passport photos. You must follow all the dos and don'ts of taking the correct image for your passport.
To take a photo, look at the checklist discussed above in the basic CVS passport photo requirements section. Take a picture using a tripod camera with a timer or take help from any friend or family member. The distance between the camera and the face should be around 3 feet.
Take the picture at a place where there is enough light. Face the camera directly with your eyes open and a straight posture. Avoid showing teeth in your passport photos.
Take at least four to five snaps and select the most appropriate one for printing purposes. Now you have a photo ready for uploading on the website, and get a print of it at the nearest CVS pharmacy.
If you doubt you cannot meet the criteria, save your time taking it and use professional photography services to get your passport photo.

A Better Alternative to CVS Passport Photos
If you're tired of the hassle and expense of going to CVS for passport photos, we've got a better option. With Pixelied's online passport tool, you can get high-quality passport photos right from the comfort of your home. We make it easy for you to get the photos you need quickly and affordably.
Frequently Asked Questions
Most CVS pharmacies provide professional services for taking passport photographs. You can check from the CVS pharmacy mobile app to confirm whether any specific CVS store near your location takes passport photos.
The same-day pickup service is available at CVS pharmacies. Go to your nearest CVS pharmacy, ask them to take your passport photographs, and get biometrically verified passport photos on the same day.
You can take passport photos at the CVS store for $16.99. You don't need to guide them about the requirements of your passport photographs as they have experience taking pictures for passport purposes. You can get quick, reliable, and government-compliant photos at CVS stores.
The passport photo cost at CVS for two images is $16.99. You can also take two additional photographs by paying an additional $2.99. However, the charges will be less if you only want printing services from CVS (instead of taking photos).
According to the official website of CVS and Walgreens, both prices are the same, i.e.$16.99. However, the feature of the KODAK biometric ID photo system makes CVS a better option than Walgreens. The system makes the process easy and fast, automatically verifying whether the photo meets the US passport photo criteria.
Yes, you can print your own passport photo at CVS stores. All you need to do is to upload the picture on the website or mobile app. Or otherwise, copy the file to the USB and take it to the CVS store to get its printed copies.
The process of taking a government-compliant photograph takes only a few minutes. Once the photo is ready, the photo technicians edit and finalize it for printing. If everything goes smoothly, the process may take 15 to 20 minutes, and you will have your photos in your hands within a few minutes.
2X2 passport photos at CVS are available for $16.99. CVS passport photo price includes the services of taking photographs and printing them. Two additional photos can be purchased by paying an extra $2.99.
CVS photo stores take passport photos and ensure they comply with all the government requirements for passport images. The photos taken at CVS stores usually don't get rejected by authorities.
Some of the CVS pharmacies provide 24-hour services for passport photos. You can visit them anytime when you are free. However, the closing timing for other CVS pharmacies is different. Some CVS stores close at 7 pm, while others may operate late at night. It is advisable to confirm the timing from the CVS app or via call before the visit.
CVS stores do not offer a digital copy of passport photos.
Few CVS pharmacies provide 24-hour service. However, to avoid any inconvenience, check the timings of your local CVS store before going. You can check their timings from the website or by inquiring on a phone call.