FedEx Passport Photo
Get the perfect biometric FedEx passport pictures with guaranteed acceptance in seconds!
100% Compliance Guaranteed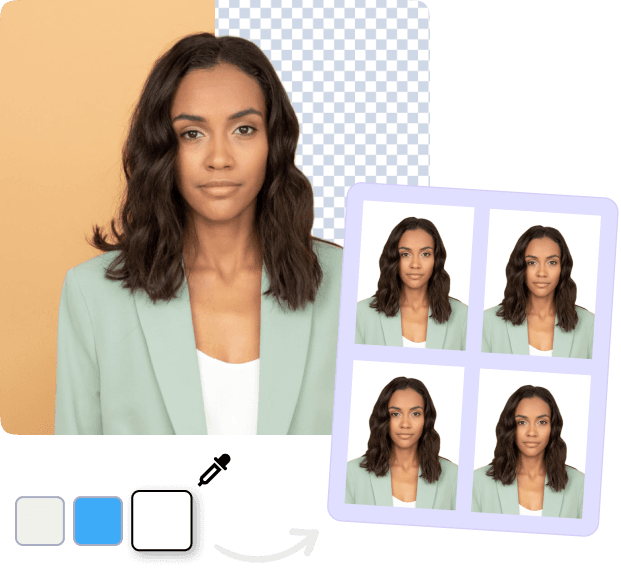 How to get instant photos online?
With our online FedEx passport photo tool, you can get a biometric photo for your passport in less than 3 minutes.
Capture or upload your photo
It's super simple - take a selfie or upload a photo, and let our AI tool take care of the rest.
AI processes the image
Our AI tool will remove any unwanted background and resize your photo to the official passport photo dimensions.
AI photo verification
The AI tool will carry additional checks on the photo to make it compliant and ready for submission.
Get digital or print photos
Get your biometric photos in digital copy or have the printouts delivered to your doorstep within a few days.
How to take a clear photo?
Have you ever wondered how to take the perfect passport photo? No need to look further; these instructions will help you achieve biometric FedEx passport photos in minutes.
Use a plain background
Use a plain background with no objects behind your back. Stand at least 2m away from the background to avoid shadows behind you.
Keep your posture straight
Maintain a straight posture and fit your head, shoulders, and upper body into the photo. Remove your glasses before taking the picture.
Maintain a neutral facial expression
Make sure your whole face is visible. Keep your hair away from your face and look straight at the camera with a plain expression.
Basic FedEx Passport Photo Guidelines
Glasses
Smiling
Image retouching
Wearing uniform and hat
FedEx passport photo requirements
How much do passport photos cost at FedEx?
According to the official website of FedEx, a passport photo costs $14.95. For this price, FedEx provides a professional photoshoot and two 2x2-inch high-quality prints aligned with the requirements laid out by the U.S. State Department. Furthermore, along with doing passport photos, FedEx can also initiate your passport application.
The typical passport application process at FedEx looks something like this:
Begin the passport application process by answering a few questions through the online system provided by RushMyPassport.
Once you have completed the online process, the system will generate all the necessary documentation for your passport application.
Visit your local FedEx Office to get your passport photos taken.
Print out all the required documentation generated by RushMyPassport and any other necessary documents.
Use FedEx to ship your essential documents to RushMyPassport securely.
Once RushMyPassport receives your documents, they will expedite your passport application process and return them to you as quickly as possible.
You can also take passport photos digitally using online services such as Pixelied and get their prints at FedEx passport photo offices. The charges of printing a self-provided digital passport photo are less.
What is the passport photo size at FedEx?
The passport photo size at FedEx is 51mm x 51 mm. The head size in the image must be between 22mm to 35 mm. Remember that the U.S. State Department across America sets the size and dimensions standards, and everyone must follow them to avoid rejection.
FedEx passport-size photo is captured by considering all the passport photo requirements. Don't worry about the size or passport picture requirements while using FedEx services. Their services meet the regulatory standards for passport pictures required by the U.S. Department of State.
What are the basic FedEx passport photo requirements?
The basic FedEx passport photo requirements comply with the passport photo guidelines mentioned on the official U.S. State Department's website. Some of the most important ones are listed below:
The size of the image must be 2x2 inches.
Head size should be between 1 -1 3/8 inches.
The background of the picture can be white or off-white.
Attire must not be uniform or extravagant.
Wearing glasses is not permitted unless worn for medical reasons. If so, you must submit a doctor's letter.
Hair should not cover the face.
Jewelry should be minimal enough that it doesn't cover the face.
Eyes should be fully open.
Don't smile in a passport picture. Keep a neutral face.
No hat, headgear, or headscarves are allowed unless worn for religious reasons. If so, you must submit a signed letter with a passport application.
The picture must be colored and free from shadow.
How to print passport photos at FedEx?
To print a passport photo at FedEx, you need to have a digital template of your image. Copy the template to a USB and send it via email or phone. Make sure the photo is at least six months. Otherwise, take a new picture because older photos may lead to passport application rejection.
The photo you provide for printing at FedEx offices must meet the requirements for a U.S. passport photo. Online software can help you to capture an image that meets the criteria for a passport photo. A passport-size photo at FedEx is an easy solution for people because of its fast and convenient passport services.
FedEx passport photos near me
To find the nearest location of the FedEx Passport Photo Office, follow these steps
Go to the FedEx website
Click on the ''Find A Location'' section
Add your address in the search bar
Use the locator to find any near FedEx Office
There is an alternative way. Go to Google Maps and turn on location from your phone. Enter 'FedEx' in the search bar and hit enter. The results will be comprehensive as they will show you the nearest FedEx offices with their operational timings, addresses, and contact numbers of FedEx Office locations.
Are FedEx passport photo kiosks safe?
Yes, FedEx passport photo kiosks are safe. FedEx Office has locations that offer passport photo services. In these locations, you can take photos and print them all by yourself.
These self-service kiosks are typically available across America. Some kiosks may require assistance from their staff members, while others are entirely self-service kiosks. It is recommended to call ahead to ensure that the location you plan to visit offers this service and to confirm their operating hours.
How to take a passport photo at home using a phone?
Using your phone, you can easily take your passport from the comfort of your home. To help you with passport photos at home, here is a stepwise guideline:
Find a suitable place
Choose a white background for the photo. You can stand before white walls or use a large white sheet of paper as a background.
Set the phone on a tripod stand
Place the tripod stand on a level that can easily capture your face and the upper parts of your shoulder. Set a timer on your phone to click a picture. You can also ask any friend or family member to capture your photo.
Appropriate lighting
Taking a passport photo by standing near a window is a good idea because it will provide the best light source for your image. Make sure your photo doesn't have any shadows on the face. Take a colored photo, a black-and-white picture is not acceptable.
Photo size
The photo size should be 2x2 inches. The head size in the passport photo should be between 1 – 1 3/8 from the lower portion of the chin to the head top.
Look into the camera
Face the camera directly by looking at the lens. Eyes must be fully open. The use of lenses or glasses is prohibited for passport photos.
Capture multiple clicks
Take multiple clicks to help yourself by choosing the best photo for your passport picture.

A Better Alternative to FedEx Passport Photos
Are you tired of traveling to physical locations for passport photos? Pixelied's online tool provides a better alternative. Our platform is designed to make the passport picture process quick and easy. You can take top-notch photos from home without any hassle. Say goodbye to the stress and inconvenience of physical locations and choose Pixelied for a fast, affordable, and high-quality passport photo experience.
Frequently Asked Questions
Yes, FedEx provides passport photo services to customers. FedEx is a famous courier company, but apart from its primary business, it has photo centers. These centers facilitate customers with passport photo services. You can also print your digital passport photo at FedEx Offices. FedEx passport photo cost for a set of two images is $14.95.
FedEx Offices provide accessible, convenient, and quick passport photo services. It can help you prepare for your trip in less time by giving quick online and offline assistance.
Yes, you can take passport-size photos at FedEx by visiting any nearby passport photo location. You can get a 2x2 inch photograph for your passport for just $14.95. Besides, they can also initiate your passport application.
To find the nearest FedEx Office, go to their website. Click on passport photo services. Here you will see an option of "Find a location." Add your address in the search bar. You will get the nearest FedEx office's address, phone number, and opening timings information.
According to the FedEx website, it's not mentioned anywhere that you need an appointment for passport services. To confirm whether you need an appointment, you can call your desired FedEx office location.
Yes, you can print your passport photograph at FedEx Offices. For this, you need a digital template of your picture. Just bring the digital template of the passport photograph copied on a USB drive and ask the staff to print it.
FedEx can help you capture your passport pictures and print them for a total amount of $14.95. You can also print your photograph at FedEx Offices. The charges of printing your digital passport photographs are cheaper as compared to using FedEx photo services to take your photos. If you're seeking a new passport and have to present your application in person, you may need to schedule an appointment with a U.S. Department of State Passport Agency, U.S. Embassy, or Consulate. It's important to note that these locations have different appointment systems unrelated to FedEx.
FedEx passport photo price for a 2x2 inch sized photograph is $14.95. They provide photography as well as printing services for passport photos. You can also send them your digital template to get it printed.
FedEx Office passport photo cost is $14.95. This price combines taking your US-compliant passport picture, processing it per the regulatory body specifications, and providing two 2x2 inches sized photographs.