UPS Passport Photo
Get the perfect biometric UPS passport pictures with guaranteed acceptance in seconds!
100% Compliance Guaranteed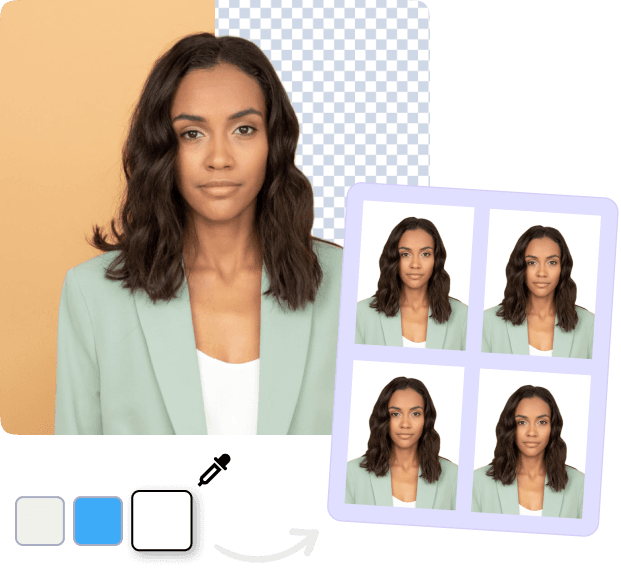 How to get instant photos online?
With our online UPS passport photo tool, you can get a biometric photo for your passport in less than 3 minutes.
Capture or upload your photo
It's super simple - take a selfie or upload a photo, and let our AI tool take care of the rest.
AI processes the image
Our AI tool will remove any unwanted background and resize your photo to the official passport photo dimensions.
AI photo verification
The AI tool will carry additional checks on the photo to make it compliant and ready for submission.
Get digital or print photos
Get your biometric photos in digital copy or have the printouts delivered to your doorstep within a few days.
How to take a clear photo?
Have you ever wondered how to take the perfect passport photo? No need to look further; these instructions will help you achieve biometric UPS passport photos in minutes.
Use a plain background
Use a plain background with no objects behind your back. Stand at least 2m away from the background to avoid shadows behind you.
Keep your posture straight
Maintain a straight posture and fit your head, shoulders, and upper body into the photo. Remove your glasses before taking the picture.
Maintain a neutral facial expression
Make sure your whole face is visible. Keep your hair away from your face and look straight at the camera with a plain expression.
Basic UPS Passport Photo Guidelines
Glasses
Smiling
Image retouching
Wearing uniform and hat
UPS passport photo requirements
How much do passport photos cost at UPS?
According to the official UPS website, the UPS passport photo price is $11.99. You can buy two top-quality passport photo prints and a professional photography session at this price. The passport photos you will get will be 2x2 inches as per the guidelines of the U.S. Department of State.
By using UPS passport photo services, you are almost guaranteed to be accepted by the passport office because their photos are aligned with the guidelines as stated on the official portal of the U.S. Department of State.
UPS passport pictures can be taken from their local passport studio. They have specialized in providing passport-size photos. These photos are best for travel documents such as passports, US ID cards, and visas. UPS passport photo studios are not authorized to assist travelers with passport applications. Neither are they certified for any other travel paperwork required for foreign travel from the United States.
What is the passport photo size at UPS?
According to the US Department of State requirements, UPS passport size photos, like every other passport photo, should be exactly 2 x 2 inches or 5 x 5 cm.
While taking a UPS passport photo, ensure your face is clear and visible in the frame. It is important to note that the distance from the top of your head to the bottom of your face must be between 1 or 1 ⅜ inches or 25 mm to 35 mm.
After you get your UPS store passport photo, remember that the U.S. passport office has the final authority for approval or rejection. However, the chances of rejection are very low because UPS passport photos align with all the State Department requirements.
What are the basic UPS passport photo requirements?
If you are looking for UPS passport photo requirements, then take a look at the instructions below:
Background
The background for UPS passport photos should be plain, white, and free from any other color or distractions. Prints or textures on the background are unacceptable. Remember, the image should be in color without filters or a photo editing app.
Size
As per the guidelines issued by the State Department, a UPS passport photo should be exactly 2 x 2 long in inches or 5 x 5 in cm. The only acceptable format is JPEG.
Appearance
When opting for a UPS passport photo printing, applicants must dress in either formal or semi-formal clothing. Minimal makeup and accessories should be worn. You must not wear bright shades in clothes or anything else that changes your facial features. If you are wearing a hat, scarf, or any headgear, put them away unless worn for religious or medical purposes.
The same goes for spectacles, glasses, and anything else. You must attach a signed document explaining why you must wear the item in the passport picture for medical or religious purposes.
How to print passport photos at UPS?
You can quickly locate a facility near your home using the store locator feature on the official UPS passport photo website. It is the best solution if you already have the images captured from another location or at home. The staff at UPS can print them in under an hour. It is highly advised that you always keep your pictures copied with you in email, phone, or any portable device.
However, if you are taking the photographs at home, ensure that the passport pictures adhere to the criteria mentioned on the official portal of the Department of State.
Furthermore, the cost of passport photos at UPS is approximately $11.99, and for that price, you can have two professional-grade passport-size images printed on the same day.
UPS passport photo locations near me
If you want to find UPS passport photo locations near you, there is a simple way. The UPS store locator can be accessed through their official website. You will have the following choices to locate a nearby UPS passport photo center:
After turning on your location from your laptop or phone, narrowing down your options and finding the photo studios close to your home or office will be easier. Turn on the 'Use My Location' feature from the website.
Afterward, add your locality in the search bar below 'Near.' Then, click search. You will have the list of UPS stores in front of you. The operational hours for most UPS stores are between 8 AM to 10 PM. They are open seven days a week (Mon to Sun).
Are UPS store passport photo kiosks safe?
Yes, UPS store passport photo kiosks are completely safe for passport-size images in the US. They are a registered UPS entity, meaning they can get you two 2x2 passport-size photos without any hassle. You can get your pictures printed from UPS store passport photo kiosks.
Although they are entirely safe, you should not risk printing private or confidential photos from this kiosk. You should limit the usage of this service to passport photos only.
How to take a passport photo at home using a phone?
You can snap your passport picture from the comfort of your house. Whether you want to get your passport renewed or a new one made, you need to have passport pictures in 2x2 dimensions according to the Official U.S. passport guidelines. Here's how you can take passport-compliant photos using Pixelied's passport photo tool:
Background: Start with setting up a white background for your passport picture. If your walls are not plain white, get ahold of white sheets and stick them temporarily to the walls for the white background. Ensure the white sheets come out smooth in the frame and do not show any edges.
Lighting: If it is daytime, stand before a window and let the natural light hit your face if you don't have bright lights in your home. Remember, don't overexpose your face to the light.
Facial Features: Ensure your face is visible and not covered by your hair or any accessory. Wear minimal makeup and neutral shades.
Masks, Filters, or Face painting: Avoid everything that may hide or suppress your facial features.
Expressions: Keep your expressions neutral, don't smile too wide or squint your eyes.
Capture: Take your picture from a distance from your camera so your face and shoulders are visible in the image.
Upload on Pixelied: Once you have taken your photo, upload it on Pixelied and receive compliant and biometric passport photos.

A Better Alternative to UPS Passport Photos
Discover a hassle-free, cost-effective solution to obtaining UPS passport photos with Pixelied's online passport tool. Enjoy premium quality photos from the comfort of your home, saving time and money with our user-friendly platform.
Frequently Asked Questions
Yes, UPS does all the passport photo services, including professional photographs and printing. The cost of passport photos at ups stores hovers around $11.99.
Yes, UPS does same-day passport photo services. However, they are not authorized for any passport-related or other travel document applications. You can get your passport-size images taken and printed on the same day.
Yes, you can take a passport photo at UPS with the help of their staff. If you just want to get your images printed, then you should have the digital copy with you.
The standard UPS passport photo price is $11.99. At this price, you can get two professional photos taken and printed on the same day from any nearby UPS store.
The price of a 2x2 passport photo at UPS is $11.99. You can quickly get your pictures taken and printed by their staff within their operational timings.
Yes, you can print your own passport photo at UPS. You can use Pixelied's online passport-size photo feature to capture your images at home and take the digital copy to any nearby UPS store.
UPS passport images take an hour at maximum for both printing and capturing. To save time, you can use Pixelied's online passport tool to take your pictures at home and get them printed from any nearby retailer.
The cost of passport-size photos at UPS is $11.99. It is a great price because you can get both your image taken and printed with same-day pick up without additional charges.
The chances of UPS passport photo rejection are extremely low because they follow all the guidelines mentioned on the US Department of State's website. In case your photos get rejected, you can most certainly retake your photos and resubmit them.
It highly varies because the timing of UPS store opening and closing hours are different for each locality. However, most UPS stores in the USA close around 7 PM to 8 PM. You can get your photos taken in a UPS for $11.99 or simply use Pixelied's passport photo tool and print it out from the nearest photocopying service for a lesser price.