Kroger Passport Photo
Get the perfect biometric Kroger passport pictures with guaranteed acceptance in seconds!
100% Compliance Guaranteed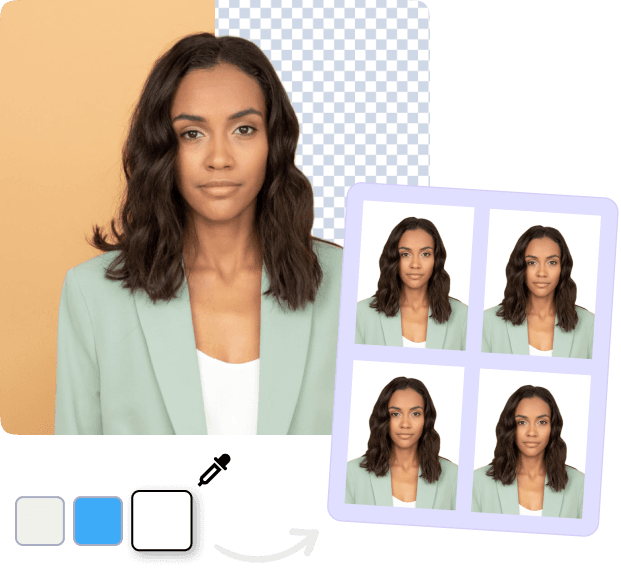 How to get instant photos online?
With our online Kroger passport photo tool, you can get a biometric photo for your passport in less than 3 minutes.
Capture or upload your photo
It's super simple - take a selfie or upload a photo, and let our AI tool take care of the rest.
AI processes the image
Our AI tool will remove any unwanted background and resize your photo to the official passport photo dimensions.
AI photo verification
The AI tool will carry additional checks on the photo to make it compliant and ready for submission.
Get digital or print photos
Get your biometric photos in digital copy or have the printouts delivered to your doorstep within a few days.
How to take a clear photo?
Have you ever wondered how to take the perfect passport photo? No need to look further; these instructions will help you achieve biometric Kroger passport photos in minutes.
Use a plain background
Use a plain background with no objects behind your back. Stand at least 2m away from the background to avoid shadows behind you.
Keep your posture straight
Maintain a straight posture and fit your head, shoulders, and upper body into the photo. Remove your glasses before taking the picture.
Maintain a neutral facial expression
Make sure your whole face is visible. Keep your hair away from your face and look straight at the camera with a plain expression.
Basic Kroger Passport Photo Guidelines
Glasses
Smiling
Image retouching
Wearing uniform and hat
Kroger passport photo requirements
How much do passport photos cost at Kroger?
As per the official website, Kroger's passport photo price has not been disclosed. However, it might fall between $7.44 to $16.99. This range includes the lowest and highest prices offered by different photo stores in the US. Walmart offers the lowest (i.e., $7.44), and the highest price is at CVS ($16.99).
Kroger photo stores will help you take passport photos, process them, and provide you with printed images in a few minutes. You can use these printed photos for passport applications, ID photos, or other official documents.
You can also get a digital version of your passport picture, which can be used later for taking print whenever you want.
What is the passport photo size at Kroger?
Kroger's passport picture is 2 x 2 inches (51mm x 51 mm) in size. The head size in the photo must be between 25 mm – 35 mm. The measurements are from the tip of the chin to the top of the head. The U.S. Department of State sets the passport photo dimensions.
If you are taking digital prints, the only acceptable format is JPEG.
What are the basic Kroger passport photo requirements?
The basic requirements for a passport photo are discussed below:
Photo Dimensions
The photo size should be 2x2 inches.
The head size in the picture should be between 1 – 1 3/8 inches (25 - 35 mm) from the bottom of the chin to the top of the head.
Print and Other Specifications
Use a color print photo taken in the last six months. Photos older than six months can be rejected by the passport office.
Don't apply filters on passport photos.
Blurred or unclear images are not accepted.
Selfies cannot be used as passport pictures.
Background
The background color in the photo can be white or off-white.
The photo should be shadow free.
Facial Expressions
Maintain neutral expressions while taking photos.
You cannot smile or laugh in your passport picture. Keep your mouth closed while taking a photo.
Hairstyle, Clothing, and Tattoos
You cannot wear uniforms or extravagant attire in the photo.
Take off your jewelry if it covers any part of your face.
The hairstyle should be such that it does not cover your face.
Permanent tattoos are allowed.
Glasses, Headscarves, and Hands-free Devices
Headscarves, hats, or any other kind of headgear are not allowed. However, you can use headgear for medical or religious reasons. If so, you must mention it in your passport application by attaching a separate letter.
Don't wear headphones, hands-free devices, and sunglasses.
Passport-size photos at Kroger are captured following U.S. Department of State guidelines.
How to print passport photos at Kroger?
To get a print of your passport photo at Kroger, follow these steps:
Visit the store with your photos saved on a phone or a USB drive.
Transfer the pictures to their systems from your flash drive, phone, or other means.
Ask the staff to get you a U.S. passport photo print and leave the rest to them.
If you have a digital photo, the process becomes easy and takes less time. You can save time and money by getting a print. However, remember that the picture must not be older than six months. And it must meet the passport photo requirements mentioned above.
Kroger passport photo locations near me
Here is a stepwise guide to help you find your nearest Kroger location:
Open the official website of Kroger.
Click on Find a Store. Store locator search will appear in front of you.
Add your City, State, or ZIP code in the search bar and search it.
The results will show all the stores near your location.
The address, contact details, and open/closed status of Kroger photo stores will appear. You can also use the 'get directions' feature to reach the store conveniently. The 'view store details' option can also determine their services.
How to take a passport photo at home using a phone?
To avoid all the hassle of taking a passport photo, here is a simple guide to taking passport photos at home.
Adequate Lighting
Proper lighting is one of the main requirements for a good passport photo. If you do not have studio lights, it is best to take the picture during day time.
The background should either be white or off-white. If it is unavailable, create one using a plain white sheet.
Set the Camera
Set the mobile camera on a tripod stand to take a photo. You can ask any friend or family member to capture your passport photo. You must switch on the timer option with multiple shots to take the picture.
Take clear images with a high-resolution mobile camera. The passport authorities do not accept unclear images that cast a shadow on your face.
Basic Photo Requirements
You must fulfill the basic photo requirements to minimize the chances of rejection. Wear an appropriate dress (not uniform) to take a picture. Take off your glasses, hats, or headgear for taking a photo.
Further, the image should be 2 x 2 inches (51 mm x 51 mm) in size. Do not apply any filters to your photo. Keep your facial expressions neutral.
Print the Photos
Take as many shots as you want until you are satisfied with what you have captured. Once done, save it separately. Using a color printer, you can print it at home on high-quality photo paper.
Otherwise, take the digital image to any nearby photo store and get the print. You can print from FedEx, Costco, or Walmart.

A Better Alternative to Kroger Passport Photos
Tired of paying high costs for inconvenient passport photo services? Pixelied offers a more affordable and convenient solution. With our online tool, you can easily create high-quality passport pictures from the comfort of your home. Simply upload your photo and receive biometric-compliant images within seconds. Say goodbye to the hassle of traditional passport picture services and try Pixelied today.
Frequently Asked Questions
Yes, Kroger offers passport photos. However, only some of the stores have this facility. So, when searching for the store location on their official website, you can view store details and contact them. You can confirm whether any specific Kroger stores do passport photos.
Yes, Kroger provides same-day passport services. You can get passport-size photos at Kroger by visiting the store during business hours. Capturing a passport picture, processing the image, and printing photographs take 15 to 20 minutes. The time to take passport photos may exceed half an hour if you visit the store during rush hours.
Most of the Kroger stores offer passport photo services, but not all. It's advisable to confirm whether a specific location near you provides passport photo services. For this, contact your nearest branch. In addition, you can ask them their timings and book an appointment before visiting.
Kroger's passport photo cost is not available on their official website. The estimated charges of passport photo capturing and printing services are usually around $7.44 to $16.99. Expect any amount around these figures to get your passport images from Kroger.
All the Kroger stores don't offer this service. You can visit your local branch to inquire whether they offer this service. If so, then provide them with the digital version of the passport photo to get it printed.
Yes, you can print your passport photo at Kroger. For this, you must have a digital version of your passport photos to take a print. Copy the digital file on a USB drive. Bring the file to Kroger and ask the staff to print a 2x2 inches passport photo. You can also transfer the image file by connecting your phone to Kroger's system. Remember that the digital photo must not be older than six months.
The cost of a 2x2 inches passport photograph at Kroger is not disclosed. You can confirm the charges by visiting Kroger stores or contacting them. The price for taking passport photos at Krogers may fall around $7.44 to $16.99. The price range is described by considering the lowest and highest prices offered by photo studios for providing passport photo services.
The probability of rejection of a Kroger passport-size photo is less because they meet the criteria laid out by the State Department. In case of rejection, you can always resubmit your picture within a specified period.