Duane Reade Passport Photo
Get the perfect biometric Duane Reade passport pictures with guaranteed acceptance in seconds!
100% Compliance Guaranteed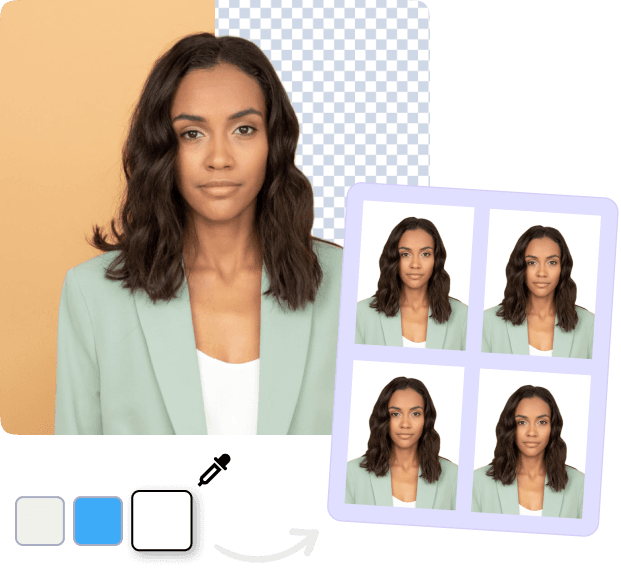 How to get instant photos online?
With our online Duane Reade passport photo tool, you can get a biometric photo for your passport in less than 3 minutes.
Capture or upload your photo
It's super simple - take a selfie or upload a photo, and let our AI tool take care of the rest.
AI processes the image
Our AI tool will remove any unwanted background and resize your photo to the official passport photo dimensions.
AI photo verification
The AI tool will carry additional checks on the photo to make it compliant and ready for submission.
Get digital or print photos
Get your biometric photos in digital copy or have the printouts delivered to your doorstep within a few days.
How to take a clear photo?
Have you ever wondered how to take the perfect passport photo? No need to look further; these instructions will help you achieve biometric Duane Reade passport photos in minutes.
Use a plain background
Use a plain background with no objects behind your back. Stand at least 2m away from the background to avoid shadows behind you.
Keep your posture straight
Maintain a straight posture and fit your head, shoulders, and upper body into the photo. Remove your glasses before taking the picture.
Maintain a neutral facial expression
Make sure your whole face is visible. Keep your hair away from your face and look straight at the camera with a plain expression.
Basic Duane Reade Passport Photo Guidelines
Glasses
Smiling
Image retouching
Wearing uniform and hat
Duane Reade passport photo requirements
How much do passport photos cost at Duane Reade?
According to their official website, the Duane Reade passport photo costs around $12.99. You can get a 2 x 2 inches biometric picture from Duane Reade.
Duane Reade is a chain of convenience, pharmacy, and drug stores that fall under the hold of the Walgreens Boot Alliance. The stores are mainly found in New York City. Duane Reade's passport photo price covers both a professional-grade passport photoshoot and two digital prints.
Just like the Duane Reade passport photo facility, convenience stores have become a great source of satisfaction for travelers in America. They are noteworthy for getting your passport photos taken and printed on the same day without any hassle.
To ensure that you are prepared for your visit to the closest Duane Reade location for a passport photo, it is important to be familiar with the passport photo requirements mandated by the US Department of State, which we will outline below.
What is the passport photo size at Duane Reade?
As per the official guidelines of the US Department of State, Duane Reade's passport picture size should be exactly 2 x 2 inches (or 51 x 51 mm). The aspect ratio for passport pictures is square; hence these measurements are important to remember.
Besides size, there are other measurement requirements that your passport photo at Duane Reade should meet to avoid rejection. For instance, your head should be between 1 to 1 ⅜ inches (or 25 to 35 mm) from the crown of your head to the tip of your chin.
Remember, your passport photo should be updated and not older than six months. If you have gained or lost weight, undergone surgery, or made any changes to your physical appearance, then now is the time to revise your passport photo.
What are the basic Duane Reade passport photo requirements?
The basic Duane Reade passport requirements, as required by the State Department, are mentioned below:
Face the camera directly, and ensure that your head and shoulders are visible in the photo.
Take photos in the daylight, facing the window to avoid shadows in the background.
Use a plain white background without any textures, prints, or creases.
Maintain a neutral facial expression. It is best to avoid smiling too wide that it shows your teeth because showing teeth in passport photos are not allowed.
It is recommended to keep both eyes wide open.
Wearing professional clothes, semi-formal or formal attire, is recommended, but overdoing anything is not allowed.
Pick colors that are neutral and do not blend with the background.
Your head in the camera should appear between 1 to 1 ⅜ inches ( or 25 to 35 mm) from the top of your head to the tip of your chin.
The more your photos align with the requirements, the more they will likely get approved. With this, here are some other things that you need to consider at Duane Reade's passport-size photo facility:
Remove glasses, lenses, or any other headgear you are wearing. Your hairline should be visible in the camera.
Attach a signed declaration with your passport application if you cannot remove your glasses or headgear (such as a scarf, turban, or anything else) for medical or religious purposes.
Remember, wearing headphones or wireless hands-free devices is also forbidden and may lead to rejection. So, the requirements mentioned above are before printing. And for printing a passport photo, this is what you should be aware of:
The images must be in square aspect ratio and sized precisely 2 x 2 inches ( or 51 x 51 mm)
Get them printed on high-quality glossy paper and not the ordinary paper
It should be printed in color and without any additional effects or filters
Make sure there are no shadows in the background before printing the photo.
The facility for passport photos at Duane Reade does not guarantee approval of the passport application. You must follow all guidelines. If your picture gets rejected, the fee is non-refundable. However, you will be provided with a deadline to re-submit your photos.
How to print passport photos at Duane Reade?
After capturing your passport-size photos at Duane Reade, you can print them easily by asking the clerks to prepare the prints. Duane Reade's passport photo price is usually around $12.99, which also covers the cost of printing. You do not have to pay extra for the prints.
However, if you have taken your photos at home using a phone or a digital camera, Duane Reade's ID photos and passport photos facility can get them printed for you.
First of all, you need to prepare a template at home. Use the standard 4 x 6-inch size photo template. If you are editing at home, it is best to use a passport photo maker tool like Pixelied and get them printed at Duane Reade for $0.29.
Duane Reade passport photos near me
Duane Reade started as a pharmacy near Broadway, but Walgreens acquired it, and now, it can be found in the city of New York and nearby suburbs. It is a convenience store that offers passport-size photos, ID photos, and prints.
Duane Reade's passport-size photo locations are quite easy to locate. There are quite a few stores around Manhattan and Brooklyn. You can even use the Walgreens store locator to find the nearest stores.
Duane Reade Store Locations in the U.S.
Duane Reade is based in New York, and you can use the Walgreens store locator online to find the nearest store. Some of the store addresses are mentioned below:
Duane Reade, 777 6th Ave, Frnt 2
Duane Reade, 530 5th Ave
Duane Reade, 333 7th Ave
Duane Reade, 721 9th Ave
Duane Reade, 296 Flatbush Ave
Duane Reade, 386 Fulton St
Duane Reade, 164 Kent Ave
However, if you are looking for the ones near your office, home, or hotel, here is how to do it:
Turn on the location from your device.
Open Google Maps on a browser or application.
Recenter the pin to your location and enter 'Duane Reade' in the search bar.
The stores that are close to your current location will pop up.
Furthermore, when you spot the nearest Duane Reade store, it is best to call them and ask them for their operational hours. Remember, the passport photo should not be more than six months old, but if any massive change in your physical appearance has altered your look, it is high time you upgrade your photos.
Are Duane Reade passport photo kiosks safe?
Yes, Duane Reade passport kiosks are authorized entities of the Walgreens Alliance and are entirely safe for taking a passport photo. If you spot one near your location, you can stay rest assured that your photos will come out in great prints.
However, connecting your phone directly to any public system is often not recommended. It is ideal for carrying a device with only your passport photos, like a USB.
How to take a passport photo at home using a phone?
Using a smartphone to take a passport photo at home has significant benefits. You can save money that you will spend on fuel, passport photo fees, and printing. And if you get well-versed in taking passport photos, you can do it for your family and friends.
All in all, taking passport photos using a smartphone provides great comfort and liberty. You can be in your bedroom, office, or hotel room; you just need good lighting and a white background, and you are good to go!
Stepwise Guide to Take a Passport Photo at Home
Set up your camera on a tripod or at any stable position. Ensure it is placed so the light gets directly on your face.
Set up the background, and make sure it is white.
Wear semi-formal or formal attire. Avoid wearing a uniform or clothes with bright colors.
Stand at least 4 feet away from the camera. Ensure that your head is in the center of the frame and that there are no filters on the camera.
Take a photo either using the Bluetooth button or setting a timer.
Your photo will be ready to edit.
Convert a Photo into Passport Photo Online
Now that you have taken a photo using your phone let's convert it into a passport photo.
Visit Pixelied using your laptop or mobile phone and navigate to the passport photo maker tool.
Upload your photo and let the AI tool check and verify your images. It will confirm if the picture meets the criteria set for a passport photo by the U.S. State Department.
Next, sign up for the tool if you do not have an account.
After signing up and adding payment information, you can save your passport photos in electronic format.
Printing a Passport Photo at Home
It is now time to print your photo.
Download the photo on your desktop.
Attach the printer to your desktop.
Add high-quality glossy paper and print the photo.
Cut out the photos and submit them with your passport application.
If you do not have a printer at home, you can take the digital copies to any nearby Duane Reade location or Duane Reade kiosk to get printed.

A Better Alternative to Duane Reade Passport Photos
Effortlessly upload your photo to Pixelied, where our advanced platform processes your image to ensure compliance with State Department guidelines. Enjoy the convenience of having perfectly compliant passport picture prints delivered straight to your doorstep.
Frequently Asked Questions
Yes, Duane Reade takes passport photos for just $12.99. Since Duane Reade is owned by one of the biggest convenience stores in the U.S., it offers the best American passport photo services. Its chains are mainly located in New York City.
Yes, you can print passport photos at Duane Reade. All you need to do is to prepare a passport photo for printing. Use an online passport photo tool to format the image in a 4 x 6-inch template. Any ordinary tool can also do that. Then transfer your file in jpeg format to any portable device or email. Locate a nearby Duane Reade store and ask them to print it for you. The price is usually $0.29.
Yes, you can take a passport-size photo at Duane Reade. For capturing your image and digital prints, they will charge you $12.99, and if you are only taking prints, you will have to pay $0.29 for two passport-size pictures.
The Duane Reade passport photo price for two passport size pictures with professional photoshoots and prints will cost you $12.99. If you are only looking for prints and have digital copies already, you must pay $0.29.
Duane Reade is a convenience store in New York City and nearby suburbs. You can find them in the areas between Duane and Reade streets in Manhattan. It's spread across NYC, so it's not hard to find. You can run a search on Google Maps by turning on your location, and it will show you the stores in your proximity.
For printing your own passport photo at Duane Reade, you must have the digital copies with you. You can use your phone or digital camera at home and crop the image using an online passport photo maker. Locate a nearby Duane Reade and head over to get your prints.
Duane Reade passport photos take at most an hour, and if you are not visiting the store in rush hours, you can get it done within a few minutes.
For a 2 x 2 passport photo at Duane Reade with two prints, the store will charge you $12.99. They follow the guidelines issued by the government on the official web portal of the U.S. Department of State.
Duane Reade offers two passport size photo prints for $0.29. Remember that it doesn't include the photo shoot; the price is when you have photos ready in digital format and want to get them printed.
No, not all Duane Reade pharmacies print passport photos. However, it is best to call the ones near your proximity and inquire about them before visiting. If you cannot find a Duane Reade pharmacy nearby, you can get to Walgreens because it is essentially the parent company and offers the same service and quality.