JCPenney Passport Photo
Get the perfect biometric JCPenney passport pictures with guaranteed acceptance in seconds!
100% Compliance Guaranteed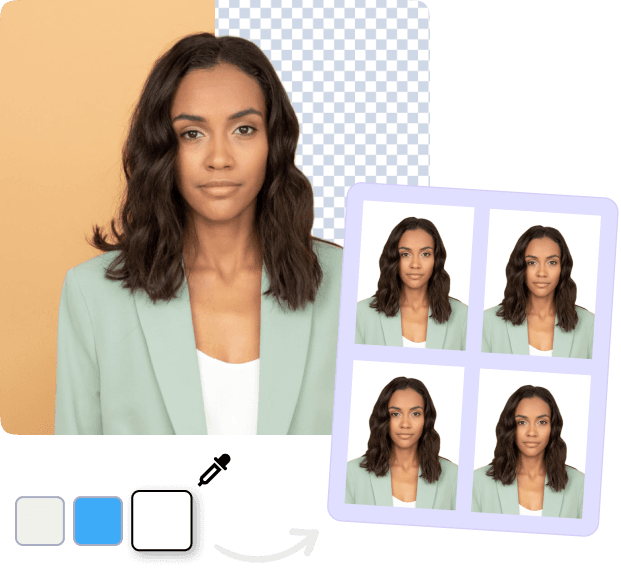 How to get instant photos online?
With our online JCPenney passport photo tool, you can get a biometric photo for your passport in less than 3 minutes.
Capture or upload your photo
It's super simple - take a selfie or upload a photo, and let our AI tool take care of the rest.
AI processes the image
Our AI tool will remove any unwanted background and resize your photo to the official passport photo dimensions.
AI photo verification
The AI tool will carry additional checks on the photo to make it compliant and ready for submission.
Get digital or print photos
Get your biometric photos in digital copy or have the printouts delivered to your doorstep within a few days.
How to take a clear photo?
Have you ever wondered how to take the perfect passport photo? No need to look further; these instructions will help you achieve biometric JCPenney passport photos in minutes.
Use a plain background
Use a plain background with no objects behind your back. Stand at least 2m away from the background to avoid shadows behind you.
Keep your posture straight
Maintain a straight posture and fit your head, shoulders, and upper body into the photo. Remove your glasses before taking the picture.
Maintain a neutral facial expression
Make sure your whole face is visible. Keep your hair away from your face and look straight at the camera with a plain expression.
Basic JCPenney Passport Photo Guidelines
Glasses
Smiling
Image retouching
Wearing uniform and hat
JCPenney passport photo requirements
How much do passport photos cost at JCPenney?
JCPenney photo studios assist you in capturing photographs for your passport applications. There are over 400 locations where you can get photo services. JCPenney passport photo price is not disclosed on its official website. You can contact the nearest JCPenney studio to confirm the passport photo cost.
JCPenney photo booths will take your pictures that meet the specifications for the US passport picture. You can get two printed passport-sized images within a few minutes to be submitted along with your passport application.
What is the passport photo size at JCPenney?
JCPenney passport picture is 2x2 inches in size. The head size dimensions should be 1 – 1 3/8 inches from the bottom of the chin to the top of the head. You will receive high-quality photos and excellent customer service at JCPenney.
If you are using JCPenney services, don't worry about the size or other technical guidelines. Passport-size photos at JCPenney comply with all the basic requirements of the U.S. Department of State.
What are the basic JCPenney passport photo requirements?
The basic requirements for a passport photo at JCPenney are:
The size of the passport image is 2x2 inches. The dimensions for the head are 25 – 35 mm from the bottom of the chin to the upper portion of the head.
The face should not have any shadows on it in the photo.
Maintain neutral facial expressions while the photo is being captured.
A natural smile is acceptable. The mouth should be closed in the photo.
The passport picture cannot be a selfie.
Face the camera directly by looking at its lens. Eyes should be fully open.
The background of the passport picture can be white or off-white.
You are not allowed to wear hats or headgear while taking photos. However, you can wear headscarves for religious or medical reasons. For this, you need to provide a signed letter specifying the reasons.
Glasses, headphones, or hands-free devices are not allowed in the photo.
Do not wear uniforms or camouflage attire while taking photos for a U.S. passport.
Jewelry is allowed, but ensure it's not covering a significant portion of the face.
How to print passport photos at JCPenney?
You can get a print of your digital passport photo at JCPenney. Bring the digital on a USB drive. You can also transfer the image to JCPenney systems by connecting your phone. Ask the staff to print a 2x2 inches photo for you.
Make sure that they use glossy photo paper for printing purposes. The charges for printing photos are less than taking a fresh passport photo. Keep in mind that the digital image should not be older than six months.
JCPenney passport photos near me
JCPenney has over 667 stores across 49 states where you can get your passport photos. You can book an appointment online or via phone. To find a JCPenney studio near you, follow these steps.
Open the JCPenney Website.
Click on Find a Studio Near Me.
Enter your Zip Code or click on use my location.
The search results will list all available stores in your vicinity. The detail of the stores, including contact numbers and email addresses, will appear. You will also see an option in red showing "Schedule a session" to book an appointment for passport photos.
How to take a passport photo at home using a phone?
Taking passport photos at home using a phone is possible. Here is a list of guidelines to help you capture images at home:
Get ready in the proper attire: Choose a casual dress you usually wear. Don't go for an extravagant dress or uniform. Tie up your hair or choose a hairstyle that does not hide your face. You can take photos wearing jewelry, but make sure it doesn't cover your face. Remove your glasses or lenses while taking the picture.
Choose a place: Find a place where the lighting is good at your house. Take a photo on a white or off-white background. You can use plain white sheets to create a background for your passport photo. The picture should be free from any shadows.
Set the phone: Use a tripod stand to capture photos. For this, you need to set the timer on your phone camera. If you can't capture a shot yourself, take help from any family member or a friend to take your photo (selfies are not allowed). The captured image should have a high resolution. State Department does not accept low-quality or blurry pictures.
Take multiple shots: You should not rely on just capturing one or two photos. It is best to snap multiple pictures to select the best image that complies with passport photo guidelines.
Print photo: Bring the digital version to a nearby photo store after selecting the best image. Ask them to print two 2x2-inch glossy pictures, and you'll be ready to submit your passport application.

A Better Alternative to JCPenney Passport Photos
Looking for an alternative to JCPenney's passport picture service? Pixelied's online solution provides a hassle-free solution for obtaining your passport photo. You don't need to visit a physical location, as Pixelied allows you to receive high-quality prints from the comfort of your home. With an automated process and expert support, you can trust that your passport picture will meet all the necessary requirements.
Frequently Asked Questions
Yes, you can take your passport photos at JCPenney Studios. They will capture pictures and provide a printed version of a 2x2 inches image. Schedule a session before visiting to avoid any hassle.
JCPenney offers professional photography services with a quick delivery option. You can inform them about when you want photos while scheduling a session. The process of capturing a passport photo and printing takes around fifteen to twenty minutes.
You can take your passport pictures at JCPenney. Their studios allow you to capture essential snaps by fulfilling all the regulations required by the U.S. Department of State for passport photos.
The cost of two passport-size pictures at JCPenney is not publicly available on their website. Call them before a visit to confirm the charges for passport photos.
JCPenney passport-size photo cost information is not available on their official website. You can contact a local studio nearby to confirm the price of passport pictures.
You can print your own passport photo at JCPenney by providing a digital version of the image and asking the staff to print it. However, it's important to note that the picture should not be older than six months.
Taking a passport photo and printing it hardly takes fifteen to twenty minutes. Visit a nearby store during business hours to get your passport photos.
You can take your passport photos at JCPenney stores. The price for passport pictures is usually around $10 to $20.
JCPenney adheres to the basic requirements of passport photos specified by the State Department. Therefore, the chances of rejection of JCPenney passport photos are very low. Still, you can resubmit new images if photos get rejected within a specified time.
To find a JCPenney studio near you, go to JCPenney's official website, click on "Find a Studio Near Me," enter your Zip code or use the "My Location" feature. A list of nearby studios will appear along with all its information. Choose the one that best suits your location and schedule a session.