MPRE Passport Photo
Get the perfect biometric MPRE passport pictures with guaranteed acceptance in seconds!
100% Compliance Guaranteed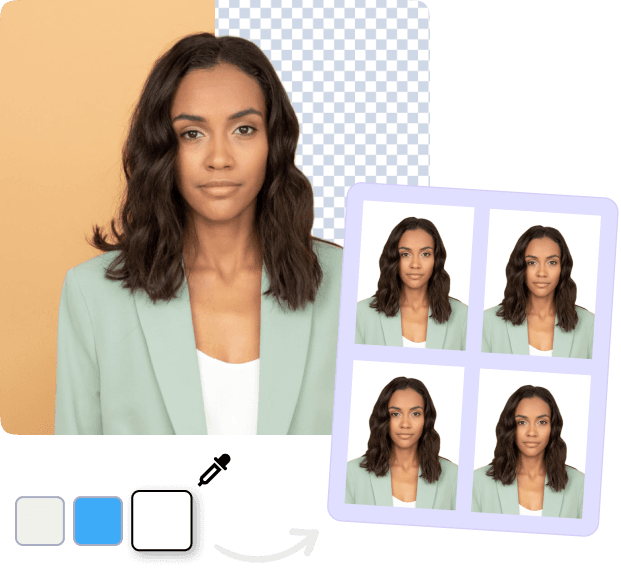 How to get instant photos online?
With our online MPRE passport photo tool, you can get a biometric photo for your passport in less than 3 minutes.
Capture or upload your photo
It's super simple - take a selfie or upload a photo, and let our AI tool take care of the rest.
AI processes the image
Our AI tool will remove any unwanted background and resize your photo to the official passport photo dimensions.
AI photo verification
The AI tool will carry additional checks on the photo to make it compliant and ready for submission.
Get digital or print photos
Get your biometric photos in digital copy or have the printouts delivered to your doorstep within a few days.
How to take a clear photo?
Have you ever wondered how to take the perfect passport photo? No need to look further; these instructions will help you achieve biometric MPRE passport photos in minutes.
Use a plain background
Use a plain background with no objects behind your back. Stand at least 2m away from the background to avoid shadows behind you.
Keep your posture straight
Maintain a straight posture and fit your head, shoulders, and upper body into the photo. Remove your glasses before taking the picture.
Maintain a neutral facial expression
Make sure your whole face is visible. Keep your hair away from your face and look straight at the camera with a plain expression.
Basic MPRE Passport Photo Guidelines
Glasses
Smiling
Image retouching
Wearing uniform and hat
MPRE passport photo requirements
What is the passport photo size at MPRE?
MPRE passport-size photo's dimensions are 2 x 2 inches. The head size in the picture should be between 25 mm – 35 mm from the chin to the top of the head. The distance between the camera and the face should not exceed 4 feet.
The MPRE doesn't take passport photos or provide such a service. It is an exam, and a passport-style photo is mandatory to attempt that exam. You can acquire an MPRE passport picture from convenience stores, pharmacies, post offices, or studios.
The Multistate Professional Responsibility Examination (MPRE) falls under the jurisdiction of The National Conference of Bar Examiners (NCBE). They require a passport-size photo as a part of the exam application process.
What are the basic MPRE passport photo requirements?
The basic requirements for an MPRE passport-size photo are as follows:
Size & Background
Take the photo with proper lighting and a shadow-free background. The size of the passport photo should be 2x2 inches. The passport photo must be high resolution. A blurry or pixelated image is not acceptable.
What to Wear?
Wear anything you want, but don't dress up extravagantly.
The dress color can be of your choice, but choosing a color that contrasts with the photo's background color is better.
Style your hair in a way that does not cover your face.
What is Allowed?
Neutral facial expressions are suitable for taking a passport photo.
Permanent tattoos are allowed for passport pictures.
A white or off-white background with proper lighting is required to capture a passport photo.
You can wear minimal jewelry and makeup. However, do not use it to cover or hide your face.
What is Prohibited?
Take off your glasses during the photoshoot
Don't show your teeth while taking photos.
Headphones or hands-free devices cannot be worn while taking passport images.
Don't apply filters to your photos because it can lead to rejection.
Headgear or head scarves are not allowed. However, by specifying the reason in a separate letter, you can use these for medical or religious purposes.
Can I print passport photos at MPRE?
No, you cannot print passport photos at MPRE. However, you can get passport-size photos for MPRE from anywhere you want. The charges are different for passport photos at various locations. Expect around $5 to $10 to get a print of your MPRE passport photo.
If you need passport photos taken, you can do so at a local pharmacy, photo center, or post office. You can also take your passport picture using a digital camera or smartphone and print it at a photo center or online photo printing service. However, the specific options available to you may depend on where you are located.
MPRE passport photo locations near me
You can take MPRE passport photos at any photo store like CVS, Walmart, Walgreens, etc. The MPRE passport photo cost may differ depending on the type of photo store you choose for taking photos.
CVS and Walgreens charge $16.99 for two pictures. Or you can head to Walmart for two passport photos for $7.44.
You can use an online passport photo service, such as Pixelied, to meet the requirement of passport-style photos for MPRE.
How to take a passport photo at home using a phone?
Taking a passport photo at home using a phone requires good lighting and a solid understanding of the passport photo requirements.
Here are the following guidelines on how to take a passport picture at home:
Find a suitable place with proper lighting and plain-white background free from shadows, patterns, or textures.
Place the mobile on a tripod stand and turn on the timer option to take photos on your own. Otherwise, ask a friend or family member to click your picture.
Look towards the lens of the camera when the photo is being captured.
Follow all the requirements for attire, glasses, headgear, expressions, jewelry, etc. Try to follow all the basic U.S. passport photo requirements to avoid rejection.
Take multiple clicks and view all photos before choosing one final picture.
Once done with the above steps, copy the image to a USB drive and get its print. You can also print your passport photo at home with a color printer.

A Better Alternative to MPRE Passport Photos
Don't let the hassle and expense of traditional passport photo services hold you back. Pixelied offers an affordable and convenient solution from the comfort of your home. Our online tool uses advanced algorithms to generate biometric-compliant images, instantly saving you time and money. Simply upload your photo and let Pixelied take care of the rest. Say goodbye to long wait times and high costs - for hassle-free passport pictures.
Frequently Asked Questions
No, you cannot take passport-size photos at MPRE. MPRE is an examination that requires a passport-size photo to apply for the test. You will not be eligible to attend the examination if you don't have a passport photo attached to your application. MPRE passport photo prices vary depending on the type of photo store you choose.
To print multiple passport photos on one page, select the images you want to print. Next, use photo editing software or a collage tool to arrange your pictures on a single page. You can drag and drop your images into the layout. Save the layout and then choose quality, paper size, printer, and the number of copies. Lastly, print as many copies as you like.
No, the passport-size photo submitted for your MPRE application cannot be black and white. You need to submit the image in color. It is advisable to follow all the State Department requirements. Otherwise, your application can be rejected.
Ordinary paper is not fit for the passport photo for MPRE. You must print the image on high-quality and glossy paper. It should be in color and follow all the other requirements of a regular passport photo.