Shutterfly Passport Photo
Get the perfect biometric Shutterfly passport pictures with guaranteed acceptance in seconds!
100% Compliance Guaranteed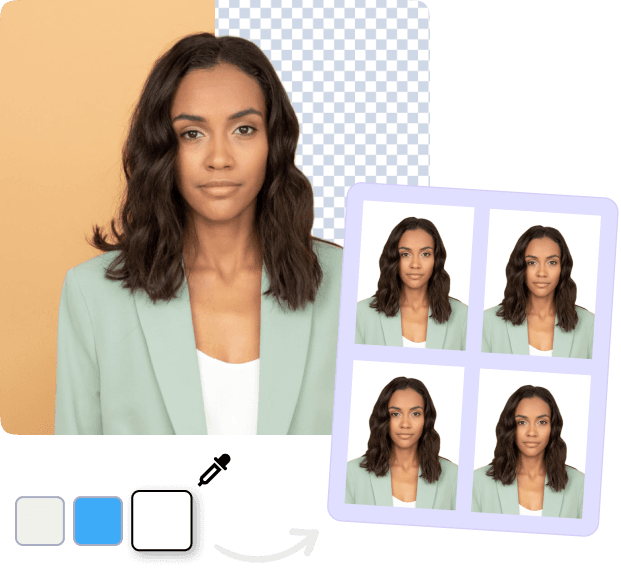 How to get instant photos online?
With our online Shutterfly passport photo tool, you can get a biometric photo for your passport in less than 3 minutes.
Capture or upload your photo
It's super simple - take a selfie or upload a photo, and let our AI tool take care of the rest.
AI processes the image
Our AI tool will remove any unwanted background and resize your photo to the official passport photo dimensions.
AI photo verification
The AI tool will carry additional checks on the photo to make it compliant and ready for submission.
Get digital or print photos
Get your biometric photos in digital copy or have the printouts delivered to your doorstep within a few days.
How to take a clear photo?
Have you ever wondered how to take the perfect passport photo? No need to look further; these instructions will help you achieve biometric Shutterfly passport photos in minutes.
Use a plain background
Use a plain background with no objects behind your back. Stand at least 2m away from the background to avoid shadows behind you.
Keep your posture straight
Maintain a straight posture and fit your head, shoulders, and upper body into the photo. Remove your glasses before taking the picture.
Maintain a neutral facial expression
Make sure your whole face is visible. Keep your hair away from your face and look straight at the camera with a plain expression.
Basic Shutterfly Passport Photo Guidelines
Glasses
Smiling
Image retouching
Wearing uniform and hat
Shutterfly passport photo requirements
How much do passport photos cost at Shutterfly?
The official website of Shutterfly doesn't provide information on the actual price for passport pictures, but you can get information on shipping rates from their website. In the prints section of their website, the shipping price starts from $1.79 and goes up to $25.99, depending on the delivery time duration.
Furthermore, if we analyze the general passport picture prices in the US, the price ranges from $5 to $20. Shutterfly photo booths will take your photo that meets the criteria for the U.S. passport picture. You will be given two printed passport-sized images within a few minutes to be submitted with your passport application. You can also order the photos online using their shipping services.
What is the passport photo size at Shutterfly?
The passport-size photos at Shutterfly are printed on 2x2 inches dimensions. The head size in the passport picture is between 1 to 1 3/8 inches from the chin bottom towards the top of the head. These size dimensions are set in compliance with the U.S. Department of the State.
Shutterfly photo stores can help you with capturing photographs for passports. You can also get a digital version of your passport pictures at Shutterfly by paying more. If you use Shutterfly services, don't worry about the size and other passport picture requirements.
What are the basic Shutterfly passport photo requirements?
The basic Shutterfly passport photo requirements, including size, resolution, background, appearance, and more, are mentioned below:
Size: The image size should be 2x2 inches or 51 mm x 51 mm. The head in the photo must be between 25 – 35 mm from the chin bottom to the top of the head.
Resolution: The photo must be of high resolution. It must not be blurry or pixelated.
Background: The background color in the passport picture can be white or off-white.
Image Quality: The image of your face must be clear. Filtered or edited photos are not accepted.
Attire: The dress in the passport photo should be formal or semi-formal with neutral colors such as black, grey, or brown. Extravagant clothing or uniform must be avoided.
Glasses: Take off your glasses while taking your passport picture.
Jewelry: Extravagant accessories are prohibited in passport pictures. You can wear jewelry if they are not too prominent and your face is visible.
Head coverings: Hats or headgear are not allowed in the passport photo. You can go for head coverings for religious or medical reasons.
Headphones or hand-free devices: Remove your headphones or hands-free devices while taking photos.
Facial expressions: The expressions should be neutral with open eyes and closed mouth. Face the camera directly by looking towards the lens of the camera.
Colored print: The photo should be printed on matte or glossy paper. The picture must be at most six months.
Format and File Size: The size of the passport photo file should be at least 54 kilobytes. The photo should be in JPEG format.
How to print passport photos at Shutterfly?
To take a print of your passport photos at Shutterfly, you must have a digital version of the image and follow the stepwise guide below:
Find a nearby Shutterfly location.
Check their operational timings and hours. It is best to call them in advance and confirm if they provide a passport photo service.
Bring the file in a USB to Shutterfly stores to share your files. You can transfer the image to Shutterfly by connecting your phone. Ask the staff to print two photos of 2x2 inches.
Furthermore, you can inquire whether Shutterfly provides doorstep shipping services by contacting Shutterfly Assistant on their website.
Shutterfly passport photos near me
Shutterfly provides passport photo services at various locations in the U.S., but their delivery service can be used to get photos at your doorstep. On their official website, they have mentioned that they offer pick-up from Walgreens and CVS stores. The prices of which are discussed below:
Walgreens: $0.40
CVS: $0.39
Do keep in mind that these charges are for 4x6 prints. The price of 2x2 may vary. For more information, you can contact them at the below-given number:
Shutterfly Contact Number: (877) 284-9610
Moreover, you can use the 24/7 chat support feature on Shutterfly's official website for any assistance regarding American passport photos; post your query in the Shutterfly Assistant Chat Box to find out whether they provide services in your location. The online assistant replies and connects you to the relevant person within seconds.
Are Shutterfly passport photo kiosks safe?
Yes, Shutterfly passport photo kiosks are entirely safe for passport photos. They are usually located inside retail centers and malls. Shutterfly photo kiosks can help you take pictures in a professional environment where safety standards are established to facilitate customers.
Shutterfly has proper safeguards to protect customers' data from unauthorized access. It includes technical, physical, and administrative safeguards and security measures to provide customers with a safe and sound environment.
How to take a passport photo home using a phone?
You can take a passport picture at home using a phone. To do this, you must know basic passport requirements. Remember all the dos and don'ts, and then capture a photo of your passport. Here is what you have to do:
Step 1: Choose a Right Place
Take your photo in a place where good lighting is present. A room where sunlight comes is more suitable for photos. The image background can be white or off-white. You can use plain white sheets to provide an appropriate background.
Step 2: Stand with a Straight Posture
Face the camera directly with both eyes fully open and closed mouth. Passport authorities prefer neutral facial expressions.
Step 3: Get ready in the right dress
Wear an informal dress (must not be extravagant) for taking passport photos. Uniforms or camouflage attire is not allowed. Wearing glasses, headphones, headgear, and jewelry is also not allowed.
Step 4: Set the tripod stand
Selfies are not acceptable to passport authorities. Ask a friend or use a tripod stand to take your photos. You can set a timer on your phone to take photographs. Make sure to maintain a suitable distance between the camera and the face.
Step 5: Take the photo
Take multiple clicks to avoid any inconvenience if the image is blurred. Choose the best one that meets all the basic passport picture requirements. Make sure that the photo is free from any shadows.
Step 6: Get a print of the photo
Once you capture a perfect passport image, get it printed from any photo store near you. Online tools are also available, which can deliver your digital photos from the ease of your home. Online services can verify whether your passport photo meets the U.S. Department of State's criteria and deliver the printed pictures to your doorstep.

A Better Alternative to Shutterfly Passport Photos
Upgrade your passport photo experience from Shutterfly with Pixelied's online tool. Obtain high-quality photos from the comfort of your own home with ease. Our user-friendly platform is designed to make the process a breeze, saving you both time and money. Say goodbye to the hassle of physical locations and choose Pixelied for a fast, convenient, and superior passport picture solution.
Frequently Asked Questions
Yes, Shutterfly provides passport photo services to customers. Visit their stores and ask them to take and print two 2x2 inches sized passport photos.
To get a print of your passport photo, right-click on the image. Select the print option. A window will appear showing size, format, and paper options. Select the orientation, printer, and photo size for printing. After previewing the image, if you are satisfied, click on the print button.
Yes, taking a passport photo at Shutterfly using their kiosks is one of the ways to get your US passport photo. Shutterfly passport picture services are also available online, but you must create an account first. After creating an account, sign in and upload the image. Add address details to receive your passport photos at your doorstep.
The exact Shutterfly passport photo price is unavailable on the official website, but you can find the shipping rates. The shipping cost of prints is between the range of $1.79 to $25.99. The variation in shipping rates from the lower to the upper range is because of the delivery duration.
Yes, you can get a print of your digital photo at Shutterfly. All you need to do is to create an account on their website and order photo prints at your address. They also offer pick-up services at Walgreens and CVS Pharmacies.
Yes, you can get a print of your passport-size photos at Shutterfly. Make sure the image is at most six months. You can also order the print online using Shutterfly's shipping services.
Pixelied is one of the best online alternatives to help you with passport photos. Just upload your picture on their website, and they will do the rest. Pixelied is an easy and affordable online tool to take a biometric image for your passport.
The official resources do not provide Shutterfly passport photo cost information, but they have disclosed the shipping pricing data in the print section. The prices for shipping prints range from $1.79 to $25.99, depending on the delivery time.
Shutterfly passport photos fit the criteria specified by the U.S. Department of State. They take photos considering the technical guidelines related to photo dimensions and white background color and using proper lighting to capture a good-quality image. So, don't worry about photo rejection if you are using their services.
To find the nearest Shutterfly store, contact Shutterfly for their location details. To speak with a phone assistant at Shutterfly, call (877) 284-9610 and ask about the nearest Shutterfly Store location.