Postal Annex Passport Photo
Get the perfect biometric Postal Annex passport pictures with guaranteed acceptance in seconds!
100% Compliance Guaranteed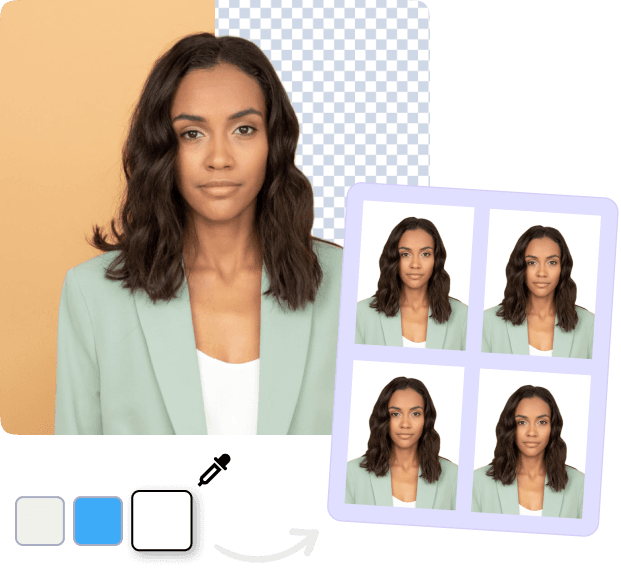 How to get instant photos online?
With our online Postal Annex passport photo tool, you can get a biometric photo for your passport in less than 3 minutes.
Capture or upload your photo
It's super simple - take a selfie or upload a photo, and let our AI tool take care of the rest.
AI processes the image
Our AI tool will remove any unwanted background and resize your photo to the official passport photo dimensions.
AI photo verification
The AI tool will carry additional checks on the photo to make it compliant and ready for submission.
Get digital or print photos
Get your biometric photos in digital copy or have the printouts delivered to your doorstep within a few days.
How to take a clear photo?
Have you ever wondered how to take the perfect passport photo? No need to look further; these instructions will help you achieve biometric Postal Annex passport photos in minutes.
Use a plain background
Use a plain background with no objects behind your back. Stand at least 2m away from the background to avoid shadows behind you.
Keep your posture straight
Maintain a straight posture and fit your head, shoulders, and upper body into the photo. Remove your glasses before taking the picture.
Maintain a neutral facial expression
Make sure your whole face is visible. Keep your hair away from your face and look straight at the camera with a plain expression.
Basic Postal Annex Passport Photo Guidelines
Glasses
Smiling
Image retouching
Wearing uniform and hat
Postal Annex passport photo requirements
How much do passport photos cost at Postal Annex?
According to the official website, the Postal Annex passport photo price for two photos is $14.99. They also do not charge extra for printing and offer same-day pickup. Their website also claims they can initiate a first-time passport application and renewal process after taking a photo.
After taking the picture, they will provide renewal or first-time application forms, depending on your requirements.
Postal Annex has multiple locations across the United States. Their services meet U.S. government criteria for a high-quality passport photo with a plain white background and minimal risk of rejection.
What is the passport photo size at Postal Annex?
Passport-size photos at Postal Annex should follow the dimensions of 2 x 2 inches or 5 x 5 cm, and these measurements apply to the printed version of the picture. As previously mentioned, Postal Annex strictly adheres to the criteria for passport photos established by the U.S. Department of State.
In addition to size, the guidelines specify that the photo should be printed on high-quality glossy paper. The applicant's face and shoulders must be visible while facing the camera directly. Their head should measure between 1 and 1 3/8 inches (2.5 to 3.5 cm).
To ensure that there are no shadows in the background and the applicant is fully visible from head to shoulders without cropping, they must stand at least 4 feet away from the camera.
What are the basic Postal Annex passport photo requirements?
Postal Annex passport-size photos comply with the U.S. Department of State's guidelines. You can take a look at these requirements by navigating to the official website of the U.S. Department of State. Meanwhile, we have discussed the most important ones in the list below:
All applicants must have a plain white background with no texture or patterns.
The dressing should be formal or semi-formal, with minimal makeup keeping your face natural.
Avoid covering your face with your hair or any accessories.
Headscarves can only be worn for religious reasons. And they are acceptable on two conditions: the face needs to be fully visible, and you must submit a signed letter with the reason mentioned.
Glasses are not allowed, but in case of medical reasons, the applicant must submit a signed document to declare the reason.
Other than that, the image format should only be in JPEG format if you submit a digital version.
How to print passport photos at the Postal Annex?
If you want to print passport photos at the Postal Annex, here are a few things you should know. According to the official website, most locations can get the process of taking a passport photo started without any prior appointment. You can visit during their operational hours and request a print.
It does not take more than an hour. It can be done sooner if there's no foot traffic.
Find the nearest Postal Annex facility using Google Maps. Ask the staff at Postal Annex to help you get your pictures printed. If you bring an image, they can print it in the appropriate size. It is advisable to bring your photos on your phone, email, or USB for quick access.
However, if you bring in your pictures, make sure it follows the guidelines given by the U.S. Department of State, the staff at the Postal Annex can also advise you if they see anything wrong, and you can feel free to ask them. On top of that, you can also get your pictures taken and printed at Postal Annex.
To get more information, you can contact them at the number given below:
Postal Annex Contact Information: (800) 767-8252
Postal Annex passport photo locations near me
Finding a Postal Annex passport picture location near your home, office, or hotel is relatively easy.
Visit the Postal Annex website.
Navigate to the 'Find a Store' option. It allows you to look at all the branches across the U.S.
You can also go to the store locator option on the website and put your ZIP, state, or city into the location finder. This way, you will find the closest location to your area. Or you can scroll down the list of stores and get the address of the nearest facility.
The stores usually are open from 8 AM to 10 PM. However, timings may change on special occasions like Christmas, Easter, or any other public holiday.
How to take a passport photo at home using a phone?
If you want to take passport photos from your phone, there are a few things you need to consider before taking your pictures.
Pre-Requisites of a Passport Photo
White background
Make sure you have a clean white background with no textures or patterns. Your background should have no shadows or reflections, either.
Good Lighting
Your lighting should not be too bright as it could cause shadows on your face and the background, nor should you keep it dark as it will not make your face visible.
Formal Attire
Formal/semi-formal attire must be worn with neutral colors, avoiding bright, vibrant colors.
Hair and Makeup
If you wear any makeup, keep it minimal to show your natural look. Your hair should not cover any part of your face.
Accessories
No face-covering accessories are allowed. Remove any hat, cap, or head accessory unless worn for religious/medical reasons. If you are wearing anything covering your face for valid reasons, you must attach a signed document to give in your explanation.
Guide for Taking a Photo Using a Phone
Once everything is checked, you can take a photo using a phone.
Set up your camera on a tripod or somewhere it can capture your face and shoulders.
Stand at least 4 feet from the camera and ask a friend to take your photo.
Make sure to look straight into the camera.
Ensure your whole head is in the frame.
Take a few pictures with neutral expressions and pick the most appealing one for print.

A Better Alternative to Postal Annex Passport Photos
Don't let the hassle of obtaining a passport photo get in the way of your travels. Pixelied's online tool makes the process easy and convenient. Take top-quality U.S. passport pictures from the comfort of your home, and enjoy unlimited retakes to achieve the perfect shot. Upgrade your passport photo experience and save time and money with Pixelied today.
Frequently Asked Questions
Yes, you can get passport pictures at Postal Annex for $14.99. Along with that, your photos can be taken and printed on the same day within an hour. Or you can get the digital version and print them any other time from anywhere.
Yes, Postal Annex has same-day passport photo services. They can also initiate the passport application process, so you must carry your documents to the appointment. You must schedule an appointment to apply for a passport and a picture.
Yes, you can take passport photos at Postal Annex. The staff is trained to handle them professionally, following all the U.S. Department of State requirements. Along with that, you can also get two passport-size photos printed as well for the same price of $14.99. If you wish only to take your picture, you can get the digital images printed from a local printer.
A Postal Annex passport photo costs $14.99. You can get professional pictures taken and high-quality photos printed simultaneously at no extra cost.
Yes, you can print your passport photo at Postal Annex. First, take your pictures at home with a phone or camera and bring them to the Postal Annex store. Prepare the images on your phone for quick and easy access, bring them in a USB, or email them to the official Postal Annex email.
Postal Annex passport pictures take at most 10 minutes when it is your turn to take photos. However, printing them in high quality can take up to an hour.
The Postal Annex passport photo price is $14.99. At this price, you get two passport-size photos and can also get them printed at no extra cost.
The authority to accept and reject passport photos stays with the U.S. State Department; nobody can direct their decisions, have control, or predict the acceptance. However, most passport photo services, such as Postal Annex, are well aware of their requirements and do their best to meet them. If you face trouble and the passport photo is rejected, you can get a refund based on this situation.