Woman Passport Photo Online
Get the perfect biometric female passport photo online with guaranteed acceptance in seconds!
100% Compliance Guaranteed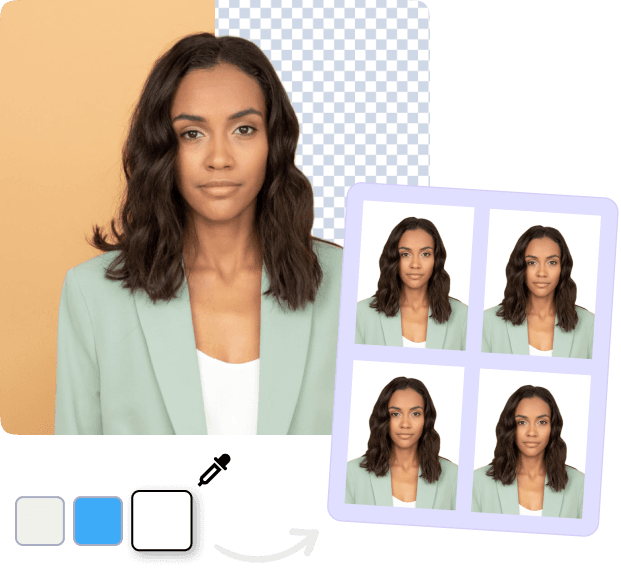 How to get instant photos online?
With our online Woman passport photo tool, you can get a biometric photo for your passport in less than 3 minutes.
Capture or upload your photo
It's super simple - take a selfie or upload a photo, and let our AI tool take care of the rest.
AI processes the image
Our AI tool will remove any unwanted background and resize your photo to the official passport photo dimensions.
AI photo verification
The AI tool will carry additional checks on the photo to make it compliant and ready for submission.
Get digital or print photos
Get your biometric photos in digital copy or have the printouts delivered to your doorstep within a few days.
How to take a clear photo?
Have you ever wondered how to take the perfect passport photo? No need to look further; these instructions will help you achieve biometric Woman passport photos in minutes.
Use a plain background
Use a plain background with no objects behind your back. Stand at least 2m away from the background to avoid shadows behind you.
Keep your posture straight
Maintain a straight posture and fit your head, shoulders, and upper body into the photo. Remove your glasses before taking the picture.
Maintain a neutral facial expression
Make sure your whole face is visible. Keep your hair away from your face and look straight at the camera with a plain expression.
Basic Woman Passport Photo Guidelines
Glasses
Smiling
Image retouching
Wearing uniform and hat
Woman passport photo requirements
How much does a woman's passport photo cost?
A woman's passport picture in the U.S. typically costs between $5 to $20. The cost usually covers the following services and items:
Photo Capture: A professional photographer can capture your passport using a camera for the abovementioned price. You can visit any retail store, pharmacy, or photography studio, and they will ensure that the image meets the specific requirements of the U.S. State Department.
Photo Printing: Next, the service provider will print the required passport photos. Most of the places' passport image packages include two images.
Photo Specifications: The service provider will ensure that the passport pictures are 2x2 inches (51x51 mm) in size, per the U.S. State Department's guidelines, and other specifications, like the correct background color and lighting conditions.
Compliance with Regulations: The service provider will ensure that the passport photos comply with the guidelines and rules set by the U.S. State Department to avoid any potential issues during the passport application process.
In conclusion, a woman's passport picture at any store will include capturing a photo that adheres to the U.S. State Department's regulations and printing it on a 2" by 2" glossy paper.
Furthermore, here is a general cost overview of passport pictures across the U.S:
| Service | Cost |
| --- | --- |
| Sam's Club | $5.31 |
| Walmart | $7.44 |
| Rite Aid | $8.99 |
| Target | $9.99 |
| UPS | $11.99 |
| AAA | Basic members pay $10, and non-members pay $15 |
| FedEx | $14.95 |
| Staples | $14.99 |
| Office Depot | $14.99 |
| Postal Annex | $15 |
| USPS | $15 |
| Walgreens | $16.99 |
| CVS Photos | $16.99 |
Where to get a female passport photo in the US?
When obtaining a woman's passport picture in the US, several convenient options are available. Here are some typical places where a woman's passport image can be obtained:
Post Offices
Post offices across the United States provide convenient passport photo services. You can easily inquire about their passport picture facilities by visiting your local post office. One notable advantage of taking your passport photo at a post office is the on-site dedicated photo facilities. These facilities capture and print passport photos, ensuring the process is efficient and the resulting images meet the necessary requirements. You can obtain your passport photo quickly and conveniently while handling other postal tasks in one location.
Pharmacies and Retail Stores
Several pharmacies and retail stores, including CVS, Walgreens, Target, and Walmart, offer passport picture services for your convenience. These establishments typically have dedicated photo centers where you can have your passport image taken and printed. One advantage of choosing these locations is their widespread presence, making it easy to find a nearby store. Additionally, these stores often have extended operating hours, allowing you to pick a time that suits your schedule.
Copy and Print Shops
Specialized copy and print shops such as FedEx Office (formerly FedEx Kinko's) or UPS Store are also reliable options. These shops have the tools and expertise to capture and print high-quality photographs. One benefit of choosing a copy and print shop is their proficiency in handling various printing tasks, ensuring that your passport photo will meet the required specifications.
Furthermore, these establishments often offer additional services such as image retouching or resizing, allowing you to obtain a flawless passport image.
Photography Studios
Local photography studios can be an excellent option for passport photo services, especially if you're looking for professional lighting and settings. These studios are well-equipped to provide high-quality passport photos that meet the necessary standards.
Additionally, photography studios often offer personalized services, allowing you to discuss your specific requirements and preferences. It can be particularly advantageous if you seek a unique or stylized passport picture that reflects your personality.
Remember, each option provides a convenient way to obtain your passport photo, and selecting the most suitable location depends on your preferences and needs. Whether you choose a post office for its dedicated facilities, a pharmacy or retail store for its accessibility, a copy and print shop for its expertise, or a photography studio for its professional touch, you can confidently obtain a compliant passport picture that will serve you well for your travel needs.
What are a woman's passport picture requirements?
The passport picture requirements for women are the same as those for men, as passport photo guidelines are gender-neutral and set by the US State Department.
However, here are the key specifications:
Printed Photos Size
The passport photo should measure 2x2 inches (51x51 mm).
Head Size
The head size should be between 1 and 1 ⅜ inches (25 to 35 mm) from the chin to the top of the head (excluding the hair). The measurement ensures that the face is visible and centered within the photo.
Facial Expression
A neutral expression is generally preferred; you can smile without showing your teeth. Keeping the mouth closed and eyes open and maintaining a relaxed facial expression is advised. Frowning is also not permitted.
Head Position and Framing
The head should be centered in the frame, facing the camera directly. The entire face, including both ears, should be visible. There should be some space between the top of the head and the edge of the image, ensuring that the top of the head is not cropped. And this guideline will remain the same for a woman's passport-size photo regardless of their hairstyle.
Background
The background of the passport picture must be plain white or off-white. Patterns, shadows, and textures are not allowed.
Lighting
The lighting should be even. Avoid harsh shadows or glares on the face. If you're a woman of color, ensuring that the lighting accurately captures your skin tone and highlights facial features is essential.
When taking a high-quality black woman's passport photo, use soft, diffused lighting to minimize harsh shadows and provide even illumination. A balanced lighting setup with strategically positioned light sources can help achieve this while avoiding hot spots and glare.
Paying attention to skin tone considerations, such as using daylight-balanced light sources, ensures accurate color representation. Testing and adjusting the lighting setup before capturing the final passport photo is essential to ensure a well-lit, clear, and accurate depiction of the face.
Attire
Avoid wearing hats, head coverings, or sunglasses that obscure the face unless worn for religious or medical reasons. The attire should not cover any part of the face.
Photo Retouching and Filters
Retouching or applying filters to your passport photo is not allowed. The image should accurately represent your natural appearance without digital alterations or enhancements.
Makeup
If you typically wear makeup as part of your everyday look, wearing it for your passport picture ensures that the image represents your usual appearance. Therefore, it's best to keep your makeup natural and subtle.
Avoid heavy or dramatic makeup looks. To prevent any glare or shine in the photo, avoid using products with a high shine level, such as shimmery or glossy finishes. Opt for a matte or satin-finish makeup product instead.
Jewelry
For passport pictures, it's generally recommended to keep accessories and jewelry to a minimum or avoid them altogether.
A passport photo's primary purpose is to accurately represent your face for identification purposes.
Can you wear makeup in a passport photo?
Yes, you can wear makeup for your passport photos. Here are some simple guidelines:
Natural and Minimal Look
Opt for a natural, minimal makeup look that resembles your regular appearance. A passport photo aims to accurately represent your facial features, so avoiding heavy or dramatic makeup that significantly alters your appearance is best. Stick to neutral shades and avoid bold or vibrant colors that may distort your natural complexion.
Enhance Rather than Transform
The goal is to enhance your features rather than transform them. Use makeup to even out your skin tone, minimize blemishes, and highlight your natural facial structure.
Consider Lighting and Flash
Remember that the lighting used for passport photos can sometimes wash out colors. Subtly apply makeup to compensate for this. Avoid excessive use of highlighter or shimmer products that can reflect light and potentially create glare in the photo.
Consistency with an Everyday Look
When applying makeup for your passport image, aim to resemble how you typically look daily. Avoid drastic changes in makeup style, such as heavy smoky eyes or intense lip colors, that are not representative of your everyday appearance. The goal is to have a recognizable photo consistent with your natural look.
Tips to look better in your passport image
Here are some tips to help you look better in your passport photo:
Dress Appropriately
Choose clothing that is presentable and represents your usual style. Avoid patterns or large logos. Solid-colored outfits work well for women's passport pictures.
Grooming
Take the time to groom yourself before the photo session. Ensure your hair is neatly styled, paying particular attention to any unique hairstyles commonly worn by women. If applicable, ensure that your facial hair is well-groomed. Pay attention to your eyebrows and make sure they are well-shaped to enhance your overall look.
Natural and Minimal Makeup
If you wear makeup, opt for a minimalistic look that highlights your features without overpowering them. Consider using foundation, concealer, and a light touch of blush to achieve an even complexion. For your eyes, choose neutral shades of eyeshadow and apply mascara to enhance your lashes. Avoid heavy or dramatic makeup that may alter your appearance.
Posture and Head Position
Stand or sit up straight with good posture. Keep your head centered and facing the camera directly. Ensure that your entire face, including both ears, is visible in the frame. It's crucial to capture your facial features accurately for identification purposes.
Lighting
Pay attention to the lighting conditions during the photo session. Proper lighting helps capture your features clearly and minimizes unflattering shadows. If you have the option, choose a well-lit area with even lighting that doesn't cast harsh shadows on your face.
Relax and Be Natural
Try to relax and be yourself during the photo session. Being too self-conscious or tense can affect your facial expression. Take a deep breath and maintain a calm and natural demeanor. Remember, the goal is to have a passport photo representing your everyday appearance while adhering to the U.S. Department of State guidelines.

Take Woman's Passport Pictures Online
Pixelied revolutionizes the woman's passport photo process, offering a hassle-free, efficient solution. Simply upload your picture onto our platform, and our software ensures compliance with all U.S. passport guidelines. With Pixelied, acquiring a passport picture becomes as simple as a few clicks, accessible anytime, anywhere. Experience the convenience and quality of Pixelied for your passport image needs.
Frequently Asked Questions
Yes, you can smile in your passport photos without showing any teeth. It's best to keep your mouth closed and aim for a natural, gentle smile that does not appear forced or change your facial features.
Yes, you can have your hair down in pictures considering your face is visible. The guidelines for a female passport photo generally require that your hair is pulled back or styled to keep it away from your face. And that your hairstyle does not cover your eyes, ears, nose, or mouth.
Yes, you can wear earrings for your passport photo if they do not cover your facial features. The guidelines for passport pictures typically allow for small, non-distracting earrings. Choose earrings that are plain and without any distracting patterns or designs. Additionally, avoid reflective materials, such as highly polished metals.
Yes, you can wear lipstick in your passport photo. Choose a natural and subtle shade that closely resembles your regular appearance. It's best to avoid bold or vibrant lipstick colors that may significantly alter your appearance.
No, having your shoulders covered in a woman's passport photo image is generally recommended. Although it is not mentioned on the official website of the U.S. State Department, photographers usually recommend that your attire be modest and not reveal a significant amount of skin.
Yes, you can wear eyeliner in your passport photo. Eyeliner is acceptable if applied to enhance your natural features without significantly altering your appearance. Choosing a subtle and natural-looking eyeliner style that closely resembles your everyday makeup is advisable.
Wearing false lashes for passport photos is debatable. Although the U.S. State Department does not officially prohibit false eyelashes, a more natural look is preferable. If you wear false lashes, choose lashes that complement your natural lashes rather than completely altering their appearance.
For a woman's passport image, it is recommended to wear modest clothing and not reveal a significant amount of skin. Having bare shoulders or wearing sleeveless attire may not meet the modesty requirements. However, no such conditions are mentioned on the official website of the U.S. State Department.