AAA Passport Photo
Get the perfect biometric AAA passport pictures with guaranteed acceptance in seconds!
100% Compliance Guaranteed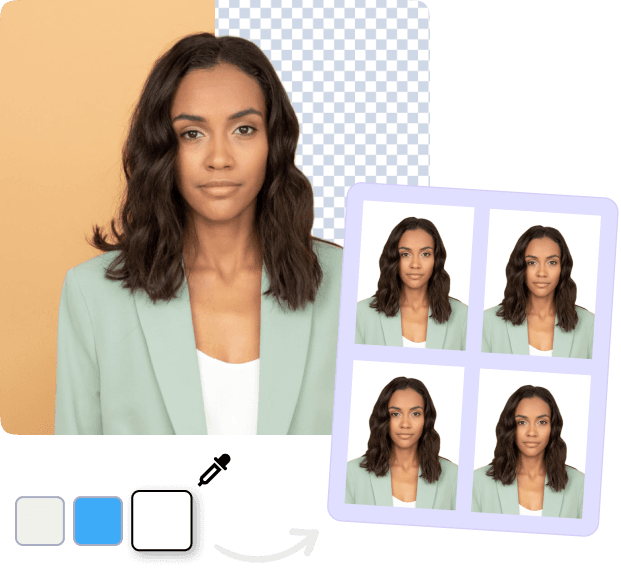 How to get instant photos online?
With our online AAA passport photo tool, you can get a biometric photo for your passport in less than 3 minutes.
Capture or upload your photo
It's super simple - take a selfie or upload a photo, and let our AI tool take care of the rest.
AI processes the image
Our AI tool will remove any unwanted background and resize your photo to the official passport photo dimensions.
AI photo verification
The AI tool will carry additional checks on the photo to make it compliant and ready for submission.
Get digital or print photos
Get your biometric photos in digital copy or have the printouts delivered to your doorstep within a few days.
How to take a clear photo?
Have you ever wondered how to take the perfect passport photo? No need to look further; these instructions will help you achieve biometric AAA passport photos in minutes.
Use a plain background
Use a plain background with no objects behind your back. Stand at least 2m away from the background to avoid shadows behind you.
Keep your posture straight
Maintain a straight posture and fit your head, shoulders, and upper body into the photo. Remove your glasses before taking the picture.
Maintain a neutral facial expression
Make sure your whole face is visible. Keep your hair away from your face and look straight at the camera with a plain expression.
Basic AAA Passport Photo Guidelines
Glasses
Smiling
Image retouching
Wearing uniform and hat
AAA passport photo requirements
How much do passport photos cost at AAA?
AAA offers various price ranges for different members. AAA passport photo price is $15 for non-members for a set of two photographs. A person with a basic membership only needs to pay $10 for the first set of shots and $5 for the second set of photos.
The AAA Plus member status offers one free set of photos once a year. Similarly, AAA Premium membership enables customers for four sets of images free of cost.
The membership discount is usually available at the company's full-service branches. However, you should visit the nearest AAA branch to get more accurate information about the prevailing rates for passport photos at AAA.
What is the passport photo size at AAA?
The size of AAA passport pictures is 2x2 inches, equivalent to 51mm x 51 mm. The head size should range from 1 – 1 ⅜ from the top portion to the bottom of the head.
The passport photos at AAA are as follows:
2x2 inches in size
High-quality resolution
The background is either white or off white
Images are printed on glossy or matte paper
What are the basic AAA passport photo requirements?
Following are the guidelines to consider while taking passport-size photos at AAA.
Face the camera directly – It is a requirement for US passport photos to face the camera directly; otherwise, they will reject your photos.
Natural smile – Neutral facial expressions are preferred for passport photos. You should also avoid showing any teeth.
Don't cover your head – Covering your head with a hat or other headgear is not permissible for passport photos at AAA. However, if some religious/medical reasons are associated with this, then it's acceptable with an application justifying the reason from the relevant authority.
Uniforms not allowed – Make sure you wear a dress that doesn't depict belonging to specific institutions(e.g., uniforms). Similarly, extravagant attire is not a good choice for taking passport-size photos.
No Glasses – Glasses are generally prohibited while taking passport photos at AAA. However, if there are some medical reasons which prohibit you from removing glasses, then it's allowed if justified alongside a doctor's note. The use of headphones during the photo taking process is also prohibited.
Background color – The background of the photo should be white or off-white. Ensure there are no shadows and enough light for a good picture.
Jewelry – Jewelry is allowed for passport photos unless it's evident that it hides the face. So, avoid using jewelry for taking passport photos.
How to print passport photos at AAA?
Do you have a soft copy of your passport photos? So, instead of taking the photography services of AAA, you can ask them to print out the photos. It will not only reduce the price but also aid you in saving time. However, ensure that your digital images meet the passport photographs' criteria.
To print your passport photos at AAA, follow these steps:
Bring your pictures in USB at AAA stores
The size of photographs should be 2x2 inches
Align the images on a 4x6 inches template
Ask the staff to print your photos on quality glossy paper
Cut them out to make two photos
Taking a print of your digital passport photo at AAA stores is relatively cheaper than using their photography services and printing.
AAA passport photo near me
Search for AAA passport photo locations near you on their official website. You can make an appointment with them for passport photo services or visit your local AAA store to obtain your biometric passport photographs.
The timings of most AAA stores are around 9:00 am to 6:00 pm. You can select any reasonable slot as per your ease by considering the above timings schedule.
However, it's good to double-check the opening and closing hours before visiting a AAA store. Confirm the timings by calling or visiting their app.
Are AAA passport photo kiosks safe?
AAA passport photo kiosks are completely safe and a viable option for your passport pictures. AAA branches take thousands of passport photos for travelers and locals every year. No reports have been published against the safety of AAA photo booths.
AAA branches provide professional passport photo services that meet the regulatory criteria for US passport pictures. This feature makes AAA a good choice for travelers looking to renew or get new passports.
How to take a passport photo at home using a phone?
You can take your passport photos at home. For this, ensure you meet all the requirements for passport photos set by the US Department of State.
To take passport photos at home, follow the guidelines below:
Find a suitable place with proper lighting. You can use a tripod stand to take pictures or take help from any friend/family member to capture your photo.
Use an HD digital camera or phone camera to take high-resolution images.
The photo's background should be white or off-white and free from shadows.
Face the camera directly with open eyes.
Neutral facial expressions are more suitable for passport photos. Don't smile while taking the picture.
The camera's and face distance should be 3-7 feet.
Take multiple clicks to help you choose the best one out of many photos. Once you are done, save it on a USB drive and bring it to AAA or any other photo studio to get a print of your passport photo.

A Better Alternative to AAA Passport Photos
Skip visits to AAA clubs with Pixelied's online passport tool. Save time and money while enjoying convenience and quality. Create passport photos at home using our easy-to-use platform, designed for a seamless experience.
Frequently Asked Questions
All AAA branches throughout the country offer passport photos for $15 for non-members. If you are a member of AAA, then you can get a passport photo for only $10 for a set of two pictures.
Yes, all of the AAA branches allow you to take your passport photographs at their place. Visit the nearest AAA store during regular business hours to grab your passport photo.
Yes, AAA offices can help you with passports and visas for infants, minors, and children. They can also help you with passport or visa applications and passport photograph services.
AAA passport photo costs $15 to non-members. Members have to pay $10 to get two photographs. To get a second set of passport photos, non-members and members only have to pay $5.
The size of your passport photo should be 2x2 inches, as mandated by the US State Department. The head must be between 1 -1 3/8 inches (25 - 35 mm) from the bottom of the chin to the top of the head.
Yes, you can bring your passport photo to the AAA office. Just ask the staff to print your passport photos.
It depends on the time you visit the AAA branch. Passport photos may take 10 to 15 minutes if it's not rush hour.
Two passport-size photos at AAA cost $15 if you're a non-member. Members only need to pay $10 for a set of two passport photographs.
AAA passport photos are taken in compliance with all the basic requirements specified by the State Department. Therefore, the probability of rejection of AAA passport photos is minimal.
It depends on your choice. A set of two photos is available for $10 to members. Members can obtain one additional set only for $5.
A basic member has to pay $10 for two passport pictures. The AAA Plus membership status allows one free set of images once a year. In contrast, AAA Premium membership enables people to get four sets of pictures for free.
No, it's not necessary. You can visit the nearest AAA branch for passport photos without making an appointment during business hours.