Meijer Passport Photo
Get the perfect biometric Meijer passport pictures with guaranteed acceptance in seconds!
100% Compliance Guaranteed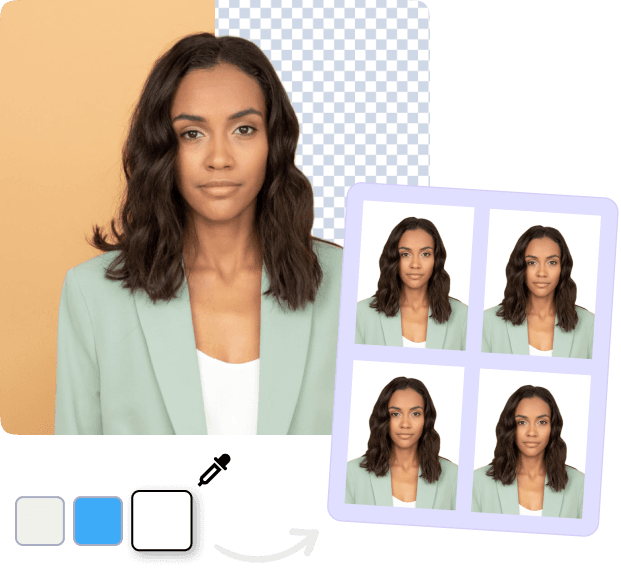 How to get instant photos online?
With our online Meijer passport photo tool, you can get a biometric photo for your passport in less than 3 minutes.
Capture or upload your photo
It's super simple - take a selfie or upload a photo, and let our AI tool take care of the rest.
AI processes the image
Our AI tool will remove any unwanted background and resize your photo to the official passport photo dimensions.
AI photo verification
The AI tool will carry additional checks on the photo to make it compliant and ready for submission.
Get digital or print photos
Get your biometric photos in digital copy or have the printouts delivered to your doorstep within a few days.
How to take a clear photo?
Have you ever wondered how to take the perfect passport photo? No need to look further; these instructions will help you achieve biometric Meijer passport photos in minutes.
Use a plain background
Use a plain background with no objects behind your back. Stand at least 2m away from the background to avoid shadows behind you.
Keep your posture straight
Maintain a straight posture and fit your head, shoulders, and upper body into the photo. Remove your glasses before taking the picture.
Maintain a neutral facial expression
Make sure your whole face is visible. Keep your hair away from your face and look straight at the camera with a plain expression.
Basic Meijer Passport Photo Guidelines
Glasses
Smiling
Image retouching
Wearing uniform and hat
Meijer passport photo requirements
How much do passport photos cost at Meijer?
According to the official sources, the Meijer passport photo cost is around $12.99.
Meijer is an extensive chain of large discount department stores dotted across America. It is mainly known for selling groceries, clothes, and household items at discounted prices. Although they provide the facility of photos at Meijer ID photos and Meijer passport size photo centers, they do not accept passport applications.
Remember, a good passport photo should meet the government's criteria, as mentioned on the official website of the United States Department of State. For instance, the face of the subject should be visible, and the lighting should be good. The photo background should be plain white and free from shadows.
As you scroll, you will find out more requirements mentioned below.
What is the passport photo size at Meijer?
The passport photo size at Meijer is the same as the size required by the government on the U.S. Department of State's official website.
According to the standard American passport photo guidelines, the size should be 2 x 2 inches or 5 x 5 cm. Ensure the head in the passport photo is 1 inch to 1 ⅜ inches. These measurements are from the top of your head to the tip of your chin.
These size requirements are essential; avoiding them can lead to passport photo rejections. Although the clerks at Meijer will take care of these requirements for you, you need to know regardless.
What are the basic Meijer passport photo requirements?
The basic Meijer passport photo requirements are discussed below:
Set up a plain white background and ensure it is free of textures, prints, shadows, or creases.
Dress in either formal or semi-formal clothes, but do not wear unnecessary accessories, pieces of clothing, or jewels. You should not wear a uniform or camouflage.
Use light makeup and avoid overdoing anything. If you have long hair, you can style however you like; just make sure your ears or any part of your face is visible in the photo.
Wear scarves, turbans, or any headgear only for religious purposes. If you wear one, you must declare the reason in a signed letter and attach it to your application. The same goes for anything that you are wearing for medical purposes.
Keep a neutral facial expression. As such, do not smile or show teeth, and avoid frowning.
How to print passport photos at Meijer?
If you want to print a passport photo at Meijer, you need to go through the following steps:
Find a Meijer passport photo location nearby
Before you get a print, you must first find a store nearby. The official website of Meijer has a feature that lets you locate a store in your neighborhood.
Call and inquire about essential details
Meijer is located across America, and they all offer passport photo services. It is best to call the nearest store and inquire. While at it, also ask about their operating hours and days.
Get your passport photos printed at Meijer
Once you have the information, take your digital copy to the nearest store and ask the clerks to print it.
Although Meijer has not disclosed the cost of printing a passport-size photo, most retailers can do the job for only 0.29 cents. Remember, this doesn't include a professional photo shoot and is only for two prints.
Meijer passport photo locations near me
Finding a Meijer passport photo location in your proximity is a cakewalk only if you know the proper instructions. Here is what you need to do:
Turn on the location from your device.
Go to the online store locator on the official website of Meijer.
Using the store locator, adjust your position on the map.
Hit search, and you will have a list of stores nearby.
According to the store's official website, there are more than 240 Meijer supercenters across six states of America. The list of those six states includes:
Michigan
Indiana
Illinois
Kentucky
Ohio
Wisconsin
Are Meijer passport photo kiosks safe?
Yes, Meijer passport photo kiosks are safe because the Meijer supercenter chain owns them in America. Not only do they offer convenience for travelers who want to renew their passports or apply for new ones, but these kiosks are also a source of relief for getting prints in a few minutes.
Remember, while these kiosks are great for photos, you cannot use them for submitting a passport application. You should also know that these kiosks are available for public use at different locations.
How to take a passport photo at home using a phone?
To take a passport photo at home using a phone, there are a few things you should be aware of. A passport is an essential travel document important for international travel. You cannot travel outside of America without a passport, so if you don't have one or if it has expired, you will have to take a passport photo.
If you already have the photos per the U.S. Department of State guidelines, and these photos are at least six months old, then you can get them printed.
However, if this is not the case, you can take one at home using a phone.
Necessary Items for Taking a Passport Photo
A smartphone with a high-quality camera
An active Internet connection
A blank, white wall or surface
A fixture or stand to keep your phone in place
Four Steps to Make a Passport Picture at Home
Set up your phone's camera in a secure position
Stand at least 4 feet from the camera if you take the photos yourself.
Set a timer on the camera so you can return to your marked position
Take a few pictures so you can select the best one
Remember to take the images in portrait mode using the rear camera. Selfies are unacceptable for American passport photos, as they could result in your application being rejected.
Transform Any Photo Into U.S. Passport Photo in 3 Steps
Upload the photos to Pixelied's online passport photo tool maker.
The AI passport photo checker will review your photo and turn it into a passport photo as per the U.S. Department of State guidelines.
Now, you can either print the photos or download them for later.

A Better Alternative to Meijer Passport Photos
Upgrade from Meijer passport photo services to Pixelied. Simply upload your photo, and let our platform process your image for compliance with State Department guidelines. Delight in the convenience of receiving professionally compliant passport picture prints delivered directly to your doorstep.
Frequently Asked Questions
Yes, they do passport photos. Meanwhile, the Meijer passport photo price is $12.99. It includes a professional photoshoot and two passport-sized prints. Meijer provides this service only at designated stores, so your local store might not have this facility. It is always better to call them up and inquire.
Yes, Meijer is known for providing speedy passport photo services. According to the Meijer passport picture facility's official website, the prints take less than 15 minutes. You can capture and develop your passport photos in less than an hour. You will receive two 2 x 2 passport photos compliant with the passport picture requirements as stated on U.S. State's Department official portal.
Yes, you can take a passport photo at Meijer, saving you from waiting in long lines. As per the official website, the print only takes 15 minutes. The price is also great, which hovers around $12.99. Passport-size photos at Meijer are high-quality and compliant with U.S. State Department's guidelines.
The cost of two passport pictures at Meijer lies around $12.99. They charge this price for a professional photoshoot and print aligned with the U.S. Department of State requirements. Meijer is one of America's cheapest and most speedy passport-size picture facilities.
Meijer passport photo locations are often present inside the store itself, so by using the online Meijer store locator, you can easily trace the stores in your locality. There is an alternate way, such as Google Maps, to find Meijer passport photo locations.
Yes, you can take your photos to a nearby Meijer passport photo location and ask them to print them for you. You can also print your photos using Meijer photo kiosks; they are safe and secure.
Meijer offers both same-day and next-day photo printing services. As their official website claims, you can collect your images within 15 minutes of submitting the digital copies. You can even order online and pick up the pictures from the nearby store at your convenience.
The cost of a 2x2 inches photo at Meijer is around $12.99. You will get a professional photoshoot for passport-size pictures and two high-quality prints by paying this price. Meijer claims to get your prints ready within 15 minutes on their official website, and they have an accessible online ordering facility.
Meijer passport photos can get rejected if there are discrepancies in the image, such as shadows in the background or the background is not white. You should also follow dress guidelines and avoid wearing accessories/colors that aren't permitted. You need to consider every aspect of the American passport photo requirements to increase the chances of acceptance.
To find a Meijer store nearby, heading to the online store locator on their official website is your best bet. Besides this method, you can also look up the nearby stores on your browser by entering 'Meijer stores location.'