Fred Meyer Passport Photo
Get the perfect biometric Fred Meyer passport pictures with guaranteed acceptance in seconds!
100% Compliance Guaranteed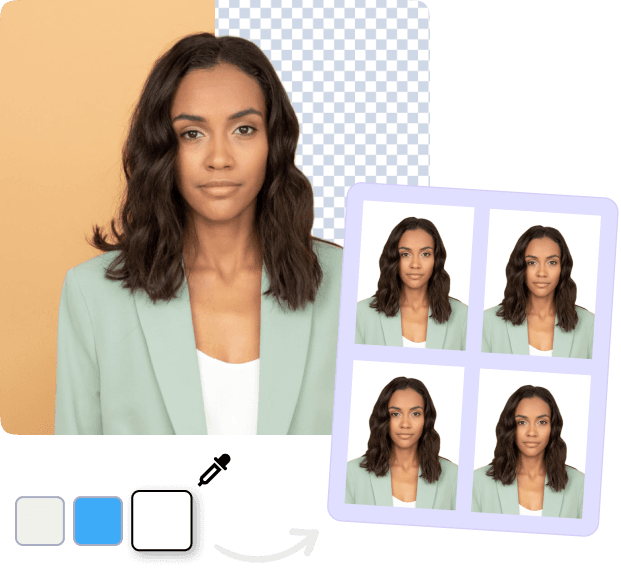 How to get instant photos online?
With our online Fred Meyer passport photo tool, you can get a biometric photo for your passport in less than 3 minutes.
Capture or upload your photo
It's super simple - take a selfie or upload a photo, and let our AI tool take care of the rest.
AI processes the image
Our AI tool will remove any unwanted background and resize your photo to the official passport photo dimensions.
AI photo verification
The AI tool will carry additional checks on the photo to make it compliant and ready for submission.
Get digital or print photos
Get your biometric photos in digital copy or have the printouts delivered to your doorstep within a few days.
How to take a clear photo?
Have you ever wondered how to take the perfect passport photo? No need to look further; these instructions will help you achieve biometric Fred Meyer passport photos in minutes.
Use a plain background
Use a plain background with no objects behind your back. Stand at least 2m away from the background to avoid shadows behind you.
Keep your posture straight
Maintain a straight posture and fit your head, shoulders, and upper body into the photo. Remove your glasses before taking the picture.
Maintain a neutral facial expression
Make sure your whole face is visible. Keep your hair away from your face and look straight at the camera with a plain expression.
Basic Fred Meyer Passport Photo Guidelines
Glasses
Smiling
Image retouching
Wearing uniform and hat
Fred Meyer passport photo requirements
How much do passport photos cost at Fred Meyer?
According to the official website, Fred Meyer's passport photo cost depends on the type of print you want. They do not provide the facility to take pictures of your passport. Instead, you can take a photo at home and get it printed for $0.20.
Remember, a passport is essential for international traveling inside and outside the U.S. While Fred Meyer can provide you with a passport photo, they cannot initiate the passport application process. For this, you must visit a government-authorized service, such as a post office or public library.
What is the passport photo size at Fred Meyer?
The size of a Fred Meyer passport picture is 2 x 2 inches. The dimensions mentioned above are for the printed version. And this size is decided by the U.S. State Department.
The head height in the photo should measure between 1 inch and 1 3/8 inches from the top of the head, including the hair.
The U.S. Department of State has not specified shoulder dimensions. However, wearing contrasting clothing with the background, having the shoulders squared, and facing the camera are recommended.
What are the basic Fred Meyer passport photo requirements?
The basic requirements for passport-size photos at Fred Meyer are mentioned below.
Passport Photo Background
As per the passport photo requirements, the background should be plain and white. It should not have textures, prints, or creases. There should be no shadow in the background, either.
Lighting and Size
The lighting in the photo should be good. It is best to take a picture during daylight if you are taking it at home.
The print size of the passport photo should be precisely 2" by 2".
Appearance
Applicants are advised to wear formal or semi-formal attire. The color of the dress should be neutral, like black and brown. You cannot wear any headgear, headphones, lenses, or glasses in your photo.
You can wear a hijab, turban, or any other head covering for religious purposes. It is advised to mention the reason with your passport application.
How to print passport photos at Fred Meyer?
Here is how you can print a passport photo at Fred Meyer for an economical price:
Take a picture at home.
If you do not want to use third-party services, you can choose a 4x6-inch print; this is the closest default template on their website.
Keep the digital copy of the template by either keeping it on email or cloud storage.
Visit the nearest Fred Meyer facility. You can use the store locator feature on their website to find the nearest one.
Ask the clerks to print the photo.
You can visit Fred Meyer Photo Share Digital Services for more information. You can find the description and prices online.
Fred Meyer passport photo locations near me
Fred Meyer's official website has a store locator feature that lets you search the nearby stores using ZIP codes or entering your region. You can also take a look at their directory and look at the list of the nearest stores.
It is best to shortlist a few stores and note their address and contact information. Before heading out, call them and inquire about their operational timings.
It is essential to know that Fred Meyer's stores cannot help you process passport applications.
As an alternative to Fed Meyer, you can always visit retail stores, pharmacies, or digital studios near your home.
How to take a passport photo at home using a phone?
Modern phones with high-quality cameras have made it easy to take a passport photo at home. It means you do not need to look for digital studios to take a picture for you. You can take a photo anywhere, anytime. All you need is a plain, white background and good lighting.
After you have the equipment, here's a step-by-step guide to taking a passport photo:
Step 1: Set up your camera at least 4 feet from where you will stand for the photo. Adjust it in a stable position and behind the lighting so your face is visible. Taking passport photos during the day is advised if you do not have studio lighting at home.
Step 2: Once the camera position and your position have been defined, set a timer on the camera to allow yourself some time to return to your place.
Make sure there are no filters or face modifications done in your camera. The picture should be completely natural.
Step 3: Now, stand and wait for the camera to capture the photos. It is best to use burst mode in your camera; you need at least a few pictures. If you do not have the burst mode, then repeat the process.
Now that you have the photos take a good look at them and pick one that fits the requirements on the U.S. State Department's website.
Step 4: Next, open Pixelied's passport photo tool.
Step 5: Upload your photo and wait for the AI to check your shot. It will automatically adjust your image according to the State Department guidelines.
Next, enter your login credentials or sign-up details for first-time users. Enter your details, and you will be good to go!
Keep in mind selfies are not allowed. So, take the picture with your back camera. On the other hand, if you need better results, you can ask a friend to help you in this process.

A Better Alternative to Fred Meyer Passport Photos
Say goodbye to the inconvenience and high costs of traditional passport photo services by switching to Pixelied. Our online tool provides a convenient and affordable way to create high-quality passport pictures from the comfort of your home. Instantly receive biometric images to meet the required standards and have them delivered straight to your doorstep or sent via email.
Frequently Asked Questions
At the moment, Fred Meyer does not take passport photos. They offer photo printing services. You can give them digital copies. They will print your images on glossy paper, saving you trips to expensive photo studios.
No. Fred Meyer is a retail store that deals only in passport photo printing services. You cannot process passport applications at Fred Meyer. And if you are looking for same-day printing, some locations may provide prints on the spot, while others might require some time. It is best to locate the nearest store and can call or email them to confirm the same-day passport photo service policies.
You cannot take a passport photo at Fred Meyer. They only have digital photo printing services. You will have to snap your pictures and get them printed. It will save you money and cost only $0.20 to $0.19.
Fred Meyer's passport photo price is unavailable because they only provide printing services. Printing a passport-sized photo, which is 2x2 inches, will cost you anywhere between $0.19 to $0.99.
Yes, you can print photos online from their website or find a store near you. To get the picture printed from their store, take the digital copies with you to the store or upload them on their website and pick it up. However, if you want it delivered, send them your digital copies through their website portal, and they will print your pictures. They will deliver your desired-sized photos on glossy sheets.
You can either print it online or pick it up from their store. To get them delivered, upload the photos on their website portal and receive them in 3-7 days. However, you can also choose the pickup option and pick up your picture when it is printed.