BJ's Passport Photo
Get the perfect biometric BJ's passport pictures with guaranteed acceptance in seconds!
100% Compliance Guaranteed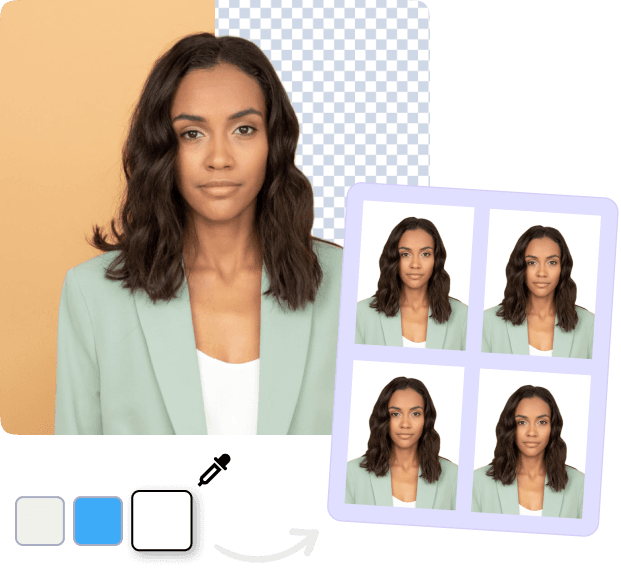 How to get instant photos online?
With our online BJ's passport photo tool, you can get a biometric photo for your passport in less than 3 minutes.
Capture or upload your photo
It's super simple - take a selfie or upload a photo, and let our AI tool take care of the rest.
AI processes the image
Our AI tool will remove any unwanted background and resize your photo to the official passport photo dimensions.
AI photo verification
The AI tool will carry additional checks on the photo to make it compliant and ready for submission.
Get digital or print photos
Get your biometric photos in digital copy or have the printouts delivered to your doorstep within a few days.
How to take a clear photo?
Have you ever wondered how to take the perfect passport photo? No need to look further; these instructions will help you achieve biometric BJ's passport photos in minutes.
Use a plain background
Use a plain background with no objects behind your back. Stand at least 2m away from the background to avoid shadows behind you.
Keep your posture straight
Maintain a straight posture and fit your head, shoulders, and upper body into the photo. Remove your glasses before taking the picture.
Maintain a neutral facial expression
Make sure your whole face is visible. Keep your hair away from your face and look straight at the camera with a plain expression.
Basic BJ's Passport Photo Guidelines
Glasses
Smiling
Image retouching
Wearing uniform and hat
BJ's passport photo requirements
How much do passport photos cost at BJ's?
According to the official website, BJ uses third-party passport photo services. Hence, BJ's passport photo cost remains undisclosed.
For people who want to get their passports renewed or made urgently, they can visit third-party passport printing services at BJ's. To avail of this service, you must be a registered member. You can get registered from their official website. Since BJ's passport photo price is not mentioned, you can take a picture at home and get it printed from a nearby shop.
If you are taking the alternate option, be aware that the cost highly depends on the number of photos taken and printed. The average price of passport photo services at other convenience stores, digital studios, retail centers, and post offices can lie anywhere between $4.99 to $16.99.
This price usually includes a professional photo shoot and two prints of 2" by 2" passport pictures.
What is the passport photo size at BJ's?
The size of the American passport photo is 2x2 inches (51x51 mm). Further size requirements are discussed below:
The frame of the photograph should have your head in the center.
The distance between the camera and the subject should be at most 4 feet.
The distance between the top of your head and the tip of your chin should be 1 to 1 ⅜ inches. Make sure that both your head and shoulders should be in the frame.
Passport-size photos at BJ's are taken according to the U.S. Department of State requirements.
What are the basic BJ's passport photo requirements?
All the requirements and restrictions for BJ's passport photos can be found on the official web page of the U.S. Department of State.
For your context, we have also mentioned the most crucial passport photo requirements that apply to every passport applicant in the United States below:
Sit or stand against a plain white background, and wear neutral colors like brown, gray, or black. Make sure you are not wearing any light or bright colors.
Face the camera with your shoulders and face rested. Keep your expressions neutral, and avoid showing teeth or squinting your eyes.
If you get the photo from a professional, the photographer will set the camera in a direction to take the close-up of your head and shoulder.
If you take the photo yourself, ensure your head and shoulders are in the frame, not cropping any part. It is best to stand in the center of the frame.
Wearing headgear and glasses is not allowed. You must declare it in a signed copy if worn for medical or religious reasons. Then attach it to your passport application.
Keep your makeup minimal, and do not wear anything that may hide your facial features.
As long as your face is visible, you can wear facial piercings. Also, permanent face tattoos are acceptable for passport photos.
Remember, the photo should be at most six months, whether you are applying for a new passport or renewing your old one. Getting an updated picture at home or from a nearby digital studio is best.
If the picture is at most six months, but you have lost a significant amount of weight, gained some kilos, or have undergone surgery, it is advised to use your current photo.
How to print passport photos at BJ's?
There is an online BJ's passport picture facility for printing passport photos. If you need your photos delivered to your doorstep, here is what you have to do:
Sign Up for BJ's Membership
BJ's passport picture services are available for its members only, and it is easy to become a member by signing up on its official website. Just fill in the details, and you are good to go.
You may change your account information or residential address at any time. Try clicking the "Edit Account Info" tab on the right side of your display to begin. Enter the updated information and select "save."
Log in to Your BJ's Photo Account
After creating your account, you must log in to benefit from BJ's passport photo printing service. Just enter your email address and password; save this information somewhere safe so you remember it easily.
Upload Your Photos Online
After you have logged into your account, the next step is to upload your photos on the portal. It is best to take pictures in advance.
Their online portal allows you to connect your account to Facebook and Instagram. Using this feature enables the user to import photos easily from these platforms.
Place Your Order
This step comes after selecting the photos you want to get printed from BJ's passport photo facility. Select the image you desire to print. On your display's bottom right corner, you will find an option, "Order Prints." Click on it.
The next page will show you options for print sizes and select the 2x2 size for passport photos. Now, choose glossy paper and print quantities. Confirm your order and enter all the details.
Place your order and note down the tracking number somewhere safe. It will help you stay updated with the status of your order.
BJ's passport photo locations near me
Getting a passport photo at BJ's has become a thing of the past because they have stopped offering this service in their stores. For now, they are only offering printing services. If you are looking to print your passport pictures, it is best to get on their website and place an order.
How to take a passport photo at home using a phone?
Taking a passport photo at home using a phone is becoming a popular way to get your passport photos printed within a few minutes. Here is a stepwise guide for taking a passport-size photo aligned with the U.S. Department of State requirements.
First thing first, set up your phone in a position where it is steady. It is advisable to use a tripod, but you can DIY the stand using a few books and a table.
Now, mark your position at a distance of 4 feet from the camera.
Ensure your head and shoulders are visible in the camera without cropping when standing there.
Set the phone's camera on timer and return to the marker.
It is best to take several photos to choose the best one for print.
Remember, selfies are not allowed, so keep your camera in portrait mode and take pictures using the back camera.

A Better Alternative to BJ's Passport Photos
Easily create high-quality passport photos without the hassle of waiting in line at BJ's with Pixelied's online tool. With just a few clicks, you can create biometric passport pictures from the comfort of your home. Our easy-to-use platform saves you both time and money, all while providing the convenience you need. Upgrade your passport photo experience with Pixelied today.
Frequently Asked Questions
Yes, BJs take passport photos, but they are using third-party services. They can print your pictures if you get them captured from a digital studio, retail store, post office, or even from home.
BJ's does not offer passport services. Only a few authorized facilities can help you with American passport applications. If you are searching for a place to get your passport photos printed, you can use the online services on the official BJ website. Remember, the services they offer are through a third-party company.
No, you cannot take a passport photo at BJ's because they discontinued this service a few years ago, in 2018. You can, however, get your photos printed by placing an online order on their website.
The price of two passport-size pictures at BJ's has yet to be discussed on their official website. The cost of two 2" x 2" passport pictures can be anywhere between $4.99 to $16.99. It includes a professional photography session for passport photos and two hard copies on high-quality glossy paper.
Yes, you can print your passport photo at BJ's by becoming a member and placing an online order. Their website allows members to upload their passport pictures and deliver the prints to their doorstep.
The price of a 2x2 inch BJ's passport-size photo is not disclosed. But, according to some sources, the cost of printing passport photos at BJ's can start from $0.12 for a single print.