Online Passport Photo Tool
Get the perfect biometric passport photos with guaranteed acceptance in seconds!
100% Compliance Guaranteed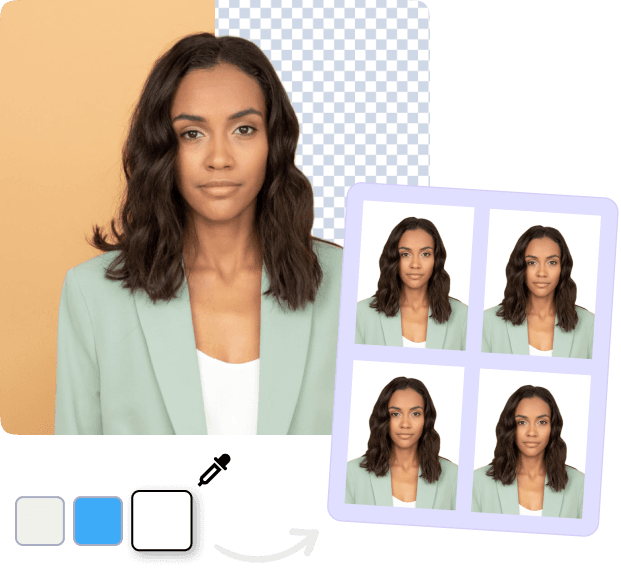 How to get instant photos online?
With our online passport photo tool, you can get a biometric photo for your passport in less than 3 minutes.
Capture or upload your photo
It's super simple - take a selfie or upload a photo, and let our AI tool take care of the rest.
AI processes the image
Our AI tool will remove any unwanted background and resize your photo to the official passport photo dimensions.
AI photo verification
The AI tool will carry additional checks on the photo to make it compliant and ready for submission.
Get digital or print photos
Get your biometric photos in digital copy or have the printouts delivered to your doorstep within a few days.
How to take a clear photo?
Have you ever wondered how to take the perfect passport photo? No need to look further; these instructions will help you achieve biometric passport photos in minutes.
Use a plain background
Use a plain background with no objects behind your back. Stand at least 2m away from the background to avoid shadows behind you.
Keep your posture straight
Maintain a straight posture and fit your head, shoulders, and upper body into the photo. Remove your glasses before taking the picture.
Maintain a neutral facial expression
Make sure your whole face is visible. Keep your hair away from your face and look straight at the camera with a plain expression.
Basic Passport Photo Guidelines
Glasses
Smiling
Image retouching
Wearing uniform and hat
Passport photo requirements
What are the typical passport photo prices?
The typical cost of passport photos in the U.S. hovers around $9 to $15. These prices are from retailers and photo studios like USPS, Walmart, Walgreens, Costco, etc. But there is a better and cheaper alternative for biometric passport photos. You can take passport photos online using Pixelied's passport photo upload tool.
All you need to do is to have a working mobile camera or a professional digital camera that allows you to transfer your images to a laptop or desktop. You also need an active internet connection to generate an online ID photo or passport picture.
A passport photo is an essential travel document required by the government of the U.S., no matter if you are traveling for leisure, studies, business, or any other purpose. When applying for a new passport, renewing an old passport, or even applying for a visa of any country, the embassies or passport offices often require a passport image.
Although it is often hard to get an updated passport photo that meets the requirements of the U.S. Department of State, with the correct information, you can take these images online or from a retailer without any fear of rejection. Remember, passport pictures must reflect an individual's most updated look, meaning if you have grown your hair, undergone surgery, or started wearing spectacles for medical reasons, or anything else—it is time to take a new passport image. It will help you avoid any trouble when passing through border security.
What are the main passport photo requirements?
The US visa photo requirements are quite detailed but not complicated. You can quickly fulfill them all by yourself if you are not planning to seek professional passport services. There's an alternative; as you might have guessed, Pixelied's online passport photo service is an incredible way to get professional-grade passport photos taken either from home or wherever you are. Just follow these main passport photo requirements to take the photos and send them to the US passport office.
Size of Passport Photos
According to the size guidelines for U.S. passport photos, as listed on the official portal of the U.S. Department of State, the acceptable measurements of the passport size are below:
Passport photo should be exactly 2 x 2 inches (5 x 5 cm)
Your face should be facing the camera directly. The distance from your face to the camera should be at least 4 feet or 48 inches.
Your head must be between 1 or 1 ⅜ inches ( 25.4 mm to 35.052 mm) from the top of the head to the bottom of your face. These measurements should be determined in the camera view.
If you are opting for digital images, then here are some additional requirements:
The photo must be in jpeg, png, jpg, or gif format.
The photo must be square.
The passport photo dimensions must be exactly 600 × 600 pixels.
The passport photo file size must be at least 240 kilobytes.
Background in Passport Photos
The background in the passport photos should be plain white. You can use a plain white cloth to add the backdrop if you do not have a plain white wall at your home or where you are staying. It is best to eliminate any distractions or textures in the background. If there are pictures, frames, or any decorative pieces, remove them too.
Furthermore, filters or editing tools should not be used before or after taking a picture. Your picture should be all-natural. Lastly, the photo should be in color.
Appearance in U.S. Passport Photos
Taking care of your appearance in the U.S. passport photo is something you can not neglect because it can essentially make or break your luck with the passport acceptance process.
Wear semi-formal or formal clothes if you're applying for a passport or visa, and never take your passport photos in casual or night wear. Your accessories and make-up should be subtle.
When it comes to clothing and the colors you should wear, remember that bright colors are a big no-no. Wear neutral colors that do not take the attention off of your face. If you wear any headgear or glasses, it is best to take them off unless worn for religious purposes or health issues. If worn for the before-mentioned causes, you must declare the reasons by providing a signed letter to the U.S. passport offices and embassy.
Where to get cheap passport photos?
America is dotted with various professional passport photo services; if you search for passport photo locations near me, you will have a never-ending list of such services. Of course, plenty of photo studios and online photo services will take a perfect passport image for you while fulfilling the requirements. But you will never know which one of them is the best, so we have narrowed down the list for you here:
Pixelied's Passport Maker Tool:
The biggest fear while applying for a passport or visa in the U.S. is rejection. Nobody wants to go through the hectic process again and again, so everyone wishes to nail it in the first go. And you can make passport photos with Pixelied's passport maker tool.
It saves you the effort and cost that usually is by default with this process. With Pixelied, you will never have to worry about things like passport photo quality, passport photo cost, or passport photo rejection because we are taking care of these things on your behalf.
Pharmacy Drug Stores:
Besides Pixelied's passport maker tool, you can take your passport photos from a nearby pharmacy drug store such as Walgreens, Rite-Aid, and CVS. The cost may vary from location to location, but a set of two 2 x 2 passport photos is usually between $9 to $12 in drug stores. They also get high-quality prints in just an hour.
These pharmacy drug stores are great for high-quality professional photographs. If you find one nearby, it is best to call them first and confirm whether they offer passport photo services. If the answer is affirmative, you can capture or develop some photos from them.
Photography Studios:
Another excellent method to get your passport photo is to head to a nearby photography studio and ask if they do passport images. They usually get the job done within $7 to $15 and bring you professional-grade photos and prints at the same cost.
Most photography studios offer these services, and rarely anyone denies taking photos for a passport. It is best to have that information in advance.
Departmental and Convenience Stores:
Most departmental and convenience stores in the U.S. that offer passport photo services are great at what they do. They are well aware of the U.S. Department of State requirements. Costco, Sam's Club, and Walmart are some of the names that offer passport images for as low as $4.99. You can also get two passport photo prints at the same price with same-day pickup.
Passport photos location near me
Looking for passport photo services nearby? Then you are at the right place!
Many department stores and photo studios will get the job done, but nothing compares to the convenience Pixelied's passport photo tool offers.
Capture or Upload a Photo: Using your phone, snap a photo. If you already have a photo, upload it and leave the rest to us. Our online passport photo checker will do the rest.
AI Tool Prepares the Photo: Our AI tool will check your photo thoroughly and prepare it perfectly for the application process.
Professional Assessment: Our tools will conduct an assessment, check passport photo requirements, and verify if your photo meets the official requirements.
Digital Copy or Photo Print: After verification, you can either download the image for print or keep digital copies with you.
What are the most common mistakes when taking passport photos?
Most of the time, when applicants try to get their photos, they need to remember the guidelines or be aware of them.
Quality of the Photo
The biggest mistake people make when taking passport photos is neglecting the quality of the photo. The passport office might reject them when you submit pictures with bad-quality cameras, low-resolution mobile cameras, or in a dimly-lit environment. Once rejected, you will have to submit them again. This will double the processing time usually required for your passport application, and your travel plans will indeed have to wait because the visa will take even longer.
So, the best way to go about taking your passport photos is to take them to professional studios, drug stores, or retail centers. You can also do it at home with Pixelied's professional passport tool.
However, if you are determined to take photos at home, you must ensure that your camera is high quality. Moreover, you are meeting all requirements laid out by the U.S. Department of State.
Background and Editing
The second most common mistake people make while taking a passport image at home is that they need to take care of the background. According to the guidelines issued by the U.S. Department of State, the background of the image should be white and plain. Make sure there are no shadows or distractions, either.
Never edit your passport photo or use photo filters. They can change your facial features, which is the most common mistake people make.
Facial Features and Expressions
It is essential that you keep this point in mind. To avoid this mistake, follow these steps:
Face the camera directly with a neutral expression.
Your head should level with the camera. It should not be too above or below.
If you want to smile in your passport pic, keep it natural and avoid exaggerating or showing too many teeth.
Do not shut your eyes; keep them widely opened.
Keep your lips gently pressed and avoid frowning.
Clothing and Appearance
Besides lighting, background, and facial expressions, your clothing and appearance are the most significant factors you should consider to avoid rejection of passport photos.
Wear neutral-colored clothes, preferably black or brown, without any graphic images.
Keep your appearance normal, and avoid over-accessorizing yourself with jewelry or anything else.
If you are wearing glasses or headgear for medical or religious purposes, then you must declare that in a signed letter and submit it with your passport application.
Moreover, restrictions are placed on the type of clothing you are allowed to wear in a passport photo. For instance, wearing a uniform (or anything resembling a uniform) is strictly prohibited. This means you cannot wear a camouflage-printed scarf, shirt, or anything else. A simple trick to avoid this mistake is to stick to something simple; a black plain shirt works well—avoid high collars.
Are visa and passport photos the same?
In the United States, passport and visa photos have different size requirements. Due to this, you can not use the same photos for these two applications.
If you are applying for a visa, you must have one passport photo that meets those requirements. And, if you are applying for a passport, the requirements are quite different from your visa application.
Visa Photo Requirements
The US visa photo size should not exceed 2 x 2 inches (51 x 51 mm). The camera should be kept so that the head is between 1 and 1 3/8 inches (22 mm and 35 mm). In other words, the total distance from the bottom of your chin to the crown of the head should be 50% and 69% of the image.
The background should be plain and white, just like a passport photo.
Passport Photo Requirements
While background requirements remain the same, the U.S. passport photo size should be 2 x 2 inches (5 x 5 cm). The total distance between the camera and your face should be at least 4 feet (48 inches). Your head must be placed between 1 or 1 ⅜ inches ( 25.4 mm to 35.052 mm) from the top of the head to the bottom of your face.
How to take a passport photo at home using a phone?
Using a mobile phone to take a passport photo is not rocket science. It boils down to ensuring that your photo should meet all the relevant rules and guidelines issued by the U.S. Department of State. If you want to take a passport photo, simply follow these steps, and you are good to go!
Set proper lighting and keep your camera in a stable position. If you don't have additional lights, take the photo in daylight. Face toward the window and camera between your face and the window.
The distance between your phone camera and yourself should be 4 feet or 48 inches.
Dress appropriately, as per the guidelines issued by the U.S. Department of State.
Keep your head leveled with the camera, and ask someone to take the photo.
You can use a Bluetooth device or set a time if no one else is available.
Once the photo is taken, resize it to 2 x 2 inches for print.

Take Passport Photos Online
Get your passport photo online effortlessly at home. At Pixelied, we can provide your ID photos and passport pictures within a few minutes. Our digital passport photos are of top-tier quality and as per the rules of the U.S. Department of State.
Frequently Asked Questions
Yes, you can take a passport picture at home using any online passport photo tool. You only need a working digital camera or mobile phone with a camera and a good internet connection.
The price of a 2 x 2 passport photo is between $9 to $15.
There are several passport photo processors and online passport photo services in the USA that will help you get digital passport photos. You can use Pixelied's online photo maker tool to get high-quality photos.
Yes, you can take passport photos at home. All you need is a white, plain background, a phone or digital camera, a well-lit room, and an online passport photo tool. After taking the picture, you can upload it on the website, then get it cropped to the correct size.
Most passport photos make people look bad because of poor lighting and low-quality cameras. If you are worried that your passport photos may not be as pretty as you always imagine, you can take a few additional steps to ensure it doesn't happen. Take pictures when you feel your best, keep neutral facial expressions, face the camera, and ensure the lighting is good. Look confident and relax.
The aspect ratio of a US passport photo is square. It means all dimensions should be equal from all sides. The height and width of a photo should be precisely the same. If the height is 2 inches, then the width should be 2 inches.
You can wear formal or semi-formal clothing in passport photos. These instructions are important if you want to fulfill the criteria of a passport photo check at the passport office.
According to the manual, the face should be visible in the passport photo. So it is best to tuck your hair behind your ears. If you are wearing a headscarf, then you must declare that with your application if worn for religious reasons.
Emailing a photo of your passport is probably not the best idea if you want to keep a digital copy. It is best to use cloud storage to keep it with you on a mobile or portable device.
Fake eyelashes or anything else worn to enhance your facial feature are strictly prohibited. Your face should be natural in passport photos.
Yes, you can wear a hijab for a passport photo. However, you must declare the reason with a signed letter and attach it to your passport application.
Yes, you can wear a tie for a passport photo. Formal dressing is highly encouraged for U.S. passport images, but make sure the color is not too bright and you are not overdressed.
Knowing that the background of the passport photo will be white, wear colors that must not make you blend with the backdrop. It is advised to wear neutral colors such as brown, black, or gray.
No, you cannot show your teeth in a passport photo. Smiling in American passport picture is allowed, however, if your teeth are visible, it may lead to passport photo rejection.
Yes, you can wear earrings in a passport photo. You can also wear your facial piercing as long as your face is visible and they are not too glittery or distracting.
The cost of passport photos usually lies between $5 to $15 if you use retailers, photo studios, or convenience stores for this service. Online passport services are generally cheaper than this.
Yes, all passport applicants must have two full-color passport images. The size should be 2 x 2 inches with a plain white background.
Yes, you can smile in a passport photo as long as your facial features remain the same and your eyes do not shut. However, keeping your facial expressions neutral is recommended to avoid rejection.
Shirts, t-shirts, sweatshirts, or dresses are all great options, but make sure they are not too informal or graphical. The colors should be neutral and not too bright.
Yes, you can wear lipstick in your passport photo. Make sure the color of the lipstick you are wearing for the passport image is not too bright or glossy.
Yes, you can wear glasses in passport photos only if they are worn for medical reasons. And, if the reason is medical, you must declare it in a signed letter along with your passport application.
If your passport photo follows the U.S. Department of State guidelines, it is unlikely to get rejected. In case they are rejected, you can always apply for a second time.