Staples Passport Photo
Get the perfect biometric Staples passport pictures with guaranteed acceptance in seconds!
100% Compliance Guaranteed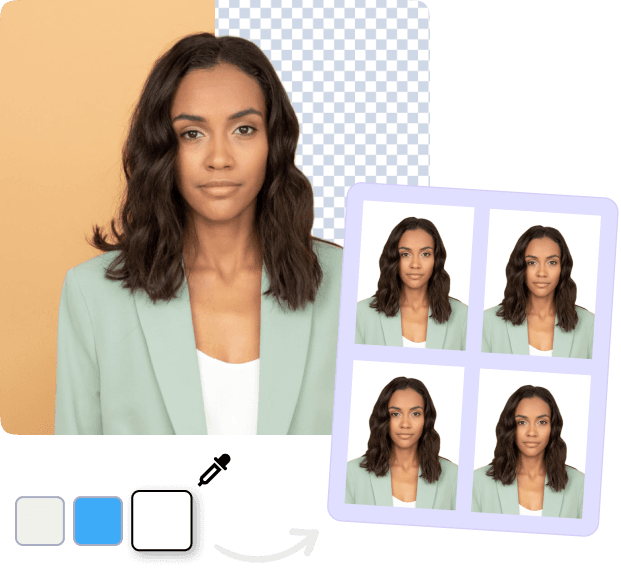 How to get instant photos online?
With our online Staples passport photo tool, you can get a biometric photo for your passport in less than 3 minutes.
Capture or upload your photo
It's super simple - take a selfie or upload a photo, and let our AI tool take care of the rest.
AI processes the image
Our AI tool will remove any unwanted background and resize your photo to the official passport photo dimensions.
AI photo verification
The AI tool will carry additional checks on the photo to make it compliant and ready for submission.
Get digital or print photos
Get your biometric photos in digital copy or have the printouts delivered to your doorstep within a few days.
How to take a clear photo?
Have you ever wondered how to take the perfect passport photo? No need to look further; these instructions will help you achieve biometric Staples passport photos in minutes.
Use a plain background
Use a plain background with no objects behind your back. Stand at least 2m away from the background to avoid shadows behind you.
Keep your posture straight
Maintain a straight posture and fit your head, shoulders, and upper body into the photo. Remove your glasses before taking the picture.
Maintain a neutral facial expression
Make sure your whole face is visible. Keep your hair away from your face and look straight at the camera with a plain expression.
Basic Staples Passport Photo Guidelines
Glasses
Smiling
Image retouching
Wearing uniform and hat
Staples passport photo requirements
How much do passport photos cost at Staples?
According to their official website, Staples passport photo price lies around $14.99 for two 2 x 2 inches photos. At this price, you get two prints of 2 by 2 photos and a professional photoshoot.
The website also states that the passport photo cost can be higher in the following states:
California
Colorado
Florida
Kansas
Maryland
Virginia
Furthermore, Over 1,000 Staples stores across America have passport picture facilities and offer same-day images. You can walk into any of these stores and ask them to take photos for you; it doesn't take more than an hour. They also offer prints at the same price.
If you also want to benefit from their passport photo service, then follow these steps below:
Using the Staples store locator, find a store near your office, home, or anywhere else you are staying.
After you find a nearby store, it is best to confirm if they offer U.S. passport photos via phone. Make sure you ask for operational hours too.
As they offer different photo services such as Staples ID photos, visa photos, passport photos, and so on, it is best to let them know that you require a photo for a passport application.
What is the passport photo size at Staples?
As per the guidelines of the U.S. State Department, Stapes passport-size photos must not be larger or wider than 2x2 inches.
You must also ensure your face and shoulders are fully visible in the camera frame. Next, the distance from the top of your head to the tip of your chin must be between 1 or 1 ⅜ inches or 25 mm to 35 mm.
Lastly, the camera must be placed at least 3-7 feet away from the subject (i.e., you). It is best to remember that these numbers play a huge role in deciding whether or not the passport department accepts your passport size photos.
What are the basic Staples passport photo requirements?
If you are looking for basic Staples passport photo requirements, look no further. Here is everything you need to know about US passport photos:
US Passport Photo Background
Plain white is recommended as the photo background by the State Department. There can be no prints or textures on it. The photo must be in color without any filters or editing.
US Passport Photo Size
Passport pictures at Staples should be exactly 2 x 2 inches or 5 x 5 cm. These guidelines are issued by the US Department of State and remain the same everywhere, even if you take a passport picture at home using a phone.
Passport Image Format
The acceptable format for a digital passport photo is JPEG. It should be scanned at a resolution of 300 pixels per inch.
Appearance
If you are applying for a passport and want a Staples passport photo, you must wear formal or semi-formal attire. There are a few more requirements regarding appearance, such as:
Your clothes should be neutral colors, such as black or brown.
You must avoid wearing light colors to avoid blending in with a plain white background.
Your makeup should be kept minimal.
You must not wear lipstick, eyeshadow, accessories, or even clothes with bright colors.
You must not wear any hat, headgear, sunglasses, and spectacles.
Note: If you wear anything for religious reasons (such as a hijab or a turban), you must attach a signed letter explaining the reason. The same goes for anything you wear for medical reasons except contact lenses—you must take them off.
How to print passport photos at Staples?
To print a passport photo at Staples, you must have a picture following all the above guidelines. If you are taking one at home, using a phone, and want to avail of Staples passport photo printing services, then you must carry digital copies with you.
Here's a stepwise guide to printing passport size photos at Staples:
Using the store locator on Staples' official website, locate a branch near your house or workplace.
Call the local store and inquire if they have a passport photo facility. While at it, you must also ask about their operational hours.
Take digital copies of the photos with you in either your email address, phone, or any portable device. It is best to keep the connecting cable with yourself to link your device to their system.
Walk to the photo facility in the store and ask the clerks to get your passport photo prints.
Transfer your photos to them, and your prints will be ready in less than an hour.
The price of a passport photo at Staples is $14.99 for two 2 x 2 inches American passport photos, with printing. However, the price may vary slightly if you only opt for prints.
Staples passport photos near me
Before you search for Staples passport photo centers near your location, look for the ones that offer passport pictures because not all stores have a separate photo studio and printing facility.
Now, if you want to find out Staples passport photos nearby, here is what you should do:
Get on the official website of Staples and navigate to the store locator option.
Turn on the location from your device.
Now, on the website, you will have two options to find a Staples store nearby. Firstly, you can either add the city, state, or zip code. Secondly, you can search for the store number.
A third option allows you to manually search the store by browsing through their directory in case you do not know the zip code.
Find the nearest one, and click on that store.
A new page will open where you will have full store details, including contact number, fax number, operational hours and days, and an exact address.
Pro Tip: It is best to call the nearest store and ask for more details before visiting them.
Are Staples passport photo kiosks safe?
Yes, Staples passport size photo kiosks are safe and secure because they are authorized entities of Staples. If you are getting a new passport in the United States or renewing your old one, then this is what you should choose.
You can head to the nearest store with the help of Staples store locator and get your passport photos captured and printed within a few minutes.
How to take a passport photo at home using a phone?
You can now take an American passport photo at home using an Android phone or iPhone without leaving your house using Pixelied's online passport photo tool. It is convenient, cost-effective, and plugged in with the passport photo guidelines set by the State Department.
Let's first look at the equipment you will need for this procedure.
Tools For Taking a Passport Photo at Home With a Phone
A mobile phone (Android or iPhone) with a high-quality camera
A tripod stand (optional)
Plain white sheet for background—make sure there are no textures.
Good lighting—it is best to take a passport photo during daylight
Pro Tip: If you do not have a tripod stand available, you can make your own using a few books and a stool. The goal is to set your phone camera in a stable position, level with your face.
Stepwise Guide for Taking a Passport Photo at Home
After you have checked everything on the list of things you will need for taking a passport photo at home, follow this stepwise guide below:
Position your camera using a tripod or DIY stand so that your face is visible along with your shoulders.
Mark your position for a picture at least 3-7 feet away from the phone.
Set a time on the mobile camera for at least 10 seconds, then stand in the marked position.
Face the camera while keeping a neutral face.
Make sure you are not wearing anything that covers your face and hairline.
Now, wait for the camera to click your photo.
It is best to take many pictures and then choose the best one.
Photo Processing at Pixelied
You can now process your photos using Pixelied's passport photo tool. Simply upload your image and let the app do the rest. Here is a simple stepwise process to take the best passport photo at home using Pixelied:
Select the pictures you deem most accurate for a passport photo.
Upload your image by either dragging or adding it via a pop-up window.
Click the upload button and wait for the app to conduct a U.S. passport photo compliance check.
Once approved, follow the steps to sign up and add payment information.
Your photo will now be ready to print!

A Better Alternative to Staples Passport Photos
Pixelied simplifies the passport photo process with our easy-to-use online tool, designed for creating U.S. passport images from the comfort of your home. Enjoy the convenience of printing photos without leaving the house, all while saving money and time. You can ensure complete satisfaction before finalizing your passport photo with unlimited retakes.
Frequently Asked Questions
Yes, Staples does passport photos. They also take visa photos; both services are available for adults, children, and infants. Also, taking passport photos takes only a few minutes, but prints can take up to 10 minutes.
No, Staples does not do passport services. However, Staples does same-day passport photo services. It means you can get your pictures captured and printed in one day in less than 15 minutes — depending on the waiting time in the store.
Yes, you can take a passport photo at Staples with the help of their staff. However, the typical cost for a Staples passport photo is $14.99 for two 2 x 2 inches photos, including the photo shoot. The price of prints can be lesser than that, and you can find it out by heading to the nearest Staples passport photo center.
As per the official sources, Staples passport photo cost for two passport-size pictures is $14.99. You can also get both digital copies and prints at this price with same-day pickup.
Passport photos at Staples cost around $14.99. You get two 2 x 2 inches passport-size photos and printing at this price. You can get both things done in a day because Staples also offers same-day pickup services.
Yes, you can print your passport photo at Staples if you have digital copies. You can walk into the nearest store using the store locator and ask the clerks to print your passport photos.
Staples store locator is an online service that lets you get a list of Staples passport photo services within your locality.
A 2x2 photo at Staples can cost you around $14.99 with both digital copies and prints. Staples offers a US passport photo facility in more than a thousand stores across the US.
Staples passport photos get accepted if you follow the guidelines mentioned on the official website of the U.S. Department of State. Some requirements are more necessary than others, and neglecting them may lead to rejection. As such, your face should be visible and clear in the picture, the background should be plain and white, and the passport photo size should be exactly 2 x 2 inches.
Yes, Staples prints passport photos because it has introduced a biometric photo printing facility in various states across America.