Bartell's Passport Photo
Get the perfect biometric Bartell's passport pictures with guaranteed acceptance in seconds!
100% Compliance Guaranteed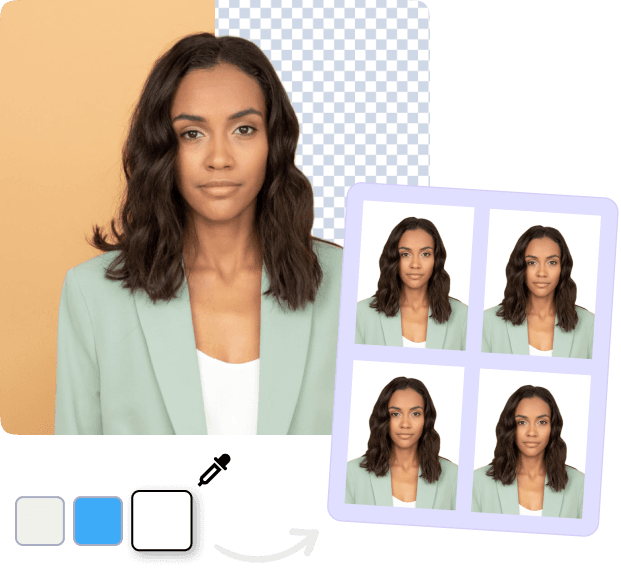 How to get instant photos online?
With our online Bartell passport photo tool, you can get a biometric photo for your passport in less than 3 minutes.
Capture or upload your photo
It's super simple - take a selfie or upload a photo, and let our AI tool take care of the rest.
AI processes the image
Our AI tool will remove any unwanted background and resize your photo to the official passport photo dimensions.
AI photo verification
The AI tool will carry additional checks on the photo to make it compliant and ready for submission.
Get digital or print photos
Get your biometric photos in digital copy or have the printouts delivered to your doorstep within a few days.
How to take a clear photo?
Have you ever wondered how to take the perfect passport photo? No need to look further; these instructions will help you achieve biometric Bartell passport photos in minutes.
Use a plain background
Use a plain background with no objects behind your back. Stand at least 2m away from the background to avoid shadows behind you.
Keep your posture straight
Maintain a straight posture and fit your head, shoulders, and upper body into the photo. Remove your glasses before taking the picture.
Maintain a neutral facial expression
Make sure your whole face is visible. Keep your hair away from your face and look straight at the camera with a plain expression.
Basic Bartell Passport Photo Guidelines
Glasses
Smiling
Image retouching
Wearing uniform and hat
Bartell passport photo requirements
How much do passport photos cost at Bartell's?
Bartell's passport photo price information is not available on its official website. You can inquire about the exact pricing by contacting them over the phone or visiting a nearby store.
Bartell Drugs offers instant and professional-quality passport photo services. If you are choosing Bartell's passport picture services, there is no need to worry about the probability of rejection of your photo. Bartell guarantees that their passport pictures will be approved by the government.
What is the passport photo size at Bartell's?
Bartell's photo size is the same as the US passport photo dimensions. The passport photo size at Bartell's store is 2x2 inches. The head size in the picture should be between 1 to 1 3/8 inches from the bottom of the chin to the top of the head.
To ensure that your passport application is accepted, it's important to comply with the U.S. Department of State guidelines for passport photos. One of the best ways to do this is to use professional photo services like Bartell, which has experience meeting all the technical requirements for passport photos.
What are the basic Bartell's passport photo requirements?
The basic requirements set by the U.S. Department of State for passport pictures are as follows:
Size of photo: The passport picture should be 2x2 inches. The head dimension in the image should be between 25 – 35 mm.
Background: The photo background color should be white or off-white.
Face the camera directly: Look into the camera's lens while taking pictures; otherwise, it might get rejected by authorities.
Color print: The passport photo must be printed on high-quality matte or glossy photo paper. Note that only colored images are acceptable.
Facial expression: Neutral facial expressions are suitable for passport pictures. Don't open your mouth while taking photos. A natural smile is acceptable without showing teeth.
Glasses: Glasses are not allowed in the passport picture. Remove it while taking a photograph.
Dressing: The attire should be simple, not a uniform or extravagant dress. Don't go for hats or any other headgear.
Filtered Photo: Do not apply filters or effects to your passport photo.
How to print passport photos at Bartell's?
Bartell's in-store photo kiosks offer printing services too. To avail of this service, just bring your digital version of photos to their stores and get it printed.
Here's all that you need to do to get a print of passport size photos at Bartell's:
Provide a digital version of your passport picture
Either bring in your camera's memory card or connect to Bartell's photo kiosks with your mobile phone.
Transfer the image to Bartell's in-store photo kiosks.
Ask staff to print two 2X2 inches passport pictures.
Be careful about the photo selection for a passport photo. It must not be older than six months and must meet the basic requirements of passport pictures set by the State Department.
Bartell's passport photo locations near me
Get your passport photos at Bartell's in-store photo kiosks. Visit your nearest Bartell Drugs store to get it done quickly and conveniently.
To find a store near your location, do the following:
Go to the official website of Bartell Drugs.
Find the 'Instant Passport Photo' section. Here you will see an option for Find A Store. Click on this link and add your address.
After adding your location, a list of nearby stores will appear.
Pick the nearest store and contact them to ensure whether you need to book an appointment before the visit.
Are Bartell's passport photo kiosks safe?
Bartell's in-store photo kiosks are completely safe to take photos. They are well equipped and adequately maintained to provide a quality experience to their customers. The pictures you take are secured and do not compromise the confidentiality of the data.
Visit their stores during business hours to get your passport photos. Bartell's photo store offers instant passport photo services that meet all the technical guidelines specified by the State Department.
How to take a passport photo at home using a phone?
Don't have time to visit a store to take your passport photos? Snapping a picture at home using your phone is possible, provided you fulfill all the technical guidelines recommended by the US Department of State.
It is easy to capture a photo from the comfort of your place. All you need to do is to follow the guidelines below:
Set the camera on a tripod stand or ask a family member to capture your photo.
Stand with a white or off-white background
Ensure there is enough light source on your face
Look straight toward the camera
Follow all the guidelines related to size, attire, smile, glasses, jewelry, headgear, etc., discussed above in the basic requirements section.
When you have taken the photo, the next step is to print it. Visit the nearest photo center or order the print online from a photo store. While the online option may have additional delivery charges, it offers the convenience of having the pictures delivered to your doorstep.

A Better Alternative to Bartell's Passport Photos
Pixelied makes it easy with our user-friendly online tool to create U.S. passport images from the comfort of your home. Enjoy the convenience of printing photos without leaving the house, all while saving time and money. With unlimited retakes, you can ensure satisfaction before finalizing your passport photo. Choose Pixelied for a hassle-free and cost-effective passport picture solution.
Frequently Asked Questions
Yes, you can take your passport photos at Bartell stores. Visit your nearest Bartell's photo store during their business hours to avail of their services. Use their in-store photo kiosks to take your passport photos.
Bartell's stores can help you take your passport picture, including taking a photo and printing it. The whole process may take less than half an hour.
Get your passport photos taken by a professional photographer at Bartell's store. The size of a passport picture is 2x2 inches, the same as the government requires for passport photos. You can also print your own digital version of your passport photo at Bartell.
The cost for two passport-size pictures at Bartell's may vary by location. It is better to contact the Bartell store nearest to you for the most accurate pricing information.
Bartell's passport photo service is available in multiple locations. You can find the nearest Bartell's store by visiting their official website and searching for the location. Contact information is available on the website for all stores, including addresses. You can contact the nearest Bartell store to confirm if they offer passport photo services.
Yes, you can get a print of your own passport photos at Bartell's stores. The cost of printing your digital image is cheap. Bring the memory card or transfer the photo by connecting your phone and ask the staff to print your photo.
The timings of Bartell Drugs can vary depending on the store location and day of the week. You can check the timings of your nearest Bartell Drugs store by visiting their website or calling the store directly.
Bartell's passport photo cost for a 2x2 image is approximately around 10 to 15 dollars. They will take photos that meet the basic requirements for a US passport-size photo.
The chances of rejection of Bartell's passport size photos are very low since they adhere to technical guidelines set by the US Department of State. Still, if a photo gets rejected, you can resubmit it by retaking them.
To find the nearest Bartell store offering passport photos, go to Bartell's official website, click "Find a Store" under the "Instant Passport Photos" section, and enter your location. It will show you a list of Bartell stores near you.