Office Depot Passport Photo
Get the perfect biometric Office Depot passport pictures with guaranteed acceptance in seconds!
100% Compliance Guaranteed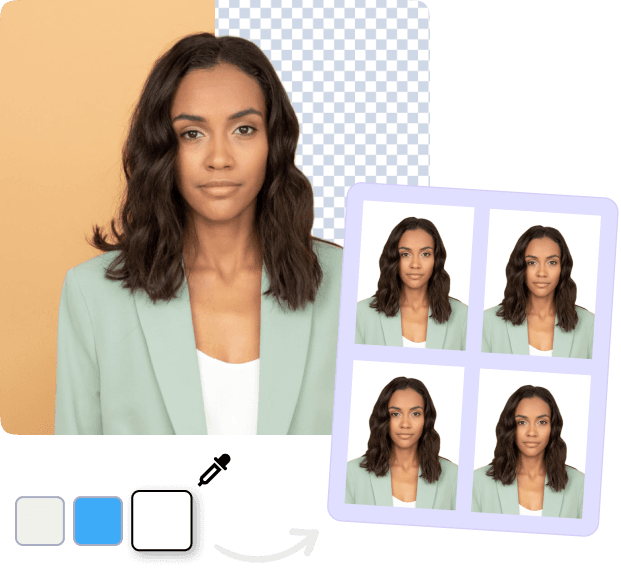 How to get instant photos online?
With our online Office Depot passport photo tool, you can get a biometric photo for your passport in less than 3 minutes.
Capture or upload your photo
It's super simple - take a selfie or upload a photo, and let our AI tool take care of the rest.
AI processes the image
Our AI tool will remove any unwanted background and resize your photo to the official passport photo dimensions.
AI photo verification
The AI tool will carry additional checks on the photo to make it compliant and ready for submission.
Get digital or print photos
Get your biometric photos in digital copy or have the printouts delivered to your doorstep within a few days.
How to take a clear photo?
Have you ever wondered how to take the perfect passport photo? No need to look further; these instructions will help you achieve biometric Office Depot passport photos in minutes.
Use a plain background
Use a plain background with no objects behind your back. Stand at least 2m away from the background to avoid shadows behind you.
Keep your posture straight
Maintain a straight posture and fit your head, shoulders, and upper body into the photo. Remove your glasses before taking the picture.
Maintain a neutral facial expression
Make sure your whole face is visible. Keep your hair away from your face and look straight at the camera with a plain expression.
Basic Office Depot Passport Photo Guidelines
Glasses
Smiling
Image retouching
Wearing uniform and hat
Office Depot passport photo requirements
How much do passport photos cost at Office Depot?
According to their official website, the Office Depot passport photo cost lies around $14.99. Although the store is known for low prices of office furniture, supplies, appliances, and all the office-related stuff, they also offer passport photo and printing services.
In the afore-mentioned Office Depot passport photo price, you can get the following:
Professional passport photoshoot
Two 2x2 passport photo prints
There are about 1000 retail stores of Office Depot across 44 states of America. And, if you want to locate a store near your location, it is best to use the online store locator on their website. Moreover, most stores in the United States operate from 8 AM to 9 PM, seven days a week, but it doesn't mean that your local store may have the exact timing.
If you want more information on this matter, it is best to dial the nearest Office Depot passport photo facility to find out more.
What is the passport photo size at Office Depot?
Office Depot passport picture size is precisely 2 x 2 inches (or 5 x 5 cm). When getting a passport photo at Office Depot, your head should measure between 1 inch to 1 ⅜ inches from the top of your crown to the bottom of your chin.
The government sets the guidelines for passport photos at Office Depot. These requirements are available on the official portal of the US Department of State. So, the size requirement will remain the same whether you take your picture at home or get it from any other retail store.
What are the basic Office Depot passport photo requirements?
You can get your passport pictures captured at Office Depot by understanding the basic requirements. Before we begin, you should know that Office Depot passport picture requirements are standard guidelines the US government sets.
Dress up in formal or semi-formal clothes. Make sure you are not overdressed, and avoid wearing bright colors.
Keep your make-up subtle, and do not wear any unnecessary accessories.
Find the nearest store, head over to them, and ask them to take a passport photo for you.
There are usually two options: a passport photo kiosk and a photo studio. So ask the staff to guide you with this matter.
Keep your face neutral; avoid showing teeth or anything else that changes or affects your facial features.
Once you get your pictures taken, pay $14.99 for two passport-sized photos.
Pro Tip: If you take passport photos at home using a phone, it will be cheaper to get them printed from Office Depot. They usually charge $0.29 for prints only. Once you get the print, cut out the images and attach them to your application.
How to print passport photos at Office Depot?
Office Depot passport photo printing services are available in almost all stores. If you want your photos printed, follow the stepwise guide below.
Locate a nearby Office Depot — First thing first: you need to find a store near your locality, and for this, you can use their online store locator.
Call and Inquire — Ring your nearest Office Depot stores, and ask if they offer passport photo services. While you are at it, get the details of their office hours and if they offer same-day pickup.
Get Your Prints — Keeping a digital copy of your passport photo at Office Depot is a must. Otherwise, the staff will not be able to help you with anything.
Keep in mind the price of printing a passport-size picture at Office Depot is just $0.29. And this price is only for printing; it does not include taking pictures.
Office Depot passport photos near me
Office Depot passport photo locations are easy to find if you know the correct method to do so. First, turn on the location from your device, then log onto the official website of Office Depot. Now, look for the store locator option.
Once you find it, add your state or neighborhood to see the list of nearby stores. It will not take more than a few minutes, and you will know detailed information about each nearby store, including its contact details and operational hours.
Are Office Depot passport photo kiosks safe?
Yes, Office Depot passport size photo kiosks are absolutely safe because they are authorized by the OPD Corporation — the parent company of Office Depot. These kiosks are comfortable for taking a passport picture without any hassle.
Their photo quality makes them a favorite among travelers and people applying for an American passport. Whether you are applying for a new passport or getting your old one renewed, if you find a nearby Office Depot Kiosk, stay assured because your pictures will come out great!
How to take a passport photo at home using a phone?
Although passport size photos at Office Depot are a great option, you can take a passport photo at home using a phone. Indeed, nothing compares to the comfort of taking a passport photo at home. And Pixelied is here to help you take a professional-grade photo with your mobile.
Things You Will Need for Passport Size Photo
A smartphone with a high-resolution camera
Working internet connection
White plain background
Stand or platform to keep your phone steady
Guide for Taking a Passport Photo at Home
Set up your mobile phone camera in a steady position
If you are taking your pictures by yourself, mark your position at least 4 feet away from the camera
Set a timer on the camera so that you can get back to the marked position
Take a few pictures so you can select the best one
Make sure you take photos in portrait mode with the back camera because selfies are unacceptable for US passport pictures.
Convert Your Photos Into U.S. Passport Photos
Now, pick the most appropriate photos from the pictures you have taken. And, Pixelied will help you convert it into a passport photo. Here is how:
Upload the photo to Pixelied's online passport photo maker.
Click upload, and the AI checker will verify your image.
If your photo is appropriate per U.S. State Department's guidelines, you will be taken to the next steps.
Add the required information on the next page and payment details to convert the approved photo into a biometric passport photo within a few minutes.
You can either order the photo prints delivered to your doorstep or download their digital copies.

A Better Alternative to Office Depot Passport Photos
Pixelied streamlines the passport photo experience with our user-friendly online tool, designed to process and print U.S. passport photos from the comfort of your home. With countless retakes at your disposal, achieve absolute satisfaction before settling on your perfect passport photo.
Frequently Asked Questions
Yes, Office Depot provides passport size photo service. The passport photo service only costs $14.99, including two 2 x 2 photos in hard and digital copies (upon request). You can get your passport size photos at Office Depot from more than 1000 locations across the United States.
Yes, you can take a passport photo at OfficeMax with their staff. OfficeMax no longer exists as an independent brand because it merged with Office Depot. It is a brand under the ODP Corporation. However, the names are often used interchangeably in the United States.
Yes, you can take a passport at Office Depot. Find a nearby store using their online store locator, call them, and ask if they offer passport photo services. The store staff will capture your photo using a professional camera while following US passport photo regulations. They will print your copies with a same-day pickup if you want hard copies.
The price of two passport size photos at Office Depot is $14.99. It is an excellent choice for US passport size photos because it complies with the State Department guidelines
Office Depot has a refund policy on the items purchased from their stores. However, no refund policy on rejected passport photos is mentioned on their website. You can dial your nearest store for more information and get the details.
Yes, you can print your own passport size photos at Office Depot with the help of their staff. If you already have the images captured from home or somewhere else. Office Depot's passport photo printing facility is a great option for getting hard copies.
Office Depot passport size photos take no longer than a few hours. According to some sources, you can pick up your pictures on the same day if you order before 02:00 PM. The time can vary depending on which location you are currently in. To avoid confusion, calling your nearest facility and asking for more details is best.
A 2 x 2 inches passport photo at Office Depot costs around $14.99. This price has been extracted from the official website and only applies to American passport pictures.
There is very little chance that photos taken from Office Depot will get rejected because Office Depot passport photos align with the guidelines mentioned on the US Department of State website.
Yes, Office Depot prints pictures. Whether you want passport-size photos or gift frames, their staff will print your images in a few hours. Make sure you carry the digital copies with you to avoid any hassle.