Weird Text Generator
Dive into Pixelied's weird text generator and craft a crazy font that stands out. Copy and paste weird text for free!
̷T̷̷y̷̷p̷̷e̷ ̷s̷̷o̷̷m̷̷e̷̷t̷̷h̷̷i̷̷n̷̷g̷ ̷t̷̷o̷ ̷s̷̷t̷a̷̷r̷̷t̷
Diagonal Strikes
̠T̠̠y̠̠p̠̠e̠ ̠s̠̠o̠̠m̠̠e̠̠t̠̠h̠̠i̠̠n̠̠g̠ ̠t̠̠o̠ ̠s̠̠t̠a̠̠r̠̠t̠
Underlined by Dashes
͓̽T͓͓̽̽y͓͓̽̽p͓͓̽̽e͓̽ ͓̽s͓͓̽̽o͓͓̽̽m͓͓̽̽e͓͓̽̽t͓͓̽̽h͓͓̽̽i͓͓̽̽n͓͓̽̽g͓̽ ͓̽t͓͓̽̽o͓̽ ͓̽s͓͓̽̽t͓̽a͓͓̽̽r͓͓̽̽t͓̽
Bandaid
̶T̶̶y̶̶p̶̶e̶ ̶s̶̶o̶̶m̶̶e̶̶t̶̶h̶̶i̶̶n̶̶g̶ ̶t̶̶o̶ ̶s̶̶t̶̶a̶̶r̶̶t̶
Strikethrough
ͯTͯͯyͯͯpͯͯeͯ ͯsͯͯoͯͯmͯͯeͯͯtͯͯhͯͯiͯͯnͯͯgͯ ͯtͯͯoͯ ͯsͯͯtͯͯaͯͯrͯͯtͯ
X-cross
T̳̿͟͞y̳̿͟͞p̳̿͟͞e̳̿͟͞ s̳̿͟͞o̳̿͟͞m̳̿͟͞e̳̿͟͞t̳̿͟͞h̳̿͟͞i̳̿͟͞n̳̿͟͞g̳̿͟͞ t̳̿͟͞o̳̿͟͞ s̳̿͟͞t̳̿͟͞a̳̿͟͞r̳̿͟͞t̳̿͟͞
Lines, Lines, Lines.
̷T̷̷y̷̷p̷̷e̷ ̷s̷̷o̷̷m̷̷e̷̷t̷̷h̷̷i̷̷n̷̷g̷ ̷t̷̷o̷ ̷s̷̷t̷̷a̷̷r̷̷t̷
Shadow
҉T҉҉y҉҉p҉҉e҉ ҉s҉҉o҉҉m҉҉e҉҉t҉҉h҉҉i҉҉n҉҉g҉ ҉t҉҉o҉ ҉s҉҉t҉҉a҉҉r҉҉t҉
Fireworks
̴T̴̴y̴̴p̴̴e̴ ̴s̴̴o̴̴m̴̴e̴̴t̴̴h̴̴i̴̴n̴̴g̴ ̴t̴̴o̴ ̴s̴̴t̴a̴̴r̴̴t̴
Wavy
̲T̲̲y̲̲p̲̲e̲ ̲s̲̲o̲̲m̲̲e̲̲t̲̲h̲̲i̲̲n̲̲g̲ ̲t̲̲o̲ ̲s̲̲t̲a̲̲r̲̲t̲
Double Underlines
̳T̳̳y̳̳p̳̳e̳ ̳s̳̳o̳̳m̳̳e̳̳t̳̳h̳̳i̳̳n̳̳g̳ ̳t̳̳o̳ ̳s̳̳t̳̳a̳̳r̳̳t̳
Music Bars
͎T͎͎y͎͎p͎͎e͎ ͎s͎͎o͎͎m͎͎e͎͎t͎͎h͎͎i͎͎n͎͎g͎ ͎t͎͎o͎ ͎s͎͎t͎a͎͎r͎͎t͎
All The Way Up
̾T̾̾y̾̾p̾̾e̾ ̾s̾̾o̾̾m̾̾e̾̾t̾̾h̾̾i̾̾n̾̾g̾ ̾t̾̾o̾ ̾s̾̾t̾a̾̾r̾̾t̾
HOT
Instagram Preview
Pixelied
Type something to start
pixelied.com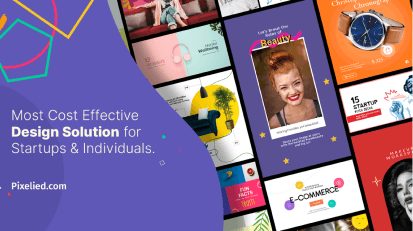 Pixelied
Type something to start
How to use Pixelied's free weird font generator?
Give your words an unconventional twist. With three easy steps, our weird text generator turns your messages into intriguing and unusual texts.
Step 1

Enter Text in the Field
Enter your text into Pixelied's crazy font generator to create captivating fonts.
Step 2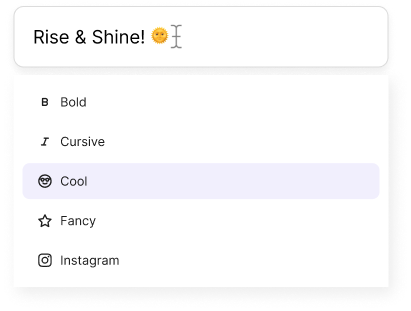 Choose a Font Style
Scroll through an extensive list of combinations and select a weird font style that resonates with your vision.
Step 3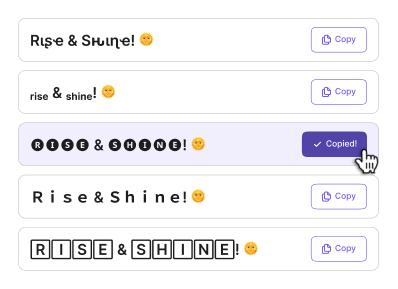 Copy and Paste Font
Once you find the perfect font, copy and paste it across Facebook, Instagram, Twitter, Discord, or any desired platform.
The free toolkit for weird letter generator
Embrace the quirky and unconventional with our easy-to-use weird text generator. Turn ordinary text into a delightful jumble of weird text characters and symbols, perfect for those who love to stand out.
Extensive Collection of Weird Copy and Paste Fonts
Delve into an array of weird font copy and paste options. Our library boasts everything from the whimsical funny font generator to the outlandish, crazy font generator.
Whether you're searching for peculiar weird text symbols or extraordinary, weird letters, our toolkit has it all, ensuring your content remains far from ordinary.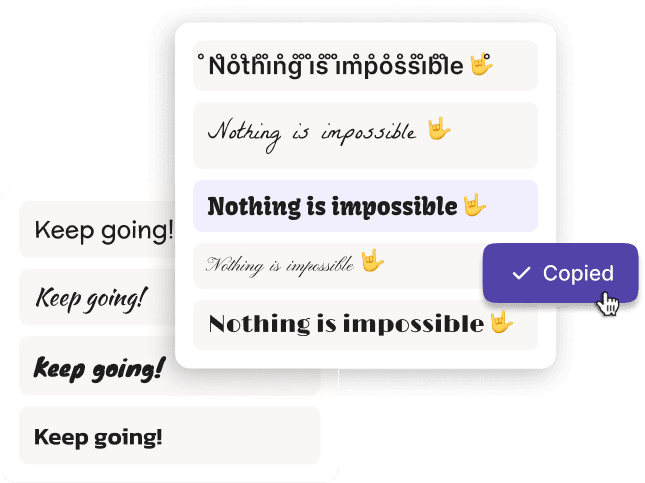 Elevate Plain Text Using Our Free Weird Text Generator
Turn mundane messages into fascinating content with our weird text converter. It's not just about oddity; it's about creating undeniably captivating content.
From weird font to the most strange text generator, we've ensured that every character adds a sprinkle of peculiarity to your text, ensuring it grabs attention.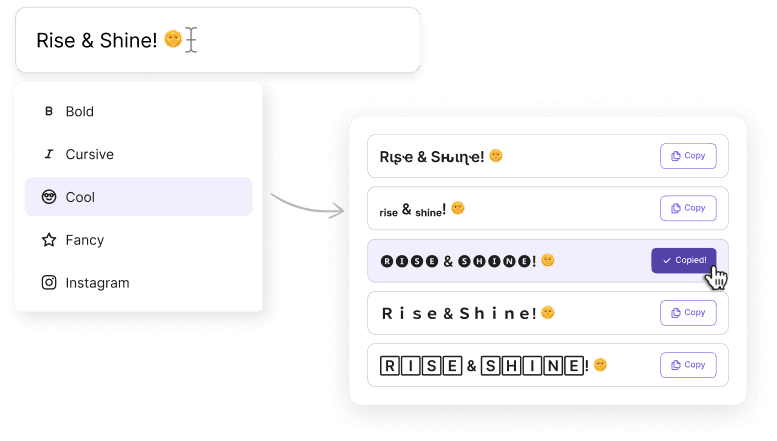 Amplify Your Social Media Presence With Weird Text
Set your social media profile apart with the whimsical charm of our weird text fonts. In a world full of sameness, be the profile that turns heads.
Using weird symbols and fonts adds flair to your posts and ensures your social media presence is as unique as you are.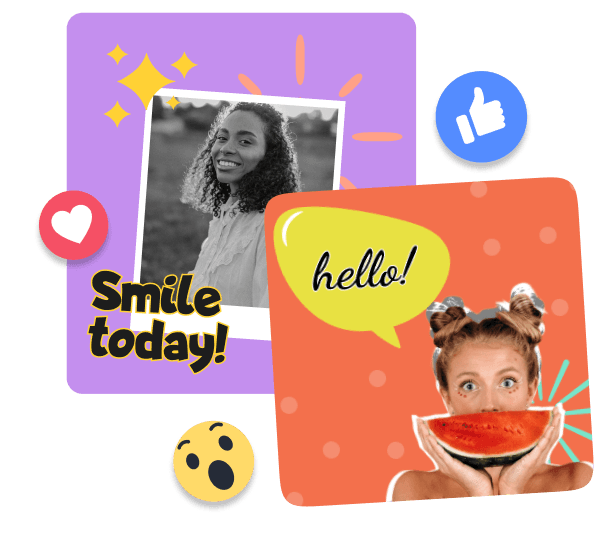 Create Stunning Designs Using Weird Font Styles
The weird letter generator infuses your designs with an element of fun and unconventionality. From posters to logos, let the eccentricity shine through.
By integrating weird characters, your designs will not only stand out but will also resonate with your audience.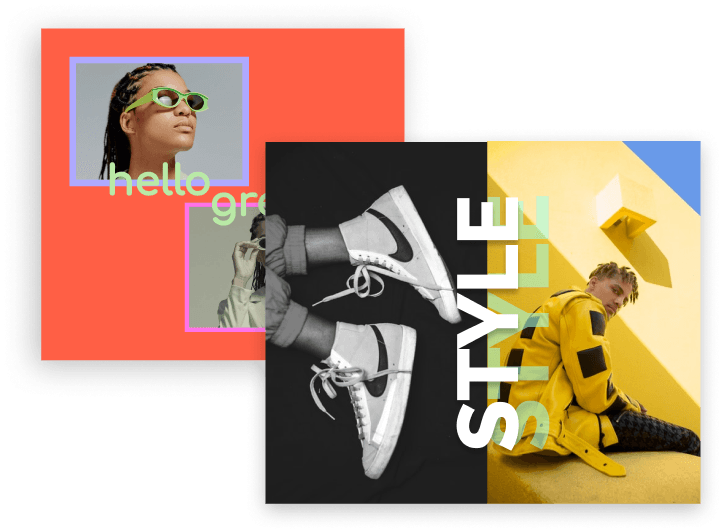 Captivate Attention With Stunning Social Media Bios
Craft intriguing bios with a mix of weird text symbols and letters. A little quirkiness goes a long way in making your profile memorable.
With our weird text generator, every character and symbol ensures your profile has its unique charm, making you the talk of the virtual town.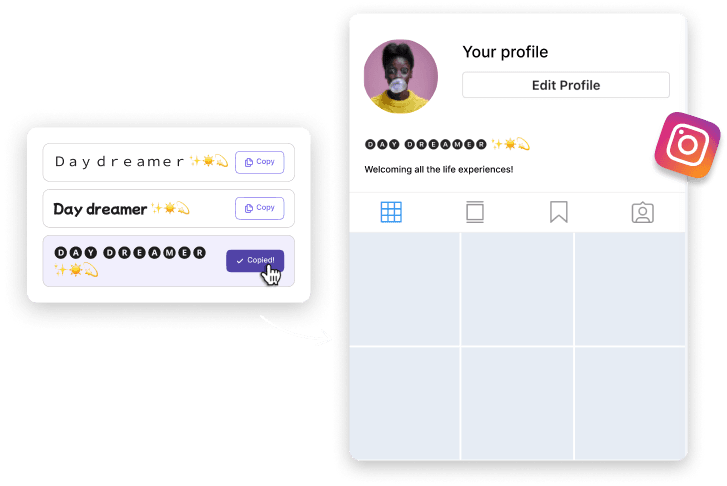 Share Weird Symbols Across Multiple Platforms
Be it a tweet, blog post, or social media post, our weird text characters shine everywhere. With seamless weird font copy and paste features, ensure the quirkiness remains consistent across all platforms.
No matter where you're posting, our weird word generator ensures the essence of your mysterious and creepy text is never lost.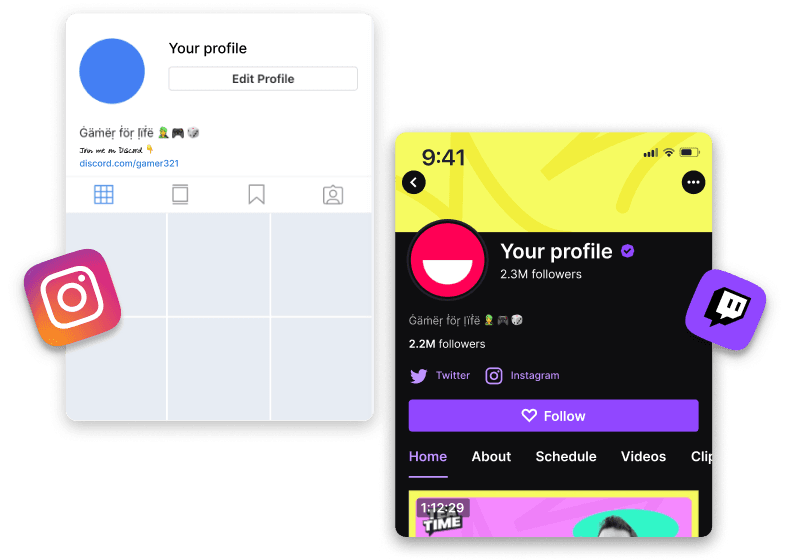 Frequently Asked Questions
Pixelied is the best weird text generator tool that offers various unique styles and bizarre fonts, letting users explore a range of uncommon text designs for their needs.
Yes, the weird font maker is designed to prioritize user safety. It transforms the input text into different stylistic formats without storing or accessing your original content.
To utilize the tool, enter the text you'd like to transform into the input box. The tool will promptly showcase a variety of unique font styles based on your input. Browse through the options, and once you find a style that resonates with your preferences, simply click on it to copy. You can then effortlessly paste the weird-styled text onto your chosen digital platform or application.
Once you've converted your text into your chosen weird font, simply click on it to copy the content to your clipboard. Then, head over to your desired social media platform and paste the text into status updates, comments, or any other content sections to give them a distinctive flair.
Yes, Pixelied works on all devices, from desktops to mobile phones, ensuring your font choices look consistent and striking wherever you use them.
Unicode is a universal encoding standard designed to represent text and symbols from all languages and scripts in the world. It encompasses various Unicode symbols, including letters, numbers, punctuation, and diacritic marks, ensuring consistent representation and interpretation across different devices and platforms.