Creepy Text Generator
Dive into Pixelied's creepy text generator and craft a scary font that stands out. Copy and paste creepy text for free!
̷T̷̷y̷̷p̷̷e̷ ̷s̷̷o̷̷m̷̷e̷̷t̷̷h̷̷i̷̷n̷̷g̷ ̷t̷̷o̷ ̷s̷̷t̷a̷̷r̷̷t̷
Diagonal Strikes
̠T̠̠y̠̠p̠̠e̠ ̠s̠̠o̠̠m̠̠e̠̠t̠̠h̠̠i̠̠n̠̠g̠ ̠t̠̠o̠ ̠s̠̠t̠a̠̠r̠̠t̠
Underlined by Dashes
͓̽T͓͓̽̽y͓͓̽̽p͓͓̽̽e͓̽ ͓̽s͓͓̽̽o͓͓̽̽m͓͓̽̽e͓͓̽̽t͓͓̽̽h͓͓̽̽i͓͓̽̽n͓͓̽̽g͓̽ ͓̽t͓͓̽̽o͓̽ ͓̽s͓͓̽̽t͓̽a͓͓̽̽r͓͓̽̽t͓̽
Bandaid
̶T̶̶y̶̶p̶̶e̶ ̶s̶̶o̶̶m̶̶e̶̶t̶̶h̶̶i̶̶n̶̶g̶ ̶t̶̶o̶ ̶s̶̶t̶̶a̶̶r̶̶t̶
Strikethrough
ͯTͯͯyͯͯpͯͯeͯ ͯsͯͯoͯͯmͯͯeͯͯtͯͯhͯͯiͯͯnͯͯgͯ ͯtͯͯoͯ ͯsͯͯtͯͯaͯͯrͯͯtͯ
X-cross
T̳̿͟͞y̳̿͟͞p̳̿͟͞e̳̿͟͞ s̳̿͟͞o̳̿͟͞m̳̿͟͞e̳̿͟͞t̳̿͟͞h̳̿͟͞i̳̿͟͞n̳̿͟͞g̳̿͟͞ t̳̿͟͞o̳̿͟͞ s̳̿͟͞t̳̿͟͞a̳̿͟͞r̳̿͟͞t̳̿͟͞
Lines, Lines, Lines.
̷T̷̷y̷̷p̷̷e̷ ̷s̷̷o̷̷m̷̷e̷̷t̷̷h̷̷i̷̷n̷̷g̷ ̷t̷̷o̷ ̷s̷̷t̷̷a̷̷r̷̷t̷
Shadow
҉T҉҉y҉҉p҉҉e҉ ҉s҉҉o҉҉m҉҉e҉҉t҉҉h҉҉i҉҉n҉҉g҉ ҉t҉҉o҉ ҉s҉҉t҉҉a҉҉r҉҉t҉
Fireworks
̴T̴̴y̴̴p̴̴e̴ ̴s̴̴o̴̴m̴̴e̴̴t̴̴h̴̴i̴̴n̴̴g̴ ̴t̴̴o̴ ̴s̴̴t̴a̴̴r̴̴t̴
Wavy
̲T̲̲y̲̲p̲̲e̲ ̲s̲̲o̲̲m̲̲e̲̲t̲̲h̲̲i̲̲n̲̲g̲ ̲t̲̲o̲ ̲s̲̲t̲a̲̲r̲̲t̲
Double Underlines
̳T̳̳y̳̳p̳̳e̳ ̳s̳̳o̳̳m̳̳e̳̳t̳̳h̳̳i̳̳n̳̳g̳ ̳t̳̳o̳ ̳s̳̳t̳̳a̳̳r̳̳t̳
Music Bars
͎T͎͎y͎͎p͎͎e͎ ͎s͎͎o͎͎m͎͎e͎͎t͎͎h͎͎i͎͎n͎͎g͎ ͎t͎͎o͎ ͎s͎͎t͎a͎͎r͎͎t͎
All The Way Up
̾T̾̾y̾̾p̾̾e̾ ̾s̾̾o̾̾m̾̾e̾̾t̾̾h̾̾i̾̾n̾̾g̾ ̾t̾̾o̾ ̾s̾̾t̾a̾̾r̾̾t̾
HOT
Instagram Preview
Pixelied
Type something to start
pixelied.com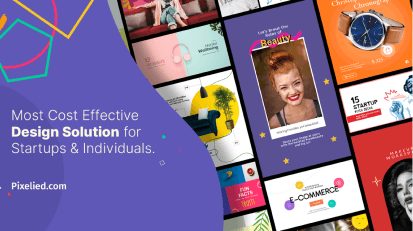 Pixelied
Type something to start
How to use Pixelied's free scary text generator?
Dive into eerie atmospheres with our creepy text generator. Create chilling and unsettling creepy characters with three simple steps that send shivers down the spine.
Step 1

Enter Text in the Field
Enter your text into Pixelied's spooky font generator to create scary fonts.
Step 2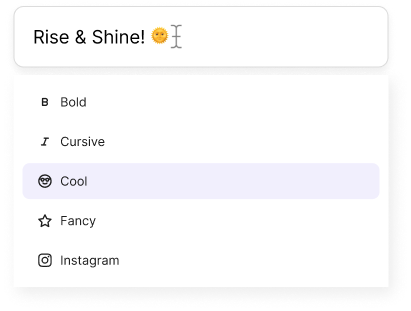 Choose a Font Style
Scroll through an extensive list of combinations and select a creepy text style that resonates with your vision.
Step 3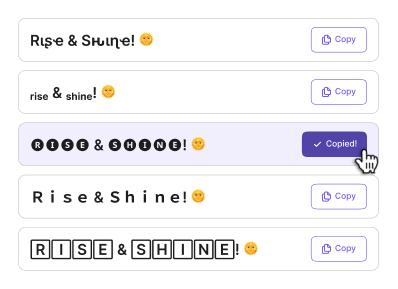 Copy and Paste Font
Once you find the perfect font, copy and paste it across Facebook, Instagram, Twitter, Discord, or any desired platform.
The free toolkit for spooky text generator
Dive into the eerie realm of our creepy text generator and give your text an uncanny edge that will send shivers down the spine. Perfect for crafting creepy text messages, the tool ensures every word resonates with a chilling ambiance.
Extensive Collection of Creepy Copy and Paste Fonts
Unearth an array of haunting typefaces with our collection, perfect for all things macabre. Whether for a ghost story or a themed event, our creepy font copy and paste feature ensures you have the perfect tone.
With both scary fonts copy and paste options, you can give any text an eerie transformation in mere moments.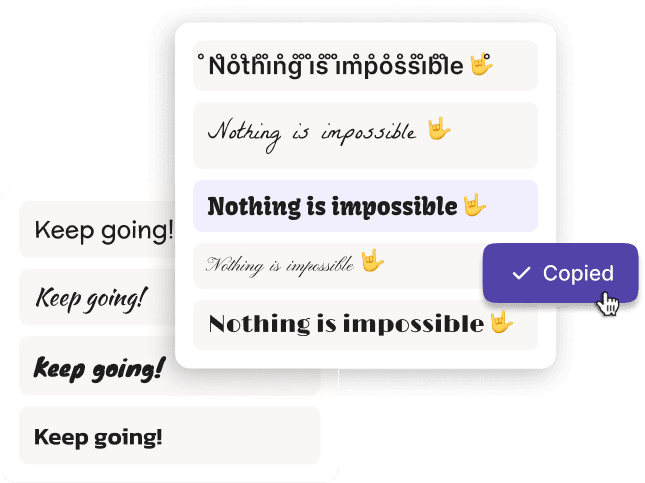 Elevate Plain Text Using Our Free Creepy Text Generator
Step beyond the ordinary and give your words a chilling twist. The creepy font generator breathes new life into any ordinary text, ensuring it leaves a haunting impression.
From spine-tingling tales to mysterious messages, the scary text generator guarantees every word resonates with an unsettling allure.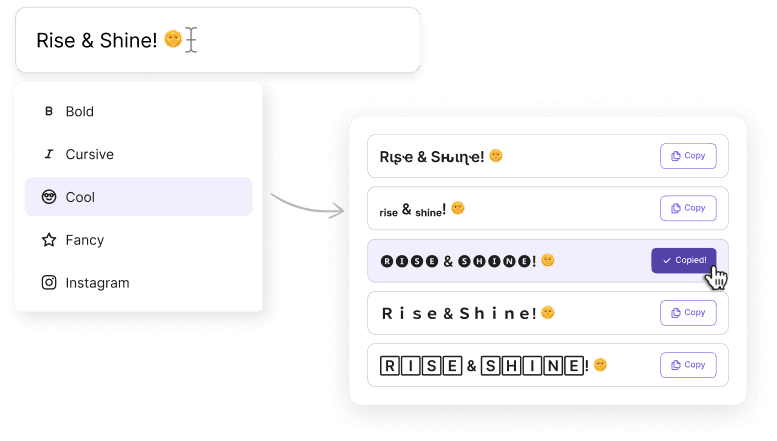 Amplify Your Social Media Presence With Scary Fonts
Be the talk of the virtual town with text styles that unsettle and intrigue. Using the creepy text font, make sure your social media posts stand out in the eeriest way possible.
Dabble in the macabre and ensure your online presence is captivatingly creepy, setting the stage for tales and legends.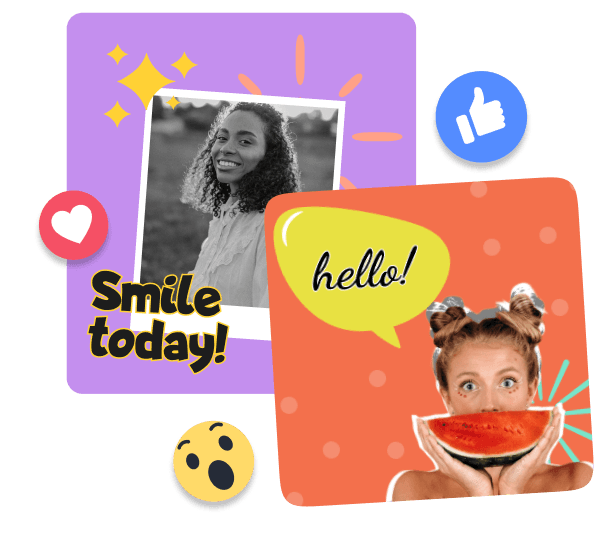 Create Stunning Designs Using Spooky Font Styles
Designs that demand attention have an element of the mysterious. Integrate scary fonts in your visuals, ensuring they're mesmerizing and eerie.
Whether it's a horror movie poster or a Halloween invitation, the creepy font generator promises a captivatingly uncanny aesthetic.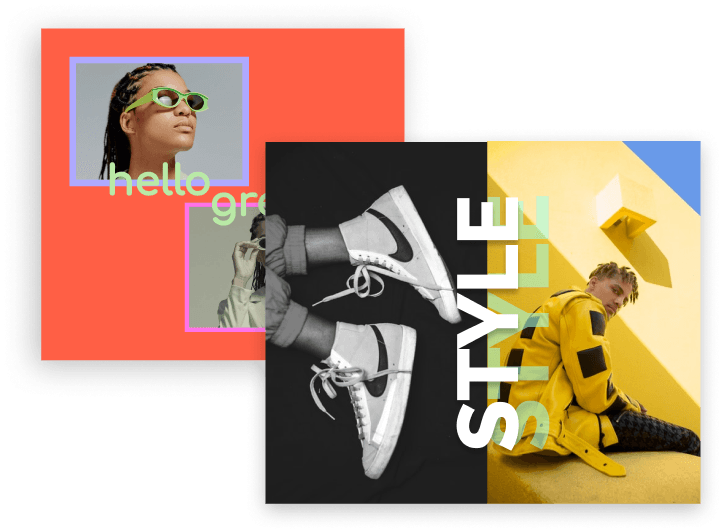 Captivate Attention With Stunning Social Media Bios
Let your online persona radiate an aura of the mystical. With copy and paste creepy text, your bio can be the very embodiment of chilling tales and ghostly legends.
In a digital space filled with the ordinary, stand apart with a bio that uses the creepy text generator, evoking curiosity and awe.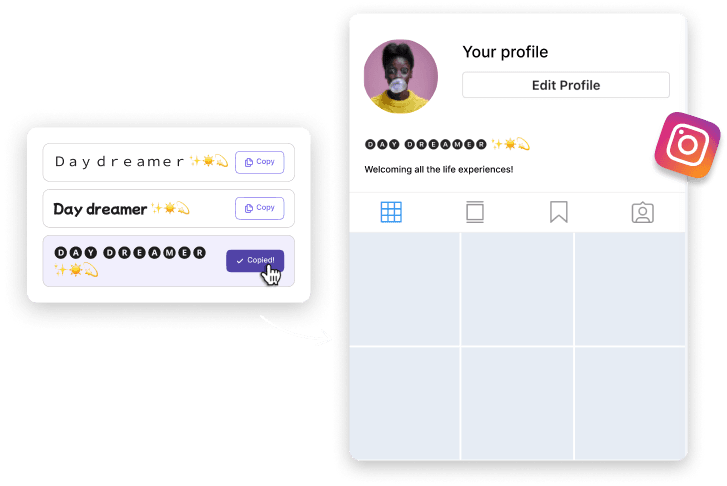 Share Scary Fonts Across Multiple Platforms
Ensure the chills and thrills remain consistent across all platforms. With our user-friendly creepy text features, your messages maintain their haunting charm wherever they go.
From e-invites to spooky campaigns, let the eeriness transcend boundaries with easy copy and paste creepy text functionalities.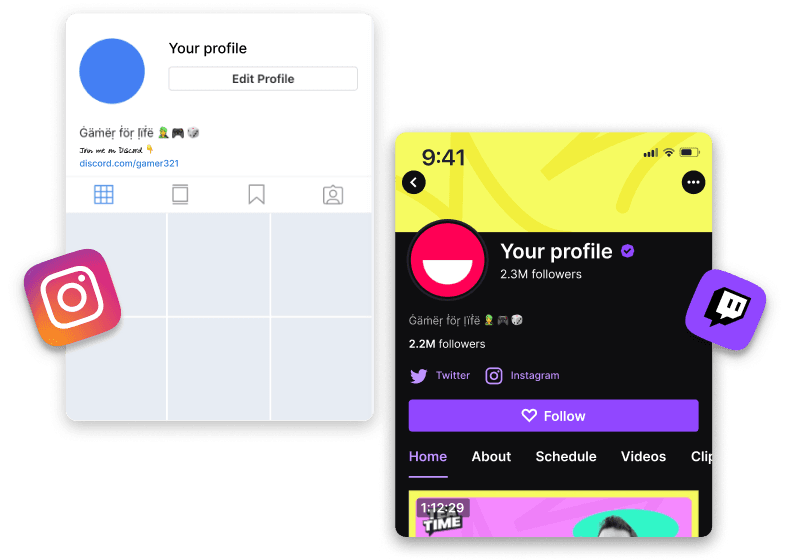 Frequently Asked Questions
Pixelied is the best spooky font generator for spine-chilling creepy fonts. Tailored for those seeking a touch of the eerie, it's perfect for Halloween or any spooky-themed projects.
Yes, the text generator is safe to use and does not store any user data, ensuring the privacy and security of its users.
To begin using the tool, input your desired content into the designated text box. As you write, the system will instantaneously render your text in various horror-inspired fonts. When you spot a text that resonates with the eerie vibe you're aiming for, simply click on it, copying the transformed text. You can then seamlessly paste the text to any digital platform.
After crafting your desired creepy text using Pixelied, click on the generated font to copy it to your clipboard. Then, head over to your preferred social media platform and effortlessly paste the text into posts, stories, or comments, setting the perfect spooky tone for your content.
Yes, Pixelied is compatible with all mobile and desktop devices and works best on Chrome, Firefox, and Safari browsers.
Unicode is a universal encoding standard designed to represent and handle text expressed in most of the world's writing systems. Among its diverse range, Unicode symbols play a crucial role in enabling consistent representation across different platforms and devices.