Tiny Text Generator
Dive into Pixelied's tiny text generator and craft superscript fonts that stand out. Copy and paste tiny text for free!
Instagram Preview
Pixelied
Type something to start
pixelied.com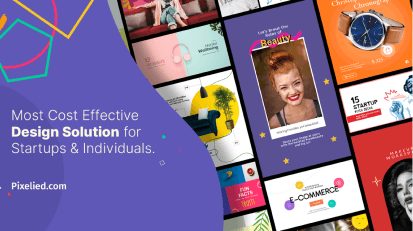 Pixelied
Type something to start
How to use Pixelied's free tiny font generator?
Shrink your messages with subscript alphabets. In three easy steps, our tiny text generator turns your words into adorable miniature masterpieces.
Step 1

Enter Text in the Field
Enter your text into Pixelied's superscript text generator to create captivating fonts.
Step 2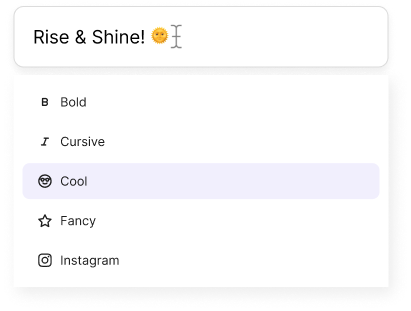 Choose a Font Style
Scroll through an extensive list of combinations and select a tiny text font that resonates with your vision.
Step 3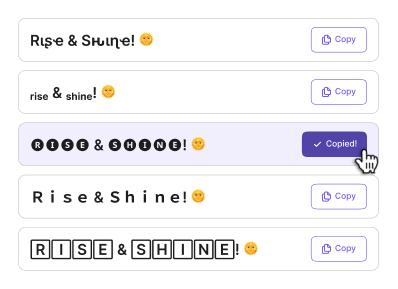 Copy and Paste Font
Once you find the perfect font, copy and paste it across Facebook, Instagram, Twitter, Discord, or any desired platform.
The free toolkit for little text generator
Delve into the world of minuscule artistry with our tiny text generator, where each character is crafted to perfection, echoing both subtlety and style.
Extensive Collection of Tiny Text Copy and Paste Fonts
Discover a vast collection of tiny fonts tailored for precision and elegance. From footnotes to stunning designs, our range has something for every creator.
With easy tiny text copy and paste, seamlessly integrate these fonts into your projects, enhancing aesthetics without overwhelming the viewer.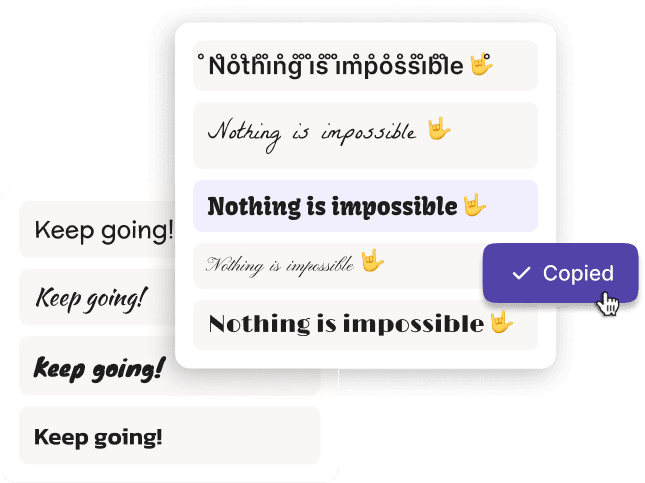 Elevate Plain Text Using Our Free Tiny Text Generator
Why stick to regular when superscript characters can add a sprinkle of uniqueness? Enter your standard text and watch it transform into compelling tiny letter font in a blink.
Our platform is more than just a tiny font generator; it's a toolset that lets you transform your content with style and ease.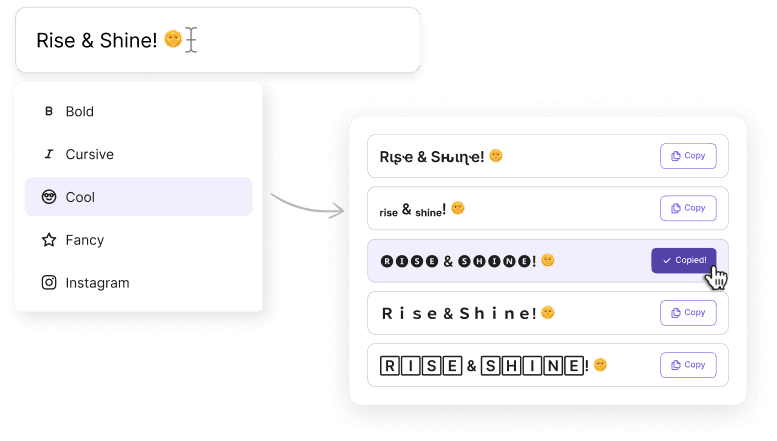 Amplify Your Social Media Presence With Tiny Fonts
In the bustling world of social media, it's the small details that often stand out. Employ our tiny text font to make headlines, usernames, or bios pop.
Embrace the power of Pixelied's little text generator to craft messages that, despite their size, leave a giant impression on your audience.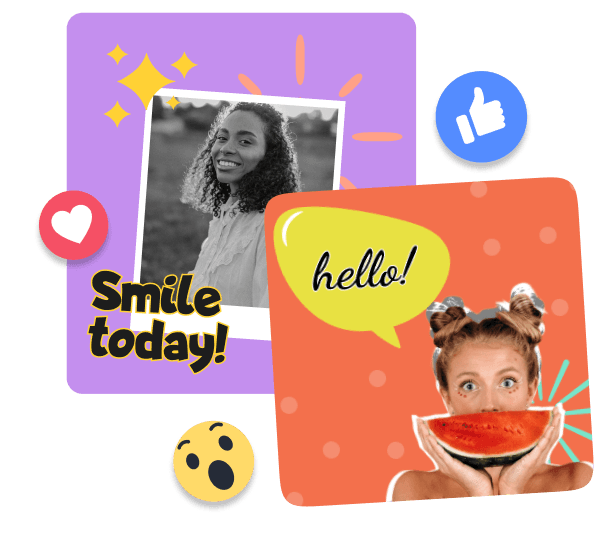 Create Stunning Designs Using Tiny Font Styles
The right subscript characters can elevate any creation, from website footers to elegant graphic designs. Dive into our diverse options and find your fit.
Pixelied's tiny letter generator is the one-stop destination for all your design and content-related needs.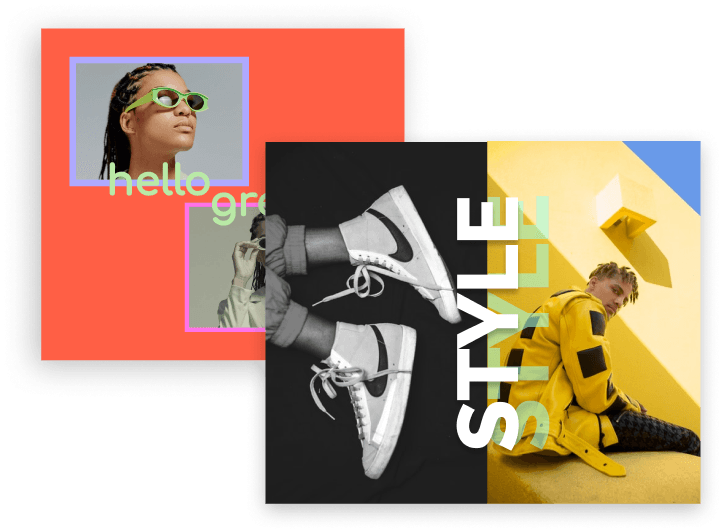 Captivate Attention With Stunning Social Media Bios
Your bio is a snapshot of your essence. Make it intriguing with our tiny letter font, ensuring it's not just read but remembered.
Stand out from the crowd, as the finesse of our fonts ensures that even the smallest of text grabs eyeballs.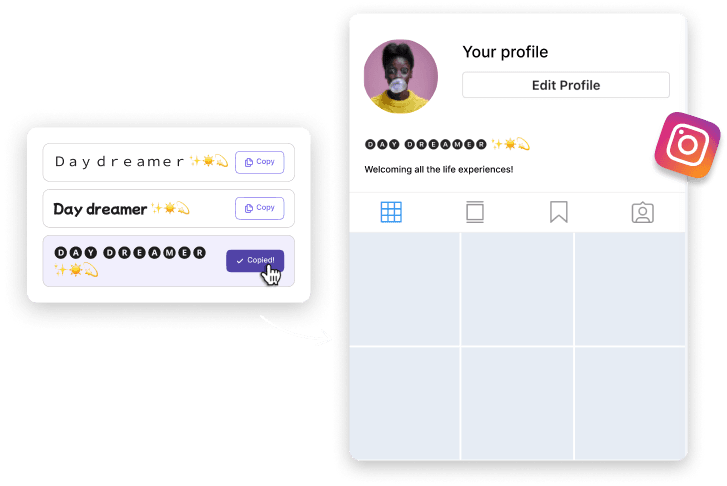 Share Tiny Letter Fonts Across Multiple Platforms
Unleash the charisma of subscript letters across platforms, be it blogs, emails, or presentations. Our seamless copy-to-clipboard functionality makes sharing a breeze.
Engage audiences everywhere with special characters that, though tiny, speak volumes in style and grace.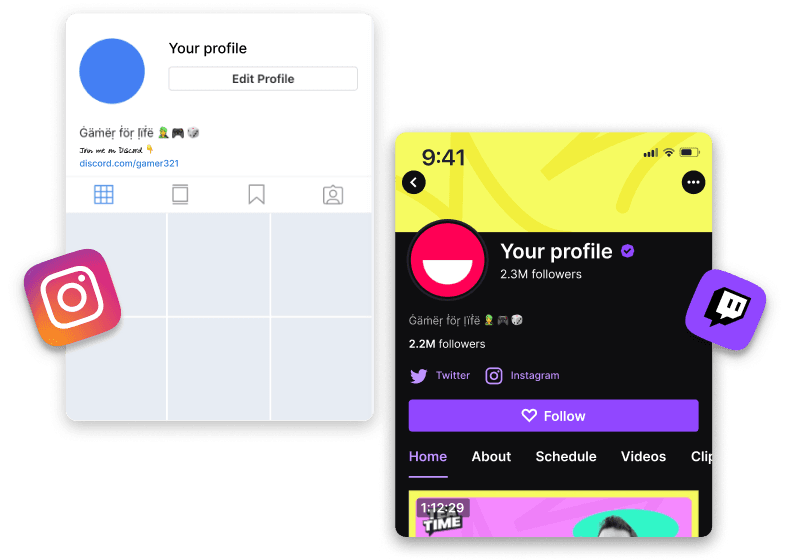 Frequently Asked Questions
Pixelied is the best tiny word generator, turning ordinary text into captivating miniatures. Integrating superscript symbols offers a dynamic range of tiny fonts, perfect for footnotes or adding a whimsical touch to any content.
Yes, the tiny text generator is designed with user safety in mind. It processes your input without storing or transmitting the text elsewhere, ensuring your data remains confidential and protected. Users can confidently use the tool without compromising their privacy.
To start, type your desired text into the provided input field. As you type, the platform will automatically convert your standard-sized text into tiny text, incorporating superscript letters and symbols. Once you see the desired text from the list, click on it to copy it to your clipboard and paste it on any digital platform.
Using tiny text on social media platforms through Pixelied is a breeze. After generating your preferred text, click on the font to copy it to your clipboard. Next, navigate to your chosen social platform and paste the text into your posts, captions, or comments.
Pixelied's font generator works on all devices, from desktops to smartphones. It works best on Chrome, Firefox, and Safari browsers.
Unicode is a computing standard designed to consistently represent and encode characters from the world's written languages. It incorporates various Unicode symbols, ensuring each has a unique identifier, streamlining text processing across different systems and languages.