Tattoo Font Generator
Dive into Pixelied's tattoo font generator and craft tattoo text that stands out. Copy and paste tattoo fonts for free!
T♥y♥p♥e♥ s♥o♥m♥e♥t♥h♥i♥n♥g♥ t♥o♥ s♥t♥a♥r♥t♥
Hearts
🍲🦐🥑 ⊥ʎdǝ soɯǝʇɥıuƃ ʇo sʇɐɹʇ 😋🍛🌶️
Food Emojis Inverted
¸¸♬·¯·♪·¯·♫¸¸ ⊥ʎdǝ soɯǝʇɥıuƃ ʇo sʇɐɹʇ ¸¸♫·¯·♪¸♩·¯·♬¸¸
Music Notes Inverted
😍💞💘 ⊥ʎdǝ soɯǝʇɥıuƃ ʇo sʇɐɹʇ 💔💏💖
Love Emojis Inverted
🍺🥂🍸 ⊥ʎdǝ soɯǝʇɥıuƃ ʇo sʇɐɹʇ 🍻🍷🍹
Drinks Emojis Inverted
🍰🍪🧁🍬🍨 ⊥ʎdǝ soɯǝʇɥıuƃ ʇo sʇɐɹʇ 🥧🎂🍦🍭🍩
Sweets Emojis Inverted
Instagram Preview
Pixelied
Type something to start
pixelied.com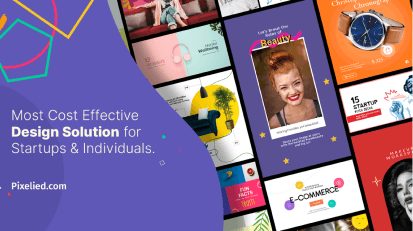 Pixelied
Type something to start
How to use Pixelied's free tattoo font generator?
Revamp your ink ideas with our tattoo font generator. Design striking tattoo lettering styles in three easy steps, ideal for tattoo designs, social platforms, messaging, or bios.
Step 1

Enter Text in the Field
Enter your text into Pixelied's tattoo text generator to create cool tattoo fonts.
Step 2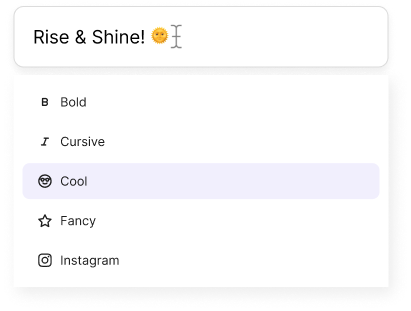 Choose a Font Style
Scroll through an extensive list of combinations, including styles with distorted characters, and select one that resonates with your vision.
Step 3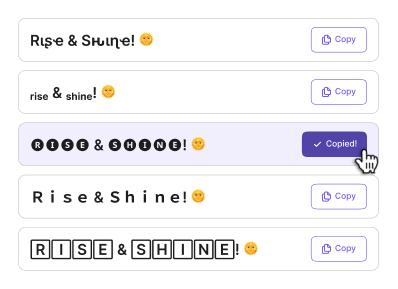 Copy and Paste Font
Once you find the perfect distorted version of your text, copy and paste it across Facebook, Instagram, Twitter, Discord, or any desired platform.
The free toolkit for tattoo font creator
Dive into the art of tattoo-inspired typography with Pixelied. Express yourself uniquely with fonts that resonate with the soulful touch of ink on your skin, embodying artistic fonts and tattoo handwriting nuances.
Extensive Collection of Copy and Paste Tattoo Fonts
Venture into Pixelied's abundant collection of fancy tattoo fonts. From elegant scripts to tattoo calligraphy, our catalog caters to every sentiment.
With our tattoo lettering generator, seamlessly embed and integrate distinctive fonts, reflecting your individuality in every project.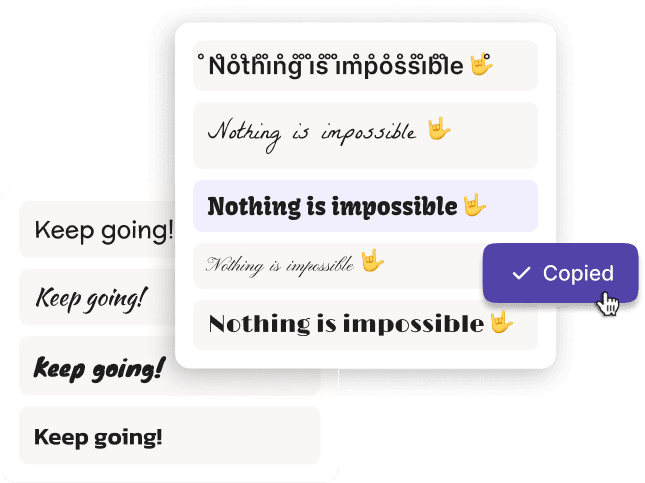 Elevate Plain Text Using Our Free Tattoo Font Generator
Text is more than words; it's an emotion. Use Pixelied's tattoo font styles to bring your text to life, bridging narratives and design.
Our tattoo script generator morphs standard text into art, effortlessly aligning with your project's mood and intention.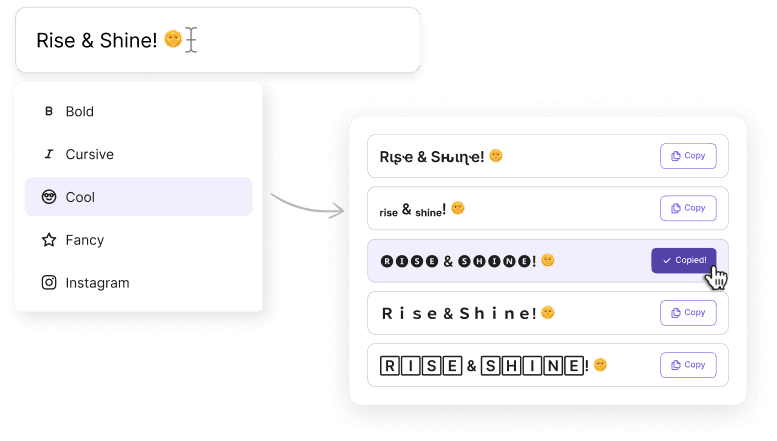 Amplify Your Social Media Presence With Tattoo Word Fonts
Social platforms are your canvas. Adorn your posts with Pixelied's tattoo fonts to elevate content beyond the ordinary.
Stand out amidst the digital noise. Our cool fonts for tattoos ensure your messages resonate, whether it's a poignant quote or a powerful statement.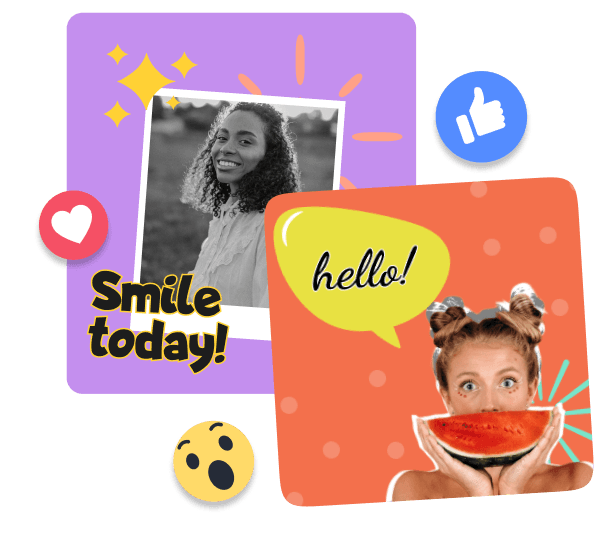 Create Stunning Designs Using Tattoo Font Styles
Delve deep into a design with Pixelied's diverse tattoo fonts. Whether you seek bold or subtle, our range addresses every creative urge.
Harnessing the right tattoo word fonts amplifies design efficacy. With Pixelied, every word is curated, every sentiment perfectly captured.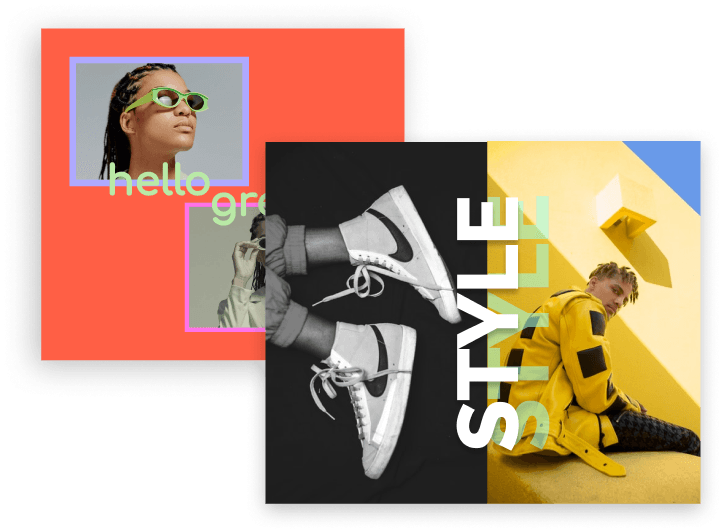 Captivate Attention With Stunning Social Media Bios
Social bios speak volumes. Infuse yours with Pixelied's letter styles for tattoos, ensuring it's more than just text—it's an essence.
From elegant cursive to edgy gothic letters, our copy and paste tattoo fonts provide an array of choices, making an impressive digital identity.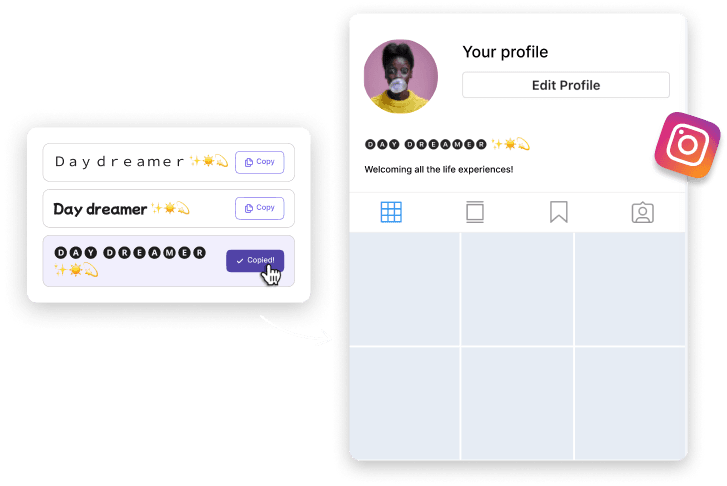 Share Tattoo Fonts Across Multiple Platforms
Continuity is vital in the digital realm. With Pixelied's tattoo fonts generator, maintain a consistent typography theme across all digital platforms.
From websites to social feeds, employ our fonts to ensure a coherent and captivating digital narrative, effortlessly blending design and message.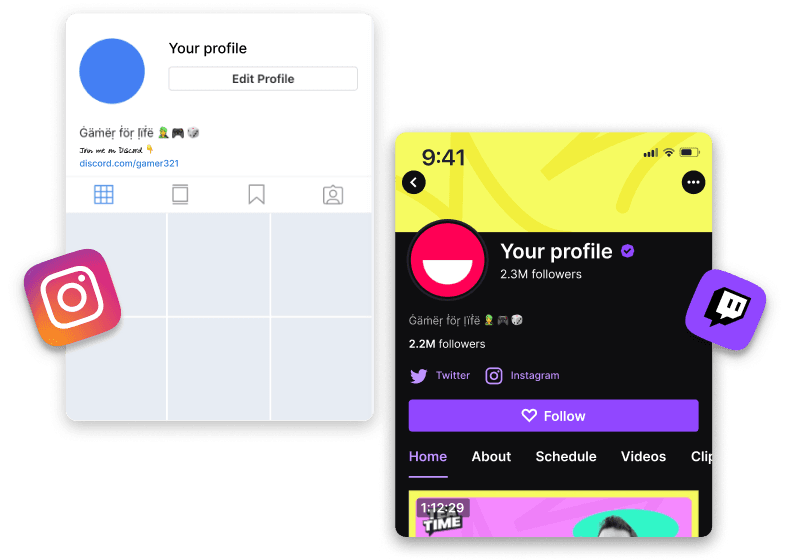 Frequently Asked Questions
Pixelied is the best generator for popular tattoo fonts. It's the go-to solution for those aiming to mirror the artistry and passion of tattoos through text.
Our tool prioritizes your privacy and security. We do not store any user data or information. We ensure your are exclusively yours and remain inaccessible to any third party.
To use Pixelied's tattoo lettering generator, enter your text, choose from the list of font styles available, and watch your content adopt an artistic flair. Once satisfied, it's all set to use across multiple platforms.
To share the transformed text on social media platforms, copy the fancy tattoo font and paste it onto your desired platform, whether in a post, status, or bio. Use the preview tool on the left to ensure the appearance aligns with your vision.
Yes, Pixelied's tattoo script generator is compatible with various devices, from desktops to smartphones. It works best on Chrome, Firefox, and Safari browsers.
Unicode is a global standard that assigns unique codes to Unicode characters, facilitating consistent encoding, representation, and handling of text in various languages and scripts.