Italic Text Generator
Dive into Pixelied's italic text generator and craft italicized text that stands out. Copy and paste italic text for free!
✌𝓣𝔂𝓹𝓮 𝓼𝓸𝓶𝓮𝓽𝓱𝓲𝓷𝓰 𝓽𝓸 𝓼𝓽𝓪𝓻𝓽✌
Air Quotes
🍲🦐🥑 𝓣𝔂𝓹𝓮 𝓼𝓸𝓶𝓮𝓽𝓱𝓲𝓷𝓰 𝓽𝓸 𝓼𝓽𝓪𝓻𝓽 😋🍛🌶️
Food Emojis
¸¸♬·¯·♪·¯·♫¸¸𝓣𝔂𝓹𝓮 𝓼𝓸𝓶𝓮𝓽𝓱𝓲𝓷𝓰 𝓽𝓸 𝓼𝓽𝓪𝓻𝓽¸¸♫·¯·♪¸♩·¯·♬¸¸
Music Notes
😍💞💘 𝓣𝔂𝓹𝓮 𝓼𝓸𝓶𝓮𝓽𝓱𝓲𝓷𝓰 𝓽𝓸 𝓼𝓽𝓪𝓻𝓽 💔💏💖
Love Emojis
🍺🥂🍸 𝓣𝔂𝓹𝓮 𝓼𝓸𝓶𝓮𝓽𝓱𝓲𝓷𝓰 𝓽𝓸 𝓼𝓽𝓪𝓻𝓽 🍻🍷🍹
Drinks Emojis
🍰🍪🧁🍬🍨 𝓣𝔂𝓹𝓮 𝓼𝓸𝓶𝓮𝓽𝓱𝓲𝓷𝓰 𝓽𝓸 𝓼𝓽𝓪𝓻𝓽 🥧🎂🍦🍭🍩
Sweets Emojis
🥕🍅🥬🥦 𝓣𝔂𝓹𝓮 𝓼𝓸𝓶𝓮𝓽𝓱𝓲𝓷𝓰 𝓽𝓸 𝓼𝓽𝓪𝓻𝓽 🍆🥔🌽🥑
Veggies Emojis
Instagram Preview
Pixelied
Type something to start
pixelied.com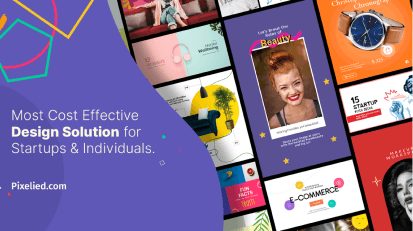 Pixelied
Type something to start
How to use Pixelied's free italics generator?
Add flair to your content effortlessly! In three steps, our Italic text generator turns your words into stylish and slanted fonts.
Step 1

Enter Text in the Field
Enter your text into Pixelied's italic generator to create captivating italic text fonts.
Step 2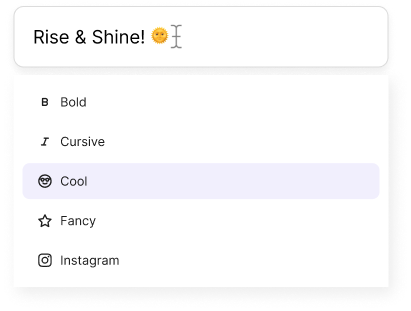 Choose a Font Style
Scroll through an extensive list of combinations and select an italic font style that resonates with your vision.
Step 3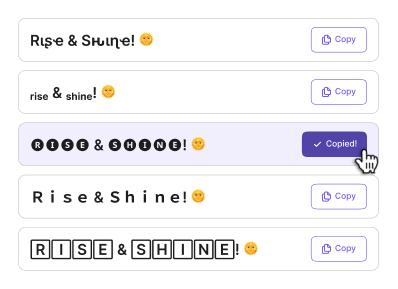 Copy and Paste Font
Once you find the perfect font, copy and paste it across Facebook, Instagram bio, Twitter, Discord, or any desired platform.
The free toolkit for italic font generator
Dive into a world of elegant slants and expressive styles with our italic text generator. Enhance your digital content with the timeless charm of italics, crafted effortlessly.
Extensive Collection of Italic Copy and Paste Fonts
Explore our vast array of options tailored for the enthusiasts of the italicized text. From subtle nuances to the pronounced incline, our collection ensures you find that perfect italic font copy-and-paste style.
Envelop your words in a chic wrap, from blog posts to official communications. With the press of a button, our italic word generator lends sophistication to any text.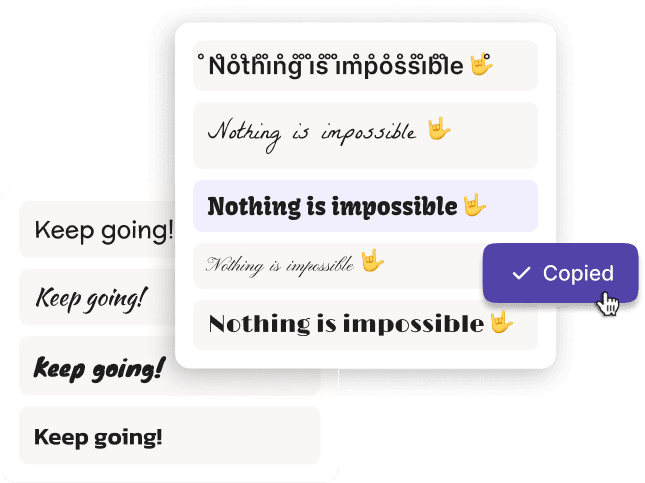 Elevate Plain Text Using Our Free Italic Text Generator
Say goodbye to the mundane. Our italic generator seamlessly morphs plain script into artful italic characters.
Each letter and word is brought to life in a style echoing the finesse of a calligrapher's brush stroke.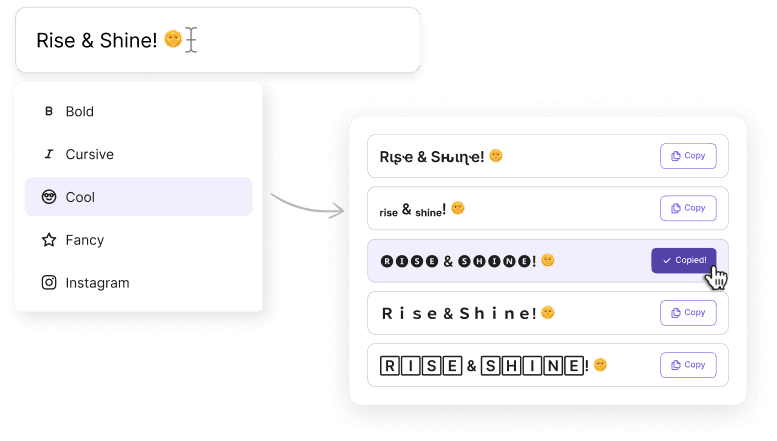 Amplify Your Social Media Presence With Slant Fonts
Stand out in the vast sea of social media. Our italic font for Instagram and other platforms transforms your bio, posts, and comments into stylish textual displays.
Enhance your digital footprint. With the italicized text generator, your content no longer remains in the shadows but commands the spotlight.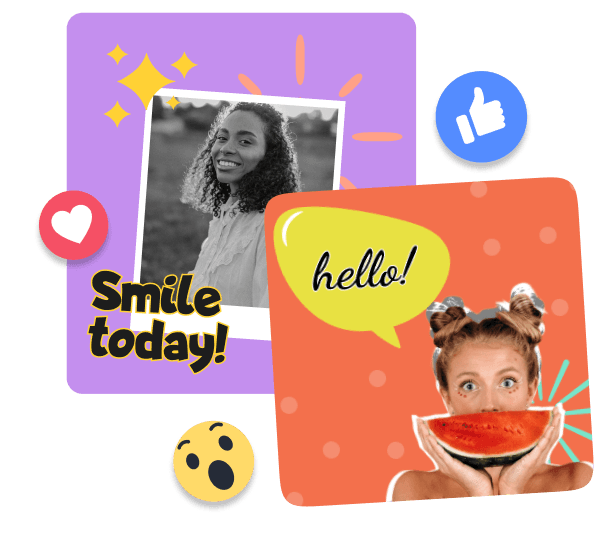 Create Stunning Designs Using Italic Font Styles
Mixing visuals with text is an art. Elevate your designs by incorporating italic alphabets, harmonizing content and graphics beautifully.
Whether it's a web design or an infographic, the slant font generator infuses flair, ensuring your content isn't just seen but also admired.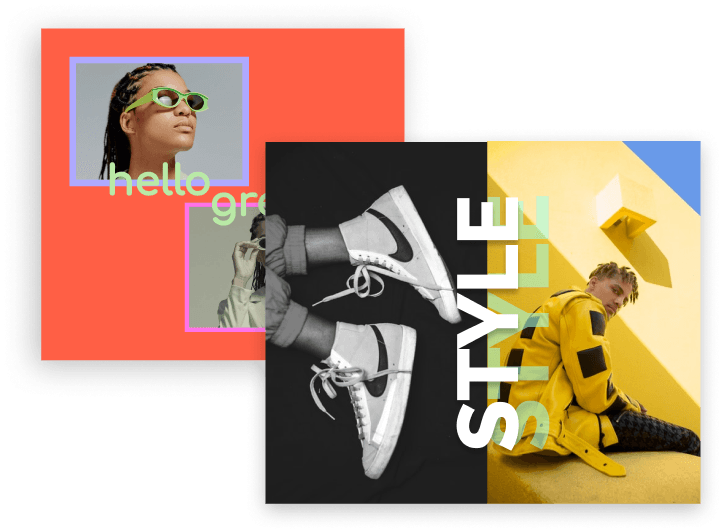 Captivate Attention With Stunning Social Media Bios
Your social media profile is the new handshake in the digital age. With our italicized text generator, make memorable introductions.
Your personal or brand story is portrayed with a dash of elegance. Let your bio not just tell but also show your uniqueness.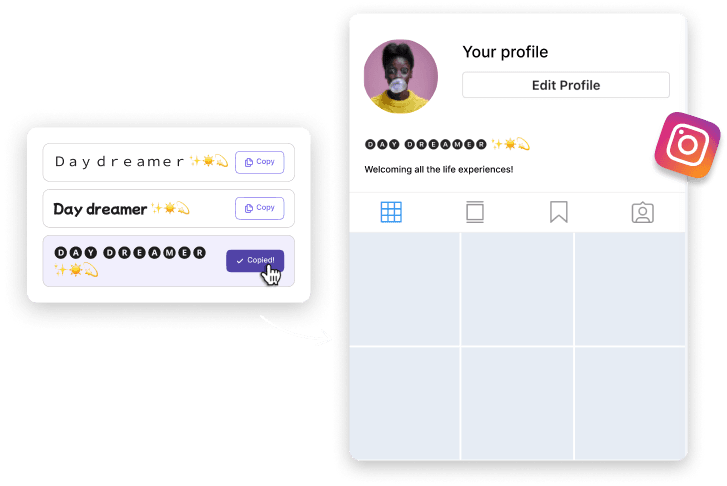 Share Italicized Text Across Multiple Platforms
Versatility at your fingertips. Generate your desired style and easily copy and paste italic text across diverse platforms.
From documents to digital platforms, ensure consistency in style and tone, making your text stand out.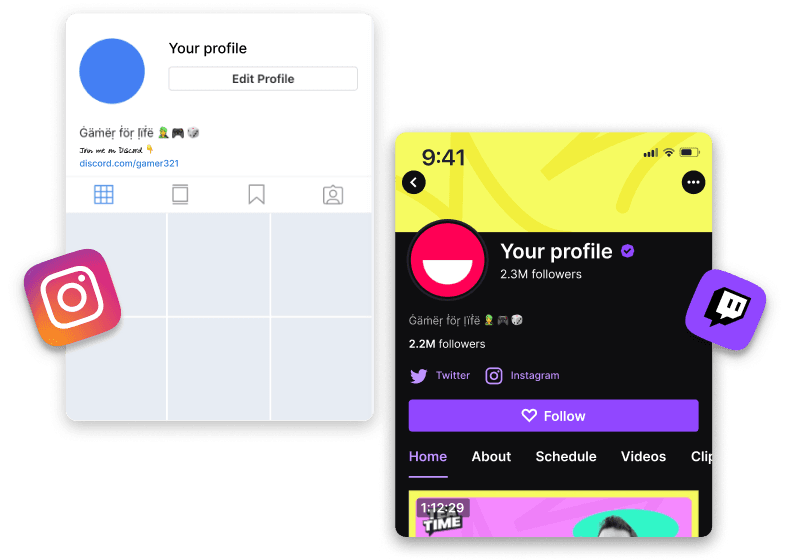 Frequently Asked Questions
Pixelied is the top choice for converting regular text into alluring italic styles. It provides a user-friendly interface and various styles that cater to different design needs.
Yes, the italics generator is safe to use. The tool operates on the client side, transforming your text within your browser without sending it to an external server.
First, enter the text you want to stylize into the input box. As you input your text, the generator will instantly showcase a range of italicized font styles. Browse through the options, and, once you've identified the style that resonates with you, simply click on it to copy it to your clipboard, ready for you to paste and utilize across any digital platform.
Once you've transformed your text using the text generator, click on your selected style to copy it directly to your clipboard. Then, head over to your preferred social media platform and paste the italicized text into your status updates, photo captions, comments, or any other section you wish to enhance with elegance.
Yes, it is compatible with a wide range of devices, including desktops, tablets, and smartphones. It operates seamlessly across major browsers such as Chrome, Firefox, and Safari, ensuring a smooth user experience.
Unicode is a comprehensive computing standard designed for consistent text representation. It employs Unicode symbols to ensure a uniform way of encoding characters, facilitating their use across various platforms and languages.