Graffiti Font Generator
Dive into Pixelied's graffiti font generator and craft graffiti letters that stand out. Copy and paste graffiti text for free!
✌𝓣𝔂𝓹𝓮 𝓼𝓸𝓶𝓮𝓽𝓱𝓲𝓷𝓰 𝓽𝓸 𝓼𝓽𝓪𝓻𝓽✌
Air Quotes
🍲🦐🥑 𝓣𝔂𝓹𝓮 𝓼𝓸𝓶𝓮𝓽𝓱𝓲𝓷𝓰 𝓽𝓸 𝓼𝓽𝓪𝓻𝓽 😋🍛🌶️
Food Emojis
✴.·´¯`·.·★  🎀𝓣𝔂𝓹𝓮 𝓼𝓸𝓶𝓮𝓽𝓱𝓲𝓷𝓰 𝓽𝓸 𝓼𝓽𝓪𝓻𝓽🎀  ★·.·`¯´·.✴
Princess Style
¸¸♬·¯·♪·¯·♫¸¸𝓣𝔂𝓹𝓮 𝓼𝓸𝓶𝓮𝓽𝓱𝓲𝓷𝓰 𝓽𝓸 𝓼𝓽𝓪𝓻𝓽¸¸♫·¯·♪¸♩·¯·♬¸¸
Music Notes
😍💞💘 𝓣𝔂𝓹𝓮 𝓼𝓸𝓶𝓮𝓽𝓱𝓲𝓷𝓰 𝓽𝓸 𝓼𝓽𝓪𝓻𝓽 💔💏💖
Love Emojis
🍺🥂🍸 𝓣𝔂𝓹𝓮 𝓼𝓸𝓶𝓮𝓽𝓱𝓲𝓷𝓰 𝓽𝓸 𝓼𝓽𝓪𝓻𝓽 🍻🍷🍹
Drinks Emojis
🍰🍪🧁🍬🍨 𝓣𝔂𝓹𝓮 𝓼𝓸𝓶𝓮𝓽𝓱𝓲𝓷𝓰 𝓽𝓸 𝓼𝓽𝓪𝓻𝓽 🥧🎂🍦🍭🍩
Sweets Emojis
🥕🍅🥬🥦 𝓣𝔂𝓹𝓮 𝓼𝓸𝓶𝓮𝓽𝓱𝓲𝓷𝓰 𝓽𝓸 𝓼𝓽𝓪𝓻𝓽 🍆🥔🌽🥑
Veggies Emojis
Instagram Preview
Pixelied
Type something to start
pixelied.com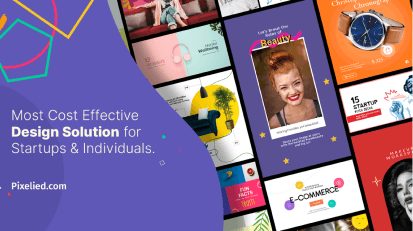 Pixelied
Type something to start
How to use Pixelied's free graffiti generator?
Unleash urban vibes on your content! Our graffiti font generator tool transforms your text into street art masterpieces in three easy steps.
Step 1

Enter Text in the Field
Enter your text into Pixelied's graffiti name generator to create captivating fonts.
Step 2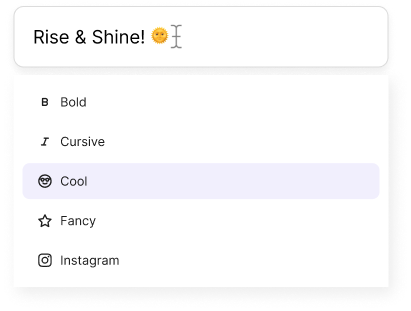 Choose a Font Style
Scroll through an extensive list of combinations and select a graffiti font style that resonates with your vision.
Step 3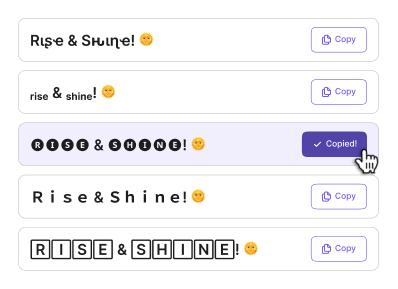 Copy and Paste Font
Once you find the perfect font, copy and paste it across Facebook, Instagram, Twitter, Discord, or any desired platform.
The free toolkit for graffiti maker
Immerse yourself in urban artistry with our graffiti font generator, bringing the raw energy and vibrancy of the streets to your texts.
Extensive Collection of Graffiti Text
Experience the pulse of street art with our extensive range of graffiti letters. Whether you're spelling out a name or crafting graffiti tattoos, our copy-and-paste graffiti font breathes life into each word.
Dive deep into urban aesthetics, ensuring every word you craft resonates with the energy of the streets.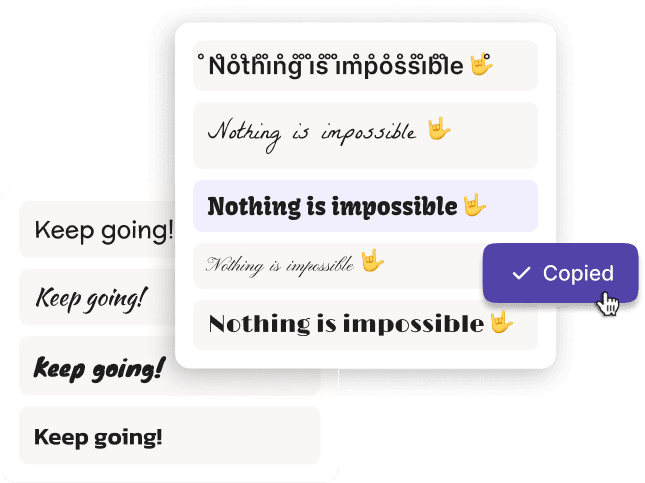 Elevate Plain Text Using Our Free Graffiti Font Generator
From murals to notebooks, graffiti text has always been the voice of the streets. With our graffiti text generator, you can seamlessly transform mundane phrases into masterpieces.
Be it for a project or personal use, our graffiti font creator empowers you to communicate with flair and finesse.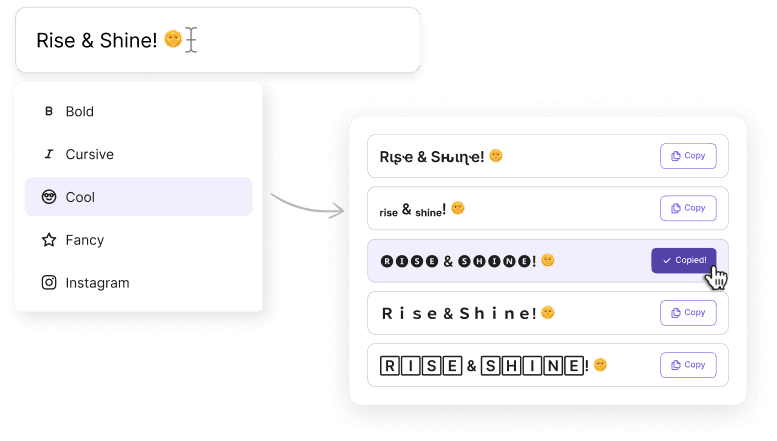 Amplify Your Social Media Presence With Graffiti Letters
In a digital era where everyone seeks uniqueness, make your mark with graffiti lettering fonts. Craft distinctive posts and statuses that mirror the dynamism of urban culture.
Attract attention and boost engagement by adding the graffiti text to your social media posts.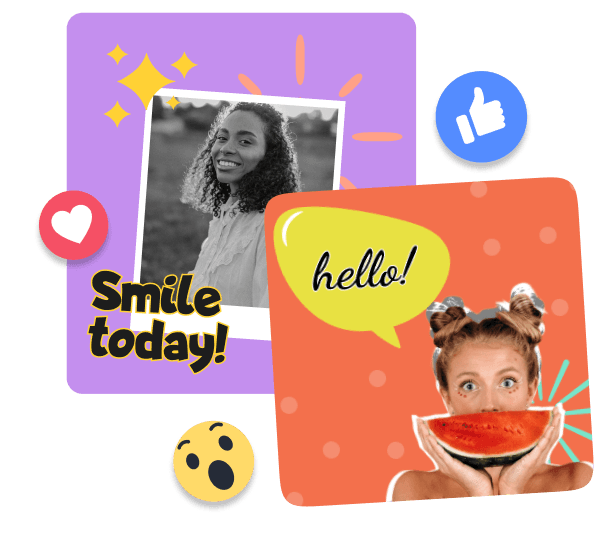 Create Stunning Designs Using Graffiti Font Styles
Graffiti is more than just art; it's an expression. With our graffiti letters generator, infuse that rebellious and innovative spirit into your designs.
From posters to logos, make your own graffiti to ensure your designs scream authenticity and creativity.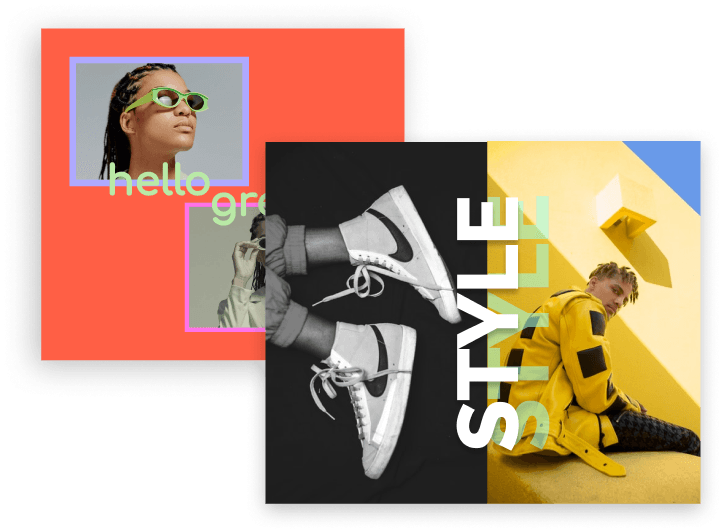 Captivate Attention With Stunning Social Media Bios
Your bio is a reflection of you. Make it as distinctive as graffiti on a brick wall. With our graffiti name generator, stylize your name or handle, making it impossible to ignore.
Distinguish yourself from the masses. Let the raw appeal of text-to-graffiti conversion set your profile apart.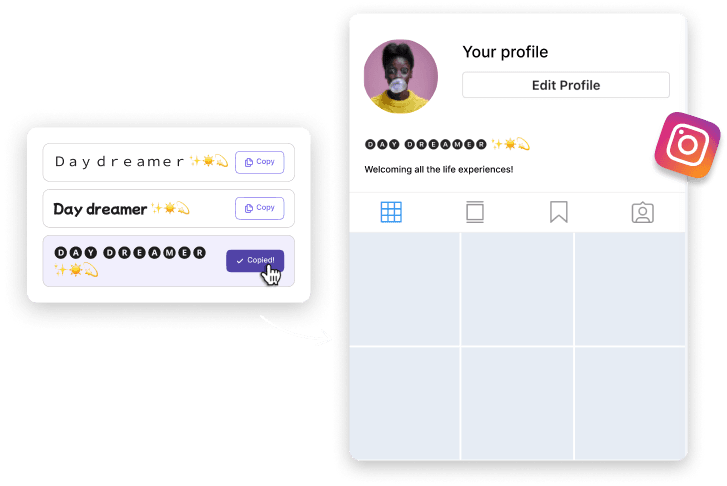 Share Graffiti Fonts Across Multiple Platforms
Consistency is crucial, and graffiti speaks universally. With the graffiti word generator, ensure your brand or personal style remains consistent across all digital platforms.
From chat applications to social media profiles, let the rebellious spirit of graffiti accompany every word you share.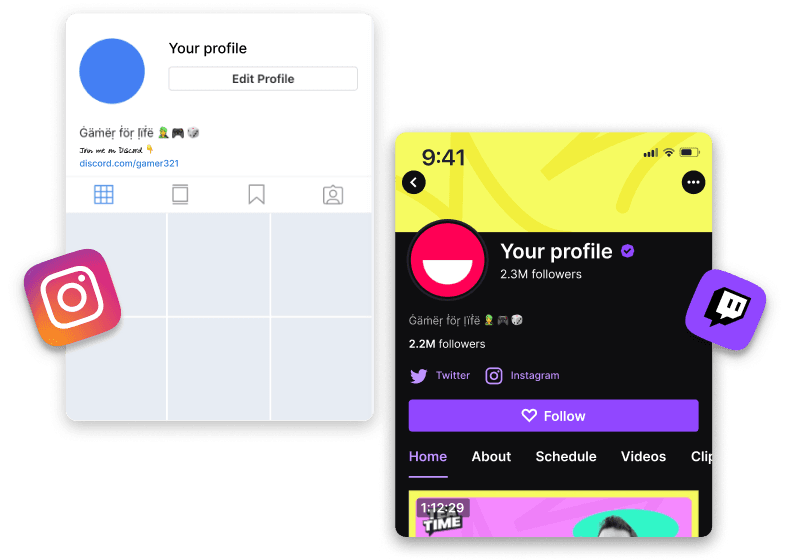 Frequently Asked Questions
Pixelied is the best wildstyle graffiti generator for generating dynamic artistic fonts, perfect for those aiming to add urban flair to their content.
The graffiti tool is designed with user security in mind. It does not store user data, ensuring privacy and protection for all its users.
To use a graffiti letters maker, enter your text into the designated input area. As you input the words, the tool will instantly transform your plain text into graffiti-styled letters, capturing the essence and flair of street art. Browse through the diverse range of graffiti font styles available, and once you identify the one that resonates with your theme, simply click on it to copy it to your clipboard, ready to be showcased on any digital platform.
After crafting your desired graffiti text, simply click on the font style to copy it instantly to your clipboard. Then, proceed to your preferred social media platform and paste the graffiti-styled text into your updates, captions, stories, or comments, infusing urban vibrancy into your online presence.
Yes, Pixelied's font generator is compatible with all devices, including desktops, tablets, and smartphones. It works optimally on popular browsers like Chrome, Firefox, and Safari, ensuring a seamless user experience across various platforms.
Unicode provides a unique number for every character, ensuring consistent encoding across digital platforms. It encompasses a variety of Unicode symbols, offering a broad range of textual representations for various languages and scripts.