Cursive Text Generator
Dive into Pixelied's cursive text generator and craft cursive fonts that truly stand out. Copy and paste cursive text for free!
✌𝓣𝔂𝓹𝓮 𝓼𝓸𝓶𝓮𝓽𝓱𝓲𝓷𝓰 𝓽𝓸 𝓼𝓽𝓪𝓻𝓽✌
Air Quotes
🍲🦐🥑 𝓣𝔂𝓹𝓮 𝓼𝓸𝓶𝓮𝓽𝓱𝓲𝓷𝓰 𝓽𝓸 𝓼𝓽𝓪𝓻𝓽 😋🍛🌶️
Food Emojis
¸¸♬·¯·♪·¯·♫¸¸𝓣𝔂𝓹𝓮 𝓼𝓸𝓶𝓮𝓽𝓱𝓲𝓷𝓰 𝓽𝓸 𝓼𝓽𝓪𝓻𝓽¸¸♫·¯·♪¸♩·¯·♬¸¸
Music Notes
😍💞💘 𝓣𝔂𝓹𝓮 𝓼𝓸𝓶𝓮𝓽𝓱𝓲𝓷𝓰 𝓽𝓸 𝓼𝓽𝓪𝓻𝓽 💔💏💖
Love Emojis
🍺🥂🍸 𝓣𝔂𝓹𝓮 𝓼𝓸𝓶𝓮𝓽𝓱𝓲𝓷𝓰 𝓽𝓸 𝓼𝓽𝓪𝓻𝓽 🍻🍷🍹
Drinks Emojis
🍰🍪🧁🍬🍨 𝓣𝔂𝓹𝓮 𝓼𝓸𝓶𝓮𝓽𝓱𝓲𝓷𝓰 𝓽𝓸 𝓼𝓽𝓪𝓻𝓽 🥧🎂🍦🍭🍩
Sweets Emojis
🥕🍅🥬🥦 𝓣𝔂𝓹𝓮 𝓼𝓸𝓶𝓮𝓽𝓱𝓲𝓷𝓰 𝓽𝓸 𝓼𝓽𝓪𝓻𝓽 🍆🥔🌽🥑
Veggies Emojis
Instagram Preview
Pixelied
Type something to start
pixelied.com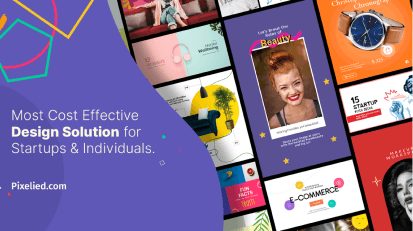 Pixelied
Type something to start
How to use Pixelied's free cursive font generator?
Give your text a sophisticated touch with our cursive text generator. In three easy steps, turn plain messages into elegant handwritten-style notes.
Step 1

Enter Text in the Field
Enter your text into Pixelied's cursive writing generator to create captivating fonts.
Step 2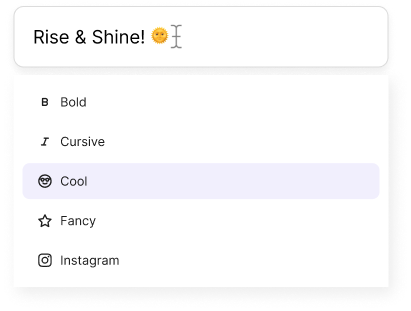 Choose a Font Style
Scroll through an extensive list of combinations, including styles with distorted characters, and select one that resonates with your vision.
Step 3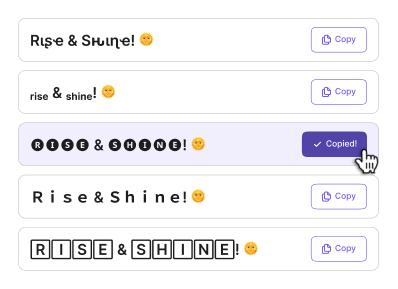 Copy and Paste Font
Once you find the perfect distorted version of your text, copy and paste it across Facebook, Instagram, Twitter, Discord, or any desired platform.
The free toolkit for cursive words generator
Immerse yourself in the timeless beauty of cursive handwriting with Pixelied. Elevate every word, create captivating content, and let your typography flow seamlessly.
Extensive Collection of Cursive Copy and Paste Fonts
Rediscover the classic beauty of cursive fonts with our expansive selection. We cater to all styles, whether you desire a vintage feel or a modern touch.
Pixelied provides seamless cursive copy and paste options, so you can incorporate the flowing beauty of cursive wherever you choose.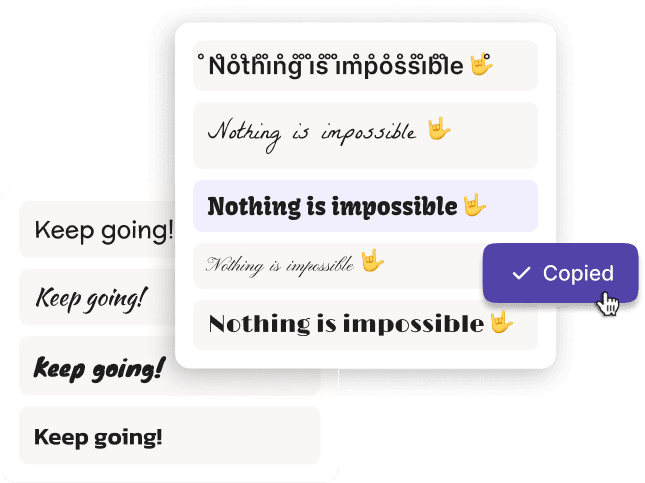 Elevate Plain Text Using Our Free Cursive Text Generator
Transform plain text into cursive handwriting style with just a few clicks. Witness the transformation of your content from ordinary to beautifully scripted.
From personal letters to official documents, our cursive writing generator adds a personal and sophisticated touch to every word.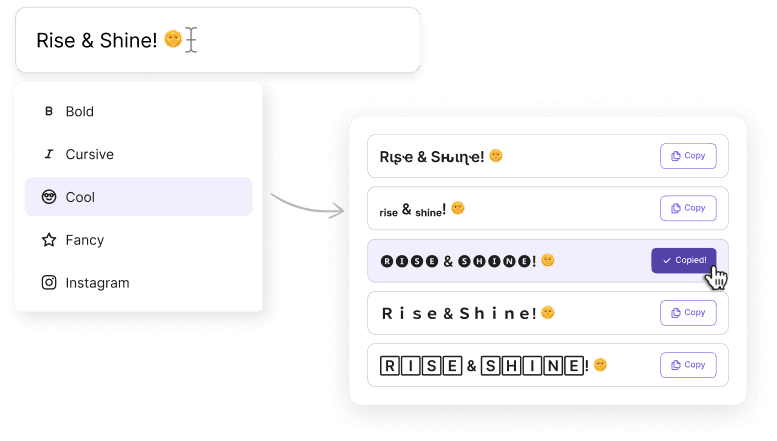 Amplify Your Social Media Presence With Cursive Fonts
In the digital age, cursive text brings a touch of timeless class. Let your social media profiles exude elegance and make lasting impressions.
Pixelied's cursive font generator ensures your online persona is as graceful as your chosen typography. Stand out and make a statement.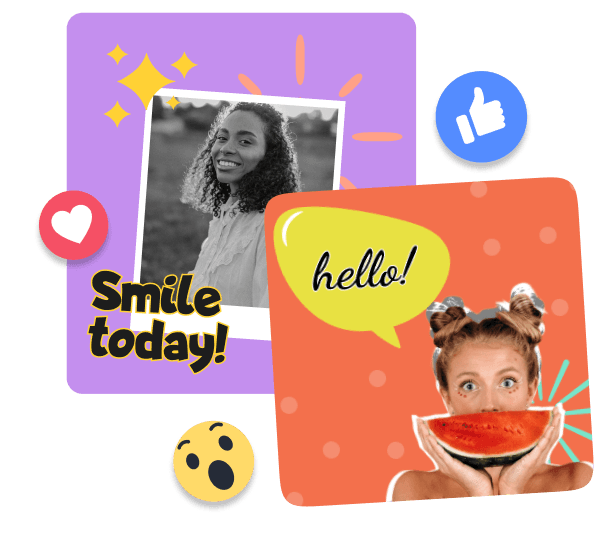 Create Stunning Designs Using Cursive Font Styles
Bring an artistic flair to your designs with cursive letter symbols. Perfect for invitations, logos, and more—let every curve tell a story.
With the option to type in cursive, you have the freedom to design stunning visuals. Let your imagination flow.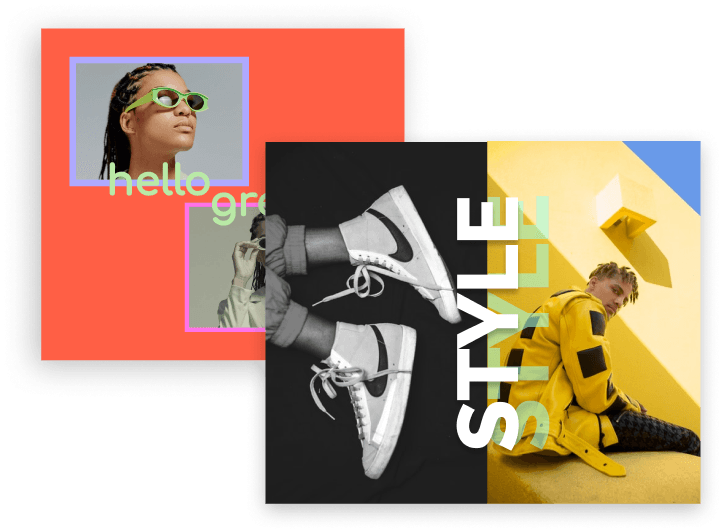 Captivate Attention With Stunning Social Media Bios
Your bio is a reflection of you. Why not make it stylish? Use our cursive letters generator and let your bio glide with finesse.
An alluring cursive font can be the difference between a scroll and a stop. With Pixelied, ensure your social media bios are nothing short of captivating.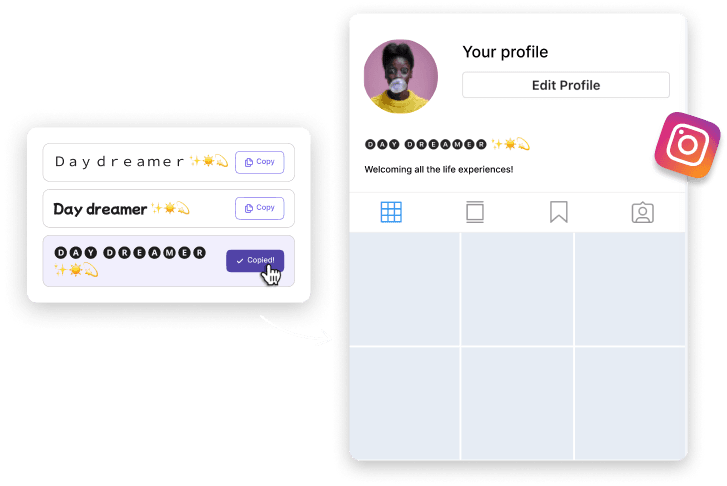 Share Cursive Text Across Multiple Platforms
Transition your cursive text across platforms with ease. Pixelied ensures your content remains consistent on a blog or a social media post.
Offering quick cursive font copy and paste features, sharing your elegantly styled content has never been more straightforward. Embrace the fluidity of cursive with Pixelied.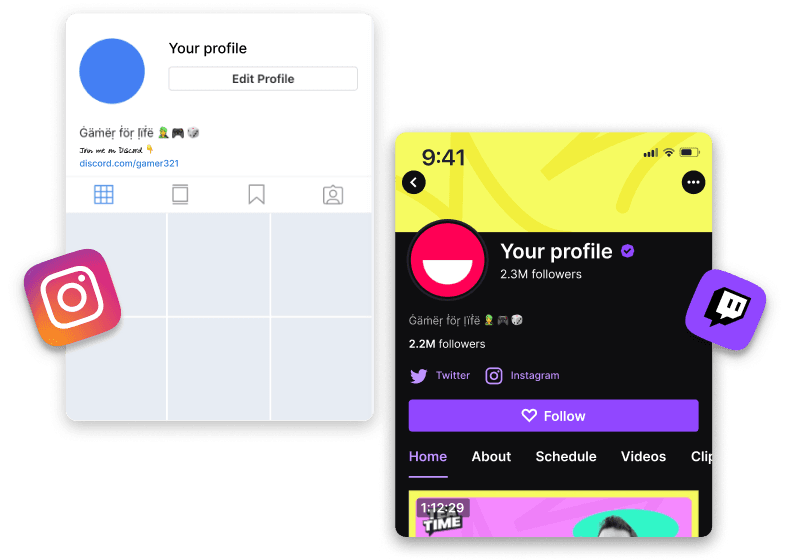 Frequently Asked Questions
Pixelied is the best cursive word generator for creating easy-to-use fonts. Its vast selection of elegant cursive styles brings grace and sophistication to any text you input.
Yes, Pixelied's cursive generator is designed with user security in mind. Your text and data are processed safely, ensuring confidentiality and protection throughout your experience.
First, enter your text in the input box and scroll through the list of cursive font styles available. Next, hover over the text and click on it to copy it to the clipboard. Lastly, copy and paste the cursive font across any digital platform.
Creating and disseminating cursive text through Pixelied is a breeze. After crafting your preferred cursive style, just click on the text to copy it instantly. Then, navigate to your desired social platform and paste the cursive font into posts, messages, or comments, adding a touch of elegance to your digital presence.
Yes, Pixelied works with all desktop, tablet, and mobile devices. We recommend using Chrome, Firefox, and Safari browsers for a seamless experience.
Unicode is a computing standard designed to represent text and symbols from all languages consistently. It encompasses a variety of Unicode characters and symbols to ensure uniformity in encoding.