Get Passport Photos in Washington, DC
Get the perfect biometric passport pictures in Washington with guaranteed acceptance in seconds!
100% Compliance Guaranteed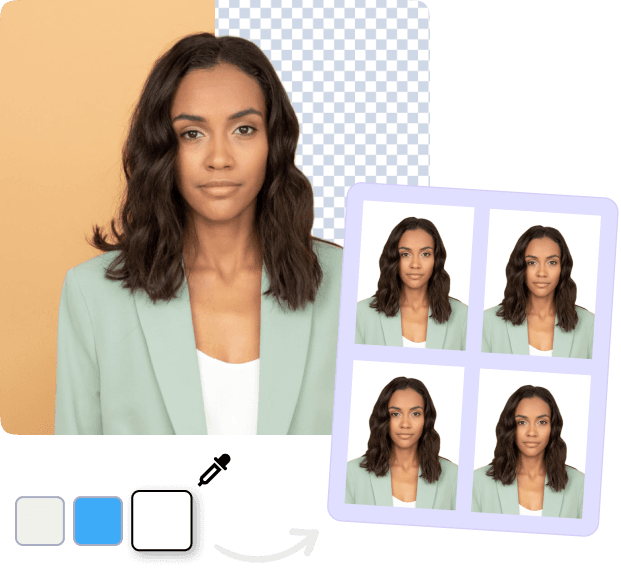 How to get instant photos online?
With our online passport photo tool, you can get a biometric photo for your passport in less than 3 minutes.
Capture or upload your photo
It's super simple - take a selfie or upload a photo, and let our AI tool take care of the rest.
AI processes the image
Our AI tool will remove any unwanted background and resize your photo to the official passport photo dimensions.
AI photo verification
The AI tool will carry additional checks on the photo to make it compliant and ready for submission.
Get digital or print photos
Get your biometric photos in digital copy or have the printouts delivered to your doorstep within a few days.
How to take a clear photo?
Have you ever wondered how to take the perfect passport photo? No need to look further; these instructions will help you achieve biometric Washington passport photos in minutes.
Use a plain background
Use a plain background with no objects behind your back. Stand at least 2m away from the background to avoid shadows behind you.
Keep your posture straight
Maintain a straight posture and fit your head, shoulders, and upper body into the photo. Remove your glasses before taking the picture.
Maintain a neutral facial expression
Make sure your whole face is visible. Keep your hair away from your face and look straight at the camera with a plain expression.
Basic Washington Passport Photo Guidelines
Glasses
Smiling
Image retouching
Wearing uniform and hat
Washington passport photo requirements
How much does a passport photo cost in Washington?
The cost of passport pictures in Washington, DC, is typically between $5 and $20. It depends on the photographer and the type of service you need. In exchange for the service, you receive a set of physical and digital copies of a color photograph in 2 x 2-inch dimensions that meet the specific requirements set by the government for passport applications.
Here is an overview of the prices at some of the most popular stores: (from ascending to descending order)
| Service: | Cost: |
| --- | --- |
| Sam's Club | $5.31 |
| Walmart | $7.44 |
| Rite Aid | $8.99 |
| Target | $9.99 |
| UPS | $11.99 |
| AAA | Basic members pay $10, and non-members pay $15 |
| FedEx | $14.95 |
| Staples | $14.99 |
| Office Depot | $14.99 |
| Postal Annex | $15 |
| USPS | $15 |
| Walgreens | $16.99 |
| CVS Photos | $16.99 |
Where to get a passport photo in Washington, DC?
Post offices, drug stores, and photo studios are some of Washington's most popular places to take passport photos. The U.S. Department of State has an authorized passport agency at 1111 19th Street NW, which also offers this service. Post offices in the area will take pictures for passports for a fee. It is best to call ahead to find out if the post office can take photos and how much it will cost.
CVS, Walgreens, and Rite Aid are also places to take a passport image. Most of the time, customers can get passport photos at the photo kiosks in the store.
Another way to get a passport photo in Washington, DC, is to visit a photo studio. Lastly, you can also take your own passport photos at home. But it is essential to ensure that the pictures comply with the U.S. Department of State guidelines mentioned on their official website.
Passport photo locations in Washington
Here are some popular passport photo locations in Washington:
Retail and Convenience Stores
When looking for passport photo services in Washington, D.C., consider checking out retail and convenience stores like Walgreens or CVS. These establishments typically have dedicated photo departments where you can have your passport photos taken and printed. Whether in downtown D.C. or exploring the surrounding neighborhoods, you can easily find a nearby store to meet your passport photo needs.
Drug Stores and Pharmacies
Washington, D.C., also has several drug stores and pharmacies that offer passport photo services. Locations such as Rite Aid or CVS Pharmacy are known for providing passport photo services that adhere to the required specifications. Conveniently located throughout the city, these facilities can assist you in obtaining high-quality passport photos in Washington.
Photo Studios and Post Office
For a professional touch, consider visiting photo studios in Washington, D.C., that specialize in passport photos. Studios like District Camera offer expert photography services to ensure your passport photos meet all the necessary criteria. Additionally, some post office locations in the city also provide passport photo services, making it a convenient one-stop destination for both passport applications and photos.
Pixelied's Passport Photo Tool
You can utilize Pixelied's passport photo tool if you prefer a digital option. It lets you upload your photo and adjust and crop it to meet the required passport picture specifications. It's a user-friendly and convenient solution for obtaining passport photos in Washington, D.C., from the comfort of your home.
What are the requirements at the nearest Washington passport photo location?
The requirements at any Washington passport photo location are specified by the U.S. Department of State.
Size, Background, Format
In general, passport photos must be 2 inches by 2 inches, taken within the last six months, and in front of a plain white or off-white background. The only acceptable format is JPEG.
The picture has to be in color and have a clear, unaltered background.
Appearance, Glasses, and Makeup
The person being photographed must look straight into the camera with both eyes open and a neutral expression. The person can't wear glasses, a hat, or anything else on their head unless it's for religious reasons.
Wearing neutral colors and semi-formal or formal attire is recommended. Keep make-up minimal, and don't use bright shades.
How to print a passport photo in Washington, DC?
Printing a passport photo in Washington, D.C., can be accomplished through a variety of methods:
Photo Printing Services: You can use online services like Shutterfly, Snapfish, or Pixelied. These services allow you to upload your photo, adjust it to meet passport photo standards, and have the prints delivered to your house.
Retail and Pharmacy Stores: Walmart, CVS, and Walgreens offer picture printing services. You can either take your photo in-store or upload a photo online and pick up the prints from a nearby store.
Post Offices: Some post offices offer passport photo printing services. You can have your photo taken, printed, and submitted along with your passport application.
Before printing, ensure your photo meets the U.S. Department of State's requirements. These include being taken in front of a plain white or off-white background, 2x2 inches in size, and your head must be between 1 inch and 1 3/8 inches from the bottom of the chin to the top of the head. You must also have a neutral facial expression with both eyes open.

Take Passport Photos in Washington Online
Steer clear of the trouble of hunting for passport photo stores in Washington. Pixelied's online tool lets you create professional passport pictures right at home. Save time, reduce costs, and enjoy the comfort of home delivery. Pixelied provides a quick, budget-friendly, effortless passport image solution with just a simple upload.
Frequently Asked Questions
In Washington, D.C., passport images can be obtained from local retail stores like Walmart, CVS, and Walgreens, which provide in-store photo services. Professional photo studios are also an option. Alternatively, some post offices offer passport photo services, enabling you to process both the photo and passport application from one location.
Walgreens, CVS, Walmart, and Rite Aid are some places that offer cheap passport photos in Washington, DC. Also, many small photography shops in the area provide passport photos at a lower price.
Most post offices, drug stores, and photo studios offer same-day or next-day service to deliver passport photos in Washington. You can also use Pixelied's online passport image service, which lets you upload a photo and have it printed and sent to your doorstep.
Getting a baby's passport photo in Washington, D.C., can be done at several locations. Retail stores like Walmart and pharmacies like CVS and Walgreens offer passport picture services, often accommodating infants. Professional photo studios are also a good choice, as they have experience with babies.
Yes, you can take your own passport picture. However, it's crucial that your images strictly comply with the regulations set forth by the Department of State. These specifications include a 2" by 2" photo size, a plain white backdrop, and sufficient lighting. Make sure your photograph is clear, with no shadows on your face.
Yes, you can smile in a passport photo, but ensure not to have teeth shown in the picture while keeping your mouth closed. It's also crucial to keep your eyes open and visible.
No, you cannot take your own passport photo at Walgreens. Walgreens stores usually have a trained employee who will take your picture as per the State Department guidelines.
Yes, many pharmacies, especially large chains like CVS, Walgreens, and Rite Aid, offer passport photo services. They typically have designated areas in-store with the appropriate lighting and backdrop where trained employees take your picture. It's always best to call ahead and verify if your local pharmacy provides this service.