Get Passport Photos in Denver
Get the perfect biometric passport pictures in Denver with guaranteed acceptance in seconds!
100% Compliance Guaranteed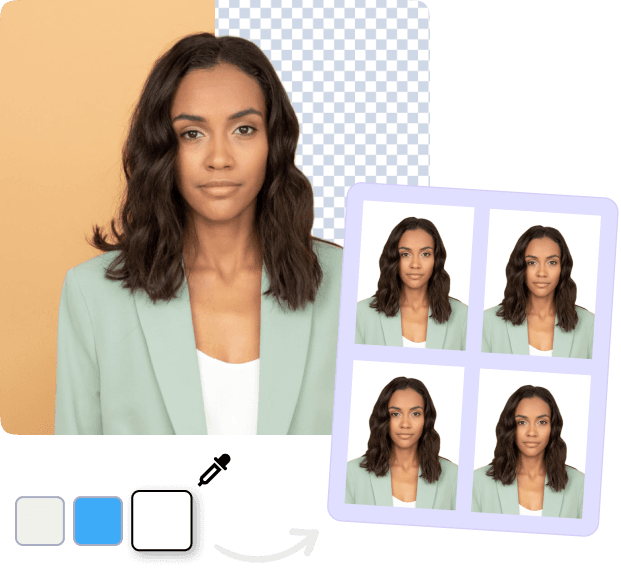 How to get instant photos online?
With our online passport photo tool, you can get a biometric photo for your passport in less than 3 minutes.
Capture or upload your photo
It's super simple - take a selfie or upload a photo, and let our AI tool take care of the rest.
AI processes the image
Our AI tool will remove any unwanted background and resize your photo to the official passport photo dimensions.
AI photo verification
The AI tool will carry additional checks on the photo to make it compliant and ready for submission.
Get digital or print photos
Get your biometric photos in digital copy or have the printouts delivered to your doorstep within a few days.
How to take a clear photo?
Have you ever wondered how to take the perfect passport photo? No need to look further; these instructions will help you achieve biometric Denver passport photos in minutes.
Use a plain background
Use a plain background with no objects behind your back. Stand at least 2m away from the background to avoid shadows behind you.
Keep your posture straight
Maintain a straight posture and fit your head, shoulders, and upper body into the photo. Remove your glasses before taking the picture.
Maintain a neutral facial expression
Make sure your whole face is visible. Keep your hair away from your face and look straight at the camera with a plain expression.
Basic Denver Passport Photo Guidelines
Glasses
Smiling
Image retouching
Wearing uniform and hat
Denver passport photo requirements
How much does a passport photo cost in Denver?
Depending on the location and the service provider, two passport photos in Denver might cost anywhere from $5 to $20. Some standard passport picture service providers in Denver include Walgreens, FedEx, and Walmart. Group discounts and seasonal offers may reduce the price.
Before visiting any of these places, call ahead or check the service provider's website for the most recent price information. It's always good to compare prices and services offered by different providers in your area to find the best deal. Remember that while the price is essential, ensuring that the photos meet the U.S. Department of State requirements is vital.
Denver passport photos can be acquired from various locations, and we have mentioned a few with their prices below:
| Service | Cost |
| --- | --- |
| Sam's Club | $5.31 |
| Walmart | $7.44 |
| Rite Aid | $8.99 |
| Target | $9.99 |
| UPS | $11.99 |
| AAA | Basic members pay $10, and non-members pay $15 |
| FedEx | $14.95 |
| Staples | $14.99 |
| Office Depot | $14.99 |
| Postal Annex | $15 |
| USPS | $15 |
| Walgreens | $16.99 |
| CVS Photos | $16.99 |
How to use Pixelied's online passport photo tool?
In five easy steps, use Pixelied to convert your portrait into passport pictures and get the prints delivered to your home.
Step 1: Visit Pixelied
Open your browser on a laptop or mobile and go to the Pixelied website. Once you're on the website, look for the passport photo tool.
Step 2: Upload Your Photo
You'll see an option to upload a photo on the passport picture tool page. Click on the designated button or drag and drop your photo into the upload area. Make sure you choose a photo that meets the requirements for a passport image, such as proper lighting, clothing, and facial expression.
Step 3: Automated Adjustment
After uploading your photo, the passport image tool will process your picture. It will automatically make adjustments such as resizing, rotating, or zooming in/out to ensure your face is centered correctly and meets the necessary size and alignment requirements.
Step 4: Download or Order Prints
Once satisfied with the adjustments and cropping, enter your details to obtain your digital passport photo in JPEG format. You can then use it for your passport application or other identification purposes.
Additionally, you can acquire prints at home by placing an online order through the Pixelied website.
Passport photo locations in Denver
Several locations take passport photos in Denver. Here are a few of the options:
Walgreens: Many Walgreens locations offer passport photo services for $16.99. You can search for a place nearby and check if they provide such a service on the Walgreens website.
CVS: Similar to Walgreens, many CVS locations offer passport pictures for $16.99. You can search for a location near you and check if they provide such a service on the CVS website.
FedEx Office: At the FedEx Office, you can take passport pictures for $15 and also initiate your passport application for an additional fee.
Post Offices: You can take passport pictures at the United States Post Office (USPS). It costs $15 for two prints and a photo shoot. Similar to FedEx, you can process your passport application and obtain photos.
Remember, the picture must be 2 by 2 inches in size, taken within the last six months, and meet specific criteria for facial expression, lighting, and background. Your passport application may be delayed or rejected if the photo does not meet the requirements.
What are the requirements at the nearest Denver passport photo location?
When obtaining a passport picture, ensure they meet the U.S. Department of State requirements. Below are the most common guidelines for a Denver passport photo:
Photo Quality and Specifications
The photo must be 2x2 inches, with the subject's face measuring between 1 and 1 3/8 inches from the bottom of the chin to the top of the head.
The image must be in color and printed on high-quality glossy paper.
The subject's head and body should be centered in the photo.
Lightning and Background
The photos must be taken against a plain white or off-white background free of patterns or shadows.
The lighting must be even, with no shadows on the face, and the picture should not be overexposed or underexposed.
Facial Expressions
The subject must face the camera directly with a neutral expression and both eyes open.
Accessories
Headwear or glasses are generally prohibited, except in certain religious or medical circumstances.
If you wear glasses, ensure that there is no reflection or glare on the lenses and that the frames do not obscure your eyes.
Suppose you have a medical condition requiring wearing headwear or glasses. In that case, you must provide a signed statement from a medical professional outlining the condition's nature.
Facial Hair and Hairstyling
If you have a beard, it must be neatly trimmed and not obscure your facial features.
Ensuring your hair is tidy, and your face is visible is essential.
Avoid excessive hair accessories and anything that will cover your ears or forehead.
Additional Tips for Passport Picture
The photo must be taken within the last six months and accurately represent the subject's appearance.
It's important to note that not all vendors offer photos that meet the U.S. Department of State requirements. Opting for a reputable and experienced service provider that knows the relevant regulations is advisable.
Also, at some places, you might require necessary documentation, such as a valid photo ID, when you take your photos.
How to print a passport photo in Denver?
If you need to print a passport photo in Denver, there are several options available for you:
Printing at Stores or Pixelied's Online Tool
Drugstores and Pharmacies
Stores such as Walgreens, CVS, and Rite Aid offer passport photo services and can usually print additional copies of the picture at these locations. Simply bring a digital file of the image on a USB drive or other storage device, and the store will print it for you.
Office Supply Stores
Stores such as Staples and Office Depot/OfficeMax offer passport image services and can print additional copies of the photos at these locations. Again, bring a digital copy of the picture so the store can print it.
Pixelied
If you want convenience, affordability, and reliance in one place, then Pixelied—the best online passport photo tool—is your best bet. It is a one-stop shop for cropping, resizing, and printing passport pictures. Simply upload your photo and order prints straight to your doorstep.
Printing at Home
You can also get your passport pictures printed at home in just three simple steps:
Step 1: Take A Picture
Grab your phone or digital camera and click as many pictures as possible. Make sure your photos align with the guidelines of the U.S. State Department, like a good quality camera, plain white background, good lighting, neutral facial expressions, and 2x2 inches in size.
If you're using an old photo, it should not be older than six months.
Step 2: Upload on Pixelied
Upload the photo on Pixelied to make it appropriate for passport application. We will run an AI check to ensure it meets the requirements of the U.S. State Department. Once done, you will have two options:
Order prints at home
Download the digital copy and print it out yourself
Step 3: Print the Photo
Now that you have perfect digital photos, time to print them out. Choose high-quality papers with a matte or glossy finish, choose the number of copies, and click 'Print.' You can also head to any passport image service provider nearby and ask them to print.

Take Passport Photos in Denver Online
Experience a seamless transition to digital with Pixelied for your passport photos in Denver. The hassle of waiting in long lines and adjusting to store hours is a thing of the past. Pixelied's cutting-edge software guarantees your uploaded photo meets all U.S. passport requirements. Simply upload your image and let Pixelied handle the rest!
Frequently Asked Questions
To get passport pictures in Denver, there are several locations you can visit, including pharmacies and retail stores for their efficient service, which gets your passport photos produced in an hour, post offices, and government agencies for their highly trained team of photographers.
You can find cheap passport photos in Denver from Pixelied—an online passport photo tool. It offers lower prices and the convenience of delivering the images directly.
The cost of a passport photo in Colorado can vary depending on where you go to get it taken. Walgreens and CVS charge $16.99 for two photos. Comparatively, Walmart takes $7.44 for two images. Costco has discontinued its services, but the store used to charge $4.99. At FedEx Office, you will pay $14.95 for two pictures.
Several options exist if you want a baby's passport pictures taken in Denver. Try visiting a local UPS Store, as almost every location offers passport pictures designed for infants and young children. Another option is to head to Walgreens, which takes baby passport photos and provides prints on the same day.
Yes, you can take passport photos at home or with the help of a friend. You only need a nice camera and a tripod. And make sure your pictures align with the U.S. State Department's requirements, that is, plain white background, formal/semi-formal clothes, neutral facial expressions, and a photo size to be 2x2 inches. Furthermore, getting it taken by a professional photographer is usually suggested to reduce the chances of your application being denied by the U.S. State Department.
For a passport photo, wear a plain-colored shirt or blouse without patterns or logos, avoid hats or headgear, and dress in everyday clothes. Remove glasses, lenses, and headphones if you're wearing them. You can wear a headscarf, turban, kippah, or any other religious belonging just mention the reason with your application.
The processing time for a passport in Denver, Colorado, can vary depending on whether you are applying for a standard or expedited processing time. Normal processing time is generally around 4-6 weeks. If you need your passport more quickly, expedited processing is available for an additional fee. With expedited processing, you can receive it in 2-3 weeks.
Yes, many pharmacies offer passport photo services. You can check with your local pharmacies, such as Walgreens, CVS, or Rite Aid, to see if they provide passport photo services. Many of these pharmacies offer passport photo services for a fee, typically ranging from $10 to $20.