Get Passport Photos in Dallas
Get the perfect biometric passport pictures in Dallas with guaranteed acceptance in seconds!
100% Compliance Guaranteed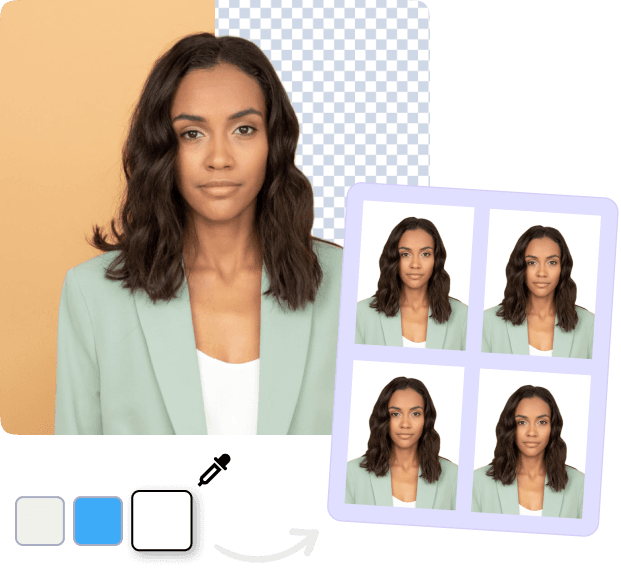 How to get instant photos online?
With our online Dallas passport photo tool, you can get a biometric photo for your passport in less than 3 minutes.
Capture or upload your photo
It's super simple - take a selfie or upload a photo, and let our AI tool take care of the rest.
AI processes the image
Our AI tool will remove any unwanted background and resize your photo to the official passport photo dimensions.
AI photo verification
The AI tool will carry additional checks on the photo to make it compliant and ready for submission.
Get digital or print photos
Get your biometric photos in digital copy or have the printouts delivered to your doorstep within a few days.
How to take a clear photo?
Have you ever wondered how to take the perfect passport photo? No need to look further; these instructions will help you achieve biometric Dallas passport photos in minutes.
Use a plain background
Use a plain background with no objects behind your back. Stand at least 2m away from the background to avoid shadows behind you.
Keep your posture straight
Maintain a straight posture and fit your head, shoulders, and upper body into the photo. Remove your glasses before taking the picture.
Maintain a neutral facial expression
Make sure your whole face is visible. Keep your hair away from your face and look straight at the camera with a plain expression.
Basic Dallas Passport Photo Guidelines
Glasses
Smiling
Image retouching
Wearing uniform and hat
Dallas passport photo requirements
How much does a passport photo cost in Dallas?
The cost of two passport photos in Dallas might vary based on the location and service provider. Prices typically vary from $5 to $20 per set of two images.
However, certain locations may give discounts or promotions to specific groups, such as senior citizens and students. It's also worth noting that certain shops may provide extra services, such as quicker processing or digital copies of your photo, which may alter the final cost.
Below are several popular locations offering passport picture services, arranged in ascending order of price, from the most affordable to the priciest options:
| Service | Cost |
| --- | --- |
| Sam's Club | $5.31 |
| Walmart | $7.44 |
| Rite Aid | $8.99 |
| Target | $9.99 |
| UPS | $11.99 |
| AAA | Basic members pay $10, and non-members pay $15 |
| FedEx | $14.95 |
| Staples | $14.99 |
| Office Depot | $14.99 |
| Postal Annex | $15 |
| USPS | $15 |
| Walgreens | $16.99 |
| CVS Photos | $16.99 |
When getting your Dallas passport photo, consider things other than pricing. Consider convenience and availability since some places may have higher wait times or are not open during convenient hours.
Also, be sure that the place you select is an approved passport acceptance facility, as not all businesses that offer passport picture services are permitted to process passport applications. You may discover a list of authorized passport acceptance facilities on the United States Department of State website.
How to use Pixelied's online passport photo tool?
Here's a simple three-step guide to using the Pixelied passport image tool:
Step 1: Upload Your Photo
Click the above button to upload your photo. Ensure that the image meets the requirements specified by the State Department, such as facial expressions, appearance, hair, etc.
Step 2: Automatic Adjustments
Once your photo is uploaded, you can see a preview. The AI tool will automatically adjust the image's background, size, proportions, and alignment with the State Department requirements.
Step 3: Order Prints
Once satisfied with the adjustments and edits, enter your details to either download the digital file or order prints to your home.
Passport photo locations in Dallas
If you're in Dallas, Texas, and need a passport photo taken, several convenient options are available. Some reliable options are retail stores, pharmacies, printing shops, post offices, and photo studios.
Retail and Convenience Stores
Taking your passport photos is convenient at big box stores like Walmart and Target, which have multiple locations throughout Dallas.
Walmart Locations
The cost of getting passport photos taken at Walmart stores in Dallas is $7.44. Here are further details about their locations:
| Address | Open Hours | Contact Numbers |
| --- | --- | --- |
| 1521 N Cockrell Hill Rd, Dallas, TX 75211 | Open 24 hours | (214) 330-7249 |
| 3155 W Wheatland Rd, Dallas, TX 75237 | Open 24 hours | (972) 283-9000 |
| 15220 Montfort Dr, Dallas, TX 75248 | Open 24 hours | (469) 375-2312 |
Target Locations
The price of getting passport photos taken at Target stores in Dallas is $9.99. Below are further details about their locations;
| Address | Open Hours | Contact Numbers |
| --- | --- | --- |
| 2417 N Haskell Ave, Dallas, TX 75204 | Mon-Sun: 8 am-10 pm | (214) 826-0331 |
| 9458 Marsh Ln, Dallas, TX 75220 | Mon-Sun: 8 am-10 pm | (214) 350-3117 |
| 6419 Skillman St, Dallas, TX 75231 | Mon-Sun: 8 am-10 pm | (214) 750-8002 |
Drugstores and Pharmacies
There are several drugstores and pharmacies in Dallas that offer passport image services. CVs and Walgreens are some of the most popular options.
CVS Locations
A set of two photos at CVS costs $14.99; here are some CVs locations in Dallas, their contact numbers, and operational hours:
| Address | Open Hours | Contact Number |
| --- | --- | --- |
| 5610 Lemmon Ave, Dallas, TX 75209 | Mon-Sun: 7 am-10 pm | (214) 521-5353 |
| 6401 Hillcrest Ave, Dallas, TX 75205 | Mon-Sun: 7 am-10 pm | (214) 520-8112 |
| 3030 Mockingbird Ln, Dallas, TX 75205 | Mon-Sun: 7 am-10 pm | (214) 521-3944 |
Walgreens Locations
At Walgreens, they charge $14.99 for two 2x2 inch photos. Here are further details about their different locations:
| Address | Open Hours | Contact Number |
| --- | --- | --- |
| 6110 Greenville Ave, Dallas, TX 75206 | Mon-Sun: 8 am-10 pm | (214) 692-0875 |
| 3200 Gaston Ave, Dallas, TX 75246 | Mon-Sun: 8 am-10 pm | (214) 828-9393 |
| 11055 Dennis Rd, Dallas, TX 75229 | Mon-Sun: 8 am-10 pm | (972) 247-8033 |
Post offices
You can find a United States Postal Service that offers passport photos nearby. You can also visit the USPS website in Dallas and use the location search tool.
USPS Locations
The United States Postal Service charges $15 for a set of two passport photos. Additional copies are available for $15 per sheet of two images. Here are a few post offices in Dallas that offer passport picture services.
Address
Open Hours
Contact Number
401 DFW Turnpike, Dallas, TX 75260
Mon-Fri: 8:30 am-5 pm
Sat-Sun: Closed
(214) 760-4161
2825 Oak Lawn Ave, Dallas, TX 75219
Mon-Fri: 8:30 am-5:30 pm
Sat: 10 am-2 pm
Sun: Closed
(214) 252-7600
2801 Allen St, Dallas, TX 75204
Mon-Fri: 9 am-5 pm
Sat-Sun: Closed
(214) 999-0134
5429 E Grand Ave, Dallas, TX 75223
Mon-Fri: 9 am-5 pm
Sat: 9 am-12 pm
Sun: Closed
(214) 821-1599
Photo Studios
There are many reliable photography studio options for passport photos in Dallas. Their prices for two pictures can range from $15 to $25. Below, we've listed some of the best-reviewed photo studios along with their relevant information:
Photo Studio
Address
Contact Number
Website
Dallas Center for Photography
4756 Algiers St,
Dallas, TX 75207
(214) 630-4909
https://dallascenterforphotography.org/
Blue Lagoon Photography Studio
1242 Singleton Blvd,
Dallas, TX 75212
(214) 631-1317
http://bluelagoonstudio.com/
Powder Room Studios
3311 Elm St,
Dallas, TX 75226
(214) 749-0800
https://powderroomstudios.com/
F8 Studios
5404 Denton Dr,
Dallas, TX 75235
(214) 658-9600
https://f8studio.com/
Michele Shore Photography Studio
9901 Valley Ranch Pkwy E,
Suite 1030, Irving, TX 75063
(214) 864-5787
https://www.micheleshorephotography.com/
For additional details regarding the mentioned stores, such as their open hours and specific services, you can access their websites or contact them directly using the provided contact numbers.
What are the requirements at the nearest Dallas passport photo location?
Here are the requirements set by the U.S. Department of State:
Background
A plain white background is one of the basic requirements. It ensures the lightning is distributed evenly throughout the frame and accurately captures your facial features.
Picture Frame
The camera should be positioned in a way to include the picture frame should consist of your face from head to chin. The head should be between 1 inch and 1 3/8 of the image's total height from the bottom of your chin to the top of your head.
Camera Distance
There should be a 4 feet distance between you and the camera. It'll ensure that your facial features get captured perfectly.
Lightning
Try using natural lights to capture your skin tone, although most photographers use artificial lights that serve the same purpose. Avoid flash or bright lights, which might dull your skin tone and alter your facial features.
Attire and Appearance
When you go to get your passport photo taken, dress comfortably and in plain colors. Avoid clothing with busy patterns, bright colors, or logos, as they can be distracting and may not meet the requirements for passport images.
Expressions
Don't make strong facial expressions; instead, keep your expressions as neutral as possible, with your eyes open and mouth closed.
Printed Photographs
The printed photos should be in color and have 2x2 inches in dimension.
Note: Ensure the picture is taken within the last six months. The requirement ensures that the image accurately reflects your current appearance. Over time, our appearance can change a lot due to many factors, so by acquiring your recent photo, officials can more easily verify your identity.
How to print a passport photo in Dallas?
You've arrived at the final and most essential step: printing the passport images in Dallas. There are several alternatives available. If you live near a business that offers passport photo services, you may go there to get your photos printed out.
If you don't have one nearby, you may print your passport photos at home, saving you much time. To meet the standards of the State Department, you can utilize apps like Pixelied that automatically adjust and make an image compliant with the guidelines.
Here's how to print the image using Pixelied in three simple steps:
Step 1: Take a Photograph
If you have previously taken your photo, you may skip this step. Here are a few pointers. If not, place your image on a white backdrop. Choose natural lighting for the passport photo. Remember to look straight at the camera with neutral expressions and mouth closed.
Step 2: Upload it on Pixelied's Passport Photo Tool
After taking the picture, go to Pixelied's passport photo tool and upload your image. The tool will crop your image and align it to the required measurements of 2x2 inches.
Step 3: Printing the Photograph
After processing the image, pick high-quality, glossy paper for printing, which is more appropriate for passport images, and print it on 4x6-inch paper. Choose the number of images to print and click the print button.

Take Passport Photos in Dallas Online
Navigating passport photos in Dallas is now a breeze with Pixelied's online platform. Upload your photo, and watch as the tool intuitively adjusts it to fit all passport regulations. When it's right, quickly download the final image, aptly sized and formatted for your application. It's the modern, fuss-free way to get your passport photo with Pixelied.
Frequently Asked Questions
If you need passport pictures in Dallas, you can go to many places to get one. Some options include pharmacies, post offices, and shipping stores like FedEx or UPS. You can also find many local photography studios that specialize in passport photos. Additionally, some big-box retailers like Walmart and CVS also offer passport picture services. Ensure to check each location's hours and fees beforehand to ensure they meet your needs.
The most affordable option to obtain passport photos typically involves doing it yourself. Using your camera or smartphone, you can take a picture that adheres to passport standards and then adjust it using online passport photo tools, like Pixelied or similar platforms. If you prefer a physical location, big-box retailers like Walmart, Target, and CVS often offer cheaper passport photo services than specialized photo studios. Always check current prices and promotions, as they can vary by location and over time.
The cost of a passport photo in Texas can vary depending on where you go to get it taken. Some places like USPS and Walgreens charge around $15 for two passport photos. However, remember that getting your passport photo taken at a low price may not always guarantee the quality of the picture.
In Dallas, baby passport photos can be conveniently taken at professional photo studios or retail chains like Walmart, Walgreens, and CVS. Some post offices and specialized passport photo providers also offer such a service. Ensure the final photo aligns with the U.S. Department of State's guidelines.
Yes, you can take your passport photo in Dallas, but you must ensure that the image meets all the specific requirements set by the US Department of State. You'll need a high-quality camera or smartphone with a good resolution and a neutral background, such as a white or off-white wall or a sheet. It's essential to follow the specific guidelines regarding the size, framing, and other aspects of the photo, which you can find on the US Department of State's website.
Dressing appropriately for a passport photo is crucial to meet the US Department of State's specifications. Opt for simple, comfortable attire in neutral colors like black, white, or gray. Avoid patterns, logos, and other distractions. Steer clear of bright colors as they can cast shadows and affect the photo's quality.
Several options are available if you need to get a passport quickly in Dallas, Texas. The standard processing time for a passport application is about 4-6 weeks, but expedited processing is also available for an additional fee. You can expedite your passport application by visiting a regional passport agency in person, which can process your application in as little as 24 hours.
Yes, many pharmacies offer passport photo services. The cost is around $10 to $15 and can be taken in just a few minutes. However, it's essential to ensure that the pharmacy is familiar with the specific requirements for passport photos set by the US Department of State. These requirements include photo size, lighting, background, and facial expression.