Get Passport Photos in Tulsa
Get the perfect biometric passport pictures in Tulsa with guaranteed acceptance in seconds!
100% Compliance Guaranteed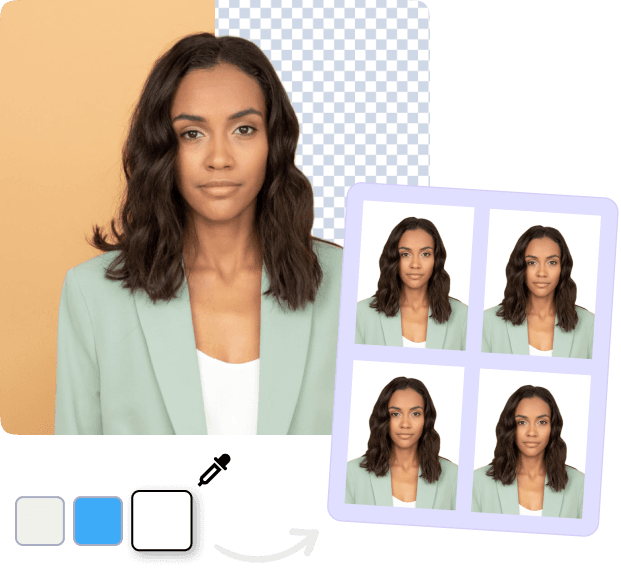 How to get instant photos online?
With our online Tulsa passport photo tool, you can get a biometric photo for your passport in less than 3 minutes.
Capture or upload your photo
It's super simple - take a selfie or upload a photo, and let our AI tool take care of the rest.
AI processes the image
Our AI tool will remove any unwanted background and resize your photo to the official passport photo dimensions.
AI photo verification
The AI tool will carry additional checks on the photo to make it compliant and ready for submission.
Get digital or print photos
Get your biometric photos in digital copy or have the printouts delivered to your doorstep within a few days.
How to take a clear photo?
Have you ever wondered how to take the perfect passport photo? No need to look further; these instructions will help you achieve biometric Tulsa passport photos in minutes.
Use a plain background
Use a plain background with no objects behind your back. Stand at least 2m away from the background to avoid shadows behind you.
Keep your posture straight
Maintain a straight posture and fit your head, shoulders, and upper body into the photo. Remove your glasses before taking the picture.
Maintain a neutral facial expression
Make sure your whole face is visible. Keep your hair away from your face and look straight at the camera with a plain expression.
Basic Tulsa Passport Photo Guidelines
Glasses
Smiling
Image retouching
Wearing uniform and hat
Tulsa passport photo requirements
How much does a passport photo cost in Tulsa?
If you are looking for a place to take passport photos in Tulsa, estimate a budget between $5 to $20. The cost can be influenced by several factors, such as:
Location: Passport picture costs can vary depending on the region and the store you're in. Pharmacies are generally cheaper everywhere as compared to photography studios.
Quality and Expertise: Higher-quality photos or services experienced photographers provide may come with a higher price tag.
Quantity: Although a passport application requires a set of two photos, if you need more copies, you will have to pay more than the standard charges.
Here is the list of the price offered by different photo stores in Tulsa:
| Service | Cost |
| --- | --- |
| Sam's Club | $5.31 |
| Walmart | $7.44 |
| Rite Aid | $8.99 |
| Target | $9.99 |
| UPS | $11.99 |
| AAA | Basic members pay $10, and non-members pay $15 |
| FedEx | $14.95 |
| Staples | $14.99 |
| Office Depot | $14.99 |
| Postal Annex | $15 |
| USPS | $15 |
| Walgreens | $16.99 |
| CVS Photos | $16.99 |
How to use Pixelied's online passport photo tool?
Pixelied is a user-friendly online passport photo tool that swiftly provides you with digital passport pictures in under a few minutes. You simply need to upload your image, and it will make all the necessary adjustments to convert your photo into a biometric passport image.
Here is a step-by-step guide on how to use Pixelied's passport image tool:
Take a Clear Image: The first thing you must do is take a photo. The picture can be clicked via a digital camera or even a smartphone. Click the picture at a place where there is good lighting. Make sure that the image is clear and high-resolution.
Upload Your Photo: After taking a good image, upload it on Pixelied. You can easily access Pixelied via phone or a desktop.
Photo Verification: Image verification is a free-of-cost service by Pixelied for the ease of applicants. The passport photo tool utilizes a comprehensive set of criteria established by the US Department of State guidelines to assess your image. Through photo verification, the tool evaluates facial expressions, checks photo proportions and orientation, and detects faces to provide a compliance check result.
Image Processing – The integrated AI software will examine your uploaded photo and apply any required adjustments.
Download Digital Photo: If the photo checks all the boxes, you will see an option to download the digital picture. Pay minimal service charges and download your image within minutes.
Order Delivery of Printed Photo: If you want a printed version of your passport pictures from Pixelied, place the order to receive printouts at your doorstep.
Passport photo locations in Tulsa
In Tulsa, you can find various convenient locations to have your passport photo taken. Photography studios, postal offices, and drugstores often offer such a service to the public. Professional photography studios in the city are a popular choice for those seeking high-quality passport pictures that meet the requirements. These studios typically have experienced photographers who ensure they adhere to the US Department of State guidelines.
Many post offices across Tulsa also provide passport picture services, making it convenient to get your picture taken while applying for or renewing your passport.
Moreover, several drugstores and retail outlets with photo centers offer quick and affordable options. Whether you need one photo or multiple copies, you can find suitable locations throughout Tulsa to meet your needs.
Some of the most popular Tulsa passport photo locations are:
1. The UPS Store
Address
Contact Details
Store Hours
3701 S Harvard
Ste A
Tulsa, OK 74135
Midtown
(918) 747-0662
Monday-Friday: 8:00 AM - 6:00 PM
Saturday: 9:00 AM - 3:00 PM
Sunday: Closed
2. Apertures Photo
Address
Contact Details
Store Hours
3135 S. Yale Ave. Tulsa,
Oklahoma
918-742-0500
Monday-Friday: 10 am-6 pm
Saturday: 10 am-2 pm
3. Walgreens
Address
Contact Details
Store Hours
2323 W EDISON ST Tulsa,
OK 74127
918-582-1375
Mon - Fri: 8am – 9 pm
Sat: 9 am – 9 pm
Sun: 10 am – 9 pm
4. Postal Annex
Address
Contact Details
Store Hours
Plaza Village Shopping Center
7122 S Sheridan Rd
Tulsa, OK 74133-2748 Cross Street: 71st and Sheridan
Phone: (918) 523-7122
Fax: (918) 523-7121
Mon-Fri: 9:00am - 5:30pm
Sat: 10:00 am - 2:00 pm
Sun: Closed
5. Downtown Tulsa Tag Agency
Address
Contact Details
Store Hours
1414 S Denver Ave W
Tulsa, OK 74119
Phone: (918) 582-8247
Email: devon.tulsatag@gmail.com
Monday-Friday: 09:00 AM-5:30 PM
Saturday: Closed
Sunday: Closed
6. Studio D Photography
Address
Contact Details
Store Hours
8220 S Harvard Ave
Tulsa, OK 74137
Serving Tulsa Area
(918) 494-6686
Monday-Friday: 10:00 AM-6:00 PM
Saturday: 10:00 AM-2:00 PM
Sunday: Closed
What are the requirements at the nearest Tulsa passport photo location?
The basic requirements at the nearest Tulsa passport photos location are discussed below:
Photo Size and Dimensions
The size of U.S. passport photos is 2x2-inch (51 x 51 mm).
The head should measure between 1 – 1 3/8 inches (25 – 35 mm).
Background and Image Quality
The photo background color can be white or off-white.
Image resolution must be high.
Pixelated, blurred, or grainy photos cannot be submitted as passport photos.
Don't use pictures with holes, smudges, or creases.
Photos should be printed on matte or glossy print-quality paper.
Don't use selfies as passport images.
The usage of photo filters and effects is strictly prohibited.
Facial Expressions and Posture
Smiling in passport pictures is allowed, but don't squint your eyes. Your teeth shouldn't be visible, either.
Face the camera directly.
Whether you're sitting or standing, maintain a straight posture.
Head Coverings
Do not wear headscarves or head coverings for taking passport photos. However, if head coverings are used for religious or medical reasons, then it's permissible. In that case, you must submit a signed application specifying why you wear a headscarf, turban, etc.
Avoid using hands-free, headphones, or hats while taking photos.
Take off your glasses during the photo-capturing process.
Clothing, Tattoos, and Jewelry
Don't wear a uniform, camouflage, or extravagant attire to take your passport photos.
Small jewelry that does not cover your face is allowed.
Permanent tattoos are permissible.
How to print a passport photo in Tulsa?
You can print a passport picture in Tulsa using the following methods:
Visit a Printing Shop
Locate a photo printing facility nearby using Google Maps.
Go to a print shop with a soft copy of your passport image. Copy the digital file on a USB drive or email it to yourself. You can also directly transfer the photo from your phone.
Once the digital copy is safely transferred to the printing shop's system, ask the staff to print a 2x2-inch colored image passport picture.
Don't forget to check the photo for any discrepancies.
Print at Home
It is an easy alternative to get your photos printed at your home. For this, you should have a printer and glossy photo paper. To print a picture at home, follow these steps:
Load glossy quality paper into your printer.
Right-click on the digital image and select print.
Select relevant details about the printer, number of copies, and paper size.
Then click on the 'Print' button to get a print.
Ensuring that your passport photos meet the criteria set by the U.S. State Department is crucial for a successful passport application. We highly recommend using an online passport image tool like Pixelied to streamline the process and avoid potential issues.
Utilizing the tool can verify and process your photos, ensuring they adhere to the necessary guidelines. Pixelied can efficiently convert your picture into correctly sized 2" by 2" passport pictures, saving you time and effort in obtaining compliant photographs for your passport application.

Take Passport Photos in Tulsa Online
Say goodbye to pricey studios and tedious delays. Choose Pixelied for prompt, flawless, and cost-effective passport photos online in Tulsa. Kick off your passport application journey easily and precisely with Pixelied.
Frequently Asked Questions
In Tulsa, you can get passport pictures from various places, such as photography studios, post offices, and drugstores. Professional photography studios offer high-quality photos that meet the requirements. Many post offices provide passport picture services, making it convenient to take your picture while applying for or renewing your passport. Drugstores (such as Walgreens, Rite Aid, and CVS) and retail outlets (including Walmart and Target) with photo centers offer quick and affordable service.
To obtain cheap passport photos in Tulsa, consider using Pixelied. The online passport image tool provides quick and perfectly edited passport pictures at a fraction of the price compared to traditional studios. With Pixelied, you can save time and money while ensuring your photos meet the necessary criteria for your passport application.
The cost of passport photos in Tulsa varies due to location, service provider, and number of copies required. It can be anywhere between $5 and $20. For instance, the UPS Store offers a set of two photos for $11.99, while CVS & Walgreens Pharmacy charges the highest price at $16.99. FedEx, USPS, and Apertures photos have a similar price, approximately $15 per set of passport pictures. Considering these options is essential to find the most suitable and affordable location for your passport photo needs.
Photography studios are a reliable option for obtaining passport pictures in Tulsa for your baby, as they cater to all ages, including infants. However, it is advisable to check if the studio requires appointments for baby passport pictures to save time and ensure a smooth experience. By scheduling an appointment in advance, you can streamline the process and avoid unnecessary waiting, making it a convenient choice to get your baby's passport photos.
Yes, it is possible to take your passport photographs, but it's crucial to adhere to all the standard passport requirements to avoid rejection by the State Department. The photo should be 2x2 inches in width and height in a well-lit area with a white or off-white background. Ensure you are dressed appropriately and avoid heavy makeup, glasses, or hands-free devices to meet the guidelines for a valid passport picture.
When taking a passport photo, it's essential to avoid wearing uniforms or clothing that resembles uniforms, as well as camouflage attire. A darker-colored outfit against a light background is recommended for a well-contrasted and suitable passport picture. Following these guidelines ensures that your photo meets the required standards and helps facilitate a smooth passport application process.
You can get a passport in Tulsa as fast as 24 hours, provided you must travel urgently. You must have a cause to show to the nearest Regional Passport Office. Furthermore, private companies can expedite the passport application process, usually within a few days to a week, depending on your chosen service level and how quickly you need your passport.
Yes, you can get your passport photos at pharmacies. Head to any CVS or Walgreens photo center for your perfectly sized-passport pictures. The price charged by both of these pharmacies for taking and printing passport photos is $16.99.