Get Passport Photos in Philadelphia
Get the perfect biometric passport pictures in Philadelphia with guaranteed acceptance in seconds!
100% Compliance Guaranteed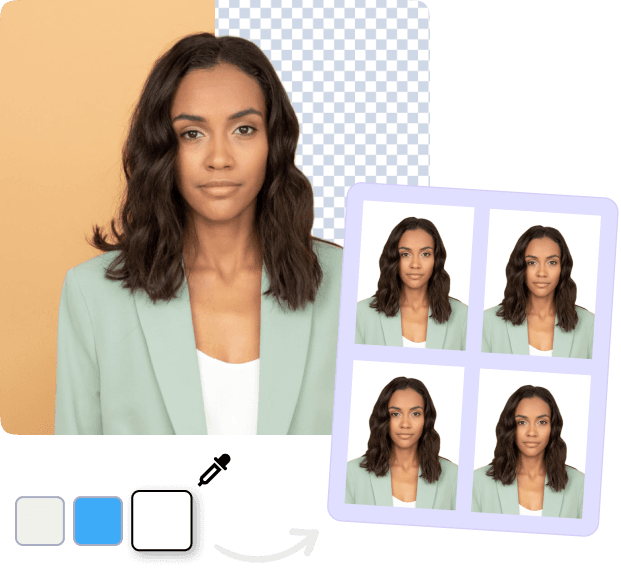 How to get instant photos online?
With our online passport photo tool, you can get a biometric photo for your passport in less than 3 minutes.
Capture or upload your photo
It's super simple - take a selfie or upload a photo, and let our AI tool take care of the rest.
AI processes the image
Our AI tool will remove any unwanted background and resize your photo to the official passport photo dimensions.
AI photo verification
The AI tool will carry additional checks on the photo to make it compliant and ready for submission.
Get digital or print photos
Get your biometric photos in digital copy or have the printouts delivered to your doorstep within a few days.
How to take a clear photo?
Have you ever wondered how to take the perfect passport photo? No need to look further; these instructions will help you achieve biometric Philadelphia passport photos in minutes.
Use a plain background
Use a plain background with no objects behind your back. Stand at least 2m away from the background to avoid shadows behind you.
Keep your posture straight
Maintain a straight posture and fit your head, shoulders, and upper body into the photo. Remove your glasses before taking the picture.
Maintain a neutral facial expression
Make sure your whole face is visible. Keep your hair away from your face and look straight at the camera with a plain expression.
Basic Philadelphia Passport Photo Guidelines
Glasses
Smiling
Image retouching
Wearing uniform and hat
Philadelphia passport photo requirements
How much does a passport photo cost in Philadelphia?
The passport photo service in Philadelphia can cost anywhere between $5 to $20, depending on where you are taking your pictures. For convenience, visit the most well-known locations, such as CVS, Walgreens, Walmart, Target, etc.
The cheapest and most convenient retail store for passport photos in Philadelphia is Sam's Club; it costs around $5.31 for two 2x2-inch passport pictures.
The most expensive retail store options are Walgreens and CVS Photos for passport images. Both charge $16.99 for two sets of photos.
And for a general price overview, here are some of the places you can look into: (from ascending to descending order)
| Service: | Cost: |
| --- | --- |
| Sam's Club | $5.31 |
| Walmart | $7.44 |
| Rite Aid | $8.99 |
| Target | $9.99 |
| UPS | $11.99 |
| AAA | Basic members pay $10, and non-members pay $15 |
| FedEx | $14.95 |
| Staples | $14.99 |
| Office Depot | $14.99 |
| Postal Annex | $15 |
| USPS | $15 |
| Walgreens | $16.99 |
| CVS Photos | $16.99 |
Where to get a passport photo in Philadelphia, PA?
Finding a reliable option for your passport photos in Philadelphia can get overwhelming as there are too many options. However, you may need more time to hunt down the places for your passport pictures. To make the process for a passport photo easier, you can visit known places like CVS, Walgreens, and Walmart, saving you time and getting quality service for your money.
If you are in no hurry, research before deciding on any place.
You can ask your friend to take pictures for the most convenient and economical option. Or grab a phone, set it up, and take the images yourself. And get them printed from the nearest printing store.
You can also walk to the nearest passport photo booth in PA and have your passport pictures in roughly 15 minutes. It is one of the cheapest options for Philadelphia passport photos. You can put in your coins and capture as many images as you desire until you get the one you like.
Passport photo locations in Philadelphia
Photo service providers are located throughout Philadelphia. While all these locations offer the services you need, efficiency, customer service quality, and associated fees can significantly vary from place to place.
Here are some places to get your passport pictures:
Retail and Convenience Stores
Choosing retail and convenience stores can save you from hassle and inconvenience. Stores like Walmart and Target are famous for their affordable passport photo services, typically priced under $10. You can use the store locator option on their website to find the nearest branch in your locality. It is important to call ahead and inquire about store timings, cost, and if they provide passport picture service.
Here are some of the locations and details for retail stores:
Walmart:
| Address | Contact |
| --- | --- |
| 1675 S Christopher Columbus Blvd, Philadelphia, PA 19148 | (215) 468-4220 |
| 2200 Wheatsheaf Ln, Philadelphia, PA 19137 | (215) 613-2236 |
| 4600 Roosevelt Blvd Bldg G, Philadelphia, PA 19124 | (215) 288-0700 |
| 4301 Byberry Rd, Philadelphia, PA 19154 | (215) 281-3159 |
| 9745 Roosevelt Blvd Ste A, Philadelphia, PA 19114 | (215) 698-0350 |
| 1000 Easton Rd #200, Wyncote, PA 19095 | (215) 887-6737 |
| 50 N MacDade Blvd, Glenolden, PA 19036 | (610) 583-2682 |
Target:
| Address | Contact |
| --- | --- |
| 1900 Chestnut St, Philadelphia, PA 19103 | (215) 399-3719 |
| 1020 Broad St, Philadelphia, PA 19146 | (215) 201-3956 |
| 456 N 5th St, Philadelphia, PA 19123 | (215) 201-3627 |
| 4000 Monument Rd, Philadelphia, PA 19131 | (267) 233-5020 |
| 1 Mifflin St, Philadelphia, PA 19148 | (215) 463-7311 |
| 2001 Pennsylvania Ave, Philadelphia, PA 19130 | (215) 789-3020 |
| 2701 Castor Ave, Philadelphia, PA 19134 | (215) 305-9050 |
Drug Stores and Pharmacies
Drug stores and pharmacies are the most efficient place for passport photo service, and they will get your pictures taken and printed out in 15 to 20 mins. And it's a walk-in service, so you do not have to worry about booking an appointment. CVS and Walgreens are among the most used pharmaceutical places known for their professional service.
Here are some locations and details for drug stores and pharmacies:
CVS:
| Address | Contact |
| --- | --- |
| 1405 S 10th St, Philadelphia, PA 19147 | (215) 465-2130 |
| 490 N Broad St Suite 100, Philadelphia, PA 19130 | (215) 430-5757 |
| 3300 S Broad St, Philadelphia, PA 19145 | (215) 463-0891 |
| 1826 Chestnut St, Philadelphia, PA 19103 | (215) 972-0909 |
| 1046 Market St, Philadelphia, PA 19107 | (215) 592-1543 |
| 1717 N 12th St Unit F, Philadelphia, PA 19122 | (215) 235-2001 |
| 2132 South St, Philadelphia, PA 19146 | (215) 772-1260 |
Walgreens:
| Address | Contact |
| --- | --- |
| 1101 Locust St, Philadelphia, PA 19107 | (215) 629-5690 |
| 4201 N Broad St, Philadelphia, PA 19140 | (215) 457-3877 |
| 1617 John F Kennedy Blvd, Philadelphia, PA 19103 | (215) 561-1316 |
| 2014 S Broad St #24, Philadelphia, PA 19145 | (215) 551-3818 |
| 2310 Oregon Ave, Philadelphia, PA 19145 | (215) 468-2481 |
| 1800 South St, Philadelphia, PA 19146 | (267) 273-7585 |
| 1607 Bridge St, Philadelphia, PA 19124 | (215) 537-0169 |
Photo Studios and Post Office
Post offices and photo studios are also hassle-free and efficient places for passport photos. All you have to do is book an appointment, and their staff will capture and print your passport pictures within minutes. While slightly more expensive than retail stores, they often provide comprehensive assistance, including application submission.
To cut down your research, here are some photo studios and United States Post Offices (USPS) in Philadelphia you can visit:
1. USPS Locations:
Address:
622 S 4th St Ste 1, Philadelphia, PA 19147
1234 Market St, Philadelphia, PA 19107
2037 Chestnut St Fl 1, Philadelphia, PA 19103
2601 N 16th St, Philadelphia, PA 19132
1299 N 7th St, Philadelphia, PA 19122
1500 John F Kennedy Blvd Ste C31, Philadelphia, PA 19102
316 Market St, Philadelphia, PA 19106
4350 N Front St, Philadelphia, PA 19140
7300 Lindbergh Blvd. Frnt, Philadelphia, PA 19153
2. Photo Studios:
| Studio Name: | Address: | Contact: |
| --- | --- | --- |
| Celebrations Photography, photo studio | 1916 Welsh Rd #4, Philadelphia, PA 19115 | (215) 850-0809 |
| PhotoLounge | 130 S 17th St, Philadelphia, PA 19103 | (267) 322-6651 |
| Family Photo Studio | 2829 Cedar St B, Philadelphia, PA 19134 | (856) 265-9210 |
| Indie Photo | 206 E Girard Ave, Philadelphia, PA 19125 | (267) 758-5198 |
| Unique Photo | 28 S 2nd St, Philadelphia, PA 19106 | (215) 608-2222 |
| Hodgepodge Studios | 1730 N 5th St, Philadelphia, PA 19122 | (267) 242-4830 |
Pixelied's Passport Photo Tool
Most people have switched to online options for their passport photos, as they are easy to use, quick, and affordable. Pixelied's passport picture tool instantly edits, crops, and prints your passport pictures to fit the U.S. State Department's requirements.
What are the requirements at the nearest Philadelphia passport photo location?
The passport photo requirements are set by the U.S. government, not the photo studio itself, so it is essential to follow all the guidelines. Getting your passport pictures rejected can make the process longer, and you will only be permitted a U.S. passport for traveling once you submit a new set of photos.
Let's get into the basic requirements of preparing yourself when getting your passport pictures clicked:
Keep your hair at the back; it would be great if you tie it up (optional) to avoid your hair from covering any part of your face.
Wear light makeup with no bold colors or shimmer, as it might not let the camera capture your natural facial features and skin tone.
Make sure your eyes are visible and remove anything covering them, whether tinted glasses, sunglasses, or eyesight glasses.
You can keep your piercings as long as they are not covering or hiding your face.
Choose dark colors for your clothing to avoid blending with a white background, like black, dark blue, brown, etc.
Neutral facial expressions would be better than smiling. But that does not mean that you should frown. Keep a straight face, do not tighten your muscles, keep your chin up, and look straight into the camera.
Permanent tattoos are acceptable.
Sit straight, pull back your shoulders to get into a perfect posture, and then look directly into the camera.
Your ears should be visible, so tuck in your hair behind your ears unless you are wearing a headscarf for medical or religious reasons.
Ensure your eyes are open and your mouth closed when the picture is captured.
How to print a passport photo in Philadelphia?
Printing your passport photos out might be the easiest step, but it still has a few requirements. You will not have to worry about this step if you get your pictures snapped from a retail store or any other place that offers the whole package of professional photography and prints.
If you already have digital copies of your passport pictures, you can visit the nearest printing shop and get them printed. You can also get it printed at home but make sure you get two copies of your pictures, in 2x2 inches dimensions, on a good quality paper (glossy sheet).
You can also choose a retail store like Walgreens or CVS that delivers print copies. All you have to do is send them your pictures online; they'll adjust and provide the best-quality picture copies back to you.

Take Passport Photos in Philadelphia Online
Avoid the inconvenience of physical stores for passport photos in Philadelphia—Leverage Pixelied's online tool to craft premium-quality passport images right at home. Enjoy the affordability, skip the lines, and relish the convenience of home delivery. With Pixelied, a quick upload is all that stands between you and a speedy, effortless, and budget-friendly passport picture solution.
Frequently Asked Questions
You can choose places according to your requirements and budget. If you are in a hurry, go for photo booths like Photo Moment Photo Kiosks, and you will have your photos in no time. For cheap passport pictures, go to retail stores like Target, Walmart, and CVS, or order prints online. And if you're also looking to initiate your passport application, visit USPS or FedEx.
You can get the most affordable passport pictures in Philadelphia using Pixelied's passport photo tool. Simply take your photo using your phone and upload it to Pixelied. It will automatically process the image, after which the prints can be conveniently delivered straight to your home.
The quickest and hassle-free way of getting your pictures would be the photo booths in Philadelphia. The photo capture process could take as little as five minutes, barring multiple retakes, with an additional two minutes for printing. If it doesn't suit your needs, retail stores such as Walmart, Target, and CVS are viable alternatives for speedy service.
Every place that provides adult passport photo services would also offer the service for babies. If you feel that is not the case in photo studios near you, you should call and ask them before going, as the photo for an infant differs slightly from adult passport pictures.
Yes, you can take your own passport pictures by setting up the camera on a stand and then keeping a self-timer to capture your photographs. It should not be a selfie, as that will get rejected by the passport agency.
No, you must keep your expressions neutral when taking the picture. You cannot smile because showing teeth in a passport photo is prohibited. Hence, it is preferable to avoid smiling altogether.
It is not mandatory to show ears in the passport photo. People who cover their heads for religious or medical reasons are not subject to any restrictions from the U.S. State Department. You only need to submit a letter with your passport application to avoid rejection.
Yes, you can wear lipstick in your passport photo. However, it's important to note that the U.S. Department of State's guidelines require that your appearance in the picture match how you typically appear in daily life. Any alterations that significantly change your appearance should be avoided. For example, avoid heavy makeup or bright colors that might distort your usual appearance.
Yes, pharmacies take passport images. You can take passport photos in Philadelphia from pharmacies like CVS or Walgreens. The cost of two passport-sized images ranges from $9.99 to $16.99. The pictures are compliant with the State Department guidelines.
Yes, you can snap your passport photos from any phone. Make sure your phone has HD camera quality. The pictures should not be grainy or pixelated, as a bad-quality passport picture can cause the rejection of your passport application. Get the picture clicked yourself with the help of a tripod, or ask a friend to help you out.