Get Passport Photos in Irvine
Get the perfect biometric passport pictures in Irvine with guaranteed acceptance in seconds!
100% Compliance Guaranteed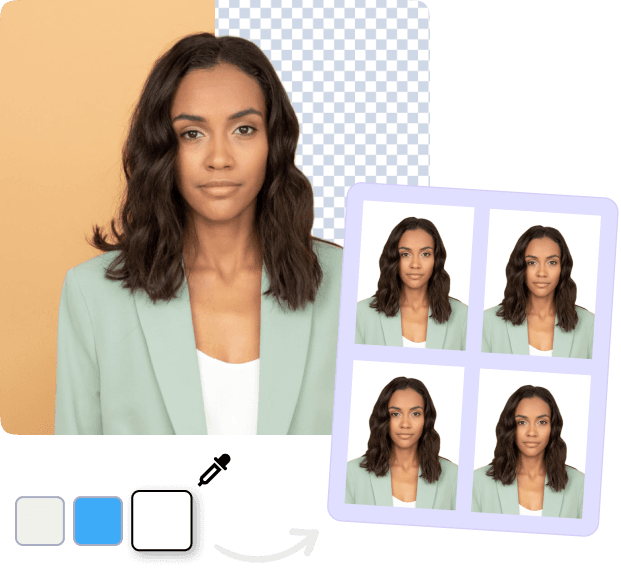 How to get instant photos online?
With our online passport photo tool, you can get a biometric photo for your passport in less than 3 minutes.
Capture or upload your photo
It's super simple - take a selfie or upload a photo, and let our AI tool take care of the rest.
AI processes the image
Our AI tool will remove any unwanted background and resize your photo to the official passport photo dimensions.
AI photo verification
The AI tool will carry additional checks on the photo to make it compliant and ready for submission.
Get digital or print photos
Get your biometric photos in digital copy or have the printouts delivered to your doorstep within a few days.
How to take a clear photo?
Have you ever wondered how to take the perfect passport photo? No need to look further; these instructions will help you achieve biometric Irvine passport photos in minutes.
Use a plain background
Use a plain background with no objects behind your back. Stand at least 2m away from the background to avoid shadows behind you.
Keep your posture straight
Maintain a straight posture and fit your head, shoulders, and upper body into the photo. Remove your glasses before taking the picture.
Maintain a neutral facial expression
Make sure your whole face is visible. Keep your hair away from your face and look straight at the camera with a plain expression.
Basic Irvine Passport Photo Guidelines
Glasses
Smiling
Image retouching
Wearing uniform and hat
Irvine passport photo requirements
How much does a passport photo cost in Irvine?
To take passport photos in Irvine, you may need to pay anywhere between $5 to $20. The cost involves taking a professional photograph and printing two pictures in 2x2 inches.
You can also use an online passport photo tool to save an extra chunk of your money. Online tools such as Pixelied provide shipping services to deliver photos to the doorstep.
Instead of using a professional photography service, you can also take and print your passport pictures at home. For this, you must follow all the technical guidelines for passport photos specified by the U.S. Department of State.
The price charged by some of the popular stores to capture and print passport pictures in Irvine is as follows:
| Location | Price |
| --- | --- |
| Sam's Club | $5.31 |
| Walmart | $7.44 |
| Rite Aid | $8.99 |
| Target | $9.99 |
| UPS | $11.99 |
| AAA | Basic members pay $10, and non-members pay $15 |
| FedEx | $14.95 |
| Staples | $14.99 |
| Office Depot | $14.99 |
| Postal Annex | $15 |
| USPS | $15 |
| Walgreens | $16.99 |
| CVS Photos | $16.99 |
How to use Pixelied's online passport photo tool?
Pixelied is an online tool that can convert an image into a professional-quality passport photo. It also helps to create passport images within a few minutes without leaving your home, as it provides delivery services.
Here is all you need to know on how to use the tool:
Capture a Photo
Take a clear image and upload it on Pixelied. You can also upload a previously taken photo. Make sure that it is at most 6 months.
Auto Adjustments
The tool will automatically convert your picture into a passport image by making necessary adjustments, such as resizing the image, changing the background, or correcting photo orientation.
Pay for Service
To proceed further, you have to place an order to download digital photos.
Get Printed Photos
To get printed photos, you must specify the number of copies and address details for receiving the printouts at your doorstep.
Passport photo locations in Irvine
To help you get a passport photo in Irvine, we have established a detailed list of photo store options. Visit any of the following Irvine passport photo centers to take your perfectly sized passport pictures:
1. CVS
Some of CVS photo center's locations in Irvine are:
Address
Contact Details
Store Hours
3981 Irvine Blvd, Irvine, CA 92602,
United States
+1 714-368-0991
Monday to Sunday: 7 am - 11 pm
6775 Quail Hill Pkwy, Irvine, CA 92603,
United States
+1 949-823-8915
Monday to Saturday: 7 am - 10 pm
Sunday: 7 am - 9 pm
17625 Harvard Ave, Irvine, CA 92614,
United States
+1 949-261-5690
Monday to Sunday: 7 am - 11 pm
2. UPS
Some UPS store locations in Irvine are:
Address
Contact Details
Store Hours
Northwood Town Center
Address: 4790 Irvine
Blvd Suite 105, Irvine, CA 92620, United States
+1 714-730-5721
Monday to Friday: 8:00 am - 6:00 pm
Saturday: 8:00 am–4:00 pm
Sunday: 10 am–3 pm
Cypress Village Shopping Center
Address: 14271 Jeffrey Rd, Irvine,
CA 92620, United States
+1 949-552-6649
Monday to Friday: 8:00 am - 7:00 pm
Saturday: 9 am–5 pm
Sunday: 11 am t- 4:00 pm
Los Olivos Marketplace | Irvine Spectrum
Address: 8583 Irvine Center
Dr, Irvine, CA 92618, United States
+1 949-336-7724
Monday to Friday: 8:30 am - 6:30 pm
Saturday: 9 am–5 pm
Sunday: Closed
3. Walmart photo center
Walmart is the best option to get cheap passport photos in Irvine. It only charges $7.44 for pictures.
Address
Contact Details
Store Hours
16555 Von Karman Ave, Irvine, CA 92606
(949) 623-7473
Monday to Saturday: 8:30 am - 10:00 pm
Sunday: 9:30 am - 8:00 pm
4. Photo Boutique
Photo Boutique locations in Irvine are:
Address
Contact Details
Store Hours
1600 Dove St Suite 113, Newport Beach, CA 92660,
United States
Areas served: Orange County and nearby areas
+1 949-854-3456
Monday to Friday: 10 am to 6 pm
Saturday & Sunday: Closed
What are the requirements at the nearest Irvine passport photo location?
The requirements for taking a passport photo at the nearest Irvine passport photo center are described below.
Photo Dimensions
The passport picture size is 2x2 inches (i.e., 51 x 51 mm).
The head size in the photo should be between 1 – 1 3/8 inches from the top of the head to the bottom of the chin.
The image quality should be of high resolution. Blurred, pixelated, or unclear images cannot be used as passport photos.
The image should be printed on glossy or matte photo paper.
Photo Background
The background of the picture can be either white or off-white.
Do not use any filters on passport pictures.
Selfies are prohibited for submission as a passport photo.
Facial Expressions
The facial expressions in the passport picture should be neutral.
Take photos with both eyes fully open and mouth closed.
Face the camera directly by looking at the camera's lens while taking pictures.
Dress, Hats, and Head Coverings
You cannot wear a uniform, camouflage, or extravagant clothing.
You cannot wear glasses, headphones, head coverings, hats, or other hands-free devices. However, you can use headscarves for religious or medical reasons. For this, you need to provide an approved application specifying the reasons for doing so.
Tattoos, Jewelry, and Facial Piercings
You can use small jewelry for photos, but it should not cover your face.
Permanent tattoos are allowed for pictures.
How to print a passport photo in Irvine?
To get a print of your digital passport photo in Irvine, you can visit any nearest print or photo center. Here is what you need to do:
Copy the digital passport picture on a USB drive and take it to the shop.
Ask the staff to print a 2x2-inch colored passport photo.
Ensure that they use good-quality glossy paper to print your pictures.
Pay the fee and get your snaps.
Tip: You can also order printouts online to your doorstep using Pixelied's passport picture app. All you have to do is upload your image and provide your details. The prints will be delivered in 3-4 business days.

Take Passport Photos in Irvine Online
Step into a new era of convenience with Pixelied for your passport photos in Irvine. Instead of navigating through store hours or queues, simply upload a picture. Our sophisticated software ensures your image complies with U.S. passport standards. Make Pixelied your passport picture solution, reimagining the process into a swift, effortless experience.
Frequently Asked Questions
To take passport photos in Irvine, visit CVS, UPS, FedEx, Postal Annex, Photo Boutique, Walmart, or any other local photo studio. Pixelied is another option to get your passport photos online. Moreover, you can take a photo of yourself at home by fulfilling U.S. passport picture guidelines and get it printed from a nearby shop to submit along with your passport application.
Visit Walmart photo center to get cheap passport photos in Irvine. The price charged by Walmart is only $7.44. However, before visiting any nearest Walmart in your area, you must confirm whether it has a photo center. You can contact them over the phone or via the online chat option to confirm the availability of passport photo services. Pixelied is yet another feasible yet cheap option to take your passport snaps.
Taking a passport photo in Irvine costs around $7.44 to $25. The price depends on which photo center you visit to get your photos. CVS and Walgreens' price for passport pictures is $16.99. Walmart only charges $7.44. The Photo Boutique cost for taking passport photos is $25.
To get your baby's passport photos in Irvine, go to PostalAnnex, CVS, UPS, Photo Boutique, Walmart photo center, or Walgreens. However, booking an appointment before the visit is advisable to avoid any inconvenience of waiting during rush hours. Ensure that the baby is awake and not in a bad.
Yes, you can take your own passport photo. The process involves capturing a clear, full-face view image against a white or off-white background. You should wear regular clothing, and your face must have a neutral expression with both eyes open. Hats or head coverings should be avoided unless worn for religious reasons and don't obstruct your face. Following your country's specific passport photo requirements is crucial to ensure the photo is accepted.
The dress code can be anything you usually wear, but it must not be a uniform or camouflage attire. Do avoid wearing extravagant dresses for taking passport pictures. It is better to wear a color contrasting with the background.
In Irvine, the typical processing time for a standard passport application is between 4 to 6 weeks. For quicker processing within 2 to 3 weeks, expedited services are available for an extra fee. Always check the most current processing times and requirements from the U.S. Department of State.
Yes, many pharmacies, including major chains like Walgreens and CVS, offer passport photo services across the United States. Walgreens and CVS generally cost $16.99. Prices vary slightly by location and are subject to change, so it's always a good idea to check with your local pharmacy for the most current rates. The turnaround time is typically quick, and you can often get your photos taken and printed in the same visit.