Get Passport Photos in Atlanta
Get the perfect biometric passport pictures in Atlanta with guaranteed acceptance in seconds!
100% Compliance Guaranteed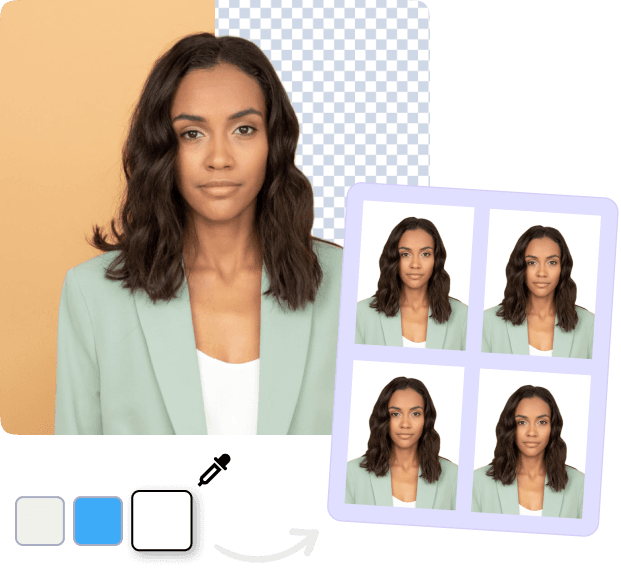 How to get instant photos online?
With our online passport photo tool, you can get a biometric photo for your passport in less than 3 minutes.
Capture or upload your photo
It's super simple - take a selfie or upload a photo, and let our AI tool take care of the rest.
AI processes the image
Our AI tool will remove any unwanted background and resize your photo to the official passport photo dimensions.
AI photo verification
The AI tool will carry additional checks on the photo to make it compliant and ready for submission.
Get digital or print photos
Get your biometric photos in digital copy or have the printouts delivered to your doorstep within a few days.
How to take a clear photo?
Have you ever wondered how to take the perfect passport photo? No need to look further; these instructions will help you achieve biometric Atlanta passport photos in minutes.
Use a plain background
Use a plain background with no objects behind your back. Stand at least 2m away from the background to avoid shadows behind you.
Keep your posture straight
Maintain a straight posture and fit your head, shoulders, and upper body into the photo. Remove your glasses before taking the picture.
Maintain a neutral facial expression
Make sure your whole face is visible. Keep your hair away from your face and look straight at the camera with a plain expression.
Basic Atlanta Passport Photo Guidelines
Glasses
Smiling
Image retouching
Wearing uniform and hat
Atlanta passport photo requirements
How much does a passport photo cost in Atlanta?
Passport photo prices in Atlanta typically range from $5 to $20, depending on the location. Numerous stores, pharmacies, and studios offer passport picture services.
Prominent locations for a passport image in Atlanta include Walgreens, Photo Marco Studio, CVS Photos, and FedEx. It is advisable to compare the costs associated with these options before deciding.
The cost of passport pictures in Atlanta depends on the quality of service provided. Additional services offered by the retailer could result in hidden charges in the overall cost. For instance, opting for a same-day pick-up may incur a slightly higher fee than an alternate-day pick-up option.
Here is an overview of the prices at some of the popular stores: (from ascending to descending order)
| Service: | Cost: |
| --- | --- |
| Sam's Club | $5.31 |
| Walmart | $7.44 |
| Rite Aid | $8.99 |
| Target | $9.99 |
| UPS | $11.99 |
| AAA | Basic members pay $10, and non-members pay $15 |
| FedEx | $14.95 |
| Staples | $14.99 |
| Office Depot | $14.99 |
| Postal Annex | $15 |
| USPS | $15 |
| Walgreens | $16.99 |
| CVS Photos | $16.99 |
Where to get a passport photo in Atlanta, GA?
In Atlanta, passport photos can be obtained from several places. One popular choice is Walgreens, which has numerous locations throughout the city. They provide services in compliance with the State Department requirements. Another option is Photo Marco Studio, a dedicated photography studio that offers professional passport picture services.
CVS Photos is another well-known retailer in Atlanta that provides passport photo services at their locations. FedEx stores in Atlanta also offer passport image services, ensuring accessibility for those in need.
It is important to note that these locations may have specific guidelines and pricing, so check their respective websites or contact them directly for accurate and up-to-date information.
Passport photo locations in Atlanta
Some other places to get a passport photo in Atlanta are as follows:
Retail and Convenience Stores
Retail and convenience stores in Atlanta often offer passport picture services. One popular option is Walmart, with multiple locations across the city. Some branches have dedicated photo kiosks to capture snaps that meet the required specifications. Two alternate options are Staples and Target.
Drug Stores and Pharmacies
In addition to retail stores, drug stores and pharmacies in Atlanta can be convenient places to get a passport photo. For example, CVS, Walgreens, and Rite Aid are well-known pharmacy chains that offer passport photo services at selected locations. They have trained staff who can assist in capturing your passport photo according to the State Department guidelines.
Photo Studios and Post Office
Professional photo studios in Atlanta, such as Photo Marco Studio, specialize in capturing passport pictures. These studios have experienced photographers who understand the requirements for passport images and can ensure high-quality results. Some post office locations in Atlanta also provide on-site passport photo services, making it a convenient one-stop solution for passport application needs.
Pixelied's Passport Photo Tool
In Atlanta, passport photos can be taken using Pixelied–an online passport picture tool if you prefer a digital alternative. You can upload your image; the software will automatically adjust and crop it to meet State Department's specifications. Once the image has been processed, you can order the prints to your house or get the digital version and print from a nearby shop.
When visiting any of the physical locations, it's important to double-check their specific guidelines, pricing, and availability of passport photo services, as they may vary slightly depending on the individual store or establishment.
What are the requirements at the nearest Atlanta passport photo location?
According to the official website of the U.S. State Department, the Atlanta passport photo requirements are the following:
Background, Size, and Photo Requirements
Photos must be 2′′ by 2′′ (5 cm by 5 cm) in size.
When measured vertically, the applicant's head photos must be between 1" and 1 ⅜" tall.
The photographs must be at most six months old.
The images must be taken on a white background.
The applicant must face the camera directly in a "full face" shot. The face should take up roughly 50% of the image, and they shouldn't be gazing down or to either side. Simply put, the applicant's head should be displayed, including both the face and hair, from the crown of the head to the tip of the chin on top and bottom, as well as from the hairline side to side. An essential requirement is that the photo must have neutral facial expressions.
Head Coverings and Glasses
Hats and head coverings are only permitted for religious reasons; even then, they cannot cover any part of the applicant's face. Except when medically necessary, glasses and other accessories covering the face are not permitted.
Appearance
Any kind of facemask that hides your face is not acceptable. A picture of someone wearing a traditional facemask or veil that makes it impossible to identify them correctly is unacceptable.
Photos of a military, airline, or other personnel wearing hats are not permissible. Pictures of applicants wearing ethnic costumes, national costumes, or any other type of headwear that is not expressly religious are not accepted.
Wear neutral colors and formal or semi-formal clothing.
How to print a passport photo in Atlanta?
To print passport photos in Atlanta, you can visit any of the following locations and ask them to print a passport picture for you:
The UPS Store
Studio Space Atlanta West
Staples
DNR CUSTOMS
Atlanta Passport Agency
Wolf Photo Design Bar
Rush My Passport
Stepwise Guide for Printing a Passport Photo
To print a passport photo in Atlanta, follow these five steps:
Capture a suitable passport photo: Ensure your photo meets the required specifications, such as the correct size, background color, and lighting. You can take the picture yourself or at a dedicated passport image service in Atlanta.
Select a printing service: Identify a reliable printing service that offers passport photo printing in Atlanta. This can include retail stores like Walgreens or CVS, dedicated photo studios, or online printing services.
Transfer the photo: If you have a digital copy of your passport image, transfer it to a USB drive, SD card, or other compatible storage medium.
Visit the printing service: Take your photo to the chosen printing service in Atlanta. If using an online printing service, follow their instructions for uploading your image.
Place your order and collect the printed photos: Provide the information and size specification for your printing order. Pay any applicable fees, and once the printing is complete, collect your printed passport photos.

Take Passport Photos in Atlanta Online
Forget about the stress of finding a store for passport photos in Atlanta. With Pixelied's online tool, make perfect passport pictures without leaving your house. Save both money and time and relish the convenience of having them delivered straight to your door. For a fast, affordable, and accessible solution to your passport image needs, choose Pixelied.
Frequently Asked Questions
Atlanta Passport Agency, Photo Marco Studios, Midtown Passport Acceptance Facility, Chuck Wolf's Photo Design Bar, and DNR Customs are some places where you can get a passport picture in Atlanta.
When it comes to cheap passport pictures in Atlanta, GA, Walmart stands out as the most affordable choice. With their in-store photo services, Walmart offers passport photos at a budget-friendly price of $7.44 for a professional photoshoot and two 2x2 inches passport-sized prints.
To obtain passport photos quickly in Atlanta, there are several options available. Consider visiting retail stores like Walmart or CVS Pharmacy, which offer expedited passport picture services. Additionally, you can explore dedicated photography studios that specialize in providing fast turnaround times.
Many pharmacies and photo studios offer baby passport picture services in Atlanta, including Walgreens, CVS, Rite Aid, and Target, as well as independent photography studios.
Yes, you can take your own picture for a passport. It must meet the requirements specified on the official U.S. State Department website, including a 2x2 inches color photo taken in the last six months against a plain white or off-white background.
Yes, you can use your phone to take a passport image. Ensure good lighting, a plain white background, and a stable phone stand. Follow the required size and pose specifications, and ensure neutral facial expressions.
As per the official U.S. Department of State's website, smiling is prohibited in passport images. You must maintain a neutral expression in your passport photo. A neutral expression ensures that facial features, including the eyes and mouth, are visible and not obscured.
Unfortunately, obtaining a passport in 24 hours in Atlanta is not possible. According to the U.S. Department of State, the fastest way is through an expedited service, which can take up to 3 weeks. If you need it in less than three weeks, visit a Regional Passport Agency and apply for an emergency passport.
Pharmacies like Walgreens, CVS Pharmacy, and Rite Aid offer passport photo services. Walgreens and CVS Pharmacy charge $16.99 for a set of two passport photos, while Rite Aid provides passport pictures at $8.99.
Yes, you can use Walgreens photo services for your passport. It meets the requirements set by the U.S. Department of State, such as sizing, background, and lighting for passport photos. Simply visit a Walgreens store to get your passport picture taken professionally.