Get Passport Photos in San Diego
Get the perfect biometric passport pictures in San Diego with guaranteed acceptance in seconds!
100% Compliance Guaranteed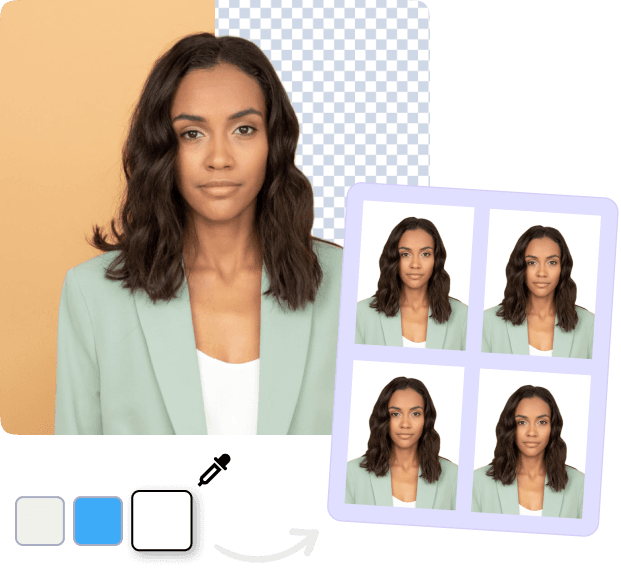 How to get instant photos online?
With our online passport photo tool, you can get a biometric photo for your passport in less than 3 minutes.
Capture or upload your photo
It's super simple - take a selfie or upload a photo, and let our AI tool take care of the rest.
AI processes the image
Our AI tool will remove any unwanted background and resize your photo to the official passport photo dimensions.
AI photo verification
The AI tool will carry additional checks on the photo to make it compliant and ready for submission.
Get digital or print photos
Get your biometric photos in digital copy or have the printouts delivered to your doorstep within a few days.
How to take a clear photo?
Have you ever wondered how to take the perfect passport photo? No need to look further; these instructions will help you achieve biometric San Diego passport photos in minutes.
Use a plain background
Use a plain background with no objects behind your back. Stand at least 2m away from the background to avoid shadows behind you.
Keep your posture straight
Maintain a straight posture and fit your head, shoulders, and upper body into the photo. Remove your glasses before taking the picture.
Maintain a neutral facial expression
Make sure your whole face is visible. Keep your hair away from your face and look straight at the camera with a plain expression.
Basic San Diego Passport Photo Guidelines
Glasses
Smiling
Image retouching
Wearing uniform and hat
San Diego passport photo requirements
How much does a passport photo cost in San Diego?
The cost of passport photos in San Diego can vary from $5.34 to $16.99, depending on what retailer you are using. Walgreens, CVS, Rite Aid, USPS, and many others are popular options most frequently used by the general public.
The total cost of the passport photo will depend on the number of pictures you want printed and taken. Typically, CVS charges on the higher side, i.e., $16.99, whereas Walmart is comparatively affordable, i.e., $7.44. All these retailers strictly follow the guidelines laid down by the U.S. government.
Another cost-effective method for printing passport photos is to take a picture at home using a phone and print it using a nearby printing shop. Print the images on high-quality matte or glossy paper in dimensions of 2x2 inches (51x51 millimeters).
And for a general price overview, here are some of the places you can look into: (from ascending to descending order)
| Service: | Cost: |
| --- | --- |
| Sam's Club | $5.31 |
| Walmart | $7.44 |
| Rite Aid | $8.99 |
| Target | $9.99 |
| UPS | $11.99 |
| AAA | Basic members pay $10, and non-members pay $15 |
| FedEx | $14.95 |
| Staples | $14.99 |
| Office Depot | $14.99 |
| Postal Annex | $15 |
| USPS | $15 |
| Walgreens | $16.99 |
| CVS Photos | $16.99 |
Where to get a passport photo in San Diego, CA?
Many drug stores, retail, and convenience stores will take passport pictures in San Diego for you. The most commonly used ones are Walgreens, CVS, Rite Aid, USPS, and more. All these retailers follow official regulations and guidelines set by the State Department.
In general, Sam's Club is the least expensive at $5.31, whereas CVS often charges a higher price of $16.99, regardless of whether the picture is of an infant or an adult.
Alternatively, you can also have your passport picture taken online. Most apps modify and edit the photo to ensure it meets the U.S. State Department's regulations. Some online services, such as Pixelied, also offer doorstep delivery options with additional charges.
You can further save this cost if you have a color printer at home. Purchase a digital copy and print it on high-quality matte or glossy photo paper in 2x2 inches (51x51 in millimeters).
Passport photo locations in San Diego
San Diego has abundant passport image services, including photo booths, studios, retail centers, pharmacies, and post offices. You can get two 2" by 2" pictures for under $20 from these places. Let's find out more.
Retail and Convenience Stores
Most retail centers and convenience stores are often situated in busy commercial districts, shopping malls, or other central locations, ensuring easy reach for customers. In this regard, Target and Walmart can be beneficial because they offer the best rates: $9.99 and $7.44, respectively.
1. Walmart
As per the official website, there are about six Walmart outlets in San Diego.
| Store Name: | Address: | Contact Number: |
| --- | --- | --- |
| Neighborhood Market #5638 | 2121 Imperial Avenue | (619) 849-5729 |
| Store #2150 | 710 Dennery Road | (619) 428-4000 |
| Store #2177 | 3382 Murphy Canyon Road | (858) 571-6094 |
| Store #5338 | 4840 Shawline St | (858) 268-2885 |
| Store #5938 | 575 Saturn Blvd | (619) 205-6140 |
| Supercenter #2479 | 3412 College Ave | (619) 858-0071 |
2. Target
As per the store locator feature on Target's website, there are 5 Target stores in San Diego, California.
| Store Name: | Address: | Contact Number: |
| --- | --- | --- |
| Sports Arena | 3245 Sports Arena Blvd | (619) 223-2491 |
| Kearny Mesa | 8001 Othello Ave | (858) 576-1570 |
| Mira Mesa | 8251 Mira Mesa Blvd | (858) 530-1901 |
| San Diego Mission Valley | 1288 Camino Del Rio N | (619) 542-0025 |
| Lemon Grove | 3424 College Ave | (619) 471-0025 |
Drug Stores and Pharmacies
Drug stores and pharmacies are known for their affordability and availability. You can head to any area in San Diego, and there will always be either CVS, Walgreens, or Rite Aid nearby.
1. Walgreens
As per the official Walgreens website, many outlets exist in San Diego. We have shortlisted a few for your convenience in the table below.
| Store Name: | Contact Numbers: |
| --- | --- |
| 301 University Ave, San Diego, CA 92103 | 619-325-0423 |
| 925 Orange Ave, Coronado, CA 92118 | 619-435-6354 |
| 3222 University Ave, San Diego, CA 92104 | 619-528-1793 |
| 3005 Midway Dr, San Diego, CA 92110 | 619-221-0834 |
| 4029 43rd St, San Diego, CA 92105 | 619-521-9753 |
| 602 Euclid Ave, San Diego, CA 92114 | 619-321-1614 |
| 885 Euclid Ave, National City, CA 91950 | 619-267-1950 |
Photo Studios and Post Office
Getting passport pictures from photo studios and post offices ensures professional quality and adherence to the strict specifications required by the U.S. State Department. Additionally, they have the expertise and proper equipment to handle specific passport image requirements, such as correct lighting, white background, and perfectly-sized templates for printing.
1. Photo Studios
Visit these photography studios in San Diego to get high-quality passport pictures.
| Photo Studio: | Address: | Contact Number |
| --- | --- | --- |
| Hendo Studios | 4898 Ronson Ct Suite E, San Diego, CA 92111, United States | +18586213774 |
| Studio 88 by Annette J | 1640 Camino Del Rio N Space 322, San Diego, CA 92108, United States | +19093682869 |
| Studio710 | 710 13th St #300, San Diego, CA 92101, United States | +16192898358 |
Out of all three, Studio710 has the highest number of reviews and ratings on Google Maps.
2. USPS
As per the official USPS website, an appointment is needed at some USPS locations, so make sure to call ahead and confirm. You can locate a nearby office using the store locator feature. However, we have listed some places below for your convenience.
| USPS Locations : | Address: |
| --- | --- |
| San Diego Main Post Office | 11251 Rancho Carmel Dr, San Diego, CA 92199 |
| College Grove Post Office | 3425 College Grove Dr, San Diego, CA 92115 |
| Midway Carrier Annex Post Office | 2535 Midway Dr, San Diego, CA 92110 |
| Mira Mesa Post Office | 9051 Mira Mesa Blvd, San Diego, CA 92126 |
| North Park Post Office | 3795 31st St, San Diego, CA 92104 |
| Point Loma Post Office | 2733 Midway Dr, San Diego, CA 92110 |
Pixelied's Passport Photo Tool
People often find it daunting to step out of their comfort zone to get photos for their passports, which is why Pixelied's passport photo tool is at your service. Here is how you can make the most of this online tool:
Take a Photo: Stabilize your smartphone securely using a tripod and open the camera application. Switch to the rear camera (if it isn't already). Turn on the timer and capture a few images. Make sure your shoulders and face are visible in the photo. The picture should be taken on a white background.
Upload on Pixelied: Pick the best shot and upload it on Pixelied. The tool will run an A.I. check and adjust the image to ensure it meets the standards of the U.S. State Department.
Order Prints at Home: Signup on the website via email and order prints at home by entering your location.
What are the requirements at the nearest San Diego passport photo location?
The US State Department has laid basic instructions and guidelines for all San Diego passport photos. All retailers nearby know these regulations and will ensure your images comply with them.
Here are the following requirements when taking passport photos in San Diego:
Picture Background
Your picture must have a plain white background. White color creates a transparent background that helps distinguish your facial features.
Camera Positioning
There should be at least four feet distance between you and the camera.
Glasses
You must remove all eyeglasses for your photo; either you should have a prescription for it, or it may be best to remove your glasses for the picture to avoid any potential issues.
Makeup and Hairstyle
Keep your makeup light so it does not alter your facial features. If you have long hair, set it in a way that does not cover any part of your face, it will be better if you tie them up.
Expressions
You can smile without showing teeth and must maintain neutral facial expressions. Keep your eyes open and mouth closed. And face the camera directly to ensure it is visible.
Attire and Appearance
It is not permissible to wear a uniform, clothing that looks like a uniform, or any attire with a camouflage pattern. Your head must remain uncovered. Caps and other head coverings are not permissible unless you wear them for religious or medical purposes.
Accessories
Jewelry such as earrings, necklaces, or bracelets is usually allowed if they do not cover your face or cause any reflections or glare in the photo.
Electronic Items
Wearing headphones, earphones, or wireless hands-free or Bluetooth devices in your passport photo is not permissible.
Piercings and Tattoos
As long as your facial piercings do not cover your face, you are allowed to wear jewelry and don't have to remove them. Permanent tattoos are also acceptable for passport picture purposes.
Photo Size and Quality
Print your captured photos on high-quality paper, preferably a glossy sheet.
The acceptable passport photo size is 2" by 2".
Head must be between 1 -1 3/8 inches (25 - 35 mm) from the bottom of the chin to the top of the head.
Additional Tip: Refrain from editing your pictures after capturing them, as it can alter your facial features. You can crop or adjust your images using Pixelied's passport photo tool. However, image filters are not allowed.
How to print a passport photo in San Diego?
If you are printing a passport photo in San Diego, here are some simple steps:
Steps for Printing Passport Photos At Home
Use high-quality photo paper that is compatible with your printer.
Adjust your printer settings to ensure that the photo is printed at the correct size and resolution. Most printers have a "Print Properties" or "Print Settings" option that will allow you to adjust the size and quality of the print.
Load a glossy paper into the printer and select the option to print the photo. Ensure you print the picture at its original size and not resize it to fit the page.
Once the photo is printed, carefully cut around the edges. Ensure it meets specific size requirements for US passport photos, i.e., 2x2 inches.
And lastly, check the photo to ensure that it meets all the requirements for passport photos, including the size, background color, and lighting.

Take Passport Photos in San Diego Online
Skip the stress of in-person visits for passport photos in San Diego. With Pixelied's intuitive online platform, craft premium passport images without leaving your home. Enjoy substantial savings, evade long lines, and relish the convenience of doorstep delivery. Pixelied puts a swift, easy, and economical solution for your passport photo requirements just an upload away.
Frequently Asked Questions
You can take passport photos in San Diego at many drug stores, retail stores, convenience stores, and photo booths. Some popular options include Walgreens, CVS, Rite Aid, and USPS. They offer both printing facilities and professional photoshoots.
If you are looking for affordable options nearby, visit Walmart, Target, and Walgreens. However, Sam's Club is the least expensive place to take passport photos in San Diego at $5.34. You can also get it clicked from a nearby photo booth, saving you time and money.
Head straight to retail stores for efficient service to get passport photos done fast in San Diego. Places like Walgreens, CVS, and Target will provide perfectly sized, professional-quality passport photos that meet all U.S. regulations. And if you are in a hurry, they can print the pictures in one hour or less.
In San Diego, baby passport photos can be obtained at various places, including local pharmacies like Walgreens or CVS, which offer photo services. Professional photo studios are another option. Alternatively, consider an online service like Pixelied, where you can upload a photo to be formatted correctly and mailed to your doorstep.
Yes, you can take a passport picture on your own, as long as you follow all regulations set out by the U.S. State Department. Ensure your background is white with enough lightning on your face, and you have a tripod to position your camera correctly. You can also visit the State Department's website for further guidelines on attire, hairstyle, facial expressions, etc.
The cost of passport photos in a photo booth can vary greatly depending on the location and service. They typically range from $5 to $15 in the United States. It's best to check the current prices at the specific photo booth you plan to use.
For same-day passport photo services in San Diego, CA, consider visiting known locations such as Walgreens, CVS, Yebbo, and FedEx, all of which offer high-quality 2x2-inch passport photos. Alternatively, consider the convenience of taking your picture at home and having it printed at a local print shop. To ensure timely service, calling and confirming availability before heading to your chosen location is recommended.
According to the U.S. Department of State guidelines, glasses are prohibited in passport photos. This rule was implemented in November 2016 due to difficulties with facial recognition software. Exceptions are in circumstances where glasses cannot be removed for medical reasons. You would need to provide a signed statement with your passport application.