Get Passport Photos in Boston
Get the perfect biometric passport pictures in Boston with guaranteed acceptance in seconds!
100% Compliance Guaranteed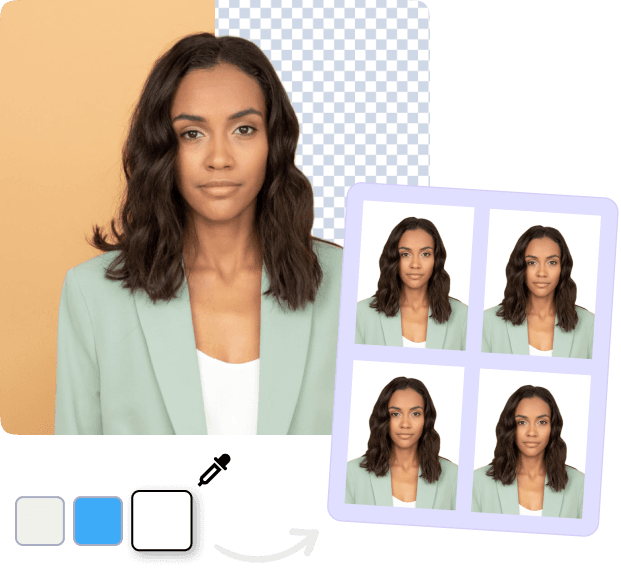 How to get instant photos online?
With our online passport photo tool, you can get a biometric photo for your passport in less than 3 minutes.
Capture or upload your photo
It's super simple - take a selfie or upload a photo, and let our AI tool take care of the rest.
AI processes the image
Our AI tool will remove any unwanted background and resize your photo to the official passport photo dimensions.
AI photo verification
The AI tool will carry additional checks on the photo to make it compliant and ready for submission.
Get digital or print photos
Get your biometric photos in digital copy or have the printouts delivered to your doorstep within a few days.
How to take a clear photo?
Have you ever wondered how to take the perfect passport photo? No need to look further; these instructions will help you achieve biometric Boston passport photos in minutes.
Use a plain background
Use a plain background with no objects behind your back. Stand at least 2m away from the background to avoid shadows behind you.
Keep your posture straight
Maintain a straight posture and fit your head, shoulders, and upper body into the photo. Remove your glasses before taking the picture.
Maintain a neutral facial expression
Make sure your whole face is visible. Keep your hair away from your face and look straight at the camera with a plain expression.
Basic Boston Passport Photo Guidelines
Glasses
Smiling
Image retouching
Wearing uniform and hat
Boston passport photo requirements
How much does a passport photo cost in Boston?
In Boston, passport photos cost between $4.99 and $19.99. The price mainly depends on the type of service you choose. For instance, you can get a biometric picture from Walmart at $7.44 or Walgreens at $16.99. The pricing varies depending on the quality of the service being offered.
Here's a general price overview for some of the places: (from ascending to descending order)
| Service: | Cost: |
| --- | --- |
| Sam's Club | $5.31 |
| Walmart | $7.44 |
| Rite Aid | $8.99 |
| Target | $9.99 |
| UPS | $11.99 |
| AAA | Basic members pay $10, and non-members pay $15 |
| FedEx | $14.95 |
| Staples | $14.99 |
| Office Depot | $14.99 |
| Postal Annex | $15 |
| USPS | $15 |
| Walgreens | $16.99 |
| CVS Photos | $16.99 |
Where to get a passport photo in Boston, MA?
There are several places in Boston where you can get a passport photo taken. Here are some options:
CVS Pharmacy: Many CVS locations in Boston have photo centers that offer passport photo services.
Walgreens: Walgreens stores with photo centers also provide passport picture services. There are several Walgreens locations throughout Boston.
UPS Store: Some UPS Store locations in Boston offer passport image services. You can check their website or call ahead to find a nearby store that provides this service.
Postal Annex: It is also another good option. In addition to taking your photo, they can also start the passport application process.
Before visiting any of these places, it's a good idea to call ahead to confirm their availability, any specific requirements, and the cost of getting a passport photo taken.
Passport photo locations in Boston
Boston is famous for taking hassle-free passport photos in Massachusetts, with several locations and affordable prices. Here are some of the best ones:
Retail and Convenience Stores
Retail and supermarkets are among the best locations for getting passport photos in downtown Boston. Visit Walmart or Target and get your pictures for $7.44 and $12.99, respectively.
Drug Stores and Pharmacies
CVS Health and Rite Aid Pharmacy are two of the most popular options for getting passport photos in Boston. We have mentioned the cost of passport pictures at these pharmacies below:
CVS Health passport picture cost: $16.99
Rite Aid Passport picture cost: $8.99
Photo Studios and Post Office
There are several photo studios and post offices in Brooklyn. You may get high-quality printouts of your passport photos and also have the pictures taken from these locations. Passport photos taken in a studio usually cost between $10 and $20.
Here are some of the photography studios in Boston providing passport photo services:
| Photo Studio: | Address: |
| --- | --- |
| Colortek of Boston | 727 Atlantic Ave, Boston, MA 02111 |
| Hunt's Photo & Video | 514 Commonwealth Ave, Boston, MA 02215 |
| Marfione Studio | 179 Washington St, Somerville, MA 02143 |
| Boston Photo Studio | 7 Meridian St, Boston, MA 02128 |
| New Box Studio | 358 Chestnut Hill Ave Suite 204B, Boston, MA 02135 |
On the other hand, post offices are also available in Boston. According to the USPS website, a passport photo taken at a post office would cost around $15.
Here are some of the USPS locations in Boston:
207 Massachusetts Ave, Boston, MA 02115
25 Dorchester Ave rm 1, Boston, MA 02205
133 Clarendon St, Boston, MA 02116
7 Ave de Lafayette, Boston, MA 02111
31 Milk St Lbby, Boston, MA 02109
136 Charles St, Boston, MA 02114
Pixelied's Passport Photo Tool
Pixelied's passport picture tool is among the least expensive options on our list of best passport picture locations in Boston. Here is how to get a passport photo using Pixelied:
Set a phone with a high-quality camera on a tripod or a stable place.
Ensure the shot is taken in good lighting and the background is white.
Stand at least 4 feet away from the camera after setting a timer.
Take a few clicks and then upload the best shot on Pixelied's website.
It will process the image and make it compliant with the State Department guidelines.
Once the picture has been processed, you can download the passport photo or get it delivered to your house.
What are the requirements at the nearest Boston passport photo location?
The U.S. Department of State specifies the requirements at the nearest Boston passport photo location, and we have listed them below:
Background, Size, and Format
According to the US Department of State criteria, passport photos must measure 2 x 2 inches or 5 x 5 centimeters.
White is the suggested backdrop color. It cannot contain any prints or textures.
The photo must be in color, unfiltered and unaltered.
JPEG is the only supported image format.
Appearance
Applicants are advised to wear semi-formal clothes with minimal makeup and jewelry.
If the passport application is to be uploaded in digital format, then adhere to the following specifications:
The aspect ratio of photographs for U.S. passports is square.
Image dimensions must be 1200 by 1200 pixels.
The image format must be JPEG.
The file size of the image must be at least 240 kilobytes.
The image must be in color. The preferred color scheme is sRGB.
Glasses, Hair, and Face
Sunglasses, lenses, and even corrective lenses are not allowed when taking your photo.
Ensure your eyes are wide open and your pupils and irises are visible in the photograph.
Avoid dragging your hair forward over your face.
To prevent the rejection of your photographs, act as naturally as possible. No face-obscuring headwear is permitted. If you are wearing a hijab or turban for religious reasons, explain in a letter and include this letter with your application.
You can apply for a U.S. passport online using the U.S. Department of State's online application portal, the Electronic Passport Renewal Application System (e-Passport). However, not all applicants are eligible to apply online, and you'll need to meet specific criteria to use this option, including:
You have a valid U.S. passport issued less than 15 years ago.
You were at least 16 years old when your current passport was issued.
Your current passport is not damaged or altered.
Your name is the same as or similar to the name on your current passport.
If you meet these criteria, you can apply for passport renewal online and receive your new passport by mail. You must apply in person using Form DS-11 if you are not eligible.
How to print a passport photo in Boston?
If you are looking for a simple way to print a passport picture in Boston, then here is a simple guide:
There are many drugstores, digital photo studios, corner shops, grocery retailers, and printers in the busy city of Boston. Any location may print your passport if you have a digital copy.
If you still need to get a passport photo, there are a lot of CVS passport photo locations in the city. For just $16.99, you can receive two 2x2-inch copies of your passport picture. Additionally, if you only want prints, you must pay an extra $2.99.
Your photo must be taken within six months and comply with the U.S. Department of State's requirements.

Take Passport Photos in Boston Online
Skip the struggle of visiting convenience stores to get passport pictures in Boston. With our easy-to-use online tool, create biometric passport images right at home, perfectly aligned with U.S. State Department regulations. Simply upload your photo, and let us handle the rest. Experience convenience like never before with Pixelied.
Frequently Asked Questions
There are many options in Boston to take a passport photo, such as CVS, Target, Walmart, FedEx, Postal Annex, etc. You can even head to the nearest digital photo studio for a passport picture. If you are using any of these services, it will cost between $4.99 to $19.99. The price may vary depending on the type of service you choose.
Walmart offers the cheapest and quickest passport photo services in Boston, MA. For just $7.44, you can get two 2x2 passport pictures and a photo shoot. Before heading, it is better to call and inquire about their timings, operational hours, and if the branch provides passport photo services.
If you are on a tight deadline and need to get a passport photo in Massachusetts quickly, take your picture at home using a phone and then get it printed using Pixelied's passport picture tool. It will automatically make the image compliant with the State Department guidelines.
You can take a baby passport photo in Boston at home or any place that offers adult passport photos. If you're taking it at home, ensure your baby's passport picture is a frontal, full-facial shot and is on a white background. Further, babies do not need to open their eyes or look at the camera. However, their head must be centered in the picture with a white background.
Yes, you can take passport pictures independently with a smartphone, high-quality camera, good lighting, and white background. The photo must comply with the requirements laid out by the U.S. Department of State. Your face and shoulders should be fully visible. The image should be occupied with 70% to 80% of your head.
No, you cannot smile in the U.S. passport photo because it can alter some features of your face. Keeping your teeth hidden and eyes open is a crucial requirement. It is best to keep your expressions neutral and your eyes wide open for the camera to avoid rejection from the passport office.
No, Walgreens passport photos are not free. The cost of a Walgreens passport photo is $16.99. You can get two 2" by 2" high-quality photographs that comply with the U.S. Department of State regulations at this price.
As of 2021, Costco no longer offers in-store passport photo services. Consequently, they have shut down their photo centers. Customers must explore alternative options such as Walgreens, CVS, Rite Aid, or Walmart for obtaining passport pictures.
Many people prefer taking a photo at home and consider it the cheapest form of getting a passport photo in Boston. But you can also use convenience stores and pharmacies such as CVS, Walmart, Walgreens, or Rite Aid. There are also digital studios and post offices. These options should cost you at most $19.99 for a photo shoot and two professional-grade prints.
Yes, you can take a passport photo with a phone. All you need is a phone with a high-quality camera, white background, good lighting, and a stand to keep your phone stable. Once captured, simply upload the photo to Pixelied's online passport picture maker, where you can easily convert it into a biometric passport image.