Get Passport Photos in Portland
Get the perfect biometric passport pictures in Portland with guaranteed acceptance in seconds!
100% Compliance Guaranteed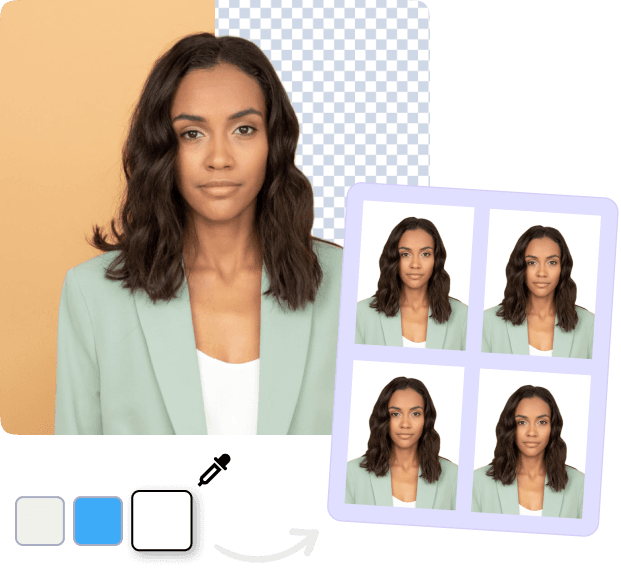 How to get instant photos online?
With our online passport photo tool, you can get a biometric photo for your passport in less than 3 minutes.
Capture or upload your photo
It's super simple - take a selfie or upload a photo, and let our AI tool take care of the rest.
AI processes the image
Our AI tool will remove any unwanted background and resize your photo to the official passport photo dimensions.
AI photo verification
The AI tool will carry additional checks on the photo to make it compliant and ready for submission.
Get digital or print photos
Get your biometric photos in digital copy or have the printouts delivered to your doorstep within a few days.
How to take a clear photo?
Have you ever wondered how to take the perfect passport photo? No need to look further; these instructions will help you achieve biometric Portland passport photos in minutes.
Use a plain background
Use a plain background with no objects behind your back. Stand at least 2m away from the background to avoid shadows behind you.
Keep your posture straight
Maintain a straight posture and fit your head, shoulders, and upper body into the photo. Remove your glasses before taking the picture.
Maintain a neutral facial expression
Make sure your whole face is visible. Keep your hair away from your face and look straight at the camera with a plain expression.
Basic Portland Passport Photo Guidelines
Glasses
Smiling
Image retouching
Wearing uniform and hat
Portland passport photo requirements
How much does a passport photo cost in Portland?
Passport photos in Portland are available for $5 to $20 at pharmacies, retail centers, post offices, and photography studios.
It's worth noting that some places may offer discounts or promotions on passport pictures, especially during certain times of the year or for certain groups of people, such as students, seniors, or military personnel.
Additionally, it's crucial to ensure that the passport image meets the requirements set by the U.S. Department of State, including specific size, composition, and lighting requirements.
Here are some places offering top-notch passport images in Portland:
| Service | Cost |
| --- | --- |
| Sam's Club | $5.31 |
| Walmart | $7.44 |
| Rite Aid | $8.99 |
| Target | $9.99 |
| UPS | $11.99 |
| AAA | Basic members pay $10, and non-members pay $15 |
| FedEx | $14.95 |
| Staples | $14.99 |
| Office Depot | $14.99 |
| Postal Annex | $15 |
| USPS | $15 |
| Walgreens | $16.99 |
| CVS Photos | $16.99 |
How to use Pixelied's online passport photo tool?
Picture this: no more inconvenient trips to crowded photo studios or waiting in never-ending queues. Our user-friendly platform allows you to easily upload your photo with automatic adjustments to meet all the requirements of the U.S. State Department.
Here's how to use Pixelied to get a professional-grade passport picture:
Open your web browser and navigate to Pixelied's website. Use the desktop version of the site for the best user experience.
Transfer the picture from your smartphone or camera to your computer. Upload your photo on the website, and processing the image will take a few seconds.
Ensure the selected photo meets the requirements, such as appropriate size, background color, and head position. And if it doesn't, the built-in A.I. will automatically adjust the image.
Once the photo has been adjusted and cropped, carefully review it to ensure it meets all the criteria for a passport photo, including proper lighting, shadows, and head position.
If everything looks good, order prints or download the image.
Top Two Reasons for Choosing Pixelied
Doorstep Delivery: Pixelied's passport photo tool offers a doorstep print delivery service. Provide your shipping address and any other necessary details for delivery. The prints will be processed and shipped to your specified address, saving you time and effort.
Automated Adjustment: Pixelied's passport image tool utilizes automatic adjustment features to enhance your photo. It adjusts common shortcomings, such as lighting issues, red-eye, or color corrections, ensuring your photo meets the necessary standards.
Passport photo locations in Portland
There are several ways to find passport photo locations in Portland, Oregon. Here are some methods:
Google Maps: You can use Google Maps to search for "passport pictures near me" or "passport photo locations in Portland." It will show you a list of places with their address, phone numbers, and customer reviews.
U.S. Department of State's Website: The U.S. Department of State's website provides a list of local acceptance facilities where you can apply for a passport. Many of these locations also offer passport photo services. You can search for acceptance facilities by zip code, city, or state on their website.
Passport Photo Location Finder: Some passport photo finders, such as the "Passport Photo Booth" app, can help you find a nearby facility using your location.
Online Directories: Several online directories list passport image locations in Portland, such as Yelp or Yellow Pages. You can search for "passport photo" on these directories to find a list of places in your area.
Call the Location: If you have a specific store or place in mind, you can call them directly to ask if they offer passport picture services.
Remember to check the U.S. Department of State's website for specific passport photo requirements before getting your photo taken.
What are the requirements at the nearest Portland passport photo location?
Here are the specific requirements for a U.S. passport photo at your nearest Portland passport photo location:
Background and Size
It must be 2 inches by 2 inches (51mm x 51mm) in size.
The image must be printed on glossy photo-quality paper.
The background of the photo must be plain white or off-white.
Appearance
The picture must be in color.
The photo must be taken within the last six months.
The applicant's head must be centered in the image, with neural expressions
The face must not be obscured by hair, clothing, or anything else.
Head Coverings, Clothing, and Glasses
Hats or head coverings cannot be worn except for religious purposes.
The applicant's face must be visible from the bottom of the chin to the top of the forehead, including both edges of the face.
The applicant is advised to wear everyday attire. Uniforms, camouflage, or clothing that resembles a uniform cannot be worn in the photo. The dress cannot be white or off-white, as it may blend in with the photo's background.
Prescription glasses may be worn with no glare on the lenses, and the eyes are visible.
Sunglasses or tinted glasses cannot be worn in the picture except in rare circumstances where a medical condition requires them to be worn.
How to print a passport photo in Portland?
Here is a step-by-step guide on printing Portland passport photos:
Step 1: Take Your Passport Photo
You can take a picture from a local passport photo location or use an app like Pixelied to take your photo. Ensure that your photo meets the U.S. Department of State's requirements.
Once you have taken the photo, save it on your device in JPEG format.
Step 2: Choose a Printing Service
Several printing services in Portland offer passport photo printing, such as FedEx, Walgreens, or CVS. Choose a location that is convenient for you.
Note: You can skip this step and navigate to the second part of this guide if you have a printer at home.
Step 3: Upload Your Photo
Once you have chosen a printing service, visit their website, and upload your photo to order prints. Follow the instructions on the website to ensure your picture is uploaded correctly.
Step 4: Select Print Size and Quantity
Choose the size and quantity of prints you need. For passport photos, you will need 2x2 inch prints.
Step 5: Review and Confirm
Review your order to ensure the print size and quantity are correct, and confirm your order.
Once your order is ready, you can pick up your photos at the printing service location. Make sure to bring a valid ID and any necessary payment.

Take Passport Photos in Portland Online
Transform the task of obtaining passport photos with Pixelied – your one-stop online solution in Portland. Forget about the constraints of store hours and physical locations. Just upload your picture, and Pixelied's innovative software ensures it meets the State Department specifications. Experience the freedom and convenience where your passport images are ready in a snap, anytime, anywhere!
Frequently Asked Questions
If you want to get passport photos in Portland, visit FedEx, Walgreens, CVS, or USPS. The cost of passport pictures may vary depending on the location and printing service. At FedEx, the cost of two passport photos is $14.95. At Walgreens, the cost of two images is $16.99. At CVS, they charge $16.99, and at USPS, the price is $15. You can also search for other local businesses that offer passport photo services.
The cost of passport photos may vary depending on the location and printing service. However, Pixelied is known to offer cheap passport photos in Portland. Simply upload a recent headshot and run it through the software, and we will give you a print-ready picture or deliver the prints to your doorstep.
Oregon passport photos can range from $5 to $20, depending on the printing place and location. FedEx charges $14.95, Walgreens takes two pictures for $16.99, while CVS and USPS charge $16.99 and $15, respectively. You can also search for other local businesses that offer passport photo services.
Several locations in Portland, Oregon, can help you acquire your baby's passport photo. The UPS Store, FedEx Office Print & Ship Center, and pharmacy chains like Walgreens or CVS typically offer such services. Be sure to call in advance to confirm the availability of infant passport picture services and to understand the procedures while always adhering to the U.S. Department of State's requirements for such photos.
Yes, you can take passport photos in Portland using a smartphone camera and make it U.S. State Department-compliant using an online tool like Pixelied. However, ensure the picture is taken against a white backdrop under good lighting.
As per the official website of the U.S. State Department, formal or semi-formal attire is allowed. Uniforms, camouflage, or clothing that resembles a uniform cannot be worn in the photo. Your dress color cannot be white or off-white, as it can clash with the photo's background.
The processing time for a passport in Portland, Oregon, can vary depending on the type of passport and the time of year. Generally, it takes 4-6 weeks for routine processing and 2-3 weeks for expedited processing. Urgent service can be costlier than standard service.
Yes, pharmacies like Walgreens and CVS offer passport photo services. If you're visiting a location providing passport photo services, call the nearest pharmacy and inquire. You can get their number from Google Maps or their website.