Get Passport Photos in Sacramento
Get the perfect biometric passport pictures in Sacramento with guaranteed acceptance in seconds!
100% Compliance Guaranteed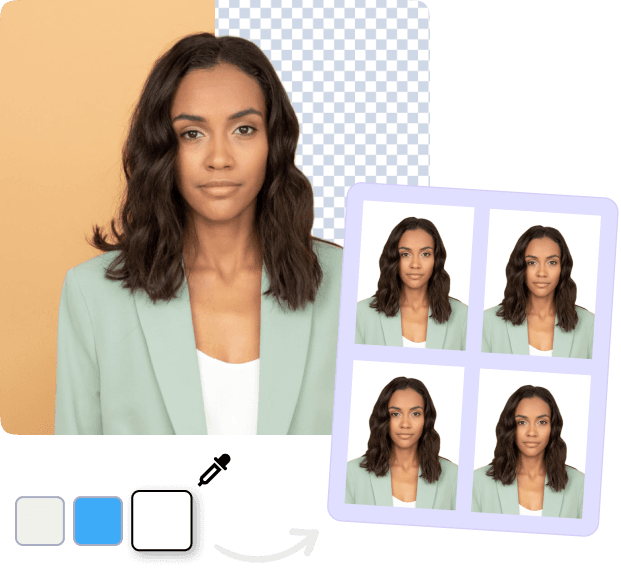 How to get instant photos online?
With our online passport photo tool, you can get a biometric photo for your passport in less than 3 minutes.
Capture or upload your photo
It's super simple - take a selfie or upload a photo, and let our AI tool take care of the rest.
AI processes the image
Our AI tool will remove any unwanted background and resize your photo to the official passport photo dimensions.
AI photo verification
The AI tool will carry additional checks on the photo to make it compliant and ready for submission.
Get digital or print photos
Get your biometric photos in digital copy or have the printouts delivered to your doorstep within a few days.
How to take a clear photo?
Have you ever wondered how to take the perfect passport photo? No need to look further; these instructions will help you achieve biometric Sacramento passport photos in minutes.
Use a plain background
Use a plain background with no objects behind your back. Stand at least 2m away from the background to avoid shadows behind you.
Keep your posture straight
Maintain a straight posture and fit your head, shoulders, and upper body into the photo. Remove your glasses before taking the picture.
Maintain a neutral facial expression
Make sure your whole face is visible. Keep your hair away from your face and look straight at the camera with a plain expression.
Basic Sacramento Passport Photo Guidelines
Glasses
Smiling
Image retouching
Wearing uniform and hat
Sacramento passport photo requirements
How much does a passport photo cost in Sacramento?
The cost of getting your Sacramento passport photos can vary depending on the location and service chosen, typically between $5.31-$16.99.
A passport photo in Sacramento is offered at many places; some of the most popular options include Walmart, Walgreens, CVS, Target, UPS, FedEx, and many more. You can even reach out to the local post office.
The total cost for the passport photos will depend on the number of pictures you want printed. Stores such as CVS will charge a higher price at $16.99, whereas Walmart will charge as low as $7.44. Requesting additional copies of the pictures will cost extra. CVS, for example, will charge an additional $2.99 for two extra copies.
All these stores follow the guidelines laid down by the U.S. State Department. We also recommend calling the store in advance to confirm if they offer passport photo services, as places such as CVS only provide these services in a few locations.
The cost of your passport photo can be decreased further if you take a digital image and then print It out yourself. Please note that you should use high-quality matte or glossy photo paper in 2x2 inches (51x51 millimeters) when printing your photos.
And for a general price overview, here are some of the places you can look into: (from ascending to descending order)
| Service: | Cost: |
| --- | --- |
| Sam's Club | $5.31 |
| Walmart | $7.44 |
| Rite Aid | $8.99 |
| Target | $9.99 |
| UPS | $11.99 |
| AAA | Basic members pay $10, and non-members pay $15 |
| FedEx | $14.95 |
| Staples | $14.99 |
| Office Depot | $14.99 |
| Postal Annex | $15 |
| USPS | $15 |
| Walgreens | $16.99 |
| CVS Photos | $16.99 |
Where to get a passport photo in Sacramento?
Sacramento has many places that offer top-notch passport photo services. The most popular include Walmart, Walgreens, CVS, Target, UPS, FedEx, etc. You can even visit the local post office.
All these stores adhere to the rules and regulations set by the US State Department. Generally, CVS will charge around $16.99 for two passport photos. Walmart will offer the same services for as low as $7.44. The cost will increase if you wish to have additional copies printed.
You can also use online tools and applications such as Pixelied to help you take passport photos in Sacramento. Once you have taken a picture with your cell phone, the app will modify and edit it automatically to ensure it meets all U.S. government rules and regulations regarding passport photos in Sacramento.
After your photo has been processed, you can have the physical copies of your photos mailed to your address or select the option to have the digital photo via email. If you choose to have them emailed, you can go to any photo shop and use their printing services to print the image yourself.
If you print the passport photo yourself, the image should be 2x2 inches (51x51 millimeters) and printed on high-quality matte or glossy photo paper.
Passport photo locations in Sacramento
Looking for a Sacramento passport photo location nearby? Here are some options that can get your passport picture processed:
CVS and Walgreens
Pharmacies like CVS and Walgreens are known for their efficient and professional service. You'll get two 2x2 passport photos in under five to ten minutes. The cost for the images is $16.99 for both pharmacies.
Walmart and Target
Retail stores like Walmart and Target offer passport photos at affordable prices, which can take at least 1 hour. But the professionals follow all the guidelines set by the State Department. The price for two pictures at Walmart is $7.44, and at Target, it is $9.99.
FedEx and UPS
Post offices like FedEx and UPS may be expensive, but their procedure perfectly aligns with the U.S. government guidelines for passport photos. They charge for two images taken and printed between $14.95 and $11.99. They also provide the service of shipping your documents along with your passport photos to the State Department.
What are the requirements at the nearest Sacramento passport picture location?
Taking a biometric passport-size photo is required when you apply for your passport in Sacramento (2x2 inch). Here are the requirements for getting your passport photo clicked:
Glasses and Head Coverings
Glasses of any type, whether tinted, sunglasses, or glasses frame, should be removed as they can cause a glare to the camera lens. You can keep your glasses on unless you have a medical reason to prove their need.
Wearing a head covering is permitted, but you must be able to view your facial features from your chin to your forehead and both edges of your face.
Clothing and Hair
Wear dark-colored clothes to avoid blending in with the white background.
Keep your hair away from your face so that it does not cover any part of your face.
Expressions
Do not look away from the camera.
Keep your eyes open and look straight at the camera.
Keep your mouth closed with neutral expressions.
Refrain from frowning in passport photos because it is prohibited and may lead to rejection.
Accessories and Tattoos
Refrain from over-accessorizing yourself, as it would take the focus away from your facial features.
You can keep your piercing if it does not cover any part of your face.
If you have any permanent tattoos, you don't need to cover them up; they have been permitted for passport pictures.
How to print a passport photo in Sacramento?
Here's a step-by-step guide to printing a passport photo in Sacramento:
Take Your Photo: Use a high-quality smartphone camera. Take the photo in front of a plain white or off-white background with a neutral facial expression.
Adjust the Photo: Ensure the photo meets the U.S. passport photo requirements - a 2x2 inches size, head between 1 inch and 1 3/8 inches from the bottom of the chin to the top of the head.
Choose a Printing Option:
Online Services: Platforms like Shutterfly, Snapfish, or Pixelied can be used to upload your photo, adjust it, and order prints.
Retail Stores/Pharmacies: Visit local stores like Walmart, CVS, or Walgreens, provide them with the digital photo, and they will print it for you.
Photo Studios: You can visit a professional studio and provide them with the digital file for printing.
Print and Collect: If you're using a physical location, wait for the printing process to complete and collect your photos. If you've used an online service, wait for the pictures to be delivered to your address.
Review the Photos: Check the printed photos to ensure they meet all the required guidelines and that the print quality is good enough for identification purposes.
Submit Your Photos: Lastly, submit your printed pictures with your passport application.

Take Passport Photos in Sacramento Online
Bypass the struggle of traditional passport photo procurement in Sacramento. Pixelied's user-friendly online service lets you create top-notch passport pictures from home. Cut down on expenses, skip the waiting lines, and delight in the convenience of home delivery. With Pixelied, a seamless, straightforward, and budget-friendly solution for your passport photo needs is just an upload away.
Frequently Asked Questions
In Sacramento, discount retailers like UPS and FedEx are the most popular places to take passport photos. But if you need an efficient service, go to Walgreens, CVS, or any nearby picture studio.
In Sacramento, Walmart offers passport photo services at the lowest price—$7.44 for two images. Additionally, you can capture your pictures at home and upload them to Pixelied for fast and easy processing.
If you have ample money and need passport photos quickly, go to FedEx or UPS. Within 10–15 minutes, your images will be shot and provided. FedEx charges $14.95 for two images, whereas UPS charges $11.99.
The places that provide adult passport photos in Sacramento will also get your babies' pictures clicked. Retail stores like Walmart and Target, Pharmaceutical companies like Walgreens and CVs, and Postal offices like FedEx and USPS are some places you can visit.
Yes, take pictures of your passport using your phone or camera (if you have one). You only need to quickly review the U.S. passport photo requirements to obtain appropriate photos.
Yes, but you must ensure your eyes are open, and your teeth are not showing, although non-smiling pictures are still preferred.
A set of two 2x2 passport photos can cost anywhere between $5.31 and $16.00 in Sacramento. The cheapest place for a passport photo would be Sam's Club starting at $5.31 for two passport photos.
Yes, photo booths are the most convenient way to get your passport photos; it takes about 5-10 minutes. Search for photo booths nearby and get your passport pictures in Sacramento at affordable prices.